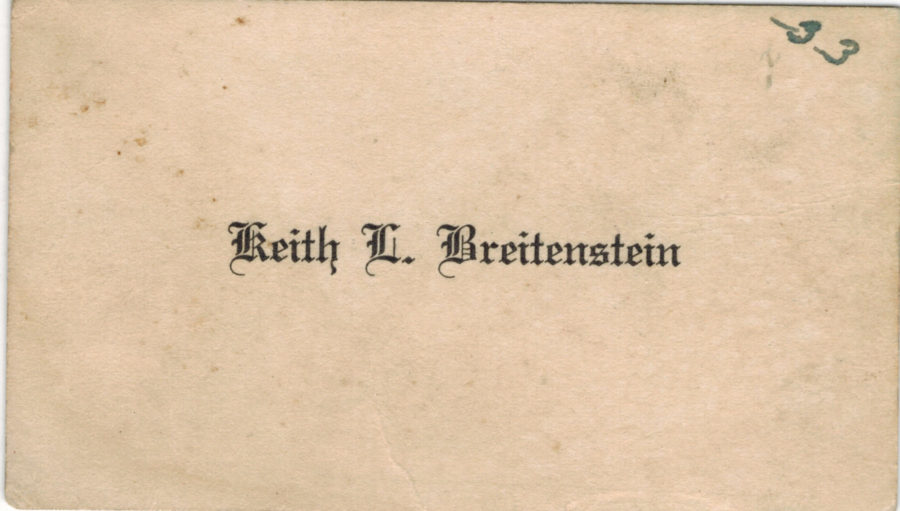 Keith L. Breitenstein graduated from high school in 1933. He was born in 1915 in Kentucky and the number 33 is written on the edge of his graduation card insert. He was my grandparents' oldest nephew. His slightly older first cousin, Elizabeth Breitenstein graduated from Girls' High School as valedictorian in 1932 or 1933.  She was the oldest grandchild of my great grandparents and the oldest niece of my grandparents.
His parents and younger sister were very likely in the front row. In addition, I imagine his eight uncles and their wives were in that same room along with his grandparents, (perhaps both sets) and multiple younger cousins. My mom was a couple months old and I wonder if she was there. It was a big deal when Keith and Elizabeth graduated from high school. Their dads. two of nine brothers, their grandfather and their great-grandfather were all truck farmers. In the midst of the Great Depression, Keith and Elizabeth may have been the first of the Breitenstein family to graduate from high school. This event was so important that 70 years later, the graduation card insert was still among my grandmother's papers. In 2015 when my aunt was going through that stack of papers, she still kept it and sent it on to me. Also in that envelope was a second card insert, differently shaped, for Elizabeth Breitenstein. It may have been from her high school graduation. She was a University of Louisville graduate probably in 1935 or 1936, the first of her generation to graduate from college. She earned a Master's Degree in Mathematics from University of Wisconsin in 1937. My grandparents kept her graduation cart insert for decades too, though I don't know which card it was, high school, college or grad school.
Mixed in with all these important papers, deeds to the farm, marriage certificates, baptismal records, wedding invitations, were many other graduation notices, including mine. (There were fewer notices of advanced degrees, though more degrees were earned, perhaps partially to offset a perceived obligation to receive a gift. Maybe it was the one gift they wanted to send, but they didn't get an announcement.)
Education was very important and Uncle Ed and Uncle Mike's kids led the way. What an example they set!
Time marches on, my niece successfully defended her PhD. dissertation this week. Grandma and Grandpa (and all the uncles) would be very happy.