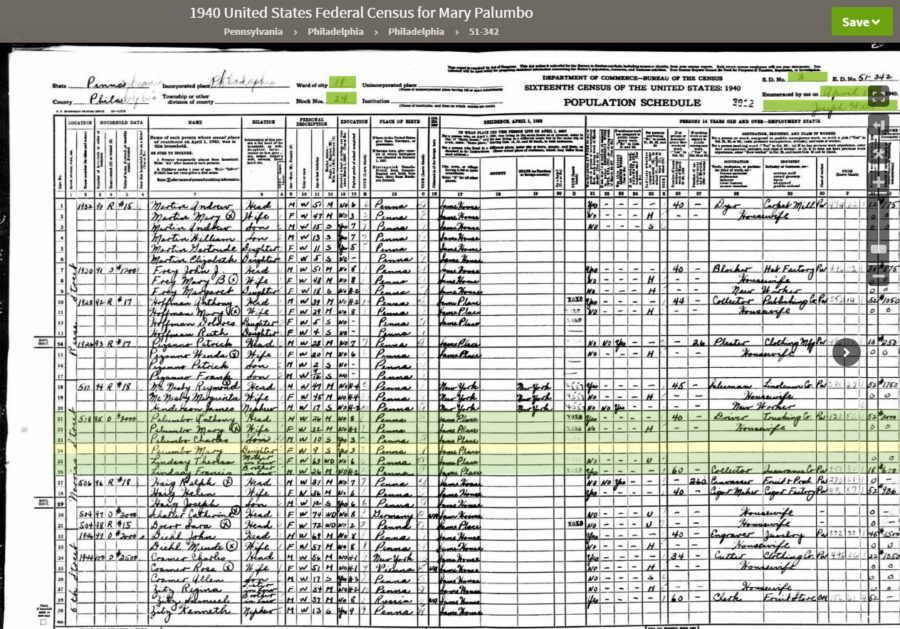 Anthony Palumbo was enumerated in 518 Norris St., Ward 19, Philadelphia, Pennsylvania in the 1940 census with his wife Mary (Lindsay) Palumbo, two children Charles and Mary, his mother-in-law Theresa Lindsay, and brother-in-law Francis Lindsay.  Anthony was born ca. 1902 in Pennsylvania. His parents should have been easy to discern from the 1930, 1920, and 1910 federal census.
In 1930 Anthony shows up at 429 West Arlington, Ward 19, Philadelphia as Westley Palumbo along with his wife Mary and son Charles.  The 1920 census had Anthony Palumbo age 17 with his father Mike Palumbo 810-812 S. Darien St., Ward 3 of Philadelphia while the 1910 census listed the same Anthony Palumbo age 8 with his father Frank at 824 Catharine St., Ward 3. It turns out Anthony Frank, the son of M. Frank Palumbo, and Anthony Sylvester Palumbo, husband of Mary Lindsay, were both born in 1902 in Philadelphia.
Anthony Sylvester Palumbo was a child of Nicandro Palumbo who was naturalized in Philadelphia Co. Pennsylvania, along with his siblings Millie, Charles Joseph, Ernest Andrew, and Maria Paulina.
Anthony Sylvester Palumbo was born 15 August 1902 in Philadelphia according to the Pennsylvania Veteran Compensation Application Files WWII 1950-1966.
Anthony Frank Palumbo born 17 April 1902 in Philadelphia, WWII draft cards young men 1940-1947.
As is the case so many times, two men with the same name, in the same place, at the same time, were melded in the linked files. Part of the problem is that Anthony is the anglicized name for Antonio and Palumbo is enumerated alternately as Plumbo. The rest of the problem is the assumption that one man named Anthony Palumbo born in 1902 in Philadelphia created all the records in the area.