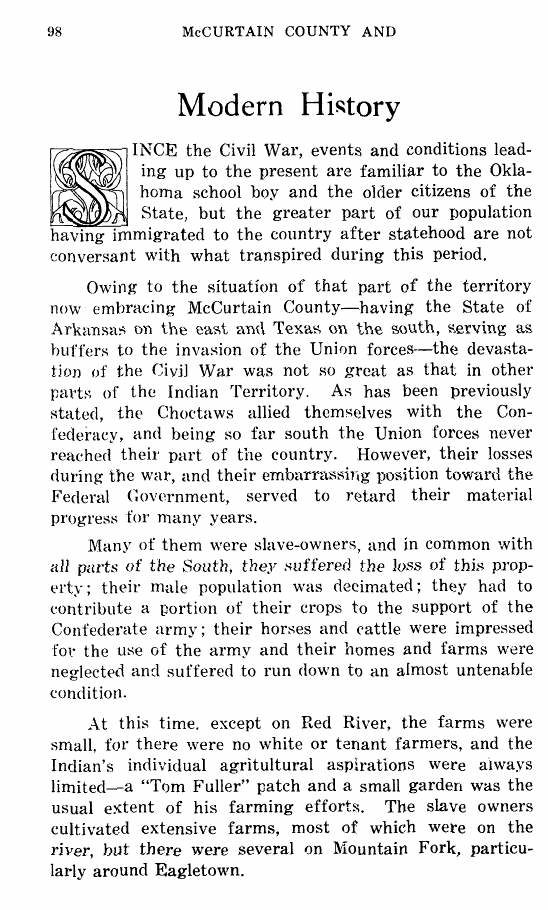 W. A. Carver wrote McCurtain County and southeast Oklahoma: history, biography, statistics: a complete business and trade directory of the county, published in 1923 in Idabel, Oklahoma. This is one of many county histories available from Heritage Quest Online through various local libraries. I use the portal from Denver Public Library. Although the census indexing from Precision is superior to many, the OCR indexing of the books isn't. There are other ways to access indexes for these county histories. Check the county genealogical web site and the county historical society web site, both of which may have an index created by a local researcher, also the USGenWeb project may have some county history indexes….
McCurtain Co., Oklahoma
While doing a search for men with the surname Gage in Sevier Co., Arkansas during Reconstruction, the McCurtain Co. history cited above was one of the hits. McCurtain Co., Oklahoma is due west of Sevier Co., Arkansas. Before I start researching a new area, I check an old atlas and Everton's HandyBook. The Arkansas map shows Sevier Co. on the extreme western edge of Arkansas with Little River Co. due south on the Texas border, Bowie Co., Texas. Sevier was created in 1828 from Hempstead and Miller Counties; Little River was formed in 1867 from Hempstead Co. and Bowie was created in from Red River Co. in 1840. With all that firmly in mind, I entered the surname Gage and the place Sevier Co. Arkansas and got several hits, one of which was the McCurtain Co. history.
So why would I care? In the first place there will be a section on the history of the area which will be very similar to that of Sevier Co., Arkansas. Reading through the history will give me a better fix on the time and the geographic places I might need. There will be a section on newspapers which will have titles to explore through the Inter Library Loan (ILL) program of the local library. Ordering those titles on microfilm for specific dates may generate obituaries for various family members. There will be a section on religion which will list the churches in the area. There will be sections on the Choctaw Lands, Tribe, customs, judical systems.
For the William David Clinton Bray and Tennie Bray family, Titus Co., Texas, McCurtain Co., Oklahoma and Sevier Co., Arkansas are all counties of interest. Their son, William Alexander Bray lived in Sevier Co., Arkansas when he registered for the draft for World War I and he had moved to McCurtain Co., Oklahoma prior to the 1920 census.