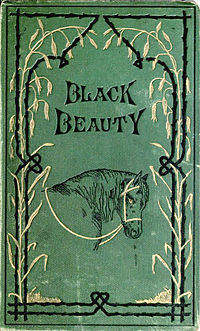 My dad's cousin Helen had horses that her daughters rode in horse shows around the South. They had lots and lots of gorgeous ribbons of every color in their den. I didn't really want to own a horse because the chores were very time consuming, but I really liked riding horses and reading books about them.
Growing up with wonderful horse books, authors Farley, Henry and O'Hara, come to mind immediately, followed by Enid Bagnold's National Velvet and Anna Sewell's Black Beauty. I didn't have these books as a child, I read them in the school and town libraries. I have some of them now and heartily recommend them.
Just in Time for the Kentucky Derby
Black Beauty, the first of the horse books, was written in 1877 by Anna Sewell. It is the life story of Beauty, a black colt in England, told in the first person/horse voice. A wakeup call for animal welfare in Victorian England, each chapter highlights another issue of humane treatment of horses.
Misty of Chincoteague, part of a trilogy by Marguerite Henry set in Virginia, was a funny one for me. I had never heard the word Chincoteague said aloud until I was an adult. I had no idea how to pronounce it and because of that didn't tell anyone it was one of my favorites. I started Henry's books when I was in the fourth grade because our elementary school library had a bunch of them. It wasn't the first Newbery winner I read, but I read it after I was aware of the medals for winners and honors. Marguerite Henry wrote more than 50 books in her lifetime, many of them were horse books. While I enjoyed them as a child and they are fine for a quick read as an adult, they are truly written for children.
My Friend Flicka was different, it was a television show and a movie and a book by Mary O'Hara, set in Wyoming with a young boy Ken as the protagonist. It was the first in a trilogy like Misty. I saw the reruns of the television show before I read the book. How amazing is it, that the book was better? Not too much of a surprise, so many books are.
The longest series was the Black Stallion series by Walter Farley. I ended up with four or five of these books I picked up at a used book sale at my daughter's school. Except for the first one, The Black Stallion, the ones I read as a child, were not the ones I purchased as an adult. He wrote twenty books in the series and his son Steven has written some too, which I haven't read. The Black Stallion Fansite by Tim Farley has more facts and pictures than I can describe including a place to purchase books. An interesting literacy project developed around Farley's books, The Black Stallion Literacy Project which is now the Horse Tales Literacy Project. I have read these books as a child and as an adult and they pass the test of time.
Last but not least was National Velvet, a book, a movie and a television show. Most people remember National Velvet as a movie starring twelve year old Elizabeth Taylor. I was a child in the 1960s, so it was the television show that has first dibs in my memory. The book itself was written in 1935, one of more than twenty books by Enid Bagnold.
Except for Black Beauty which was not written as a children's book and is an autobiographical story told from the horse's perspective, these books have flourished because of their focus on the special bond between humans and domesticated animals and more specifically an adolescent and a horse.
Look for these books at your local library, used bookstore, one of my favorites in England – Barter Books, Alibris, Amazon or The Black Stallion Fansite by Tim Farley.