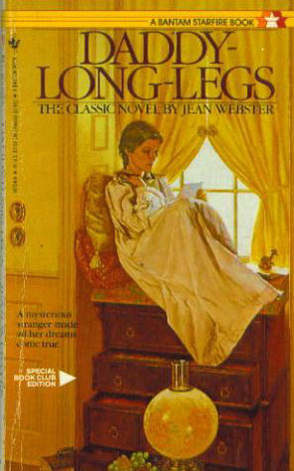 There was a Fred Astaire and Leslie Caron musical Daddy Long-Legs taken roughly from the book by Jean Webster. I love musicals, and as many as I have seen, I haven't seen this one from 1955 . I don't know how I could have missed it, but yet I have. Seeing the title on the DIRECT TV menu put it in my mind, so this past weekend, I chose that horse to win the Kentucky Derby. Probably not the best of methods to choose a Derby winner, as Daddy Long Legs came in dead last, but with great memories.
The Original or the Sequel?
My first Webster book was my grandmother's copy of Just Patty, which reminded me of the Five Little Pepper books when Polly was a young lady. I enjoyed it and was on the look out for more books by Webster. Scholastic Books had Daddy-Long-Legs and I was enchanted. At one point, Judy is in college trying valiantly to catch up to the other girls who have such different backgrounds. She starts a voracious remedial reading program in the midst of all her other college courses. Judy wants to do well to justify the trustee's expenditure of money, she wants to pay it all back, she wants to earn her own way and she craves knowledge. It is a coming of age story still relevant today, especially with the cost of college so incredibly high.
Dear Enemy, on the other hand, takes place after college graduation in a time when most women married without ever going to college much less using what they learned in college to find and keep a job. Sallie does not want to be merely arm candy for a politician and so she takes on job the running of an orphanage nearly on a dare. Again a coming of age story with a great deal of personal growth. Still relavent today, why spend a hundred thousand dollars to graduate from college and never use the knowledge gained?
Daddy-Long-Legs celebrates its 100th anniversary this year, 2012. Dear Enemy, the sequel, was published in 1915. Both books are written in an epistolary style with female protagonists. Both are written describing, at the time, revolutionary ideas about women's place in society and women's work.
I recommend them both, but if I had to choose, it would be Dear Enemy. Sequels are not usually the better of the pile, but in this case, that would be my vote. Of course, I still need to find and read the other Patty books which somehow have escaped my purview.