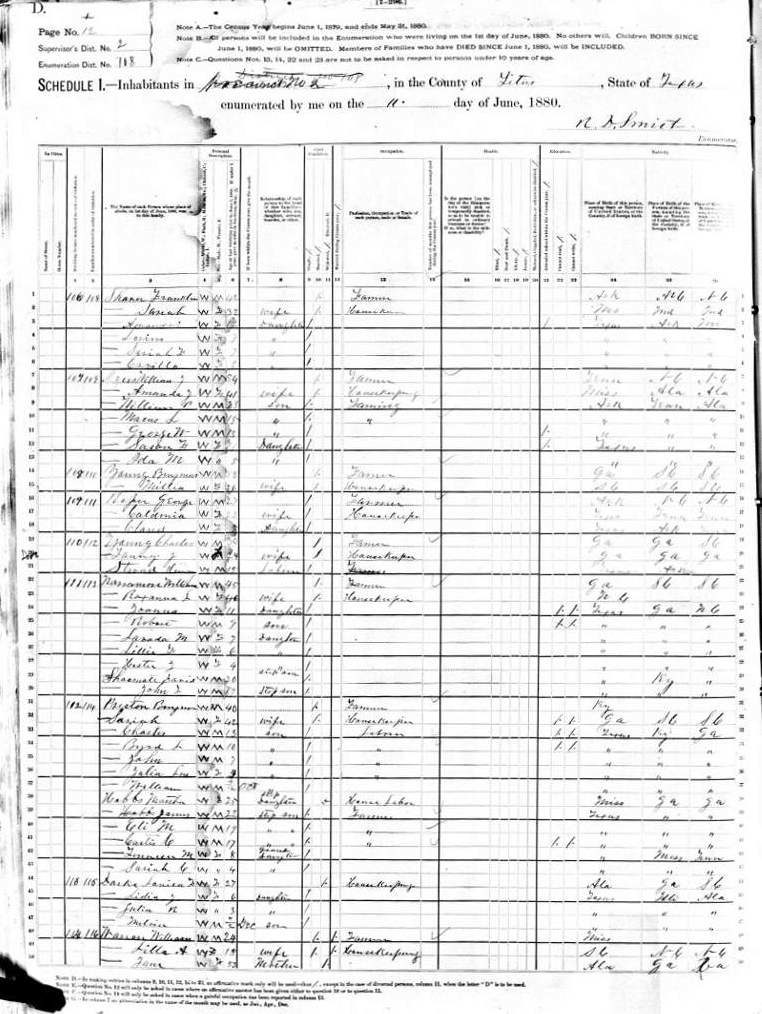 What to Do While Waiting for the Mail to Arrive
(a continuation of Start With What You Know)
Family History – Tennie Bray – Part Two
You have interviewed every family member who will still talk to you. You have researched all available census years. You have located all the names in the social security death benefits index and found tremendous Find-A-Grave cemetery photo records. You are a couple generations back and you don't have proof for the next one, even though a linked site or two may have some options, suggestions, clues or just purely names. You have sent away for the pertinent death, birth and marriage certificates, pension file, obituary, probate file, funeral record, deeds and social security administration form – ss5 or all of them. You have ordered books and microfilm on Inter Library Loan (ILL). You are waiting for the mail to bring you the key link. Knowing all genealogy can not be done on the Internet, you have sent for an original source document to open up the portals of the next generation. But you have to wait for the mail!!
Before you start on another path be certain all of the time consuming avenues have been covered:
Review death certificate for parentage.
Review the spouse's death certificate for wife's maiden name.
Order form ss5 from the Social Security Administration if there was a social security number.
Obtain the funeral record from the funeral home.
Obtain a burial record and plot card from the local cemetery.
Obtain Military records and pensions files.
Check the County Probate records for an estate.
Check the County Coroner's Records for cause of death.
Check the County Recorder's Office for deeds transfers at death.
Check the Sexton's Ledgers for local and church cemeteries.
Check local church records for death and funeral registers.
Examine each of the siblings and children's birth and death certificates.
Find Bible records either in hand frequently handed down to the youngest or the oldest child.
Read obituaries – Newspaper microfilm ordered on Inter Library Loan (ILL).
The family should to be brought forward until at least all of the grandchildren are identified and preferably all of the great grandchildren. Check for female descendants who lived nearby. They might have more insight into their grandmother and some stories of growing up with her. Can someone corroborate the story of her parentage?
Any and all of those grandchildren could be contacted by letter for more information. Some people call unknown cousins on the telephone; given their potential ages, be respectful of the generational difference and write first, then email or phone.
While you are waiting for the needed proof to arrive in the mail, the links needed to set you clearly on the path of the previous generation you may:
Start another line.
Begin one of your spouse's lines.
Begin an in-law's line.
Develop a hypothesis for the blocked line.
Go back in time with two conflicting/opposing hypotheses.
Order more books and microfilm on ILL.
Order microfilm from SLC delivered to the local LDS family history library.
Order microfilm from the appropriate State Library and Archives delivered to the local library.
Instead of chores, while waiting for the proof, create a hypothesis and try to link one family to another.
Any of these three different but possibly connected research hypotheses:
Is Martha Hobbs aka Martha Lancaster the mother of Tennie Margie Ann (Gage) Bray? Research Martha (Hobbs) Gage Lancaster starting with the 1880 and 1900 census, spouses, children and parents.
Is Sarah Preston the grandmother of Tennie Margie Ann (Gage) Bray? Research Sarah Redwine (Narramore) Hobbs Preston's family starting with the 1880 and 1900 census, spouses, children and parents.
Is Frank Gage the father of Tennie Gage Bray? Research any possible man with surname Gage in the right place at the right time. OR Research Frank Gage of Tennessee and Texas, watch for Benjamin Franklin possibilities or Francis Marion possibilities.
Start with the first hypothesis with some overlap onto the second since they are most likely interconnected.
First step is always census work, if the research question is within the time covered by the federal or state census and a census exists. Tennie and William Bray are enumerated in Sevier Co., Arkansas in 1900 and 1910, in Titus Co., Texas in 1920 and McCurtain Co., Oklahoma in 1930. The 1890 federal Texas population census was destroyed by fire in 1921, so the next available option is the 1880 census. Tennie's parents are the goal; finding a Tennie born in Texas, age 7 or 8 somewhere in the tri-state area of Arkansas, Texas, Oklahoma/Indian Territory, could place her with her parents. William A. Bray's delayed birth certificate lists Tennie Gage as his mother. With no clues except that Gage surname for her parents, a search of the 1880 census, should still bring up a list of possibilities, since the first name is not Mary, Elizabeth or Sarah. Unfortunately, there is no Tennie or Tennessee Gage in the area in 1880. Search using a wild card, Ten*, so both Tennie and Tennessee options show up with one search. There is a Tennessee Hobbs age 8 in Titus Co., Texas; the right first name and the right county. A single woman, Tennessee Gage, the right age, was enumerated in 1900 in Titus Co., Texas with her mother Martha Lancaster, while Tennie Bray was married and lived in Sevier Co., Arkansas with her husband William D. C. Bray. The Gage surname, as Tennie's maiden name, appears in the delayed birth certificate of her son William Alexander Bray, which she signed more than 60 years after the fact. The years delayed count against the birth certificate as a reliable source, but the informant was Tennie herself which adds validity as a reliable source.
The one 1880 census choice for Tennie, was Tennessee M. Hobbs age 8, a granddaughter of Benjamin Preston in Titus Co., Texas. She was the second to last entry in the Preston household. Too many blended families are scrambled in the census, not to take this with a grain of salt. Sometimes everyone in the household is listed in descending order of age after the head of the household. Sometimes, they are listed in family clumps, those closest in blood or by marriage to the head of the household first and then stepchildren or in-laws and nonrelated boarders, roomers, servants or lodgers last. Sometimes the men and boys are listed first and followed by the women and girls. Many times, one surname is listed when two or three would be appropriate. Sometimes a second surname is interlined through the ditto marks of the head of the household's surname. Benjamin Preston was in fact, Sarah Preston's second husband. Sarah was listed as Sariah clearly in that census and no other. The Prestons' joint children are then enumerated, then Sarah's surviving children from her first marriage to Curtis Hobbs listed as stepdaughter and stepsons, and finally two of Sarah's grandchildren, Tennessee and Sarah, listed as grandchildren instead of the step grandchildren they really were. Martha Hobbs is listed as divorced. The Hobbs brothers are all single, leaving Martha as the likely parent by age and marriage status. It is extremely likely Tennessee Hobbs was known as Tennessee Gage, prior to her mother's divorce. The Titus Co. marriage records have burned from this time period, so we may not find the exact marriage date between Martha Hobbs and Mr. Gage. The divorce records also appear to have been destroyed, so we may not know if Martha returned to her maiden name of Hobbs prior to the 1880 census and we definitely don't know if she changed the name of her children from Gage to Hobbs after the divorce. Tennie may have grown up as Tennie Gage or Tennie Hobbs. Her mother was enumerated as Martha Hobbs, a divorced woman. Martha Hobbs was divorced from Frank Gage and had not yet married Louis Lancaster by 1880. Noteworthy, is that Martha Hobbs was born in Mississippi, while the rest of the children in the family were born in Texas. It makes her much easier to find in a crowd. Also noteworthy, one of the granddaughters, Sariah is named for the grandmother, Sariah. This name should be easy to find if it is correct, though she was enumerated as Sarah much of the time. Another problem with this census is that Benjamin Preston's only daughter Julia Lee is listed as a son. This is the way of census enumerators, counting on horseback, making copies of the registers, so mistakes were made both in the enumeration and in the second and third copies. These books were huge, enumerators may have left them on horseback and asked the questions one by one, jotting the answers down on a piece of paper, or the enumerators may have taken the books into each home and written in them there.
1880 Texas Titus Co. Pre. 2 109-12-21 family 114, Benjamin Preston 40 Ky, Sariah 42 Ga wife, Charles 13 Tx son, Byrd L. 10 Tx son, John 7 Tx son, Julia Lee 3 Tx son, William 9/12 Tx Oct. son, Martha Hobbs 25 Miss stepdaughter D, James Hobbs 22 Tx ss, Eli M. 18 Tx ss, Curtis C. 17 Tx ss, Tennessee M. 8 Tx gd, Sariah C. 4 Tx gs.
Tennessee Gage, a single daughter born in Texas, is enumerated in 1900 in Titus Co., Texas with Martha Lancaster, along with two other siblings and a grandchild and next door another daughter and her husband. Again, Martha was enumerated as born in Mississippi.
1900 Tx Titus Pre. 6 122-11-45 fam. 205, Martha Lancaster Jan. 1854 7/5 Miss, Kirtus Jan. 1886 Tx, Julia Lee Feb. 1888 Tx, Tennessee Gage May 1873 Tx, Hallace Ferell March 1897 Tx gs.
Benjamin Preston and his wife Sarah and her children; Martha, James, Eli and Curtis, and their children; Charles and Lewis lived in Titus Co. Texas in 1870. Once again this blended family is not adequately distinquished by surname. The family is listed by age and all the children have the putative surname of Preston. The questions and answers on this census don't make it clear that Martha, James, Eli and Curtis are Hobbses and the last two children mentioned, Charles and Lewis are Prestons. Taking the surnames given in this census as the gospel truth would have serious repercussions as there is no real person named Curtis Preston or Eli Preston and the men named James Preston are not this man. Martha, since she is a woman, is bound to have changed her name if she married and she did twice. Since the Titus Co., Texas courthouse had a fire and damage to the marriage records, it is unknown if she married under the name Martha Hobbs, Martha Preston or Martha Gage. Family story is that she married (1) Frank Gage and (2) Louis Lancaster. Her children bear this out. From census to census, Martha is listed as born in Mississippi.
1870 Tx Titus Mount Pleasant p. 144 fam. 1858, Benjamin Preston 31 Ky, Sarah 31 Ga, Martha 16 Miss, James 13 Tx, Elih 11 Tx, Curtis 8 Tx, Charles 3 Tx, Lewis 8/12 Tx Feb.
In 1860 before the war, Sarah and her first husband Curtis Hobbs lived in Titus Co., Texas with two children, Martha J. and James A. This census combined with the 1880 census show that the 1870 enumerator was flat out wrong about his surnames. Martha is listed as Mississippi born.
1860 Tx Titus Grey Rock Pre. 7 p. 151/21 fam. 138, Curtis Hobbs 36 Ala, Sarah 27 Ga, Martha J. 6 Miss, James A. 3 Tx.
Tennessee Margie Ann Gage was born 21 May 1872 in Mt. Pleasant, Titus Co., Texas, died 15 May 1966 in De Queen, Sevier Co., Arkansas, and was buried in Holly Creek Cemetery, Broken Bow, McCurtain Co., Oklahoma, a presumed daughter of Frank Gage and Martha (Hobbs) Gage Lancaster. Tennie married William David Clinton Bray ca. 1888, possibly 15 January 1888. He was very likely a son of William Anderson Bray and Malinda (Alexander) Bray. William was born 16 March 1859 in Georgia and died 1 June 1930. He was buried in Holly Creek Cemetery, Broken Bow, McCurtain Co., Oklahoma. Tennie and William had nine children; William Alexander, Franklin Jerry Mires/Miner, Martha Elizabeth, Albert Chester, Bessie May, George Wesley, Norris Arthur, Preston Milton and Laverne Celestial.
First Hypothesis – Is Martha Hobbs Gage Lancaster the mother of Tennie Margie Ann Gage Bray. Research descendants of Martha Hobbs Lancaster presumed mother of Tennie Gage Bray, to see if they are also related to Tennie Gage Bray.
Martha Hobbs was born January 1854 in Mississippi to parents born in Georgia. She lived in Precinct 6, Titus Co., Texas in 1900. At that time she had seven children five living. She married (1) and divorced Frank Gage before 1880. They had two children; Tennessee Margie Ann and Sariah C. She married (2) Louis Henry Lancaster between 1880 and 1883. He died prior to 1900. They had three children; Lonia Ann, Curtis Avery, and Julia Lee.
Martha Hobbs and Frank Gage had two children; Tennessee Margie Ann and Sariah C.
2. Tennessee Margie Ann Gage born 21 May 1872 Mt. Pleasant, Titus Co., Texas, died 15 May 1966 DeQueen, Sevier Co., Arkansas. She married William Alexander Bray. They had children.
3. Sariah C. Gage was born ca. 1876. She lived in Titus Co., Texas in 1880. She may have married Mr. Ferell and had a son; Hallace or Wallace Ferell.
Martha Hobbs and Louis Henry Lancaster had at least three children, possibly five, two unknown; Lonia Ann, Curtis Avery and Julia Lee.
4. Lonia Ann Lancaster born 29 August 1883 in Texas, died 2 November 1966 and was buried in Winfield Cemetery, Titus Co., Texas. She married (1) Randall/Randolph Kennedy. They had a daughter, Ola Lee. She married (2) Seborn Edgar Huckeba. He was born 26 March 1876 or 27 March 1875 in Georgia. He was a son of Francis Marion Huckeba and Elizabeth (Mauk) Huckeba. In the WWI draft registration he is listed with Lona Huckeba his wife, in Mt. Pleasant in 1917. He died 29 April 1950 and was buried in Winfield Cemetery, Titus Co., Texas. He may have had a child, Lilian. Olie Lee Kennedy married (1) Rayford Justiss and had a son; James Kenneth Justiss born 1926. Olie Lee Kennedy Justiss married (2) John Howard Boddie and had a daughter Sharon Kay Boddie.
5. Curtis Lancaster born 3 January 1885 or 3 January 1886, died 13 December 1980. He married Essie Idabell Suggs. Curtis Avery Lancaster born 3 Janauary 1886 lived in Mt. Vernon, Franklin Co., Texas in 1917 when he registered for the draft. Essie Idabell Suggs, daughter of William Henry Suggs and Elizabeth (Pollard) Suggs, was born 3 December 1890 in Hamilton, Marion Co., Alabama and died 30 March 1971 in Mt. Pleasant, Titus Co.,Texas. They had children including Loyd, Curtis Lester, Winfred Douglas, Otis L., Essie Faye, Farris Eugene, Dorothy, Mildred and another son. Another daughter, Odessa Lancaster, was born 3 July 1937 in Red River Co., to C. A. Lancaster and Essie Suggs.
6. Julia Lee Lancaster born 5 February 1887, or February 1888 in Texas, died 14 October 1971 and was buried in Winfield Cemetery, Titus Co., Texas. She married Benjamin Franklin Roberson. He was born 11 October 1883, died 11 September 1964. They had children; Larkes Franklin Roberson born 2 November 1906, died 29 December 1965 buried in Winfield Cemetery and Virginia Ruth Roberson 1923-1937. Lillian Roberson 1908-1958 was also buried in Winfield. He lived in Greenville, Hunt Co. Texas in 1917 when he registered for the draft. Perhaps Larkes Franklin Roberson's wife Lilian, was the daughter of Seborn Edgar Huckeba and Emma Phillips his first wife?
1900 Texas Titus Co. Pre. 6 122-11-45 fam. 205, Martha Lancaster Jan. 1854 7/5 Miss, Kirtus Jan. 1886 Tx, Julia Lee Feb. 1888 Tx, Tennessee Gage May 1873 Tx, Hallace Ferell March 1897 Tx.
1900 Texas Titus Co. Pre. 6 122-11-50 fam. 206, Randal Kenedy May 1880 Tx m5/12 or 0, Lona Kennedy Aug. 1883 m0 0/0 Tx Ark Miss.
1910 Tx Titus Mt. Pleasant 134-3a-9 fam. 42, Randolph Kennedy 27 m1 10 Miss, Lonah 26 m1 10 2/1 Tx, Olie 3 Tx, next to fam. 41 Ben Roberson.
1910 Texas Titus Co. Pre. 4 132-14a-17 fam. 242, Edd Huckeba 32 wd Ga, Lilian 14 Ga.
1920 Texas Titus Co. Pre. 7 172-1-45 fam. 10, Seaborn E. Huckeba 45 Ga, Lona A. 36 Tx, Ola K. 12 Tx, next door to fam. 11, William D. C. Bray.
1930 Texas Titus Co. Pre. 1 Mt. Pleasant 225-2-14a-23 fam. 415, Ed Huckeba 56 m18 Ga, Lonie 46 m17 Tx, Leon gd 14 Tx, Rayford Justice 23 m19 Tx, Olie 22 m18 Tx, Kenneth 3 Tx, Trixie Huggins roomer 23 Tx.
1910 Texas Titus Co. Mt. Pleasant 134-3a-6 fam. 41, Ben Roberson 25 m1 4 Tx, Julia 22 m1 4 1/1 Tx, Larkes 5 Tx, next to fam. 42, Randal Kenedy.
1920 Texas Hunt Co. Pre. 1 Greenville City 127-15b-95 fam. 370, Ben Robertson 36 Tx, Julia 33 Tx, Larnces 13 Tx, Opal 4 Tx.
1930 Texas Titus Co. Pre. 1 525-4-5b-67 fam. 115, Ben Roberson 46 m20 Tx, Julia L. 42 m 16 Tx, Virginia R. 6 Tx.
1910 Texas Titus Co. Pre. 2 135-8a-26 fam. 154, Curtis Lancaster 24 m1 4 Tx, Essie 19 m1 4 1/1 Ala, Loyd 1 1/12 Tx.
1920 Texas Titus Co. Pre. 4 109-10b-66 fam. 198, C. A. Lancaster 38 Tx, Essie 29 Ala, Loyd 11 Tx, Lester 9 Tx, Winford 7 Tx, Ottis 5 Tx, R.D. 3 0/12 Tx, Essie Fay 9/12 Tx, fam. 199, R. L. Hobbs 27 Tx, Josie 24 Tx, Thelma E. 4 5/12 Tx, Lois 2 4/12 Tx, Opal Beulah sd 3 0/12 Tx
Curtis Avery Lancaster and his wife Essie and children lived in Cass Co., Texas in 1930 including his son Curtis Lester Lancaster who lived next door with his wife and child.
1930 Texas Cass Co. Pre. 3 34-15-16a-30 fam. 241, C. A. Lancaster 44 m20 Tx, Essie 38 m16 Tx, Winfred 17 Tx, Otis 15 Tx, R. D. 13 Tx, Fay 10 Tx, Eugene 7 Tx, Dorothy 6 Tx, Mildred 2 2/12 Tx, fam. 242, C. L. Lancaster 19 m17 Tx.
Some mail finally comes. The State of Oklahoma has no death certificate for Tennie Bray in 1966. The Texas Death Index contains neither Tennie nor William. Neither does the California Death Index.
An email arrives from a RAOGK, Random Act of Genealogical Kindness volunteer. An Oklahoma obituary for Tennie Bray, shows her death in De Queen, Arkansas a week later than the photograph of the gravestone, 15 May 1966 instead of 8 May 1966. Her surviving siblings are the children of Martha Hobbs Lancaster, Buddy Lancaster of Mt. Pleasant, a.k.a. Curtis Avery Lancaster; Mrs. Lonnie Huckabee a.k.a Lonia Ann Lancaster Kennedy Huckeba and Mrs. Judy Robertson a.k.a Julia Lee Lancaster Roberson, both of Mt. Pleasant.
No obituary has been found in the Broken Bow newspaper for William D. C. Bray in 1930, his grave stone might be wrong too.
Lonia Huckeba's death certificate from Mt. Pleasasnt, Titus Co., Texas in 1966 states her parents are Martha Hobbs and Lewis Lancaster.
Tennie Gage Bray's death certificate arrived from Arkansas, her son George is the informant. For the parentage question, he answered with his parents' names, rather than his maternal grandparents' names. An unfortunate lack of attention in a grief stricken time. Death certificates are notorious for having poor information about antecedents, but the death information is usually correct, except here. No social security number is displayed, which may or may not mean she had one. According to Hilda, one of her many granddaughters, Tennie lived in McCurtian Co. with her youngest daughter Laverne Celeste Bray Sweeden in 1936 to 1939.
The source references for Tennie Bray are incredibly scrambled. The 1880 census has her with the wrong surname, Hobbs not Gage. The 1900 census has her twice, once with the surname Bray married with children in Sevier Co., Arkansas and once with the surname Gage a single woman living with her mother in Titus Co., Texas. Her gravestone is engraved with the wrong death date, a week early according to her death certificate and her obituary. Her death certificate has the wrong parents, supplied by her son George. Her obituary had the wrong first name, Teenie instead of Tennie. It is amazing any of these sources can be connected to one another. Taken together these sources add up to a woman born 1872, married ca. 1888, died 1966, with one husband and nine children.
Now that Tennie's mother is known to be Martha J. (Hobbs) Gage Lancaster, it is back to another hypothesis and more waiting … for links to Tennie's grandmother and father.
Continued By One Hypothises Proven, More to Go.