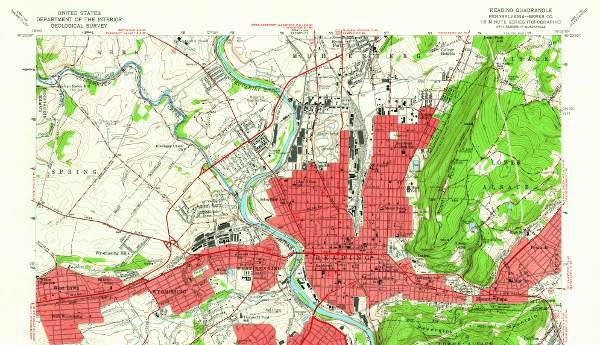 Aulenbach Cemetery in Mount Penn, together with Charles Evans Cemetery in Reading, are two of the largest older cemeteries in the greater Reading area. What follows is one of many indexes of the burials in Aulenbach, alphabetically, from the book, Burial Records of Aulenbach Cemetery, [Reading, Berks Co., Pa., 1879-1959].
When researching family history, cemetery records have a great deal of value. Economically and socially, plots are filled with family members or connections of some sort. Nuclear families tend to chose the same funeral home and cemetery, even if the same plot was not used. For genealogical and family history research, being on the ground in the cemetery is the best. You can see obvious depressions where graves without gravestones reside. You can see how the family is arranged in the plot, spouses next to each other OR not next to each other as the case may be. Each has its own meaning.
The Aulenbach burial records cover burials from 1879 to 1959 in Aulenbach Cemetery, Mt. Penn, Reading, Berks Co., Pennsylvania. The book, provided by Berks County Genealogical Society, was difficult to index because each page did not have a page number. On the first page of each alphabetic letter section, the page was assigned a letter and page number. Some of the following pages were also lettered and numbered. I added page numbers specific to the Berks County Genealogical Society's copy of the book, Burial Records of Aulenbach Cemetery. Some of these pages are duplicates (for example pages 582 and 583), some are out of chronological order and some are missing. I have identified two missing pages. From the dates included on the pages surrounding where these pages should have been, some burials were missing, probably about 25 entries. L-1-b had the burials from 16 August 1882 to 11 April 1887 for surnames which began with L. Page P-1-b is also missing and had burials from 4 August 1887 to 28 July 1893 for surnames which began with P.
Many were corrected in the original from which this copy was made, by persons or person unknown. Each name, original and corrected, was indexed. Many of the women's names had middle or maiden names added. If these names appeared to be possible surnames or maiden names, those names were indexed also. This will have inevitably created some spurious entries. Some middle names that appear to be surnames are not maiden names. Some middle names that appear to be personal names will have been surnames. Unnamed unidentified burials are listed under child, fetus, unnamed, and unnamed child. On page 451 the lower case letters in the name of the last entry was illegible. It is indexed, R**, S** M.
Burials with page numbers follow:
Abel
Bertha, 2
Mary, 2
Abraham
Aug. F., 4
August F., 4
Henry, 6
Minnie L., 14
Wilhelmina, 6
Achenbach, 3
Bietta, 7
Carrie, 9
Charles F., 15
Geo. D., 4
George, 8
John, 5
Richard B., 10
Susan R., 10
Wm., 1
Achey
Christian, 1
Mary Ann, 4
Acky, Christian, 1
Adam, 3
Amanda L., 12
Amelia A., 4
Earl W., 15
Edward S., 10
Ellen Marie, 11
Frank C., 6
Harry K., 12
Howard J., 12
James K., 6
Mary, 2
Mary S., 11
Paul, 3
William, 5
William Jerome, 5
Adams, 1
Amelia A., 4
Andrew J., 5
Anna Maria, 5
Anna, Mrs., 1
Annie E., 9
Bessie Irene, 11
Carrie M., 13
Adams,
Catharine, 7, 10
Charles H., 11
Chas. I., 2
Chas. Irvin, 2
Clara, 202
Clara L., 4
Claude F., 6
Cora, 11
Daniel A., 15
Edward H., 15
Edward S., 10
Ellwood, 4
Elwood, 4
Emma, 2
Ethel N., 5
Grace E., 5
Hannah, 10
Harry C., 3
Harry G., 6
Harry W., 12
Henry, 1
Ida M., 6, 13
Adams,
Irvin M., 11
Jacob E., 1
James, 5, 7
James S., 15
Jane B., 7
John, 1
Katharine, 10
Laura Bellman, 3
Laura M, 14
Lawrence, 7
Lew, 4
Llewellyn S., 10
Mahlon, 2
Marian, 5
Mirah, 2
Nellie, 3
Peter, 2
Richard, 3
Richard B., 4
Rose M., 15
Rosie M., 15
Sallie A., 10
Sarah, 1
Sarah Ann, 10
Walter, 2
William E., 3
William H., 11
William K., 7
Wm. E., 2
Addams
Annie, Mrs., 1
Harry G., 14
Jacob E., 1
John, 1, 2
John A., 2
Margaret M., 15
Richard B., 4
Addis
Calvin, 9
Sarah E., 13
Ahrens
Cyrus K., 9
Frederick, 4
Hannah M., 7
Hannah W., 7
Maria, 7
Marie, 7
Albert
Christian E., 12
Elizabeth, 8
Emma C., 5, 6
Emma G., 5, 6
Lillie L., 12
Marie C., 8
Milton J., 11
Albricht, Lewis Russell, 10
Albright
Alice, 1
Arthur M., 8
D. Webster, 12
Daniel W., 12
Elmer, 4
Hannah C., 13
Howard M., 6
Howard N., 6, 14
J. Wilson, 14
Lewis Russell, 10
Mary E., 8
Milton G., 12
Sadie M., 15
Sallie, 13
Sarah H., 13
Alford
Annie E., 6
Wm. H., 6
Alsbach
Ethel May, 4
William, 4
Alspach, 7
Sarah Ann, 10
Altenderfer
Laura H., 14
Laura Ulrich, 14
Althouse
Anna S., 6
Caroline, 7
Claude R., 15
Forrest R., 9
Henry, 2
Isabella, 5
Jerome K., 7
Paul R., 12
Sarah, 3
Amar
David, 3
Grace, 3
Ammon
Custer, 10
Custer S., 10
David, 3
David S., Mrs., 3
Emma, 14
Emma B., 14
George W., 5
Ida, 11
Ida M., 11
Katie L., 3
Lydia, 3
Margarete, 4
Marguerite, 4
Amos, Arnold, 1
Andersen, John, 14
Anderson
Catharine A., 8
Harry E., 11
John, 14
John C., 8
Joseph J. H., 9
Mary O., 13
Sarah K., 12
Andreadis, 6
Andrews
Charlie, 6
Frank, 9
Lucy R., 6
Peter K., 11
Tillie, 6
Viola M., 8
Wm. F., 6
Andy
Christiana, 3
Nathan, 2
Obadiah, 1
Sallie, 1
Angstadt
Anna J., 10
B., 4
Catherine E., 14
Chas. I., 7
Chas. M., 5
Edwin G., 12
Emily, 2
Esther M., 13
Geo. E., 4
Harvey E., 10
Howard, 10
Irvin S., 14
Jacob, 2
Jacob D., 5
James H., 12
John, 1
Josephine, 10
Lila, 1, 2
Lucretia, 12
Mary, 3
Mary Jane, 2
Minnie, 5
Minnie M., 5, 9
Paul R., Jr., 7
Rebecca E., 9
Rose B., 11
William, 8
William C., Sr., 14
Wm. A., 3
Ansel
Miriam A., 9
Robert A., 9
Rose A., 8
Rosie, 8
Ansermoy, Marius A., 13
Anthony
Albert J., 2
Albert W. E., 5
Clarence, 7
Elizabeth A., 7
Elizabetha, 7
Ellis, 5
Ellwood G., 1
Frederick, 4
Frederick W., 4
Jacob S., 3
Jenny, 2
John, 2
John C., 1
Mary, 2, 7
Nicholas S., 5
Rebecca, 5
Sarah, 3
Stanley, 12
Stelio, 12
Thomas, 1, 2, 8
William F., 9
Winfield, 11
Apffel
Elizabeth, 5
Francis, 3
Appfel, Francis, 3
Archer
Annie, 4
Ella E., 11
Ellen E., 11
Taylor, 5
Walter W., 12
Armbreister
Edwin, 1
Jacob, 1
Washington, 1
Armbriester
Eliz., 2
Paul, 5
Armbruster, Charles, 10
Armo, infant, 10
Armpreister
Amanda, 7
Annie I., 6
Chas. I., 7
Edwin, 1
George W., 13
Irvin D., 6
Jacob, 1
John D., 8
Sarah, 1, 8
Wm. J., 6
Wm. M., 6
Armpriester
Bluma May, 14
Charles I., 14
Charles Irwin, 14
Chas., 1
Elsie, 4
Geo., 3
Harold B., 10
Stella M., 12
Valeria G., 10
Wm. J., 4
Armstrong, Mabel A., 9
Arndt
Esther May, 3
Florence E., 15
Mary, 8
Mary E., 8
Mary L., 8
Richard A., 14
Arnold
George H., 9
Jefferson F., 13
John H., 12
Marie E., 8
Mary Ann, 1
Mary E., 12, 13
Mary Hartman, 13
Rudolph, 4
Sallie, 13
Sallie Ann, 13
Artz
Margaret S., 15
William L., 14
Auchenbach
Alice M., 3
Alvin J., 4
C., 3
Carrie I., 3
Ida A., 13
Ida H., 13
John N., 15
Ruth B., 5
Susan R., 10
Audenreid, S., Mrs., 2
Audenreith, John D., 8
Auers
Aruerna, 9
Arvers F., 9
Auge
Annie G., 12
Arthur F., 11
Bertha M., 92
Emma E., 14
Ethel May, 7
infant dau., 5
infant girl, 11
Jeremiah, 5
John F., 12
John Franklin, 11, 12
Mary A., 13
Mary M., 6
twin infants, 9
Warren L., 11
William H., 1, 14
Wm. H., 206
Aulenbach
Anna, 7
Annie E., 7
Annie M., 7
Caroline, 6
Carrie, 6
Cath., Mrs., 1
Catharine, 13
Catharine, Mrs., 1
Charles, 13
Chas., 4
Clara A., 9
Clara S., 2
Clara Susan, 2
Edgar P., 3
Elwood F., 7
Emma C., 5
Emma L., 10
F. Keim, 14
Franklin, 10
Franklin H., 11
Franklin Keim, 14
Geo., 1
George, 9
Henry, 4
Ida, 1
Irvin, 6
Irwin, 6
James, 10
John A., 13
Jos., 2
Joseph, 3
Matilda, 5
Ralph E., 5
Rosa, 4
Rose, 4
Susan, 6
Auman
Albert, 2
Anna S., 4
Arthur, 3
Milton, 6
Ralph S., 3
Raymond F., 3
Wm. A., 1
Austin
Harriet, 8
Mary, 2
Samuel, 11
twin infants, 12
William R., 7
Autenreith, John D., 8
Babb, 25, 40
Albert, 68
Albert C., 26
Albert T., 68
Amanda, 47
Benjamin, 32
Charlotte, 22
Chas., 23
Chas. H., 23
Edna May, 28
Ellen H., 54
Emma, 18, 23
Emma Jane, 27
Esther, 16
Florence, 22, 23
Florence M., 73
George E., 61
George V., 29
Harry M., 52
James, 33
Jane, 33
Joel, 23
Joel K., 21
John H., 53
John, Mrs., 18
Laura L., 46
Lottie G., 22
Mary, 55
Mrs., 18
Mrs. Ada L., 31
Rebecca, 26, 27
Rebecca Herb, 26
Samuel U., 51
stillborn, 39, 46
Wilbur, 28
Bach
Ada, 21
Catharine C., 48
Charles E., 42
Charles S., 42
Elizabeth F., 72
Frank, 21
Frank Leroy, 21
John, 24
John A., 50
John H., 60
John L., 56
Katharine C., 48
Mary Ann, 28, 598
Mary Aruilla, 24
Bachman
Ada L., 63
Chas., 27
Dorothy, 49
Dorothy L., 49
Edgar Merril, 36
Harry, 48
Harry L., 48
Ida, 70
Jos. A., 38
Lewis B., 17
Marie, 30
Mary A., 27
Wilbur, 45
William A., 74
Wm., 43
Baderinger, Sarah J., 61
Bady
Catharine A., 73
Edward, 18
James D., 56
Thomas, 20
Warren, 20
Baeighkley, Charlotte, 62
Baer
Annie S., 67
Charles, 49
Geo. M., 33
Harry W., 32
John, 72
Laura M., 36
Lydia F., 60
Maude, 64
Milton H., 71
Sallie M., 45
Bagge, Mary Ann, 20
Bagner, Thema, 47
Baieghkley, Carl, 51
Bailey
Amanda E., 70
Bella Stump, 48
Charles H., 53
George W., 61
infant, 53
Nelson, 21
Richard, 56
Baisch
Amanda, 44
Carl J. N., 37
J. Nicholas, 52
Paul J., 34
Baker, 46
Alice F., 58
Edward H., 30
Emanuel L., 28
Irvin L., 41
Irvin Lloyd, 41
Mary Ann, 57
Mary E., 38
Maude L., 72
Miriam M., 27
Silas C., 49
Walter F., 69
Walter W., 34
Ball
Alton Brooke, 67
child of W. H. E., 40
Elwood A., 68
Jennie M., 67
Jessie M., 39
Katie, 32
Katie May, 32
Lillian M., 36
Pauline, 54
Pauline B., 54
W. H. E., 40
William H., 69
William H. E., 69
Balloch, D. M., 16
Balmer, 48
Balsbaugh, 37
Balthaser, Edith M., 71
Bangert
Peter, 66
Tillie, 67
Tillie Trace, 67
Banghart, Wesley, 25
Baniseth, Adolphine Eleanore, 35
Bannister, Adolphine, 35
Barber
Jospehine, 58
Jospehine A., 58
Mary Jane, 73
Maude M., 70
Morris B., 54
Morris E., 54
Morris H., 44
William B., 57
Barbour
Mary Jane, 73
Morris H., 44
William B., 57
Yvonne, 62
Barchus
Anna Irene, 55
Cetta Irene, 58
Geretta Irene, 58
Bard
infant, 55
Paul H., 46
Barker
baby, 47
Charles M., 70
Barlet
Daniel S., 71
Fayette, 28
Mary A., 19
Tobias S., 35
Barlett
Fritta, 28
Mary, 19
Tobias S., 35
Barnhard, Frank, 38
Barnhart
infant, 50
Lovina M., 58
Barrett
Jesse C., 29
Jessie C., 29
Barry
Frank L., 53
James W., 48
Robert, 51
Barsch, Lillian, 142
Barstler, James, 21
Bart, K., Mrs., 19
Barth
Annie E., 43
Catherine, 41
Conrad J., 49
Elise May, 24
Elizabeth, 19
Ellen E., 66
Elsie, 20
Emma E., 52
Emma L., 23
George J., 69
H. Edwin, 38
Harry, 36
Henry E., 58
Henry Edwin, 27
infant, 50
infant child of Harry, 36
James W., 29
Jennie F., 31
John D., 60
Kate E., 48
Katie, 48
Maggie, 73
Martha J., 55
Monroe G., 73
Robert C., 32
Thelma, 50
Warren S., 29
William, 68
Winfield I., 21
Bartha, Carrie, 35
Barthlow
Charles, 55
Charles W., 75
Mary E., 55
Barthold
child of Oliver, 34
Oliver, 34
Bartholoew, Louis W., 59
Bartholomaus, Jenette, 39
Bartholomew, Jeanetta, 39
Bartholonus, Louis W., 59
Barto
Gertrude Berg, 74
Irvin, 51
James, 71
James Q., 71
Mary A., 41, 42
Mary E., 73
William D., 57
Basch, Carl, 37
Basney, Fannie Elizabeth, 47
Bast
Alfred, 17
Alfred J., 17
Harry, 24
Kate E., Mrs., 19
Bastian, 30, 37
Byron, 28
Hannah S., 65
Walter B., 45, 69
Basuey, James, 47
Batdorf, Nancy, 51
Bates
Clair M., 66
Newton B., 38
Batt
Jacob, 41
Joel K., Mrs., 16
Joseph A., 63
Rebecca, 39
William B., 63
Batts, infant, 39
Batz
child of D. C., 36
D. C., 36
Bauder, Hannah, 17
Baueithel, Catharine, 46
Bauer
Annie M., 74
Eva, 60
Eva D., 60
Florence M., 67
Fredrick J., 47
Gottlieb, 26
John, 42
Joseph D., 72
Laura E., 51
Mary, 50
Mary A., 35
Philip M., 75
William, 21, 74
Wm., 21
Bauereithal, Fred, 49
Bauereithel, Catharine, 46
Bauknecht, Earle E., 70
Baulman, Mary, 25
Baum
Anna, 20
Chas., 17
Ida, 58
John H., 72
John M., 61
Pauline, 53
Velicia, 42
Velma, 42
Walter M., 30
Walter W., 30
Bauman
Anna E., 34
Carl C., 47
Elizabeth L., 69
Elsie, 37
Emil, 48
Fern, 40
Geo. F., 38
Harry R., Jr., 57
John B., 52
John W. A., 34
Kate, 39
Maud E., 37
Maude E., 37
Pauline, 63
Raymond, 24
Stewart, 46
Woodrow W., 42
Baumeirer, Anna H., 31
Baumener, Harold A., 36
Baumerer
Harold A., 36
Mrs. Mary A., 27
Baureital, John F., 28
Baureithel
Frederick, 49
John F., 28
Lillian, 23
Baureither, John, 17
Baureitherl, Anna, 25
Baurentiel, Eliz., 25
Baus
Adella, 32
Daniel, 17
Harold D., 31
Horace C., 44
Howard H., 44
Howard U., 44
Sarah L., 17
Bauscher, Pious, 37
Bause
Daniel, 17
John, Mrs., 17
Bauser, Wm., 22
Bausher
Donald J., 48
Laura, Mrs., 35
Leroy, 35
Pius, 37
Beadencup, ?, 24, 34
Alice C., 37
Conrad, 44
Edward D., 32
Eliz, 20
Geo. W., 43
George, 51
George H., 56
George H. W., 56
infant, 36
Irvin, 61
John, 33
Laura C., 72
Mary A., 34
Mary L., 34
Beahm, Etta L., 69
Beam
Alice, 39
Jackie C., 50
Jeannette, 47
Joanette H., 47
John, 50
Nathan, 64
Beamensderfer, infant, 61
Beamesdifer
Franklin A., 38
Lillian E., 38
Beams, Nathan, 64
Beamsderfer, infant, 61
Beamsdifer, Garfield, 39
Bear
Etta J., 65
Harry W., 32, 40
infant, 23
Margaret E., 39
Walter, 40
Beard
Annie M., 66
Catherine, 40
Daniel D., Mrs., 26
Isaac, 58
James, 26
James C., 74
Jeremiah, 58
Kathryn, 40
Lucinda, 17
Mary A., 37
Mary Ann, 37, 72
Mary Ann Elizabeth, 72
Rachael, 22
Seneca, 55
William M., 56
Beardman, John, 21, 444
Bearstler
David, 53
Eliza, 40
James, 21, 62
Margaret, 31
Mary, 29
Sallie J., 66
Beasesdifer, James G., 39
Beaver, Anna, 19
Becholdt, Lydia, 22
Bechtel
Abbie, 22
Ada, 22
Agnes, 28
Allen H., 46
Amanda, 17
Anna Mary, 27
Arthur G., 30
Carrie Alburta, 16
Charles A., 53
Charles I., 72
Charlotta, 21
Charlotte, 21
Clarence E., 68
David, 17, 19
David G., 33
David W., 64
Ellen, Mrs., 28
Elmer E., 62
Emma, 19
Florence H., 74
Geo., 19
Geo., Mrs., 28
Geo. W., 30
George, 71
George W., 71
Harry, 19
Henry B., 39
Hester, 45
Howard, 19
J. Edward, 41
Jennie M., 49
Jer., 21
Jeremiah, 20
John E., 41
Laura Matilda, 74
Levi, 16
Lillie, 21
Mabel, 19
Mary A., 67
Mary C., 66
Mary M., 67
Merlie L., 59
Morris W., 39
Mrs., 19, 22
Samuel G., 64
Sarah, 47
Thema, 41
Thos., 21
Wm. H., 25
Bechtold
Clara S., 68
David, 17
Sarah, 47
William L., 64
Bechtoldt, Albert R., 29
Beck
child of J. H., 46
Clarence H., 74
Dorothy A., 40
Dorothy R., 40
Ethalinda, 46
J. H., 46
Becker, 24
Ada May, 26
Amanda M., 40
Anna Louisa, 34
Anna M., 32
Annie, 64
Annie L., 34, 58
Barnard J., 45
Cath., 16
Catharine, 16
Clara M., 56
Claude E., 42
Cornelius, 49
David, 21
Dorothea, 54
Dorothea M., 54
Dorothy, 24
Dorothy L., 55
E., 28
Ella M., 72
Emma, 25
Frederick, 24
G. Adam, 35
Geo. A., 35
George, 38
George Harry, 24
Gustav, 24
Hannah, 38
Harry, 24, 25
Harry A., 24
Heinrich, 16
Helen, 24
Henry, 16, 20, 26, 57
Henry L., 64
Henry Rudolph, 16
Ida, 21
infant, 52, 56
John, 28
John H., 69
Lao May, 41
Leon K., 58
Lydia, 31
M. Ellen, 26
Madeline, 34
Magdalena, 34
Marjorie Luella, 54
Mary A., 48
Mary E., 26
Mary Emma, 57
Mary M., 69
Mayare Luella, 54
Mazie M., 36
Miriam W., 58
Pauline, 64
Pauline E., 64
Philip E., 32
Rebecca, 27, 31
Sally, 23
Samuel R., 16, 27
Sarah, 32
Walter, 18
Washington, 20
Wilhelmina, 34
William H., 56
Beckley, Rev. Arthur S., 39
Beears
?, 21
Edgar H., 62
Margaret H., 62
Walter, 22
Behle, Annie, 24
Behm
Geo F., 41
Guy B., 68
infant boy, 57
Kate K., 50
Katharine K., 50
Ray B., 68
Stella R., 70
Behney, infant, 50
Behny
Ethel M., 42
Ethel U., 42
Behrle
A., 26
Abraham M., 19
Annie, 24
Charles, 64
Chas., 18
Clara E., 71
Courtney, 26
Edward T., 71
Elizabeth, 40
Emma, 18
Florence E., 64
Floyd F., 42
Herbert, 33
infant, 17
John, 41
John H., 43
Maggie E., 40
Sarah Ann, 73
Beicher
Chas. H., 37
Harry R., 37
Beichtel
Alvin, 63
Catharine L., 56
Catherine L., 56
John, 61
Marian E., 53
Mildred M., 53
Richard A., 51
Ruth Margaret, 53
Beidencup, infant, 23
Beidenkupp, Eliz., 20
Beiderbock, Ellen, 25
Beidert, Annie, 20
Beidinger, Emily, 25
Beisswanger, Anna, 42
Beisswenger, George W., 61
Beistler, John M., 48
Beiswanger, infant, 28
Beiswenger, George W., 61
Beittinger, Joseph, 28
Bell
Emma E., 45
Grace, 44
Mary R., 67
Belleman, Jos M., 44
Belles
Chas., 38
Elizabeth, 64
Elmira, 46
Gertie M. S., 48
Gertrude, 48
Howard E., 37
Jacob, 24, 55
Jacob O., 42
John, 61
Jos. F., 44
Levi, 56
Lydia Ann, 60
Mamie A., 67
Rosie M. Moyer, 67
Sarah, 49
Thomas F., 50
Victor L., 70
William, 26
Bellman
Alfretta, 28
Alice, 22
C. S., 16
Chas., 26
Clara Adams, 26
Elizabeth, 28
Elvina S. M., 20
Emma, 53
Franklin A., 45
Howard, 22
James, 50
Jos M., 44
Laura, 3
M. Freda, 59
Maria E., 26
Mary, 18, 50
Mary A., 26
Robert E., 58
W. H., 21
Wm. H., 36
Wm., Mrs., 20
Bellows
Jacob, 16
Mrs., 21
Bench
Annie E., 67
Harry H., 49
Jacob H., 62
Sallie L., 23
William H., 51
Bender
Carrie S., 65
Chas., 28
David D., 74
George, 50
Levi S., 41
Rebecca, 34
Sarah K., 63
Susanna, 40
William G., 65
Willis, 37
Benkey, Pearl Irene, 33
Benner, Milton S., 35
Bennethum, 20, 39
Adam, 39
Amelia L., 55
Anna, 40
Annie E., 40
Cath. S., 40
Catharine, 19, 41
Catharine S., 40
Catherine, 19, 41
Chas., 16, 21
Chas. R., 28
Harry, 54
Henry E., 70
Katharine L., 70
Mary E., 54
Silas, 21
Silas L., 38
Susan, 60
Susan T., 60
William L., 57
Wm., 23
Bentz
Amanda, 43
Grace P., 43
Grace V., 43
Harry C., 71
Harry E., 71
Henry D., 29
Maggie M., 65
Mary A., 43
Paul G., 52
William J., 59
Berg, 42
Albert, 60
Betty May, 56
Carrie O., 42
Chas. F., 39
Chas F., Jr., 35, 38
Emma V., 47
Frederick J., 54
Gladys A., 35, 38
Infant, 54
infant, 57
James, 22
James C., 22
James N., 62
Mary A., 41
Matilda, 30
Matilda C., 30
Paul W., 44
Samuel, 31
Samuel F., 31
Sarah, 22
William H., 51, 54
Berger
Catharine R., 56
Esther L., 50
Harry, 50
Nathan A., 49
Nathan A., Jr., 68
Rebecca C., 56
Bergstresser
Agnes S., 40
Ira, 66
Berker, Katie, 52
Bernhard, Harry, 66
Bernhart, 29
child of Samuel, 21
Estella N., 29
Harry, 66
Mary A., 60
Samuel, 21
Berrigan, Laura, 73
Berringer
Anna E., 69
Harry G., 70
Harry G., Sr., 70
Berst
Annie C., 53
Ed Henry, 27
Edward Henry, 220
infant, 55
John G., 70
Susan, 56
William F., 65
Berster, Margaret, 31
Berstler
Catherine, 23
David, 53
J. George, 22
John H., 49
John M., 48
Berth, Maggie S., 68
Bertolet, Harry D., 63
Bertolette
Harry D., 63
Hattie M., 48
John, 26
John S., 64
Mae E., 73
Bertram
Charles F., 72
Charles W., 72
Floy C., 71
Irvin D., 68
Besstler, J. George, 22
Betts, Bernard K., 37
Betz
Clarence F., 43
Clifford B., 57
Ralph F., 41
Bewley, infant, 55
Beyer, Irwin, 19
Beyerle
Mabel M., 73
Richard G., 74
Beyler
Daniel, 29
Margaret S., 53
Bhumener, Harry A., 26
Biagi, infant, 55
Bibble, E. P. Robert, 71
Bibbus
John, 20
Wm., 20
Bibus, John, 52
Bican, Franklin D., 26
Bicher, William H., 73
Bickel
Anthony, 36
Irvin J., 46
Irvin W., 35
Joachim, 34
Louisa O., 57
Mary, 26
Sallie, 25
Samuel, 53
Sarah, 38
Sarah A., 32
William, 60
Wm., 18
Bickely
Charles W., 60
Christiana, 29
Sarah A., 42
Bickenstein, Forest M., 29
Bickle, Harry, 34
Bickley
George, 27
John H., 60
John Henry, 60
Kate S., 61
Susan, 29
Biecher, Harry R., 37
Biedert
Anna Marie, 20
Mary, 62
Biehl
Catherine K., 72
Chas. I., 37
Daniel, 23
Daniel E., 23
James E., 60
Mary B., 39
Ralph A. H., 34
Biel
Charles F., 40
Chas. I., 37
Bierns, Edna, 34
Biesswanger, Laura M., 32
Bieswanger
George, 30
Laura M., 32
Biffel, James, 72
Bilger, 38
Clara M., 52
Ellen D., 30
Geo. W., 38
George Richard, 59
George W., 64
Lide, 66
Billinger, Martin A., 69
Billman
Daniel K., 63
Hunter Henninger, 18
Kate, 31
Rose F., 58
Bimson, Robert, 35, 66
Binckley, George, 27
Bingaman
Annie E., 67
George L., 50
Jacob R., 59
Leonard F., 44
Lucy Ann, 62
Mary Marcena, 75
Sallie, 66
Samuel, 43, 69
Samuel F., 43
Sarah F., 71
Stella, 36
Bingamon, Chas. F., 47
Bingham, Sadie E., 58
Birenstine, Florence M., 29
Birler, Chas., 22
Bishop
Daniel, 20
Elizabeth, 27
Bitler
Annie S., 62
Annie Snyder, 62
J. Howard, 64
Bitting, 16
Allen R., 36
Annapolis M., 48
Catherine, 60
E. O., 42
Earl, 43
Edith P., 39
Edna E., 49
Edna May, 49
Edward J., 36
Edward O., 42
Ella F., 47
Ella T., 47
Ellen, 19
Ellen R., 65
Frederick E., 34
John, 16
Martin, 27
Mary, 52
Mary C., 27
Mary Ellen, 52
Maud C., 26
Maude C., 26
Milton S., 61
Robert, 75
Rose, 53
Rose T., 54
Rosie T., 53
Samuel Milton, 36
Bittner, D. N., 18
Bitzel, Herbert L., 65
Bitzer
Edith I., 70
Edith J., 70
Emma, 49
Emma A., 49
George W., 63
Harry L., 67
John A., 70
Katie A., 60
Lefever D., 32
Rose E., 36
William A., 64
Bivans, Carl, 46
Bivens, Carl, 46
Bixler
Charlotte, 41
Donald W., 63
Fred M., 49
Frederick M., 49
J. Edward, 59
Katharine S., 52
Milton, 68
Peter S., 58
Black
Adam H., 33, 34
Adam, Mrs., 24
B. Florence, 68
Catharine, 41
Catharine May, 41
Edward, 23
infant, 51
James, 46
James H., 72
Justina, 24
Lola M., 64
Mary J., 53
Wm. H., 29
Blacker, John G., 29
Blair, 47
Blanchard, Wesley E., 61
Blank, Laura I., 63
Blankenbiller, infant, 66
Bleecher, Rebecca, 21
Bloch
John, 20
Mary E., 32
Blocher, Rebecca, 21
Blood, 44
Blotts, Peter M., 18
Blucher
Emma, 17
Lucian, 19
Blum
Amelia, 27
Clara S., 71
J. Robert, 58
Jacob, 32
Blumm, Geo. Wm., 16
Blystone
Mary E., 61
Wm. W., 50
Boa, 25
Boader, Geo. W., 73
Boady
Anna S., 74
Earl A., 49
William, 66
William H., 66
Boaman, John P., 71
Boarder
Mary, 65
Mary M., 65
Minerva G., 35
Sidney G., 53
Boas
Annie, 19
Archibald, 24
Emma, 28, 31
Freeman, 62
George K., 63
Harold G., 30
Harry, 31
Harry K., 31
Howard, 19
infant, 52
Ira, 33
Jacob Howard, 29
John, 21
John S., 21, 30
Mary, 34, 69
Mary E., 25
Raymond L., 36
Reuben D., 59
Wm., 30
Bobst, 25
Alice L., 57
Annie Agnes Kehoe, 25
Bertha E., 74
Carolina, 31
Catherine W., 36
Charles H., Sr., 62
Clarence W., 35
D. Milton, 26, 68
Ella M., 16
Harry, 17, 18
Harry W., 31
Howard D., 59
James C., 16, 26
Jos. C., 26
Kate W., 36
Laura K., 69
Lydia, Mrs., 25
Mary C., 31
Milton D., 68
Raymond A., 69
Robert J., 44
S. S., 31
Samuel P., 61
Samuel S., 31
Sarah A., 47
Sarah H., 26
William C., 54
Wm., 24
Wm. J., 34
Bodener
John, 22
Susanna, 22
Bodmer
John, 22
Lillie, 40
Susanna, 22
William, 58
Bodner, Samuel, 31
Bogar, Edith, 19
Boger, 33
Abraham, 23
Benjamin, 22
Donald F., 53
Edward, 35
Elizabeth, 32
Emma C., 57
Frank H., 55
Ida May, 65
Leon H., 31
Lewis, 39
Margaret, 32
Mary A., 66
Raymond B., 63
Theresa, 36
Bogge, Mary Ann, 20
Bogner, Thama, 47
Bohler
Emma, 35
Emmaline, 35
Bohn
Anna, 20
Frederich A., 56
Frederick A., 56
Sophia, 71
Bolig
Annie O., 70
John, 32, 71
John F., 37
John Francis, 71
Lewis A., 71
Lucille, 52
Mary L., 57
Nicholas, 52
Sarah M., 42
Sarah N., 42
Bolignese, Numzic, 73
Bollman
Amelia, 19
Bertha, 22
Cyrus, 32
Eliza, 638
Mary, 25
Boltz, John K., 39
Bone, George T., 60
Bonler, Ruth E., 32
Bonte, Wm. J., 28
Boody, Earl A., 49
Boone
Albert J., 28
Clara L., 71
E. Lurene, 25
Harry, 36
Ida, 28
Thomas R., 62
William W., 45
Booth, Mamie, 22
Borden, infant, 59
Border
Hannah, 17
Ruth E., 32
Borell
Florence, 35
Grace C., 33
Miriam, 36
Borhon, M., 44
Borkert, 33, 37, 48
Albert, 18, 46
Albert G., 46
Albert W., 18
Alvert R., 69
Amanda, 44
Aug. G., 34
Augustus G., 34
Catharine, 31
Catherine, 31
Celia J, 74
Chas., 25
Chas. H., 35
Daniel, 19, 62
Daniel A., 62
Dorothy, 29
E. B., 29
Edward B., 29
Eleanor, 43
Elizabeth, 24
Ella L., 58
Elwood, 40
Emma A., 39
Florence M., 56
Frank J., 55
Gertrude A., 57
Grace E., 65
Harry F., 67
Hazel Lee, 35
Jean Ellen, 59
John, 24
John A., 57
John D., 73
John J., 54
John R., 24
Kate, 54
Katherine, 69
Kathryn, 69
Katie A., 54
M. Amanda, 44
Malinda, 43
Richard G., 45
Rosa, 32, 65
Rose A., 32
Rose C., 65
Warren, 24
William, 30
William D. A., 63
Wm. G., 27
Wm. H., 35, 45
Wm. J., 18
Borket
Edna May, 22
Florence, 17
Frank J., 55
Borkett, Florence, 17
Born, Caroline, 51
Borrell
Anna, 44
Annie A., 44
Annie S., 61
Billy, 30
Francis, 41
Grace Catharine, 33
Jos., 17
Miriam, 36
Robert, 46
Bortz
John R., 57
Mary E., 35
Bortzenhart
Edward, 70
Mary, 67
Bosold
Barbara E., 51
Joseph P., 51
Bossler
Amelia M., 33
Katie A., 71
Mary A., 51
Mildred M., 46
Bostan, Earl N., 50
Boster, Agnes, 29
Both, Mamie, 22
Botzum
Agnes, 41
Irvin J., 39
John, 64
Bouchat
John, 48
Mary J., 33
Mary Jacob, 33
Wm., 43
Boughart, Albert G., 25
Bower
Carrie, 16
Conrad, 40
Ella, 16
G., 26
Helen A., 74
Jas., 21
Laura M., 74
Laura N., 74
Martha A., 33
Martha S., 67
Mary, 50
Mrs., 18
Thelma C., 36
Thelma Catharine, 36
Bowers, 16, 25
Amanda A., 51
Catharine P., 62
Catherine, 47
Catherine P., 62
Charles W., 66
child of Wm., 35
Clara, 23
Edward H., 46
Ella N., 45
Emily E., 51
George E., 61
Henry, 25
Hettie, 38
Howard L., 65
Jacob, 21
Kate, 64
Kate M., 62
Katharine, 47
Katie, 62
Mrs., 18
Reuben H., 49
Reubin, 49
Susan, 41
Thomas, 34
Thomas H., 48
William, 53
William H., 41
William J., 70
Wm., 35
Bowman
Abraham J., 74
Charles, 63
Charles, Sr., 63
child of George, 30
Eliza, 23
Emma, 71
Eva, 25
Florence A., 44
Frank E., 65
Geo. F., 38
George, 30
Gertrude E., 74
Harry H., 26
Ida, 41, 66
Irvin, 50
Irvin J., 50
John, 41
John B., 52
Lillie E., 59
Mary E., 32
Mrs., 48
Paul J., 68
William H., 48
Woodrow W., 42
Boyd
Emma L., 59
Helen I., 42
Boyer
Ada C., 45
Amelia K., 43
Angela M. F., 55
Angela Marie F., 55
Austin, 43
Benjamin, 22
Charles, 51
Charles R., 69
Clara K., 62
Daniel R., 52
Edna, 17
Edna Irene, 17
Emma, 17
Emma S., 37
Emma W., 37
Florence J., 48
Harrison, 22, 27
Harry W., 43
Helen P., 43
Henry, 19, 35
Henry E., 69
Ida E., 17
Ida K., 45
Irvin W., 19
Isabella, 27
Isabella Humprheys, 27
James, 46
John H., 32, 73
Laura A., 58
Lizzie, 20
Rebecca, 65
Rebecca C., 65
Robert C., 48
Sarah L., 28
Sophia F., 49
Sophie F., 49
William, 53
Winfield, 30
Wm., 28
Boyle, Elizabeth O., 45
Brady, 44
Gertrude V., 44
Josephine, 24
Violet V., 40
Brandt, 30
Braucher, Augusta, 63
Breay, Annie, 49
Brechert, Chas. H., 37
Breckley
Chas. J., 33
Franklin W., 72
Frederick A., 65
Henretta, 54
Henrietta, 54
infant, 24
Jacob, 27, 54
Mary, 24
Violet A., 37
Violet O., 37
Breckly, John D., 55
Brehm
Clara J., 52
Emma Belle, 70
Ferdinand, 62
Rhea, 26
William F., 65
William H., 67
Breidegam
Bennett I., 19
Edward A., 67
Hannah, 63
Hannah M., 63
William H., 61
Breidenbach, 22
Laura, 16
Lucy, 40
Wm., 32
Breitegam, Wm., 17
Breneiser, Chas., 43
Brenner, 25
Elizabeth, 45
Emma, 56
Russel, 37
Sarah D., 36
Breon, infant, 60
Breschonic, Caroline, 33
Breshonic, Caroline, 33
Bressler
child of James, 30
infant, 55
James, 30
Brestle
Geo. C., 26
George C., 27
Bretigam, H. F., 17
Brey, Annie, 49
Bricker
Anna M., 72
Anna Mae, 72
Elizabeth C., 72
Emma, 47
William H., 59
William N., 59
William W., 63
Bridenbach, 22
Lucy, 40
Bridgeman, Barnet, 19
Briel
Abraham, 39
Dorothy R., 59
Edwin, 65
Grace E., 72
Howard S., 66
Sarah, 30
Walter, 46
Brigegam, Earl E., 30
Briggle, Angelina, 42
Briggs
Herman, 49
Herman A., 49
Mary E., 51
Samuel C., 37
Samuel H., 46
Bright, 48
Annie E., 52
Annie L., 52
Aug. F., 37
Augustus F., 37
Edith E., 75
Eleanora, 27
Elnora Weiser, 73
Frank, 25, 43
George W., 59
Granville A., 43
Hazel, 41
Herbert J., 46
Howard H., 66
infant, 64
Isabella S., 49
James H., 27
Marguerite, 35
Mary S., 30
Sallie, 35
Stanley W., 73
Brile
Mary, 22
Mary Zerr, 22
Brincil, Joseph, 65
Briner
Alice, 52
Anna, 24
Harry R., 53
Ida, 24
John, 24
John D., 63
Lottie, 60
Margaret L., 59
Milton, 19
Susan, 57
Brisch, Lydia M., 51
Brison, William N., 62
Brissel
Annie Catherine, 23
Caroline, 44
Catherine, 23, 27
Charles F., 59
Clara A., 20
Jennie A., 73
John, 20
John M., 64
Katie, 27
Britton, Esther, 25
Broad
Alberta, 44
Clara E., 43
David, 51
David A., 42
Hetty, 20
infant, 52
Savanna, 40
Brobst
John W., 55
Margaret, 16
Brockmoyer, Fred, Mrs., 25
Brodman
Catharine, 50
Charles A., 57
Irene E., 31
Irene Elizabeth, 31
Jacob, 41
Kate, 31
Brom, Esther Mable, 19
Brookmeyer, Fred, 34
Brookmoyer, Charles F., 70
Brookmyer, Frederick, 32
Brooks, Celestia B., 54
Broschkowsky
Charles, 54
Chas., 25, 33
Elizabeth, 52
Louisa, 22
Mary, 67
Sarah, 34
Broschowsky
Lewis, 46
Lewis G., 46
Broskoschky, Louisa, 22
Broskosky, Chas., 25
Broskowsky, Chas., 33
Bross
Ida, 69
William H., 49
Brossman, Laura B., 61
Brown
Albert, 20
Albert Alexander, 20
Albert J., 61
Albert P., 62
Albert T., 44
Alexander, 54
Alice J., 72
Amanda V., 40
Augustus, 52
Carole, 63
Catherine, 44
Charles, 36
Charles M., 73
Chas I., 18
Clarence, 25
Clifford, 18, 20
Donald, 58
E. Gertrude, 74
Edith, 33
Edwin F., 48
Edwin T., 48
Elijah, 27
Elizabeth, 38, 42
Elizabeth K., 45
Ellen M., 64
Ellen N., 36
Emma, 23, 47
Emma C., 74
Emma M., 74
Esther, 28
Esther A., 49
Esther Mable, 19
Fern H., 48
Flora, 20
Frank, 43
Gertrude E., 74
Harry, 40
Harry H., 53
Harry R., 40
Henry H., 68
Hettie A., 69
infant, 54, 63
J. Leonard, 27
James G., 27
James M., 37, 59
James S., 37
James W., 26
Joan Carol, 62
John, 27, 54
Kate, 52
Leroy C., 73
Mamie, 57
Margaret C., 71
Maria Helena, 72
Mary, 31
Mary A. Heller, 18
Mary M., 57
May, 26, 31
Merritt A., 43
Merritt E., 43
Miller B., 60
Miller E., 60
Milliard, 18
Myrtle A., 31
Myrtle E., 31
Ralph F., 36
Raymond, 54
Rebecca, 50
Rosa E., 56
Rosa Rapp, 56
Russell R., 36
Samuel, 18, 60
Samuel A., 18
Samuel Willis, 75
Sarah Emelina, 23
William E., 54
Wm., 33
Brownback
Cordelia, 33
George W., 68
Brownbeck, Blanche D., 68
Brubaker
Erastus, 71
Erastus Jones, 71
Jacob H., 51
Magdalene, 47
Silvia, 45
Sylvia E., 45
Bruce, Armista, 56
Brudereck, Mabel, 45
Bruderick, Mabel, 45
Brumbach, 24
A. J., 48
Albert D., 57
Albert J., 48
Carrie E., 62
Clara, 24
Edwina B., 70
Frank E., 59
Ida E., 70
Margaret E., 47
Marian E., 302
Oscar G., 73
Sara A., 33
Sarah A., 33
Sol. A., 60
Solomon A., 60
son of William, 33
William, 33
William D., 66
Brumener, Anna H., 31
Brumm, Lewis, 16
Bruner, Geo. W., 16
Brunner
Aaron F., 17
Agnes J., 75
Anna B., 30
Arthur F., 59
Catharine, 52
Catharine E., 34
David W., 55
Donald, 50
Eliza. M., 33
Elizabeth M., 33
Geo. W., 16
Harrison, 25
Harry, 54
Harry W., 54
Howard R., 66
Irwin, 17
John, 21
John E., Jr., 63
John E, Sr., 50
Katherine, 34
Katherine E., 45
Lawrence, 20
Lena, 45
Lewis, 38
Lottie, 19
Lottie Frances, 21
Louis C., 38
Mary Emma, 21
Ralph H., 33
Rosanna, 49
Sallie B., 58
Susan, 66
Thornton, 17, 22
Warren R., 30
Willis, 34
Bryan
A. Ellsworth, 65
Catherine S., 71
Charles E., 40
Cyrus T., 69
Herbert S., 47
Bryle, Mrs., 22
Bryson, 47
Bubbenmoyer
Arthur F., 75
Henry J., 59
Mary A., 66
Bubbenoyer, Henry L., 26
Bubemeyer
Chas., 23
Harry, 26
Bubenmeyer, 28
Bubenmuyer, Florence, 23
Bubermeyer
Florence, 23
Gertrude, 23
Bubermoyer, Mary, 24
Buch
Franklin, 29
Jeremiah, 18
Jos., 25
Bucher
Charles A., 47
Charles S., 73
Dawn E., 65
Frank, 17
Franklin, 26
Harry, 67
Howard C., 61
infant, 51
Jennie M. E., 65
John, 18
Minnie I., 75
Rebecca J., 34
Robert A., 66
Valeria R., 38
Willie, 22
Wm., 22
Buchey
Ella E., 26
Margaret R., 46
Buchmeyer
Angeline, 25
Frederick, 32, 34
Buchter
David, 17
Ellen, 31
Emma L., 49
Jnenie L., 56
John F., 63
Sarah, 17
Buck
Alice M., 68
Carrie, 45
Charles H., 50
Floyd, 23
Katie, 20
Martha, 54
Minnie E., 67
Myrtle, 40
Ralph, 23
Ralph S., 72
Buckley
Catherine L., 61
Joseph A., 70
Katie, 61
Nathan, 31
Buckmiller, E. Lena, 52
Bucks
Ella A., 45
Floyd, 23
Buckwalter
Alice, 46
Leroy, 28
Wm., 21, 24
Wm. E., 34
Buddinger, Paul A., 69
Buehrer, Frank C., 67
Buell, Katharine L., 70
Bugg
Martha, 47
Samuel, 38
Buick, Alice M., 45
Buke
Anna M., 47
Bertolette F., 47
Sallie A. S., 41
Walter F., 62
Buller, Henry, 18
Bulles, Ficta, 16
Bunard, Milton, 19
Burd
Catharine Sarah, 37
Catherine S., 37
Paul E., 39
Wesley, 35
Burell, Ruth, 38
Burgess
A. Irene, 22
Aaron, 22
Ada, 21
G. Frank, 44
Geo. F., 28
Isaac L., 55
Mary B., 58
Mary M., 58
Burgit
Benjamin A., 66
Ellen E., 68
Burke, 42
Daniel, 18
infant, 67
Burkert, 29
Chas., 25
Francis A., 74
Rebecca V., 67
Solomon C., 39
Burket, Edna May, 22
Burkett, Daniel, 17
Burkey
Annie W., 61
Charles S., 73
Emma M., 61
Jeremiah, 19
Mary F., 43
Pearl Irene, 33
Rebecca M., 39
Ruth, 38
Samuel, 18, 21
William H., 55
Burkhart
Geo. L., 33
Helen E., 42
Helen M., 57
Mary J., 43
Burklund, Charles R., 57
Burky, 31
Elsa, 24
Elsie C., 24
Harry G., 58
Hattie M., 53
Mary R., 71
Rebecca M., 39
Ruth, 38
Burley
Elizabeth, 42
Joseph, 23
Burner, Bertha May, 29
Burnes, Florence B., 29
Burnish, Donald, 38
Burns
Bessie, 29
Edna, 34
Emma S., 41
Evelyn M., 51
Francis, 17
George, 45
Gertrude, 53
Harris, 29
Henry, 70
Howard E., 26
Irvin P., 69
Lillie M., 29
Lottie May, 29
Margaret, 45
Mary, 70
Mary C., 51
Walter, 20
William, 41
William F., 47
William S., 47
Wm., 16
Burrell
Berton A., 60
infant, 64
Mattie M., 72
Robert, 46
Ruth, 38
Burrelle, Burton A., 60
Burtram, Amelia D., 74
Buser, infant, 66
Bush
Anna M., 30
Arthur, 72
Catharine, 44
Clara C. J., 42
Elizabeth F., 65
Emanuel L., 62
George, 29
Gerald N., 68
infant, 56
Levi, 20, 56
Levi B., 30
Lucy, 18
Mary A., 30
S. Levi, 56
Sarah, 60
Sarah H., 38
Sarah S., 60
Bushey
Ella, 44
Emma, 44
Bushy, Jeremiah, 19
Buskey, Rebecca, 46
Butler
Chas., 18
Ellen N., 66
Margaret U., 39
Butt
Florence M., 33
George, 56
Henry C., 67
Howard, 58
Howard D., Jr., 55
infant, 64
Mary A., 61
Robert R., 72
William R., 56
Butten
Walter E., 60
Walter H., 60
Butterweck
Eliz., 32
Elizabeth, 32
Nathan, 19
Samuel, 37
Sarah, 30
Butterweek, Sarah, 30
Butterwick
Ellen, 65
Harry E., 68
Harvey E., 68
Nathan, 19
Button
Allie, 37
Henry W., 38
Butz
Emma, 42
Emma L., 42
Henry, 19
John, 16
Byler
Daniel, 29
John E., 42
Byrnes, Ada, 56
Cairns, Mabelle, 261
Cake, 80
Calhoun
Annie M., 86
John C., 85
Callaghan, Edward N., 86
Callahan, John W., Jr., 89
Camfield
Chas., 77
Mary, 77
Camp, Catherine, 78
Campbell
Daniel R., 90
David I., 90
David U., 90
Eliza, 77
Elmer A., 82
Emma Mary, 91
W. H., 76
Campfield
Calvin, 83
J. Calvin, 83
John, 88
Mary E., 90
Campus, Jesus, 83
Canfel
Martin, 78
Sarah A., 86
Canfield, John, 88
Cape, 83
Cargill, Clifford, 82
Carl
Harriet, 82
Loretta, 84
Carlin, 79
Edith N., 81
Edith N. Hart, 81
Carlisle, William J., 86
Carmello, Charles A., 90
Carnell
Albert E., 80
Arthur, 78
Carraffa, Philip, 90
Carrick, Ruth E., 83
Carroll
Elizabeth, 76
Rose E., 86
William F., 86
William T., 86
Carter, George W., 83
Case, Chester A., 88
Cass
Bertha M. Auge, 92
Chester A., 88
Castner, 81
child of Robert, 82
Robert, 82
Cavanaugh
Maud M., 80
Maude M., 80
Cepar, infant male, 89
Chafey
Melvin H., 84
Melvin M., 84
Chamuras
Anest, 89
Anest S., 89
Chapman, Martha M., 86
Charles, Samuel, 82
Charles Evans Cemetery, 515
Childs, Emily, 80
Chrisman, Paul S., 82
Christ
Angeline, 78
E. F., 79
Emma W., 84
Newton F., 91
Sarah, 79
Christian
Alice C., 83
Anna C., 78
Bertha, 86
Catharine, 80
Daniel, 76
Daniel H., 79
Ed. D., 79
Edward D., 79
Edward H., 86
Edward, Mrs., 80
Ellen M., 83
Emma, 82
Emma, Mrs., 82
Grace Elizabeth, 76
Henry, 76, 77
infant, 88
Mary B., 81
Mary C., 81
Oliver, 91
Paul, 79
Russell, 90
Sarah M., 78
Soloman, 83
Soloman H., 83
stillborn, 79
Christman, 76, 83
Alice C., 85
Ben'j. F., 84
Benjamin, 78
Eliza Susan, 91
Elmer, 84
George W., 82
Irvin H., 84
John, 78
John B., 82
John P., 90
Kate, 85
Katie, 85
Lillie, 81
Lillie C., 81
Mary, 89
Paul S., 82
Rosanna, 80
Rose A., 80
Chubb
Catherine M., 92
Charles R., 86
Frederick, 81
Frederick S., 81
Robert S., 92
Church
Adam, 77
Adam Sylvester, 77
Civelli, Anthony, 90
Civilli, Anthony, 90
Clack, Blanche, 76
Clark
Blanche, 76
Catherine A., 81
Catherine Marie, 91
Chas., 80
child of John E., 80
Clara A., 91
Clarence G., 86
Clarence J., 86
Edward B., 90
Elva A., 91
Emerson H., 81
Evelyn, 86
Evelyn M., 86
Frank, 84
Harry B., 81
Harry E., 86
John E., 80
John H., 80
Kathrine, 81
Kathryn Marie, 91
Loretta, 91
Lucy A., 81
Mary Alice, 91
Mary R., 90
Mrs., 76
Roger, 77
Samuel W., 85
W. Franklin, 84
Wm., 76
Clarke
C. Ellen Kreidler, 79
Ella, 79
Clausen
Anna, 89
Annie, 89
Bessie C., 83
Robert, 89
Walter, 88
Clauser, Emma Mary, 86
Clay
Alfred W., 83
Deborah, 82
Deborah D., 82
John S., 80
John S., Jr., 90
Lydia A., 86
Mary R., 79
Clemens
Abraham, 80
Anna, 89
Anna Witman, 89
Samuel, 84
William, 86
William A., 79
Clemmen, Sarah M., 79
Clemmenes, Abraham, 85
Clemmens
Abraham, 76, 77, 80, 85
Anna, 77
Annie R., 77
Christiana, 78
Christie E., 251
Daniel, 77
Emma, 92
Sarah Ann, 79
Clemmer
baby boy, 92
Chas., 80
Ellen Nora, 90
Howard J., 86
Minnie F., 82
Robert L., Jr., 92
Clepper
George, 82
Mary E., 80
Clewell
Elenora, 86
Leander, 85
Close
Anna E., 89
Harrison, 80
Jacob J., 82
Rachel, 78
Clouse
Florence, 77
Margaret, 634
Clouser
Amelia, 78
Cassie, 91
Charles L., 91
Daniel S., 86
Emma Mary, 86
Florence, 77
Florence I., 91
Henry L., 91
Irwin, 76
Lewis K., 78
Mary, 79
Mary L., 83
William A., 92
William H., 84
Wm., 78
Wm. H., 83
Wm. Howard, 83
Wm., Mrs., 78
Clove
Herman V., 83
Vernon V., 83
Cocayne, Elizabeth M., 86
Cocroft
Arthur E., 89
Nellie M., 91
Cody, Mary, 85
Cogan, Mary Jane, 85
Colburn, Mary Louise, 89
Coldren, Henry, 78
Cole
Kate, 84
Magdalena, 79
Coleman
Agnes, 86
Alice M., 89
Catharine, 77
Catherine, 77
Dorothy E., 81
Eliz. B., 91
Geo. W., 81
Harry, 77
Harvey, 77
John, 82
Mary, 86
Mary J., 86
Minnie A., 88
Owen, 78
Sallie M., 89
W. A., 79
Willard H., 86
William A., 86
William Keim, 92
Coller, 77, 78, 81, 84
Adeline, 76
Benjamin F., 86
Benny, 81
Chas D., 80
Christian, 78, 84
Elizabeth, 76
Elmina, 76
Emma E., 80
Eva M., 90
Eva W., 85
Florence May, 81
Geo. S., 78
Hannah, 83
Hannah A., 83
Howard, 76
infant, 84
Levi, 79
Levi, Mrs., 76
Maggie, 78
Maggie M., 78, 86
Mary, 86
Mary A., 89
Mary E., 78, 79
Mary H., 79
Michael, 84
Michael A., 84
S. M., 77
Sallie A., 82
Sallie M., 81
Sallie May, 81
W., 503
William H., 85, 86
Collinson
Margaret, 89
Wm. James, Jr., 91
Colove, William M., 86
Comence, Amanda, 86
Compton
Eva K., 84
Eve, 84
R., 76
Compus, Jesus, 83
Conard, 79
Ruth G., 79
Conden, Patrick, 77
Condon
Geo., 77
Geo. W., 77
Patrick, 77
Conley
Wm., 78
Wm. H., 78
Conner
Daniel V., 88
infant, 85
Conrad
Andora W., 90
Dolores, 88
Mary E., 79
Olive, 86
Oliver W., 88
Stella M., 79
Conroy, Louisa, 85
Conz
Carl C., 90
Christian, 88
Christian G., 88
Cook
James L., 88
Jospeh, 92
Lydia, 83
Sallie, 88
William, 83
William D., 89
Coombs, infant, 88
Coonley
Fred. W., 78, 79
Frederick W., 78, 79
Copeland, 81
Charles J., 88
Elizabeth, 88
Copson
Jennie Mae, 90
William T., 90
Corbit
Elmira, 80
Ida M., 85
James, 85
James F., 92
James W., 85
John R., 80
Joseph, 78
Miss, 76
Rebecca M., Miss, 76
Cornini, Carlo, 80
Covington
Allen J., 80
Allen T., 80
Anna C., 82
Anna M., 76
Annie, 76
Nellie, 115
Cowden, Samuel B., 81
Cox, Marie Walters, 91
Coxe
Geo., Mrs., 79
George, 81
Rose, 79
Coxen, Vernon F., 88
Cramp
Amelia E., 309
Harry, 81
John G., 86
John H., 86
Lottie, 81, 294
Samuel, 82
Craus, infant, 85
Crewdson
Edward, 85
I. Edward, 85
Sallie E., 85
Cristman, 76
Geo., 77
Geo., Mrs., 78
Judith, 78
Criswell, Mary H., 92
Croessant
Dorothy M., 82
Frederic, 77
Herman C, Jr., 89
Mary E., 91
Croll, Robert E., 82
Cromer
Carrie, 84
Geo. W., 83
Cropp
Sallie, 76
Sallie Francis, 76
Crosby
Augustus, 85
Lottie, 90
Crouse
Brooke S., 88
Clarence E., 91
Ella B., 84
Frederick, 85
Frederick B., 85
Kathryn S., 90
Katie, 90
Leona V., 81
Mary E., 88
Mary Geneva, 91
Crow
Harry E., 86
Margaret, 86
Margaret M., 86
Crown, John H., 79
Crulley, Frank, 79
Crum
Annie L., 79
Charles D., 88
E. Elizabeth, 82
Elisabeth, 179
Elizabeth, 78, 82
Jacob, 76, 80
Jacob H., 90
John, 77, 79, 184
John B., 80
John Edward, 77
John W. G., 86
Louisa, 81
Lucy M., 86
William A., 85
William Albert, 85
Cuellette, infant, 84
Cullen, Thomas W., 86
Culp
Edward, 77, 283
Esther, 86, 312
Esther Miller, 86
Cummings
D. R., 84
Harry Lincoln, 92
Katharine, 81
Katherine, 81
Cunius
Elizabeth, 82
Frank, 76
Sophia, 82
Susan, 81
Cunningham
Geo., 77
James, 81
Cunnius
Aaron, 76
Alexander, 89
Alfred R., 86
Alice M., 86
Amanda, 78
Amos, 78
Augusta H., 89
Barney, 77
Barney R., 84
Catharine, Mrs., 76
Cathryn L., 90
Charles F., 88
Elizabeth, 82
Florence J., 91
Florence T., 91
Frank, 76, 81
Geo., 79
Geo. W., 83
George, 89
George W., 89
Harry, 89
Henry, 76
Howard, 86
infant female, 89
James P., 82
Jerome, 77
John M., 86
John N., 86
John R., 88
Lucy, 77
Mrs., 76
Rebceca, 92
Rebecca, 78
Sallie, 89
Sallie R., 89
Sophia, 82
Susan, 80
Susan S., 81
Cunnous, John M., 79
Cupp
Artanius, 84
Artenius, 84
George W., 85
Gertrude, 91
Kate, 79
Katharine M., 79
Mary A., 79, 289
Samuel, 83
Custer
Sallie, 76
Sallie Sabilla, 76
Cutler, 76
Annie, 83
Daniel N., 80
Herbert, 77
J. Howard, 80
James O., 80
James Q., 80
Lottie R., 83
Minnie L., 83
Netta E., 86
William H., 82
Czarnecki, Joseph I., 89
Dailey
Charles H., 112
Lillie M., 113
Dales, Geo., 95
Dampman
Eliza, 95
Lillie, 93
Mary A., 96
Mrs., 96
William Scott, 113
Wm. Scott, 93
Daniels
John H., 108
Joseph A., 111
Kate, 115
Walter H., 6
Dankle
Alfred E., 6
Lucy, 108
Patricia, 112
Paul J., 111
Paul J., Sr., 111
Danner
Carrie, 606
Carrie E., 105
infant male, 117
Daridge, Emily, 106
Darkes
Jacob, 112
Mary A., 105
Darling, Geo., 94
Darrah
Chester L., 119
Daniel A., 106
Daniel O., 106
George, 99
Harriet M., 112
Lawrence, 108
Susan, 115
Susan H., 115
Dash, Casper, 94
Dauth, 106
Adelaide, 106
Adelaide M., 514, 530
Mary G., 111
Dautrich, 97
Aaron M., 112
Aaron W., 112
Alma J., 102
Amanda, 117
Amelia S., 104, 112
Annie C., 118
Barbara A., 98
Bessie M., 119
Clarence I., 116
David A., 115
Earl, 97
Elmer E., 109
Emma E., 113
Frank, 95
Franklin, 101
Gertrude, 96
Harry, 116
Jacob, 106
Jacob E., 106
Jacob M., 103
James, 94, 97
James E., 110
James N., 94
Jas., Mrs., 98
Jennie M., 111
Jesse E., 100
John F., 95
Kate, 94
Kate J., 94
Martha S., 99
Mary Jennie, 111
Minnie, 117
Minnie E., 118
Norman, 106
Norman E., 106
Paul H., 119
Philip A., 105
Samuel, 6
Samuel J., 6
Sarah M., 99
Warren, 95
William A., 113
William H., 113
David, Ely, 122
Davidge, William, 106
Davis, 6, 93, 100
Annie L., 108
child of Heber, 105
child of Thomas, 6
Clara, 114
Donald F., 113
Donald Franklin, 113
Dorothy E., 6
Earl, 96
Frank, 96
Heber, 105
Helen, 106
Helen A., 106
Ida, 113
infant, 115
infant child, 102
Jacob W., 6
James W., 99
Laura K., 106
M. J., 100
Mary, 101
Mary E., 98
Richard, J., 101
Thomas, 6
Thomas F., 114
Thomas T., 114
Violet, 97
Walter B., 114
Warren L., 115
Warren W., 104
Wm. Roy, 97
Davolt, Benneville, 93
Day
Claude W., 100
George I., 100
Wm. D., 99
Daywalt, infant, 110
Dean, Harry, 99
DeAngelo, infant male, 117
Deardorf
Elsie Helen, 110
Jessie C., 108
Deardorff
child of D. C., 101
child of J. C., 6, 102, 103
D. C., 101
Elsie Helen, 110
J. C., 6, 102, 103
Jessie C., 108
Sadie B., 103
Sadie P., 103
Dearolf
Henry, 96
Howard, 114
infant daughter, 103
Irvin E., 96
Irwin, 96
J. Howard, 114
Sallie M., 116
Dease, 93
Aaron, 6
Adam, 93
Andrew J., 100
Anna, 97
Anna C., 104
Arthur, 6
Caroline, 100
Clara, 105
Edwin, 97
Elizabeth, 105
Emma, 101
Frederick, 98, 112
Harry, 99
Henry, 95
Ida May, 109
Jacob, 97
John, 109
Kate E., 116
Katie E., 116
Laura L., 105
Margaret, 99, 116
Mary, 94, 101
William, 105, 107
William F., 108
Wm., 97
DeBinder, Ida, 117
Decker, Florence M., 113
Decon, Cordelia, 100
Deegan
Arthur T., 103
Arthur Thomas, 103
Emma, 98
Stella, 98
Deem
Aaron, 93, 97, 106
Adam, 93
Albert, 98
Auzora, 99
Catharine, 109
Catherine, 98, 109
Christian, 99
Christopher M., 99
Elisabeth, 96
Elizabeth, 96, 98
Geo. B., 101
infant, 93
M. Amanda, 101
Maggie, 99
Mary, 96
Mary A., 101
Mary May, 96
Sarah, 100
Susan, 99, 110
Thomas, 94
Thomas A., 94
Deemer, Thomas, 114
Deer, Chas., 95
Dees, William F., 108
Deeter, 94
child of Henry R., 101
Hannah, 106
Henry R., 101
John, 97
John B., 97
John H., 101
Wm., 95
Wm. L., 95
DeFrancis, William, 93
Degele, John W., 106
Degler
Ada S., 115
Adda, 115
Amelia K., 110
Charles E., 105
Cornelius L., 114
Dorothy E., 112
Elsie, 111
Frank L., 101
Oscar J., 117
Raymond P., 115
stillborn, 107
DeHart, 98
A. Jackson, 106
Ada E., 102
Adam G., 109
Alvin, 97
Anna P., 114
B. Frank, 113
Barbara, 100
Caroline, 105
Caroline S., 105
Catharine S., 107
Charles A., 111
Clara L., 116
Clara S., 116
Claude, 104
Claude W., 104
Cornelius, 109
Cornelius F., 109
David, 96, 104
David E., 104
Debbie, 94
Edward, 107
Elisabeth, 95
Elizabeth, 95
Emma E., 96
Emma M., 6
Florence H., 113
Frank, 93
Franklin A., 100
Fred. A., 97
Frederick A., 97
G. Calvin, 119
Geneva, 112
George C., 119
George H., 115
Gordon, 100
Hannah K., 107
Harry, 99
Hettie E., 118
Howard W. F., 93
infant, 113
J. Irvin, 117
Jackson S., 118
Jeremiah, 94
John, 109
Katie M., 118
Laura B., 115
Laura R., 115
Lena, 116
Leroy, 99
Lillian E., 109
Lillie, 109
Mary, 108, 109
Oliver, 108
Rachel C., 104
Rebecca D., 112
Reuben, 95
Ruth J., 111
Sarah J., 6
Stewart, 98
William, 112
William R., 112
William S., 116
Wm., 94
Dehart
Adam, 101
David E., 107
Geo. E., 93
Sarah I., 101
Sarah Irene, 101
DeHaven
Elsie M., 117
Robert B., 109
Sarah, 113
Deibert
Clara J., 106
Jeremiah, 108
Jeremiah T., 108
Deininger
Mary, 6
Samuel P., 98
Deis
Adam, 93
Mary, 94
Deisher, Henry B., 98
Deitrich, Wm. F., 93
Delaney
Clara, 111
John J., 104
Delcamp
Henry, 98
Henry H., 98
Howard, 105
Susan, 106
DeLong
Arthur W., 117
Catharine, 103, 107
Catharine E., 107
Catherine E., 100
Charles O., 111
Chas., 93
Chas. Henry, 93
David S., 109
Earl, 106
Harry, 93, 94
Helen J., 110
Henry, 97
Henry F., 99, 117
Henry H., 99
Horace, 94
Hugh E., 107
Infant boy, 111
Janice Ruth, 114
June May, 110
Katie, 103
Leonard R., 98
Lester, 105
Lizzie, 111
Lydia, 99
Manassas, 94
Mary A., 113
Randall L., 116
Rebecca, 95
Robert C., 105
Sara E., 96
Sarah, 96
Thomas R., 102
Delp
Annie B., 97
Charles, 97
Charles S., 115
Howard, 95
Delvet, 101
Dembenski, Emerita, 100
Denbierke, Emerita, 100
Dengler
Amanda, 112
Amanda E., 112
Ambrose A., 111
Annie, 116
C., Mrs., 93
Catharine, 100
Catherine, 104
Catherine M., 100
Charles, 107
Charles A., 112
Chas., 96
Elizabeth I., 108
Elmer R., 101
Emma, 97
Emmaline, 97
George D., 110
James L., 103
James R., 103
Jefferson, 95
Katie, 118
Lydia A., 93, 101
Madison, 96
Madison L., 110
Sarah H., 105
stillborn, 107
Denhard
Aug., 106
Augustus W., 106
Eliza, 101, 107
Eliza A., 107
Fred., 107
Frederick W., 107
John, 95
Liela, 101
Mary, 104
Permilla, 114
Permilla M., 114
Wm., 96
Denhart
Catharine, 94
Catherine, 94
David, 97
Frank, 93
Maude, 95
Denscheelman, Alberto, 106
Denscheilmann, Patricia, 116
Deppen, Fannie E., 119
Derolf
Nathan, 6
Sarah S., 6
Derr
Chas., 95
Chas. A., 101
Chas. J., 99
child of William S., 101
Christianna, 100
Christine K., 100
Elmira M., 112
Florence C., 111
Harry E., 107
Ida C., 115
infant, 111
Maggie, 99
Mary A. Williams, 119
Mary Williams, 119
Paul W., 102
William S., 101
Derrick
Chas., 93
Sarah, 93
Dersch
Casper, 94
John H., 94
Mary, 94
DeTamble, Mary A., 102
DeTample, Martha, 108
DeTemple
Katie M., 116
Martha, 108
Martha B., 99
Mary H., 102
Nicholas, 112, 577
Detthof
Geo. Frederick, 96
Jacob, 98, 117
Kathryn E., 117
Mary R., 115
Detthoff
Annie E., 113
Emma, 104
Emma P., 104
Geo., 96
Geo. M., 95
Jacob, 98
Philip H., 103
DeTurck, Myra C., 105
DeTurk
Joyce M., 118
Myra C., 105
unnamed, 112
Detweiler, infant, 114
Deuer, Katie Rapp, 448
Devere
Cleo, 105
Kate L., 103
DeVerne, Anna, 110
Devers, Kate L., 103
Devine
Cordelia, 107
Edith, 93
Francis J., 98
James H., 99
Lilly Bell, 108
Lily, 108
DeVoe, Cleo, 105
Dewald
Benneville, 93
Catherine, 96
Dewalt
Chas., 93
infant, 110
Dewson, Sophia H., 93
Deysher
Agnes K., 115
Ethel M., 116
John, 113
John, Dr. H., 113
Lottie S., 109
Marguerite, 112
Mary A., 115
Mary Ann, 115
Minnie, 116
Minnie Orth, 116
Scott, 98
Warren H., 118
Dickenson
Howard W., 119
Irene, 95
Dickinson
Edgar, 106
Elmer B., 115
Elsie G., 109
Hiram, 103
Hirman, 103
Laura, 93
Mary E., 105
Sarah A., 6
Wm. E., 100
Diefenbach
Arthur, 107
Margaret, 107
Diefenderfer
George E., 116
Maggie M., 115
Wm. E., 6
Diehl
Catharine, 100
Catherine, 100
Elizabeth, 109
Harry, 6
John, 101
John L., 101
Lizzie, 109
Diehm
Edgar E., 105
Horace F., 104
John H., 100
Leroy, 98
Margaret May, 118
Susan B., 105
Virginia M., 105
W. C., 105
Wm. C., 119
Diem
Earl S., 100
Elias, 110
Elias, Mrs., 102
Lena M., 118
Lydia Ann, 101, 102
Newton, 116
Dierolf, 103
Clifford, 6
Henry D., 96
Jacob, 104
Jacob H., 104
Mary A., 6
Nathan, 6
Sallie, 116
Sarah, 6
Sarah I., 112
Sarah L., 112
Dietrich
Alvin Guy, 118
Amanda, 114
Charles H., 109
Cyrus D., 116
Edward, 112
Edwin, 112
Ella May, 115
Elmira R., 115
Franklin G., 117
Geneva, 114
Geo., 97
Hannah, 98, 99
Jennie, 93
Martha, 95
Miriam, 107
William, 113
William H., 113
William Henry, 112
Wm., 98
Wm. F., 96
Dietz, Sarah, 117
Digley, John W., 106
Dignan
Bernard, 110
Catherine E., 110
Diller, Cora, 96
Dillon
Alma I., 114
Cecilia, 98
Cecilia O., 98
Chas. D., 102
Cora E., 96
James P., 112
Katie, 108
M. Ralph, 108
Mary B., 102
Moses, 103
Norman, 110
Walter S., Jr., 111
Wm. H., 93
Dinhen, 99
Dinina, Anthony, 98
Dinkle, Annetta, 118
Dippery, Emma D., 114
Disler, Sophia, 96
Dissler
Henry B., 98
Sophia F., 96
Ditlow
Edward, 118
Elizabeth, 112
Divine
Cordelia, 107
William H., 104
William Henry, 104
Doering, William H., 99
Doeringer, Harry, 99
Doerman, 6
J. Fred., 107
John Fred, 110
Margaret, 104
Doermann, Frederick, 110
Doerrman
Alice, 114
Clara J., 118
Josephine F., 105
Margaret, 104
Doerrmann, 6
Alice, 114
J. Frederick, 107
Dojan, Nellie Covington, 115
Doll, Mary H., 118
Donbrink, Priscilla, 99
Doney, Edward, 113
Donkirk, Priscilla, 99
Donovan
Clarence L., 97
Florence, 97
Ida, 99
Ida Geho, 99
Mary E., 98
Timothy, 99
Doody
Charlotte G., 99
L. Batt, 99
Dornes
Esther Z., 116
M. Caroline, 108
S. Esther, 116
Samuel S., 114
Dorns, Samuel, Mrs., 108
Dorrem, Edward, 95
Dorsey, Laura, 101
Dorward
Esther, 101
Frank, 101
Frank G., 6
Frank J., 6
Franklin G., 101
Olivia K., 114
Dorwood, 93
Dorword, Mary, 96
Dosch, Lillie, 115
Dotterer
Ambrose B., 115
Bertha, 98
Ida, 110
Ida E., 110
Dotts
C. R., 97
Clement R., 97
Dougherty
Esther, 97
Ray C., 101
stillborn of Ray C., 101
Douglas, James, 104
Douglass, James, 104
Douras, Fannie A., 117
Douros, Nicholas, 110
Doyle, Rose A., 110
Dracha, Susanna Jane, 117
Drawer, Mrs., 95
Drayer
Edwinna, 104
John H., 108
John T., 108
Minnie, 96
Dreher, Rebecca, 94
Dreisbach, David R., 116
Dreminger, Samuel P., 98
Drenkel
Amos, 97
Frances M., 6
Geo., 94
Jacob, 95
John, 94
Mary, 95
Drenkle
Anna, 107
Edward, 109
Elizabeth, 118
Geo., 94
George, 100
George R., 113
Jacob, 95
John, 94
John F., 111
Lillie M., 110
Rachel, 99
U. Grant, 112
Drexel
Amelia, 103
Amy, 94
Arthur W., 106
Dorothy, 109
Dorothy M., 109
George W., 111
Harold, 111
Jacob, 105
Lillie M., 97
Malinda, 114
Mary, 104
Mary A., 107
Mary C., 616
Olivia R., 104
William, 110
Drexler, Arthur W., 106
Drey, 94
Amanda, 113
Annie, 94
Catharine E. Simon, 104
Ella A., 100
Franklin L., 115
Harry L., 100
Harry Z., 106
Hilda M., 103
Katie E., 104
Mary E., 95
Mary Ellen, 95
Richard P., 105
Victor, 105
Drick
Carl G., 117
Carl George, 117
Dries
Amelia, 97
child of George W., 101
George A., 104
George W., 101
Driesbach
Mary A., 110
Mary L., 118
Druckenmiller, Hetty, 93
Drumheller
George Warren, 94
Hiram, 111
Hiram Walter, 117
Lester W., 111
Mamie, 94
Mary, 94, 98
Mary J., 114
Sadie A., 116
Warren, 94
Dry, 100, 104
Alice B., 109
Aloin, 100
Annie, 108
Charles K., 113
child of Mrs. David, 94
Clayton, 96
Clayton E., 96
David, 94
David, Mrs., 94
Edith L., 100
Edward L., 104
Edward W., 118
Erastmus K., 108
Erastus K., 108
Franklin L., 115
Gail B., 114
George C., 107
George H., 116
Hannah A., 117
J. Warren, 108
Jeremiah S., 113
John A., 114
Kenneth B., 108
Loretta, 101
Loretta R., 101
Louisa K., 111
Mabel, 95
Mary, 97
Mary Ann, 109
Mary J., 107
Myron Kenneth, 108
Nevin A., 118
Percival, 100
Roy E., 104
Susan, 111
Warren, 108
William, 108
Dubrink, Daisy May, 118
Dueher, Rebecca, 94
Duffit, 93
Duffy, Edward G., 98
Dugan
Ben'j. E., 105
Hugh C., 118
Dull, Carl F., 118
Dumn
Annie, 98
Chas., 94
Duncan, Minnie M., 115
Dundore
Cleveland T., 114
Sarah L., 110
Dunkel, Elisabeth, 96
Dunkelberger
Blanche, 117
Blanche M., 117
Emma E., 115
Esther, 460
Harry G., 117
Dunkle
Annie B., 108
Annie M., 108
Chester Alvin, 93
David, 95
David F., 106
Edward, 113
Edwin M., 113
Elisabeth, 96
Elizabeth K., 101
Helen, 113
Helen J., 113
Horace A., 114
James M., 113
James S., 113
Kate, 117
Kate E., 117
Killian G., 102
Mabel E., 119
Mary E., 106
Dunkleberger
Edna, 101
Edna R., 101
Harry L., 6
Paul, 108
Paul N., 108
Dunlap
Sallie, 106
Sallie A., 106
Dunton, James, 97
Dussen
Sophia, 93
Wm., 93
Dutt
John B., 101
Naomi, 104
Naomi E., 104
Sadie, 109
Sadie W., 109
Eaches
Elizabeth A., 136
Elizabeth A. Schaeffer, 136
Irvin, 138
Irwin, 122
Wm., 120
Eagelhoff, 124
Samuel, 124
Eagle
Caroline, 133
Catharine M., 132
Geo. E., 127
Herbert S., 133
Miriam F., 133
Wellington H., 131
Eaglehoff, 124
Samuel, 124
Early
Annie E., 139
Lewis G., 140
Easterly, James P., 136
Easton, infant, 135
Eavling
Harry L., 130
John H., 127
Ebale, 131
Ebbert
Carrie, 121
Clara A., 137
Clara Y., 135
Emanuel, 122
Emanuel, Capt., 122
Emma, Mrs., 121
Geo. M., 127
Geo. R., 130
Harold F., 127
Howard F., 127
Howard S., 127
Ida B., 135
Jacob, 120
Jeremiah, 127, 133
Jeremiah, Jr., 133
John, 134
Mary, 123, 124
Mary A., 133
Mary H., 133
Mrs., 124
Pierce F., 138
Rebecca, Mrs., 124
Sallie, 123
Sallie S., 123
Sarah, 126
Viola, 138
Viola E., 138
Warren L., 132
Weston, 126
Weston Y., 127
Winston, 135
Wm., 121
Eberenz
Carrie Bessie, 142
Conrad, 136
John A., 142
John F., 142
Pauline, 142
William, 143
Eberhard, Wm. H., 126
Eberhardt
Hilda, 130
Hulda, 130
Louis, 129
Eberle, 127
Adam, 127
child of Adam, 127
child of Raul, 131
Raul, 131
Eberline, Daniel, 121
Eberly
Adam, 139
Adam U., 139
Harold F., 127
Lizzie M., 140
Ebersole
Mary, 133
Mary E., 133
Ebert
Barbara Ann, 137
Carrie, 121
infant, 137
Jacob, 120
Mrs., 121
Sarah, 126
Wm., 121
Ebery, Harold F., 127
Ebling
Clarence F., 132
Edward G., 124
John H., 125
William, 124
Wm., 123
Ebright
Amelia, 127
Annie, 142
Frank, 133
Mary, 121
Ebuch, Chas. A., 124
Eck
Carrie, 137
Catharine, 126
Catharine Ann, 136
Catherine, 126
Charles, 127
David, 120, 124
Elizabeth, 130
Ellen, 127
Ellen Nora, 127
Emma, 249
Emma I., 120
George, 124
Isabella, 122
James, 121
James C., 122
Jonas S., 129
Mangus, 138
Mangus A., 138
Melvin D., 131
Wm. H., 142
Eckel
Annie L., 139
Blanche, 122
Herbert, 125
W. Brooke, 141
Wm. B., 122
Eckenroad
Carrie, 138
F. H., 126
Eckenrode
Amanda, 137
Chas. E., 130
Edward, 129
Elvina, 127
Francis H., 126
Harry E., 137
Irvin, 136
John E., 129
Raymond F., 137
Steward A., 132
Stewart A., 132
Walter, 134
Eckenroth, 132
Anna, 124, 131
Annie, 131
Annie E., 124
Catherine, 140
Ellen Hannah, 123
Elmer A., 125
Elvina, 127
Hannah, 123
Harriet E., 139
Harriet Elaine, 139
Harry E., 137
Irvin, 136
James W., 122
John W., 127
Mame, 122
Mary Victoria, 122
Monroe, 122, 139
Reuben, 133
Reuben J., 133
Sallie, 126
Sallie M., 136
Victoria, 121
Walter, 121, 123, 134
Eckerhode, Joan, 137
Eckerlirda, John, 137
Eckert, 122
Alice R., 141
Daniel, 120
George J., 143
George J, Jr., 141
Jennie L., 142
Marks, 122
Sophia, 122
Eckman
Daniel M., 131
Daniel Martin, 131
Eddinger, William H., 130
Eddy
Charles R., 142
Elmira C., 138
Edinger
child of William, 127
Conrad, 122
Franklin, 133
Mary C., 133
William, 127, 135
William A., 135
Wm., 124
Wm. H., 127, 142
Edler, Grant, 123
Edward
Ethel, 124
Jacob, 137
Edwards
Etta I., 143
infant female, 140
Ray I., 129
Susan, 131
Ege
Charles C., 136
Eliza, 131
Eliza A., 131
Geo., Mrs., 123
George W., 135
Liza A., 123
Egelhof
Daniel, 125
Mary, 123
Melinda, 130
Wm., Mrs., 123
Egelhoff
Daniel, 125
Malinda S., 130
Samuel, 131
Samuel S., 131
Egg, George, 124
Eglehof, Wm., 125
Eglehoff, Wm., 125
Egner, Bertha M., 138
Egolf
Caroline, 132
Robert, 132
Robert R., 132
Ehrgood, 120
Barbara, 129
Benneville, 127
Elizabeth, 140
Emma, 127
Esther, 131
Henry, 136
Henry A., 136
J. William, 136
James, 120
John, 132
Kate, 120
Kathryn F., 142
Levi, 120
Maria L., 122
Mary, 121
Myra, 122
Nathan L., 134
Nicholas, 125
Nora M., 143
Robert, 140
Robert L., 140
Ehrhardt, Herman, 133
Ehring
Charlotte K., 141
George, 138
Ida N., 130
Lottie, 141
Eich
Mary L., 134
Mary Lucy, 134
Eidam
infant, 136
John Hugo, 137
Lillian B., 142
Lillian Barsch, 142
Oscar, 134
Rudolph, 141
Eidel, 125
Eidle
child of William, 125
William, 125
Eifer, Emma, 123
Eiler, 132
Amelia, 120
Catherine, 123
Chas. H., 123
Daniel, 121
Emma, 130
Harold A., 133
Harry O., 124
Jack W., 133
John, 124, 126
John D., 130
Laura, 122
Lizzie, 123
Marks M., 143
Mary, 138
Mary A., 138
Paul E., 124
Peter L., 129
Sarah, 120, 129
Sarah J., 135
Thomas, 125
Wilson, 135
Wilson A., 135
Wm., 120
Wm. H., 124
Eimel, Ella S., 126
Einel, 124
Einsel
Alice Ella, 126
Amelia, 138
Charles, 139
David E., 127
Florence, 123
Frank M., 132
Geo., 127
George, 130
Henry A., 143
John, 127
John S., 127
Lydia, 139
Lydia C., 139
Ruth, 133
Sarah C., 135
Einsick, Tony, 126
Einsig, 124
Anthony, 126
Fidel, 129
S. Eva, 139
Susan, 132
William, 140
Einzig, Susan, 132
Eisenbeis, 127
Arthur E., 127
Elvina128, 127
Henry A., 127
Wm., 127
Eisenberg
Fred., 122
Frederick C., 122
H. C., 123
Eisenberger
Annie E., 125
Cath., 125
Catharine, 125
Florence, 126
Henry, 120, 123
Henry C., 130
Jacob, 131
Jacob, Mrs., 125
Marg., 127
Margaret, 127
Priscilla, 138
Eisenbies
Annie, 130
George A., 135
Eisenbise
Albert C. R., 139
Alice E., 141
Anna May, 124
Anna R., 130
Annie, 124
Annie E., 138
Arthur E., 127
Blanch E., 127
Blanche E., 127
Blanche N., 127
Catherine, 121
Charles E., 121
Daniel, 129, 141
E. Louisa, 131
Eliz. L., 132
Elmer, 120
Elvina, 127
Emma, 131
Emma C., 139
Emma E., 140, 391
Emma M., 142
Francis, 123
Francis C., 131
Frank, 123
George A., 135
Harry, 123, 136
Harry E., 139
Harry W., 139
Helen, 122
Henry A., 127
Henry D., 141
Irene E., 121
James K., 127
Jeremiah, 124, 139
John, 140
John K., 137
Katie M., 122
Laura J., 143
Laura V., 143
Martha M., 132
Mary A., 132
Mary Ann, 127
Mary E., 132
Matthias, 127
Peter, 125
Susan, 120
Susan L., 140
Susanna, 120
Walter C., 127
William H., 134
William Harry, 123
William L., 131
Willie, 121
Wm., 127
Eisenhower, 126
Alice S., 126
Amelia, 131
Anna, 141
Charlie A., 121
Chas., 121
David F., 137
LeRoy, 139
LeRoy R., 139
Martin W., 135
Raymond, 126
Rose V., 140
Sarah A., 126
Eitzel
Augustus, 138
Augustus W., 138
Aurela, 129
Aurelea R., 129
H. C., 129
Hannah E., 130
Harry L., 134
Howard A., 143
Elbert, Bernhard, 132
Ellis
Agnes R., 140
Agnes Rebecca, 140
Eltz, David, 122, 175
Ely
Bernice C., 132
Charles T., 126
child, 124
David, 122
David E., 131
David H., 134
Elizabeth, 127
Elizabeth S., 131
George, 133
Henrietta, 124
Isaac, 134
Jacob W., 138
Jane L., 132
John J., 127
Kenneth, 133
Martha A., 141
Mary A., 126
Mary P., 127
Norman, 134
Rose, 124
Rose Etta, 124
Thomas, 141
William, 130
Elyz, Henrietta, 124
Embech, John, 120
Embich
Chas. E., 123
Margaret, 121
Embree
Emma, 124
Emma T., 124
Hattie J., 123
Hetty, 123
Emerich, Sarah Koller, 125
Emert
John, 138
Katharine, 139
Katherine, 139
Margaret, 137
Mary E. Mattice, 134
Susan, 127
Emery, Lydia A., 125
Emes
Earl, 142
Irvin F., 140
Lizzie M., 141
Ray Leroy, 142
Raymond O., 122
Emmert
Mary, 134
Susan, 127
Emmons
Bertha, 130
Bertha Palm, 130
Emree, William H., 137
Emrich, Sarah, 125
Endy, 121
Amanda, 124
Amanda B., 124
Anna, 143
Annie R., 143
Charles H., 121, 138
Charles I., 142
Charles Irvin, 142
Clara, 129
Clara M., 129
Clarence W., 135
Danl., 121
Emma E., 140
George W., 125
H. P., 133
John, 129
John A., 134
John H., 140
John, Mrs., 125
Louisa, 120
Lucetta, 127
Mabel, 122
Magdalena M., 129
Mary A., 136
Minerva A., 141
Nathan, 2, 121
Obadiah, 1
Raymond, 139
Raymond J., 139
Sallie, 1, 142
Sallie N., 120
Viola M., 126
Engel
Frederic, 124
Fritz, 124
Engelbach, stillborn, 131
Engelman, James, 121
Engle
Emma E., 141
Jean Lottie, 136
Lottie, 137
Mabel M., 140
Walter N., 139
Englebach
Albert, 138
Jacob, 120
stillborn, 131
Tyrus Leroy, 135
Englehart, Marvin W., 137
Englehoff, Gertie, 121
Enoy, Obadiah, 120
Ensinger, Arthur, 125
Entz, George A., 143
Entzel, 126
Entzminger, Alice Amelia, 142
Enzmann, Elsie M., 142
Ephlin, William W., 135
Epler
Catherine, 129
Chas. J., 132
Curvin, 135
Emeline, 133
Emmeline, 133
George W., 141
Harry A., 125
Henry, 130
Jacob, 124
Jacob, Mrs., 120
Jefferson, 120
Joseph E., 138
Joseph W., 126
Malinda, 137
Nathan, 130
William, 127
Wilson, 139
Eppihimer, 120
Mary C., 132
Eppinger, 122
Daniel, 134
Elizabeth, 140
Emma, 121
Erb
Anna, 129
Annie E., 129
Erisman
Harry, Mrs., 130
Mary M., 130
Ermentrout
Kate G., 135
William J., 137
Ermold
Catherine, 125
Daniel, 127
Francis M., 137
Helen V., 135
Martha W., 140
Mary E., 142
Peter, 121
Rebecca A., 135
William T., 134
Ernst
Charles, 129, 141
Daisy Estella, 130
Daisy R., 142
Earl LeRoy, 136
Ellen, 139
Emma M., 129
Evelyn, 127
Frank, 137
George, 141
Ida May, 125, 126
infant, 134
infant of Charles, 129
J. George, 129
John, 134
John George, 129
Margaret, 138
Mary, 134
Mary Ann, 141
William H., Sr., 141
William Henry, Sr., 141
Ertel, Mary H., 139
Eschelman, Samuel, 121
Eschenbach, Sarah, 122
Eshelman
Alice M., 134
Barbara, 120
F. P., 126
Josephine, 129
Josephine Catharine, 129
Pierce, 126
Eshenbach, Sarah, 122
Esposito
Frank, 134
Martha Grace, 134
Esser
Ellen, 136
Everett E., 136
Essig, Chas., 122
Estead, John, 130
Esteadt, John, 130
Esterley, Emma E., 132
Esterline
Annie, 120
Charles H., 140
Chas. M. L., 123
Daniel, 123
Geo., 120
Helen, 138
Helen R., 138
Howard F., 134
Ida, 123
Isaac, 120, 142
John B., 125
Jos., 129
Kate, 121
L., 125
Lewis H., 133
Louie, 131
Louis, 131
Lovina, 127
Theo. E., 133
Winfield S., 129
Esterly
Amanda B., 139
Annie J., 135
child of George, 125
Christian, 136
Clara A., 140
E. M., Mrs., 124
E. Matthew, 139
E. Matthew, Rev., 139
Ed. M., Mrs., 125
Edwin H., 133
Edwin M., 133
Ellen M., 127
Emma E., 132
Frank, 125
Fredericka A., 125
Fredericka C., 124
Geo. H., 126
Geo. S., 127
George, 125
Harriet, 120
Harriet B., 129
Harry S., 134
Henrietta L., 120
Henry C., 131
Jacob H., 127
John, 121, 126
John L., 140
John S., 135
Lucy B., 135
Paul E., 127
Sallie A., 142
Sallie B., 137
Sarah, 123
Sarah H., 132
Estey, Frank, 125
Ettel, John E., 130
Ettinger, Conrad, 122
Etzinger, 132
Evanbill, Sally, 122
Evans
Catherine, 127
Charles, 132
Chas., 122
Chas. E., 122
child of John F., 126
Clara, 134
Clara R., 134
David, 130
Emma, 133
Henry J., 143
James W., 123
John F., 126
Kenneth M., 127
Mabel R., 141
Mary, 121
Mary A., 124
Moll, 121
Mollie, 121
Sarah H., 126
Sheridan, 123
Thos. J., 123
Eves
Ellen R., 136
George, 141
Shannon Ellen, 136
Eyler, 120
Barbara, 127
Edwin, 126
Emma E., 138
Henry, 121
Margaret, 130
Mary A., 130, 137
Mary Ann, 121
Peter, 131
Sarah, 122, 126
Wm., 125
Eyrich, 129
Albert, 131
Alvin L., 129
Amelia E., 557
Catharine M., 131
Clara B., 127
Edgar C., 127
Fretta, 133
John H., 126, 131
Kathryn, 131
Katie B., 130
Katie E., 143
Leon J., 127
Faber, 144, 159
Amos, 151
Carolina M., 164
Caroline M., 164
Catherine M., 154
Chester, 159
Chester Y., 159
Geo., 145
Helen, 162
Helen W., 162
Henry, 167
Henry F., 159
Isaac, 144
Isaac C., 153
Isaac, Mrs., 144
Josie, 144
Katherine May, 154
Mary A., 159
Mary Ann, 144
Wm. A., 172
Fabian
Bessie I., 170
Bessie I. C., 170
Carl F., 170
Fablet, Henry L., 156
Fagan
Annie E., 166
Thomas, 156
Fagen, 154
Edith May, 154
Emma, 148
Henry, 154
Fahnauer
Marie, 166
Mary, 166
Fair
Allen C., 173
Allen E., 164
Bramford T., 152
Clarence L., 154
Clark L., 152
Dorothy, 153
E., Mrs., 151
Fred., 152
Frederick, 152
George H. W. A., 162
Helen E., 155
Howard, 158
Howard E., 158
Irwin W., 156
Jennie, 170
Jennie A., 170
John, 153
John A., 157, 171
Katherine A., 511
Lottie B., 157
Maggie B., 167
Marks E., 157
Rebecca, 160
Stacy L., 151
Stacy Levan, 151
Sylvania, 155
W. Irwin, 156
Walter H., 156
Fairchild
Eda, 151
Edith, 150
Harry, 167
Harry A., 167
infant, 164
Maria Shafer, 171
Fardon
Arthur J., 157
child of Arthur J., 157
Farling
Catherine, 156
Clara, 166
Edw., 147
Edward, 147
Farrell
Eugene A., 161
Nora E., 169
Farrier, Robert G., 160
Farrington
Sallie A., 157
Sallie Alfrada, 157
Fatheringill, Jos., 152
Fatz, Minerva, 146
Faubitz, Francis, 160
Faust
Anna M., 158
Annie, 157
Carrie S., 170
Cyrus, 161
Harrison, 157
Ida M., 172
Iva V., 150
Jay V., 150
Jesse I., 165
Jessie I., 165
John, 157
John H., 157
John J., 164
John Jacob, 164
Laura, 167
Marion, 155
Rebecca, 149, 324
Samuel P., 173
Fautz, Amanda E., 166
Favinger, Douglass V., 157
Featherolf, Ruth, 152
Featherrolf, Ruth, 152
Feeney, Rose A., 172
Fegely, 144, 154
Barbara, 164
Ellen, 146
Fred., 146
Frederick, 146
Geo., 146, 149
Gertie, 147
Joel, 144
Mary, 145
Mary A., 152
Mary E., 145
Rachael, 146
Samuel, 146
Wm. Henry, 145
Feger
Agnes A., 166
Amos, 161
Claude Lee, 167
Dora M., 158
Elijah H., 154
Henry, 147
Henry A., 147
James A., 157
James A., Rev., 157
John, 160
John F., 166
John H., 153
John Henry, 153
Louisa A., 173
Maggie H., 164
Maggie M., 164
Rebecca B., 168
Rebecca E., 168
Woodrow J., 165
Fegley, 144, 156
Barbara A., 164
Edward F., 172
Elizabeth Hoyer, 168
Ellen, 165
Eugene, 160
Eugene W., 160
Geo. W., 155
George, 146
George W., 156
Gertie, 147
Henry F., 162
Howard S., 149
infant son of Sylvester, 156
Jacob D., 149
James A., 157
Jennie M., 156
John F., 169
Lena R., 162
LeRoy W., 170
Martha E., 168
Mary A., 159
Mary E., 145
Rachel, 146
Samuel, 146
Sylvester, 156
W. Henry, 145
Fehl, Anthony, 155
Fehr
A. F., 153
Agnes M., 160
Agnes M. Levan, 160
Catharine, 162
Fern, 162
Florence, 162
Geo., 147
George W., 173
Harry, 144
Helen, 151
John M., 149
John S., 147
Leah M., 153
Mark R., 162
Miriam, 162
Virginia, 162
Wm. P. R., 151
Feick
Daniel B., 169
Katie, 169
Feis, Elisabeth, 148
Feltenberger
Annie, 155
Bessie, 156
Monroe, 159
Nell M., 170
Violet, 517
Violet May, 154
Fender
Charles, 172
Christiana F., 162
Fennel, William H., 157
Fenner, William H., 157
Fenstermacher
child of Irvin, 158
Irvin, 158
M., 149
Montana, 149
Fenton, Annie, 163
Ferraro, infants twins, 163
Fessler
Harry, 156
Mary L., 163
Fetter, Edith M., 173
Fetus, 160
Fey, Dora M. Feger, 158
Feyl
Jennie, 154
Mary, 156
Sarah J., 154
Fichthorn
Catherine, 169
John K., 169
Katie, 164
Katie S., 164
Mamie W., 173
Margaret H., 150
Sarah Catharine, 144
William A., 165
William B., 171
Wm. E., 150
Fichtorn
Maggie, 150
Wm. E., 150
Fick
Annie A., 165
Bertha, 171
Edward C., 172
Edward E., 172
Edward J., 154, 155
Geo. A., 152
George A., 171
George J., 171
Harriet, 167
Harriet V., 167
Howard, 149
Howard J., 163
infant female, 167
James J., Jr., 173
John, 166
John C., 159
John L., 173
Katie R., 166
Pearl V., 171
Raymond, 169
Samuel J., 165
Thomas, 149
Thomas A., 152
Field
Annie, 163
Annie M., 163
Blanche, 149
David, 164
David T., 164
Florence, 144
Floyd C., 162
Ruth E., 161
Samuel J., 151
Fields
Charles A., 172
Charles S., 172
Gertrude, 173
Richard R., 150
Robert R., 150
Samuel J., 151
Fies
Alfred B., 170
Elisabeth, 148
Elwood B., 150, 157
Emma C., 165
Fidellia, 172
Fidillia, 172
Jean, 165
Jeremiah, 148
Jeremiah B., 148
John, 162
John M., 162
Lucy, 163
Lucy A., 163
Minnie L., 173
Filbert
Edward H., 171
James, 147
Mamie, 153
Mamie S., 153
Mary C. B., 173
Fileman, John, 148
Fillman
Anna, 161
Catharine, 159
Sarah, 150
Filman
Annie, 161
Catharine, 159
Howard, 163
John, 148
Sarah, 150
Finch, Fred E., 170
Findeisen
Amelia, 153
Amelia N., 149
Aug., 152
Augustus, 152
Finfrock
Elizabeth, 150
George, 172
Fink
Earl, 150, 325
Elva M. A., 168
Gladys, 158
John C., 159
Mary Jane, 633
Fire, Wm. John, 145
Firestone
Dorothy, 155
Melvin, 157
Firing
Emma D., 164
Emma D. Stauffer, 164
Henry A., 168
Fischer
Elizabeth, 150
Frank H., 167
Frank H., Jr., 163
Harold E., 154
Helen M., 163
John, 153
Lillian M., 158
Sadie A., 158
Sadie F., 158
Fish, Elsie, 161
Fisher, 152
Alma, 149
Anna G., 171
Annie, 150
Arthur F., 160
Arthur T., 160
Bertha A., 172
Catherine, 148
Catherine H., 148
Charles E., 168
Chas., 149
Clara E., 167
Clara L., 170
Clarence, 173
Clinton E., 170
Deborah A., 149
Edna R., 158
Edward S., 154
Elizabeth, 150
Ellen G., 151
Elsie B., 160
Emily R., 156
Emma, 159
Frank, 155
Frank H., 163
Frank O., 169
Franklin S., 155
George, 168
George A., 169
George W., 167
H. Ellen, 151
Harold, 150
Harry C., 145
Harry W., 168
Henry, 146
Herman H., 158
Herman R., 158
Horace, 148
Horace Melville, 149
Howard K., 144
Howard L., 156
Howrad J., 172
Ida M., 172
infant, 168
infants, 163
James M., 149
James R., 171
Jeremiah H., 154
Jeremiah R., 154
John, 144, 153, 170
John C., 153
John D., 153
John G., 153
Lillian M., 158
Lucy May, 163
Mabel E., 158, 463
Margaret, 161
Margaret K., 161
Mary A., 149
Mary Agnes, 147
Mary P., 157
May E. P., 157
Minerva R., 172
Paul H., 151
Richard C., 173
Sallie A., 151
stillborn, 154
Violet M., 160
William H., 156
Winfield, 151
Wm., 155
Fiske
Howard K., 144
Mary, 147
Fister, Jennie, 173
Fite, Clarence, 165
Fitterling
Hiram, 166
Rebecca, 159
Fitzgerald
David D. B., 174
Gertie N., 164
Gertrude, 164
Grace, 161
Fix
Amelia R., 157
Clarence R., 168
Emma C., 163
Jos. E., 159
Jos. Earl, 159
Laura May, 164
Robert I., 173
Sarah, 144
William, 153
William A., 168
William H., 168
Wm. L., 151
Flagg, Johnathan, 145
Flatt, 161
Amelia E., 166
Amelia M., 166
Harry, 146
J. Walter, 168
Fleck
Amanda M., 167
Carrie C., 170
Charles, 162
Chas., 144
David, 149
Frederick, 148
Frederick H., 148
Henry, 144
John, 150
Lewis H., 166
M. Amanda, 167
Mary, 146
Mary C., 146
Mary E., 155
Rebecca, 160
Rebecca M., 160
Sallie A., 144
William, 161
William H., 158
Fleckner, 144
Mary A., 154
Fleicher, Joseph J., 170
Fleicsher, Ellen, 171
Fleisher, Alice M., 155
Fletcher, 161
Arthur, 155
Arthur P., 165
Arthur T., 169
Carrie E., 161
Carrie M., 159
child of Arthur, 155
child of Wm. M., 153
Daniel E., 167
Elsie, 163
Harry C., 165
Jennie M., 169
Nancy Jane, 164
Rosanna, 166
Roxanna, 166
William, 159
Wm., 150
Wm. M., 153
Flicker
Anna I., 157
Anna T., 157
Augustus, 150
Augustus S., 150
Emma E., 162
Jeremiah S., 157
Kenneth, 168, 170
Nellie C., 171
Paul W., 171
Rebecca, 145
Wayne, 165
Wayne S., 165
Flickinger, Jeremiah S., 157
Floren, F. Otto, 167
Florence
Arnold O., 164
Arnold Q., 164
Flower
Robert, 161
Robert W., 161
Focht, 148
Anna Dorothy, 165
Annie, 150
Annie Dorothy, 165
Charles, 153, 159
Charles B., 153
Frances M., 158
Gertrude E., 172
Gertrude Elizabeth, 172
Glenn C., 171
Glenn Charles, 171
Helen G., 155
Howard L., 168
Jerome D., 172
John V., 167
Leranid B., 148
Lorena, 146
Madeleine, 154
Madeline, 154
Pearl, 148
Salinda, 158
Samuel, 145, 161
Stella L., 152
Foddt, Chas., 148
Folk
Alvin C., 161
Catherine, 153
Charles, 164
Charles W., 172
Daniel, 149
Donald K., 158
Geo., 145
Geo. Ammon, 145
Hattie, 168
Howard J., 160
infant, 168
John, 144
John R., 162
Joseph, 145
Lambert, 145
Lambert Elwood, 145
Mary Ellen, 155
Minnie, 146
Rebecca, 148
Susan, 146
Wm., 146
Wm. H., 146
Foos, Henry, 145
Ford, Charles, 171
Foreman
Ella E., 169
Grace L., 166
Harriet, 162
Harriette, 162
Harry A., 173
Lizzie A., 169
Lottie Louise, 171
Nettie F., 171
Sarah, 169
William, 165
William E., 165
Forney
Catharine E., 160
Sallie, 156
Fornoff
Frederick E., 163
Henry, 164
Mary E., 166
Mary L., 145
Mary L, Mrs., 145
Peter, 156
Forry, Emma D., 165
Fortney, Luke, 150, 221
Fosse, 144
Foster, Rebecca, 166
Fothergill, 159
Annie E., 160
Fotheringill
Anna H., 155
Annie, 155
Jos., 152
Fotheroh, Wm. H., 161
Fowler
Arthur, 170
Frances D., 160
Frank A., 167
Kate R., 172
Lena, 159
Martha R., 165
Mary, 162
Mary E., 167
Robert W., 149
Wm., 147
Fox
Amelia, 145
Angeline H., 635
Annie L., 173
Barnard, 159
Bertha E., 163
Blanche, 145
Caroline, 151, 164
Clara, 164
Daniel, 160
David, 160
Edith A., 152
Edward, 174
Elizabeth A. Rodolff, 150
Ellen D., 146
Emily, 154
Emily E., 154
Emma, 167
Emma A., 167
Ezekiel, 162
Florence, 149
Frank, 151, 153
Franklin, 170
George, 148
George H., 153
Gorden E., 148
Gordon E., 148
H. Bernard, 159
Hannah, 148, 157
Harriet, 148
Harry, 146
Harry J., 146
Helen, 147
Helen M., 153
Howard L., 152
Isaac, 147
Isaac B., 158
Isaac R., 155
James, 146, 159
James E., 154
John, 150, 164
John S., 164
Katie A., 171
Lena, 154
Lillie, 147
Lillie E., 147
Lottie, 158
Marie, 154
Mary, 158
Mary A., 165
Mary A. Whitman, 158
Mary L., 149
Matilda, 160
May E., 152
Michael, 161
Minnie, 154
Minnie May, 167
Robert I., 173
Rosa E., 155
Sallie, 151
Sallie E., 169
Samuel, 146
Sarah Ann, 153
Stanley L., 153
Warren, 160
William H., 144
William L., 167
Wm. L., 151
France, Mary M., 144
Francis, 149
Amelia, 155
Anna E., 170
Annie, 170
Frank, 147, 148
Geo., 146
Harry M., 156
Hunter H., 170
Isaac G., 160
John A., 165
John A., Jr., 165
Malinda, 157
Mary M., 144, 149
Oliver J., 152
Sara, 147
Sarah, 147
Thomas, 149
Thomas J., 149
Wm., 145
Frank
Angeline, 242
John, 146
Mary D., 151
Nicholas, 153
Frankenberg, Clementine, 157
Frankenburg, Clementine, 157
Frankenhauser, Susan, 144
Frankfort, Emma R., 169
Frankhauser
Anna, 165
Arthur W., 169
Celdren, 160
Clarence, 158
Coldren, 160
Emily, 166
Emily F., 166
Rob't., 159
Valeria, 165
Valeria A., 165
Frankheiser
Susan, 144
Wm., 150
Frankhiser
Mary A., 159
Wm. D., 150
Frankhouser
A., 152
Anna M., 165
Arthur W., 169
Rob't., 159
Franks
Dorothy, 158
Dorothy J., 158
John Henry, 146
Fransue, May J., 160
Frantz
Florence M., 156
Mary E., 159
Franz
Howard, 167
Mary E., 166
Mary Ellen, 166
Frayer, Samuel, 156
Frechsel, Mary B., 149
Frederick, 159
Angeline, 147
Annie R., 168
Benjamin, 164
Catherine, 151
Elizabeth, 154
Emma, 166
Frank, 157
Franklin, 157
Geo., 149
George, 149
J. H., 147
John H., 147
Marguerite, 173
Mary E., 172
Mordecai, 151
Rosa W., 156
Rosanna W., 156
Fredericks
Annie R., 168
Benjamin, 164
Catharine, 151
Emma E., 166
M., 151
Mary E., 172
Paul, 161
Fredrick, 159
Donald E., 160
Fredricks, Donald E., 160
Freece
Amelia, 151
Augusta V., 174
Chas. S., 157
Clyde I., 170
Elmer E., 151
Sallie Ann, 169
Freed, Elmer E., 151
Freehafer
Aurelia, 152
D. Russell, 154
Daniel M., 152
Edith, 145
Edith I., 145
Flora M., 145
Florence, 145
Maude, 145
Maude C., 145
Rosa, 153
Freeman, 150
Annie L., 167
Howard, 155
Howard W., 170
Nellie, 168
Frees
Alice, 166
Amelia, 151
Caroline, 146
Catharine, 151
Catherine, 151
Daniel M., 148
Elmer, 150
Emma I., 422
Geo., 147
Howard J., 171
John, 148
John E., 163
Johnson B., 155
Joseph, 146
Michael, 145
Peter, 151
Rosie C., 169
Ruth G., 169
Sallie, 146
Sarah, 169
Freese
Clyde, J., 162
Jos., 146
Katie Amelia, 148
Maria, 153
Michael, 145
Samuel, 151
William J., 156
Freet, Clarence A., 166
Freis, Jos., 144
French, Henrietta B., 161
Frey, 147
Christina, 152
Dora, 158
Edwin K., 171
Elisabeth, 146
Emma, 170
Emma R., 170
Florence A. M., 151
Frederick, 152
George, 152
George R., 151
Harold, 154
Ida M., 154
James D., 152
John, 148
John E., 153
John F., 171
Jonas, 147
Julius, 148
Kathrine, 152
Laura J., 154, 158
Louisa, 172
Louise, 172
Mary Ann, 150
Rosa Pauline, 166
Susan E., 155
Freyberger
Harry M., 166
Kenneth, 163
Mary, 164
May E., 164
Theodore, 165
Freyermuth, Kate, 147
Frick
Alma M., 156
Andrew, Sr., 172
Angeline E., 160
Catharine, 173
Emma, 147
Emma E., 147
Frederick, 159
Henry C., 150
Jacob B., 168
Julia Ann, 150
Katie, 173
William H., 169
Fricker
Fred, 159
Nellie E., 170
Friend, Mary I., 157
Fries, Ellwood, 157
Friese, Isaac, 148
Frill, 148
Frishes
Mrs., 148
Wilhelmina, Mrs., 148
Fritch, 145
Henry, 145
Fritz, 147
Bessie, 154
Catherine, 148
Charles Edward, 172
Charles H., 163
Christina, 148
Daniel, 157, 158, 164
Daniel G., 157
Ed. C., 152
Edward, 144
Edwin, 164
Edwin C., 152
Eleanor, 158
Eleanor M., 158
Emma, 168
Enid, 146
George A., 163
Harry, 146, 147
Henry, 156
infant, 163
Isaac M., 161
James, 149, 152
Jane, 152
John, 152, 157, 163
John C., 157
John H., 163
Lillie, 150
Lillie A., 150
Louisa, 156
Mary A., 161
Michael, 160
Pearson, 145
Philip, 149
Ruth, 161
Ruth H., 161
S. Ida, 171
Samuel, 144
Susan, 153
Susan R., 153
Tillie L., 167
Walter I., 171
Wayne A., 172
Wm., 147
From, Lydia, 150
Fromm, John A., 146
Fromme, James, 147
Fry, 155
A., 149
Abraham, 149
Alice, 161
Caroline, 170
Charles, 155, 165
Edwin K., 171
Edwin L., 158
Elisabeth, 146
George, 152
Harold, 154
Harry B., 168
Harry E., 158
Henry M., 153
James D., 152
Jennie M., 151
John E., 153
John H., 148
Julia Ann, 148
Katie, 152
Laura J., 154
Mary A., 150
Mary E., 155
Mary J., 158
Mary Jane, 158
Millie, 163
Reynold E., 156
Fryermuth
Kate E., 147
Wm. E., 155
Frymoyer
Ellen, 172
Mary Ellen, 172
Sylvester S., 173
Wm., 159
Fuhr, Emma M., 158
Fullum, Nellie E., 166
Fulmer, Daniel, 154, 581
Funk, Geo. E., 154
Furry
Anna G., 147
Annie, 147
Emma R., 160
Henry S., 159
infant, 144
Rosetta R., 144
Gabel, Emma, 181
Gable
Catharine, 182, 183
Catherine, 179, 182
John, 178
Ruth May, 182
Sadie S. Haag, 193
Walter, Mrs., 183
Gabriel
Clarence, 192
Mary B., 203
Gaenzel, Henry, 179
Gaenzle, Frederick, 185
Gahres
James, 175
Wm., 176
Gahris, Bessie Laura, 175
Gairing
John U., 197
Mary Ellen, 196
Gallagher, Wm., 182
Gangaway
Emma, 188
Nathaniel S., 199
William N., 194
Gangenver, Edwin, 177
Ganster
Frederick, 191
Mary A., 191
Ganter, Clinton E., 192
Gantz
Elizabeth C., 200
Emma, 187
Emma E., 187
LeRoy R., 201
Mary, 185
Gardner
Anna R., 200
Frank B., 201
Garis
Elizabeth, 199
Jacob, 203
Garman, 185
Anna E., 189
Carrie G., 203
Charles H., 203
Elsie S., 192
Florence M., 182
Frederick, 203
G. Frank, 199
infant, 198
Katie, 181
Katie K., 181
Garnett, Cyrus H., 197
Garret, Clara E., 203
Garrett
Clara E., 203
Cyrus H., 197
Earl F., 198
Earl S., 198
Jonathan, 192
Sarah A., 190
Sarah E., 186
Virginia, 199
Garrigan, Frank L., 200
Garrison
Helen M., 205
Helen V., 186
Robert E., 201
Sue K., 199
Garst
George, 179
George Herman, 179
George W., 196
Ida B., 199
Ida I., 199
Irene I., 199
Garstka, Marie Ceclia, 319
Garstra, Marie Cecelia, 204
Garverich, Helen, 178
Gates
Catharine, 196
Catherine A., 196
Jane, 188
Susan Ann, 203
Gattiker, Albert, 191
Gaul, 189
Adam, 190
Adam A., 190
Alma, 190
George, 190
George A., 204
George Adam, 204
George K., 190
Ida, 190
Ida M., 190
Ida V., 205
Mary K., 194
Mary R., 194
Paul D., 189
Ulysses G., 201
William, 194
William L., 194
Gazzel, 179
Geary, William C., 205
Gebhart, Paul W., 193
Geesey
Adam G. U., 200
Adam G. W., 200
Annie E., 195
Elmer F., 188
Ida R., 196
infant, 195
Sarah, 185
Gegenfurtner, Jennie M., 205
Gehman
Catharine, 178
Catherine, 178
David H., 179
Edna F., 177
Edward F., 193
Estella K., 202
Estelle K., 202
Ralph D., 205
Susan E., 200
Geho
Ellsworth, 197
Ellsworth S. G., 197
Howard, 176
Ida, 99
Mary A., 184
Mary Ann Hagen, 184
Warren, 176
Gehres
Emma, 188
James, 175
Mary E., 198
Gehret
Ada Barnett, 202
Bertha I., 194
Charles D., 196
child of Ellwood, 187
Elizabeth, 194
Ellwood, 187, 196
Geo. S., 184
Henry, 199
Lydia M., 177
W. H., 193
Warren M., 193
Gehris, 175
Bessie, 175
Catherine A., 190
Cathrine, 190
child of Elmer R., 183
Clara, 195
Clara L., 195
Elisabeth, 178
Elmer R., 183
Emma, 188
Geo. A., 180
Geo. H., 180
Howard, 195
Ida, 193
James M., 195
Mamie E., 181
Mary E., 198
Mayme, 181
Wm., 176
Gehry, 175
Jon., Mrs., 177
Geibel
Annie E., 186
Bessie C., 189
Ellen N., 195
Harold L., 184
Margaret T., 185
Mary R., 186
Geiber, Herman, 185
Geiger
Amos, 177, 188
Amos R., 188
Arthur S., 197
Bertha Bella, 177
child of Peter, 183
Harold N., 204
Howard, 188
Howard W., 188
Laura C., 199
Laura J., 199
Mary E., 182
Peter, 183
Searles S., 182
Stella May, 187
Thomas J., 188
Geise, Mathew J., 191
Geiser
George M., 204
Mathew J., 191
Geist, A., 180
Geister
Catharine M., 188
Katherine M., 188
Gelsinger
Chas., 183
Edna, 197
Edna May, 197
Evan, 183
John C., 190
Robert, 192
Gennett
Catharine, 190
Cathryn, 190
Gensley
Bessie, 194
Frederick, 185
Geo., 180
George, 180
Henry, 179
Osmund, 193
Gensly, George, 180
Gentsch
Charles A., 191
Kate, 193
George, 186
Henry S., 185
Henry Seaman, 185
Jennie, 188
Jennie A., 202
Lizzie S., 204
Monroe D., 198
William F., 191
Geotz, Geo. W., 187
Gerber
Chas., 182
Edward F., 205
Herman, 185
Maria, 202
Pantaleon, 197
Gerg, infant son, 178
Gerhard
Adeline, 186
Annie L., 195
Carl W., 191
Dorothy May, 194
Fannie L., 191
Franklin F., 196
Geo. L., 192
George, 196
George T., 196
Karl W., 191
Kate E., 184
LeRoy W., 196
Lillian E., 201
Martin L., 195
Paul F., 188
Paul Frederick, 188
Sarah B., 200
Tiras, 188
Vernon M., 180
Walter, 186
Gerhart
Alfred, 184
Amanda, 186
Amanda C., 179
Charles Alfred, 184
Charles W., 199
Clayton S., 202
Dora R., 201
Elmer, 182
Fannie L., 191
Florence, 182
Frank F., 196
Geo. H., 186
Harvey M., 202
Henry F., 200
Jack, 189
John C., 204
Lillian E., 201
Luther, 186
Lydia M., 177
Martin Luther, 186
Mary H., 183
Reuben, 186
Reuben G., 186
Robert, 193
Robert T., 193
Vernon M., 180
Gerloff
Flora M., 195
Jeremiah, 202
Lydia, 176, 192
Mary E., 201
Salutes H., 196
Wm. F., 178
Wm. H., 178, 184
German, 183
Geo. W., 177
George W., 183
John, 183
Lillian, 189
Mary E., 203
Rose E., 200
Rosie E., 200
Stella M., 189
Walter, 175
Germann, Mary E., 203
Gerner, Mabel E., 182
Gernert, Esther, 179
Gerth
Emil, 196
H. Elizabeth, 191
Helen E., 191
infant, 196
Gerthe, Annie M., 194
Gery, 175
Addison, 187
Ellen S., 176
Emma M., 203
Emma Matilda, 203
infant son, 178
Jonathan, 179, 180
Mary, 177
Gerz, Geo. W., 187
Gettis
child of Walter, 183
Susan, 184
Susanna A., 184
Walter, 180, 183
Wayne, 180
Getzinger Christian, 179
Geyer
Annie, 200
Esther M., 186
Lydia A., 200
Minnie, 187
Philip, 182
Ghiet, Ellwood, 187
Gibb
child of Harry, 187
Harry, 187
Gibble, Robert E. P., Sr., 203
Gibbs, Della, 179, 180
Gibson, 190
Amelia, 188
Bertha Agnes, 197
Emma A., 188
George H., 191
Raymond W., 201
William R., 201
Wm. H., 201
Gift
John N., 176
Peter, 176
Gilbert
Alice E., 204
Alice H., 204
Chester, 195
child of Ralph, 184
David J., 201
Ella Amanda, 196
Ellen, 196
Helen L., 192
infant, 194
James Larry, 200
John, 198
John F., 183
Mary E., 204
Ralph, 184
Ralph L., 202
Stanley, 190
Stanley L., 190
Giles
Adeline R., 195
Adeline Reagan, 195
Celia B., 183
Cornelia, 203
Guy, 184
Irvin K., 197
Irvin Kline, 197
John H., 189
Gilham
Chas. D., 185
Daniel, 188
Philip Y., 179
Gilliam, Chas., 185
Gilliams, John, 204
Gilliland, Margaret, 184
Gillingham, George W., Sr., 203
Gillman, 179
Gillmer, William, 175
Gillmore
Alonzo, 179
Elizabeth, 188
Lizzie, 179
son of Alonzo & Lizzie, 179
William A., 195
Gillner, Aaron, 178
Gilman, Ward E., 180
Gilmer
Arthur, 199
Arthur H. G., 199
Dorothy, 190
Dorothy F., 183
George F., 195
George T., 195
Minnie, 181
Raymond, 185
Raymond L., 185
Ward E., 180
Gilmore, Esther, 188
GilMurray, Viola, 197
Gilmurray, Viola, 197
Ginader
Anna Catharine, 185
Frances, 198
Frances M., 198
Jacob, 191
Kate, 185
Ginae, Esther, 178
Glaser
Caroline, 178
Elizabeth, 185
Peter, 185
Glass
Clayton, 188
Elmer F., 188
Jacob, 190
Glasser, Caroline, 178
Glassmoyer
Benj., 177
Cath., 186
Ellen, 178
Hattie, 199
Hattie R., 199
Ida L., 186
John, 204
John A., 197
John Arthur, 197
Kate, 186
Robert J., 205
Rosa, 201
Rosa A., 201
Samuel, 194
William H., 197
Gnau
Catherine E., 194
Charles, 192
John B., 191
Goda
Mary S., 202
Samuel E., 204
Samuel Reubens, 204
Warnell, 192
Werrell R., 192
Godschall, Calvin J., 185
Goehring
Augusta W., 198
Frank L., 190
Goelitz
Hannah, 177
Sarah, 198
Goeltz
Emma, 193
Emma Moore, 193
Goelzinger, John C., 190
Goemer, Herbert A., 188
Goerner
Emma S., 202
Herbert A., 188
John A., 188, 203
John A., Jr., 203
Mabel E., 182
Goff, Dorothy, 191
Goldman
Nema, 189
Sallie, 183
Goll
Agnes R., 187
Amelia A., 200
Carl F., 204
Daniel D., 183, 187, 204
George J., 201
J. Leonard, 186
John, 184
Mary, 190
Mary E., 197
Mary M., 190
Sophie M., 186
Gonzales, Nemecio, 189
Good
Amy W., 193
Barbara A., 178
Caroline, 185
Celestial, 184
Charles S., 203
Christina, 177
Clarence J., 194
Clarinda, 187
Clarinda S., 187
Cyrus M., 180
Ella, 626
Emma I., 190
Emma Lavina, 190
Harry W., 201
Helen M., 180
Ida A., 199
Isaac R., 190
John E., 187
Joseph, 178
Katie, 184
Lemon, 184
Louisa, 191
Paul, 192
Paul T., 192
Racy, 178
Sadie N., 201
Warren W., 190
Washington, 177
Goodhard, 190
Goodhart, 190, 199
Albert, 193
Annie M., 187
Bessie, 181
C., Mrs., 175
Catharine A., 201
Catharine S., Mrs., 175
Charles, 192, 203
Clara, 177
Claude, 181
Daniel, 176
Emma F., 183
Emma F. Markely, 183
Frank, 176, 196
Franklin S., 196
Hayden L., 187
Helen, 183
Henry, 178
J. Dallas, 191
John, 176, 182
John F., 176
John M., 179
Kate R., 201
Mariam E., 182
Mary A., 192
Mary K., 202
Mary M., 192
Norman R., 189
Pearl, 181
Reuben, 175, 177
Reuben D., 200
Sarah A., 205
Sarah C. L., 181
Sarah S., 191
Wm., 187
Goodman, 175
Amos, 184
Anna, 176, 200
Anna M., 200
Annie B., 181
Annie V., 198
Bertha, 185
Bessie A., 176, 181
Catherine, 182
Donald F., 195
Elmer E., 186
Geo., 176
George, 180
Harry L., 181
Jennie, 198
Lottie V., 180
Maria, 190
Oliver, 197
Paul E., 180
William, 195, 203
William F., Sr., 201
William S., Sr., 201
Goodwin
Franklin, 180
George H., 189
Georgeans, 189
Ida M., 194
Ida N., 194
May, 203
Monroe A., 189
Sallie E., 197
Gord, Minerva R., 179
Gorgas, 176
Anna, 178
Jos. Edw., 178
Margaret, 183
Margaret A., 183
Mary, 179
Mary C., 181
Mary W., 179
William B., 176
Wm. B., 176
Gorr, Edith, 193
Gorschalki
Edna, 189
Ida M., 189
Goss, Hugh, 175
Gottschall
Calvin J., 185
Edward A., 204
Emma, 197
George W., 205
Jacob F., 197
Jacob L., 188
Jos., 179
K. Emma, 197
Kate, 189
Maggie, 193
Sarah, 176
Gottshall
Edward A., 204
Jacob F., 197
Kate, 189
M. Margaret, 193
Gould
Harold S., 188
Helen O., 192
Graeff
Anna M., 193
Annie B., 197
Annie R., 197
Arthur, 176
child of William, 183
Daniel, 192, 200
Elizabeth, 180, 191
Elizabeth L., 182
Emma, 199
Emma L., 199
George W., 195
H. S., 181
Harry G., 193
Henry S., 181
Joseph, 197
Joseph P., 197
Joseph U., 198
Joseph W., 198
Lizzie, 187
Mae E., 204
Mary, 175
Mary A., 175
Mary E., 200
Pauline, 198
Peter S., 178
Rosanna, 187
stillborn, 183
Vera M., 187
Walter, 183
Walter H., 182
Walter S., 181
William, 183, 190
William H., 190
William H., Mrs., 182
Wm. N., 175
Graf
Caroline E., 186
Carrie, 186
Francis J., 191
Joseph F., 191
Graham, 179
Ada L., 200
Clara Adams, 202
Ida L., 200
Ruth, 180
Grainger, Edward P., 192
Grand, Priscilla, 189
Granger
Edward P., 192
Lillian, 196
Grant
B., Mrs., 175
Bartolett, 176
Bertolette, 176
Emma, 181
Esther B., 175
Harry U., 183
Harry W., 183
Ida V., 195
Priscilla A., 189
Robert E., 179
Sallie F., 175
Sarah, 175
Theresa, 177
Warren D., 182
Grattis, Frank O., 193
Graul, 175
Amos, Mrs., 176
Amos, Rev., 180
Amos W., 181
Angeline, 186
Anna M., 184
Annie Rebecca, 175
Barbara, 187
Catharine, 187
Catharine S., 195
Catherine, 177
Clifford S., 188
Daniel, 175
Daniel D., 175
Daniel W., 204
Elmer, 186
Elmer W., 186
Elmina, 183
Geo., 178
Harriet, 204
Harry, 191
Harry E., 191
Hattie C., 204
Henry, 177, 183
Henry A., 200
Henry A., Mrs., 182
Henry L., 190
Hester, 180
infant, 181
Irwin, 180
Irwin Frederick, 180
John, 178, 183, 185
Katharine, 177
Louisa, 187
Mary, 177, 182
Mary E., 177, 180
Mary L., 180
Mary M., 180, 469
Mary R., 203
Miss, 175
Mrs., 176
Nettie Hart, 176
Peter, 176
Peter M., 176
Randolph W., 183
Rebecca, 176, 178, 187
Robert, 201
Rosa C., 175
Rosa M., 192
Samuel, 175
Samuel B., 175
Serena, 176
William M., 175
Wm., 17, 145, 175
Wm. L., Mrs., 175, 184
Wm. M., 180
Wm. P., 179
Graver
F., 184
Ida, 194
Ida L., 194
John A., 194
Gray
Ellwood, 184
Elwood, 184
Emma, 200
Emma P., 200
Grace M., 185
Grace May, 185
Henry, 202
John L., 198
Greaves, Mary A., 198
Grebe
Catharine, 187
L. Fred., Dr., 198
L. Frederick, Dr., 198
Lewis, 179
Louis, 179
Louis F., 196
Mary Alice, 203
Greebe, 189
Green, 183, 184
Annie, 197
C. Stanley, 184
Catharine A., 188
Edward, 204
Elizabeth C., 181
Elizabeth M., 189
Ella, 201
Florence M., 188
Harry E., 202
Jeanette Grace, 193
John, 193, 199
John C., 179
L., 181
Laura M., 203
Laura May, 203
Robert E., 202
Susanna, 201
Walter W., 201
William B., 191
Greene
Sarah L., 203
Sarah Levan, 203
Sarah R., 198
Sarah R. Turner, 198
Greenleaf
Anna, 177
Annie M., 177
Isaac B., 195
Lydia A., 184
Martha E., 202
Matilda M., 186, 330
Greenwood, Betty, 190
Greesley, Oscar, 201
Gregory, Wilson, 183
Greims
child of John, 179
John, 179
Greiner, 179
Greiss
Elizabeth, 203
Laura I., 182
Noah, 192
Wm. H., 181
Gressley, Esther, 193
Greth, James F., 195
Gries
Charles, 179
Charles H., 186
Christie May, 194
Clara, 178
Clara F., 178
Elmer E., 204
Harry F., 177
Henry, 176
Henry D. W., 187
Laura, 196
Mary, 185
Mary Ann, 185
Russell, 192
Sallie, 178
Sallie M., 178
Sarah, 177
William F., 198
Griesemer
Anna E., 182
Annie, 182
Catharine, 185
Catherine, 185
Wm., 181
Griess
Elizabeth, 181
Noah, 192
Griffin, Lucinda L., 194
Griffins, Dorothea V., 192
Griffith
Adella M., 189
Charles H., 195
Ellen N., 182
Emma, 175
Hattie, 177
Heber K., 185
Henry, Mrs., 177
Irvin A., 180
Lewis, 178
Margaret, 179
Mary, 177, 178
Mary Ann, 175
Mary Ellen, 178
Mary M., 187
Paul B., 181
Grim, 186
Alice, 189
Edgar W., 189
Elijah, 184
Emanuel D., 185
Paul, Sr., 198
Rose E., 181
William G., 202
Grimes, 192
Bessie, 177
Emma E., 198
John H., 195
Pauline M., 189
Grimm, Barbara, 180
Grimmer
Albert, 184, 201
Barbara, 180
child of Albert, 184
Edward, 181, 190
Frederick, 185, 200
infant, 199
Mary, 183
Wm., 187
Gring
Harvey E., 199
John H., 192
Lydia, 201
Margaret B., 202
Margaret L., 202
Stanley, 183
Grinner
Ed, 181
Helen, 181
Groezinger, Christian, 175, 179
Groff
Clara Esther, 199
Dorothy I., 191
Esther C., 199
Judith, 177
Groman, Sarah, 193
Gromis
John, 194
Sallie M., 194
Grongusit, Annie, 176
Groom
Elisabeth, 179
John, 184
Gross, 184
Arthur E., 180
child of William H., 183
Christiana, 184
David, 178
Elizabeth, 202
Emma R., 191
Howard, 179
James M., 194
John C., 175
Laura M., 192
Mary E., 197
Rose, 176
Samuel E., 196
Susan, 176
Thomas, 197
William H., 183
Wm. H., 186
Grossman
Emma L., 191
Francis, 191
Grotevent
Emma L., 196
F. Rosina, 183
Frances D., 200
Francoska D., 200
Rose, 182, 183
Rosina M., 182
Grove
Donald H., 183
Ella, 203
Ella May, 194
George C., 189
German, 184
German S., 184
Howard A., 199
Howard G., 202
Howard S., 202
Kate, 193
Kate C., 193
Laura B., 199
Mary C., 185
Grubb
Oliver, 193
Sarah, 196
Grube
David S., 200
Ellen P., 193
Lloyd B., 198
Robert, 192
Stanley, 189
Gruber
Catherine, 175
Marie C., 177
Wm., 176
Guan, Charles, 192
Gudykunst
Carmen E., 198
David H., 201
Elizabeth B., 201
Elizabeth S., 201
William B., 201
Guell, William, 182
Guffey, Matilda Koser, 191
Guffy, Matilda, 191
Guilden
A., Mrs., 175
Abraham, 176
Guldeman
Christie A. E., 190
Christine E., 190
Guldin
Abraham, 176
Amanda E., 185
Catharine, 190
Elizabeth, 175, 200
Frederick, 183
George W., 203
Lizzie, 200
Morris W., 195
Samuel, 189
Samuel J., 194
Samuel S., 189
Gull, Carl F., 118
Gundelach, Helen E., 196
Gundeloch, Helen, 196
Gundry
Adelia E., 197
Caroline, 180
G. Harel, 204
Lina, 180
Gussman
Emma E., 182, 186
Geo. C., 182
Jacob, 185
William M., 199
Guthrie
child of Wm., 185
Wm., 185
Haack, Jennie E., 261
Haag, 222
Caroline, 231
Chas. C., 243
Emilie, 217
Franklin, 239
Franklin P., 239
Geo. F., 220
George, 245
Matilda, 259
Sadie S., 193
Tillie, 259
Warren, 251
Warren L., 251
Haage, Emily, 217
Haas, 225
Alva L., 264
Anna A., 263
Chas. H., 230
Chas. H. A., 230
Ellonora, 225
Lewis, 256
Louis H., 256
Margaret, 253
Margaret E., 253
Ralph D., 266
Rose Minerva, 257
Sarah, 215
Sarah A., 215
Sarah L., 250
Sophia, 252
Verdilla, 230
Warren, 248
Warren J., 233
William Z., 248
Wm. J. C., 243
Habich
Frances, 215
Francis, 215
Sophia, 212
Hackman
Catharine, 222
Harry, 218
Harry N., 259
Mamie E., 259
Mervin E., 238
Haden, Lizzie, 206
Hadley, Sallie, 228
Hafer, 208, 220, 222
Agnes, 226
Agnes D., 226
Anna, 213
Anna B., 239
Arthur, 221
Augustus, 230
Bertha May, 266
Carrie Dora, 248
Catharine P., 238
Catherine E., 253
Chas. H., 216, 223
Clara, 242
Clara May, 251
Daisy H., 242
Daisy M., 242
Edward, 244
Edward H., 244, 258
Emma, 210
Florence F., 229
Francis, 209
Franklin, 253
George, 242
H. Gertrude, 266
Harold L., 241
Harry, 262
Henry L., 249
Henry S., 262
Hiram, 206
Howard, 263
Ida, 260
Ida M., 267
Ida Seiders, 260
infant, 246
James, 233, 254
James S., 234
John, 234
John S., 212
Julia, 267
Kate, 253
Kathryn, 238
Katie M., 268
Laura M., 263
Maria, 215
Mary, 221, 262
Mary A., 235, 245
Mary E., 212
Mary V., 269
Melvin C., 245
Mrs., 213
Obediah, 256
Peter D., 216
Russell F., 223
Samuel, 208, 210, 242
Samuel L., 264
Sarah Catharine, 219
Susan, 231
Walter B., 218
Warren H., 240
Wertley E., 223
William, 220
William B., 263
William H., 264
Wilson, 219
Wilson B., 219
Haffe
Chas. H., 216
Martin, 215
Haffen, John S., 212
Haffer
Hiram, 206
Kate, 219
Peter D., 216
Samuel, 210
Wm., 218
Haffert, Joseph, 219
Hagan
Florence A., 248
Josiah, 234
Hageman
Lender V., 241
Rebecca, 259
Hagen, 219
Barnet, 233
Barrett, 211
Ellen M., 243
Jos., 213
Mary Ann, 184
Minnie S., 256
Sarah E., 213
Hagenman
Arthur, 231
Arthur J., 231
Rebecca M., 259
Haggerty, Carrie, 247
Hagy
Adam, 208
B. W., 220
Benjamin, Mrs., 211
Benneville W., 220
Clayde B., 251
Raymond J., 225
Sarah A., 211
Sarah H., 247
Warren A., 239
William, 208
Hahn, 224
Abraham, 218
Abraham T., 218
Alice E., 248
Amelia, 245
Annie E., 222
Charles, 254, 256
Emma D., 245
George, 260
Hannah E., 269
Helen B., 249
Henry, 209
Jacob, 215
Jacob E., 254
John F., 254
Mary Ann, 215
Minnie P., 233
Sallie, 264
Hahr, Susan, 213
Hain
Amanda, 239, 259
Anna V., 250
Arthur C., 266
Arthur W., 228
August, 208
Augustus, 207
Bertha M., 268
Betty E., 252
Carrie L., 269
Charles E., 266
Charles Edward, 266
Clara, 246
Elizabeth, 219, 248
Ella B., 265
Ella M., 265
Ellen K., 227
Ellen R., 262
Franklin A., 243
Harry, 211
Howard C., 221
Inez, 215
infant male, 265
Irvin B., 250
James, 244
Jeremiah M., 264
John Q. A., 247
Louisa, 211
Louisa Hell, 211
Lydia, 256
Lydia E., 256
M., 212
Maggie, 255
Mary, 211
Mary A., 217
Mary Inez, 215
Michael A., 228
Paris, 236
Percy J., 264
Robert, 240
Wm. A., 227
Haines, 236
Alma, 226
child of J. P., 211
Christie, 251
Christie E. Clemmens, 251
Ellen D., 231
Ellen Dorothy, 231
Emerson, 255
Geo. E., Mrs., 225
J. P., 211
J. Philip, 252
Malinda E., 269
Minnie, 225
Thomas, 221, 287
Hainly
Amanda, 237
George C., 253
Jonn, 237
Hains
Alma, 226
child of Floyd, 236
Floyd, 236
Hake, Decatur, 218
Haks, Harry, 206
Hale, 215
Minnie, 218
Susanna, 248
Hall
Alfred S., 243
Chas., 224
Elizabeth, 256, 261
Elizabeth M., 261
Ella, 301
Eva, 217
Florence M., 225
Jennie May, 235
Katie, 239
Lewis, 210
Lewis W., 210
May, 235
Oscar F., 250
Sue F., 252
Walter, 226
Hallacher, Lottie B., 242
Haller
child of Ira, 236
Ira, 236
Halliday, John E., 266
Hallisey, Joseph, 230
Hallman, Mary E., 240
Hamilton
Charles, 256
Heber, 246
Heber I., 246
William C., 256
Wm., 208
Wm. Hessel, 208
Hamilton John A., 258
Hamm
Charles A., 268
infant, 246
Hammel, Peter H., 218
Hammer
Elizabeth, 245
Jean B., 247
Hammerschmidt, Anna, 230
Hampele, Emily, 256
Hample, Emily, 256
Hanaf
Edward, 222
Ivan L., 218
Haney, Patrick, 238
Hanf, 222
Ada, 238
Catharine C., 233
Clarence L., 227
Edward, 222, 238
Emma H., 215
Henrietta, 215
Herbert, 214
Irvin J., 224
Ivan L., 218
James E., 219
Laura M., 214
Otto, 221
Otto E., 256
Pauline, 226
Raymond, 263
Raymond G., 263
Reinhold W., 244
Robert C., 214
Rose A., 230
Hangen, 225
Carl I., 254
Catherine, 225
Hanley
Estella, 210
John L., 267
Lillian M., 251
Hannahoe
Francis P., 251
Mayme M., 258
Hanson, Rosa, 220
Hantch, Stewart, 216
Hapford, Scott Michael, 268
Happ
Elizabeth, 219
Elizabeth Hain, 219
Ella M., 217
Emily, 218
John H., 216
William, 216
William E., 260
Happel
Charles E., 253
Edward, 248
Elwood, 248
Harbach
Kate A., 234
Kate Ellen, 234
Mary A., 234
Harberger, Chas., 220
Harbich, Sophia, 212
Harbold, Amelia, 238
Hardeceh, Wm., 218
Hardecup, Wm. H., 218
Hardekoff, Augustus, 219
Hardy
Kathryn E., 268
Permilla C., 234
Robert A., 269
Hare, 209, 225
Alexina, 252
Alice M., 265
Calvin, 218
Charles, 240, 243
Chas., 210
Christina, 262
Christine, 262
Clara, 239
Decatur, 220
Ellen, 252
Ellen E., 229
Emma C., 237
Emma R., 264
Geo., 206
George, 235
Harry, 212
Harry William, 212
Ida Ellen, 208, 209
John, 227, 245
John A., 254
Lewis, 214, 244
Louis, 244
Mamie, 210
Sallie, 208
Susan, 213
William, 215
Haring, Alvin W., 222
Harlacher
E. Jane, 244
Jane, 244
Harley
Conrad C., 267
Laura A., 267
Laura Amanda, 267
Harman
Peter, 212
Violet, 224
Harner, 206
Anna, 213
Annie, 252
Annie E., 252
Charles A., 257
Daniel, 218
Elmer W., 237
Emma, 263
Emma Florence, 263
Geo., 208
Hattie M., 242
Henry, 249
infant of James, 210
Jacob, 209, 240
Jacob H., 258, 260
Jacob S., 230, 240
James, 210
James H., 225, 258
Kate, 229
Katherine, 229
Katie M., 242
Louisa, 222, 226
Lucetta, 219
Richard, 237
Warren, 216
William, 264
William Franklin, 264
Wm., 206
Harp, George L., 265
Harper
Allen E., 231
Emma, 262
Emma L., 262
Geneva L., 265
Harry G., 256
Jennie, 249
Jennie W., 249
John C., 238
Lottie K., 215
Margie E., 253
Marjorie, 253
Mary C., 215
Mrs., 215
Robert, 236
Robert F., 236
Robert Field, 217
Susan, 250
Susan W., 250
Thomas G. P., 256
Thos., 215
William A., 262
Harris
Isaac, 241
J. H., 241
Harroch, David, 260
Harrop
Cora, 269
Wm. Henry, 269
Hart
Adeline, 223
Adeline Mc., 223
Alfred I., 231
Amelia, 208
Charles H., 267
Edith N., 81
Edward L., 260
Elizabeth, 228
Evelyn, 232
Evelyn L., 232
Geo., 212
Grant, 211
Laura F., 267
Maggie K., 232
Norman W., 268
Ormond, 225
Ormond A., 225
Sarah E., 233
Sarah Esther, 233
Wilson, 230
Harting
Harry M., 238
Henry, 238
Levi S., 261
Mary A., 210
Mary Ann, 249
Mrs., 210
Hartlieb
Anna L., 238
Donald J., 241
Esther M., 266
Harold J., 241
Jacob, 255
Mildred, 246
Steward W., 266
Hartline, 220
Gertrude N., 261
Gertrude V., 261
W., 220
Hartman, 224
Catharine, 287
Clareance, 250
Daniel F., 243
Eliza A., 236
Elwood F., 237
Ethel M., 267
Francis, 208
Frank, 214
Harry, 267
Helen R., 263
Ida J., 268
infant, 227, 247, 256
John, 261, 262
John E., 267
John H., 243
John M., 224, 243
John M., Jr., 224
Laura E., 244
Leroy, 218
Mary E., 261
Minnie, 247, 250
Minnie E., 250
Myrtle, 250
Rosalie, 258
Russell, 233
Sallie E., 254
Sarah, 216, 244
Thomas, 220, 239
William, 257
Winnie, 247
Wm., 227
Zetty J., 246
Hartranft
Elizabeth B., 262
Isaac, 239
Isaac S., 239
John W., 252
Lizzie, 262
Mary E., 228
Hartung, Storm, 225
Hartz, Allen P., 253
Harvey
Carrie, 211
Carrie May, 211
Daniel, 252
Elmer E., 255
Geo., 206
George S., 234
Harry, 210
Kenneth W., 239
Laura, 207
Leo F., 234
Louisa, 242
Wilson B., 207
Haskell
Florence M., 266
John T., 243
Haskill, John F., 243
Haskin, Bertha, 212
Hassel, Eva, 223
Hassler
Amos W. F., 265
Caroline E., 244
Catharine J., 219
Catherine, 220
Catherine J., 220
Fern, 266
infant, 245
infant female, 266
John M., 254
Kate, 219
Katie E., 264
William F., 240
Hassman, Sarah, 224
Hasting, Emma, 222
Hastings, Emma, 222
Hatt
Fred., 249
Lewis B., 249
Lucy Jane, 248
Hauck, 223, 240
Agnes L., 246
Allen B., 235
Anna E., 231
Annie E. M., 231
Carl C., 245
Catharine, 248
Catharine L., 248
Catherine, 223
Catherine A., 255
Earl E., 245
Edith, 223
Edwin, 214
Elisabeth, 207
Elizabeth, 251
Geo. H., 216
Harry, 243
Harry C., 267
John K., 212
Jonas B., 221
Mary N., 223
Miriam, 239
Miriam R., 239
Monroe M., 240
Paul H., 256
Philip A., 238, 262
Richard, 216
Richard G., 269
Richard M., 250
Richard N., 250
Rosella, 236
Sallie, 222
Samuel G., 249
Sarah, 257
Sarah A., 251
Sarah N., 251
Sarah S., 214
Susan, 235
Susan V., 261
William, 263
Wilson, 259
Wilson B., 259
Hauf
Catherine C., 233
Rosie, 230
Haug, Paul L., 252
Hauge, Wm., 206
Hauk
Chas., 215
David, 231
Susan, 235
Haup, 222
Otto, 221
Haupt
Isaac, 206
John, 206
Haus
Alan R., 268
Benjamin F., 245
Benjamin Franklin, 245
Charles, 209
Charles A., 235
Henrietta, 243
infant of Charles and Mary, 209
Katharine, 266
Katharine E., 266
Mary, 209, 256
Richard V. B., 260
Hause
Herman, 245
M. Edith, 233
Mary E., 233
Hauseman, Sarah, 226
Hausman
James, 214
Sarah, 226
Hawk
Anna C., 266
Anna Catherine, 266
Athur Rodney, 258
Barbara, 212
Charles A., 262
Elmer H., 257
Frederick, 227
Gertie, 209
Gertie May, 209
Haman, 247
Hannah C., 258
Harman I., 247
Mary, 219
Mary L., 249
Mary Lacetta, 249
Hawkins
Nora, 232
William W., 242
Hawman, Ella M., 214
Haws
Albert, 250
Charles A., 235
Cora E., 230
Harry, 258
Jestina, 234
Mabel, 261
Mabelle Cairns, 261
William, 256
William H., 257
Hayden
Edwin, 207
Emma L., 208
James C., 253
Mary Ann, 251
Matilda, 238
Wm., 209
Hayes
Alice I., 254
Florence, 219
Frank, 220
Haynes, Timothy, 206
Hays, Florence, 219
Heaton, Susan, 222
Heavy, Luke, 221
Heberling, David, 260
Hechler
Caroline, 218
Charles F., 251
Elam, 215
Elam, Mrs., 218
Ellen, 215
Heck
Catherine, 223
Elmira B., 235
Emma B., 235
Eugene, 263
Frederick Elmer, 255
Hannah M., 260
Howard M., 262
John B., 264
Katie, 264
Katie M., 264
Leslie J., 230
Lester, 230
M. Maggie, 235
Margaret E., 235
Mary E., 232
Mary M., 265
Milton, 257
Nora A., 230
Sara A., 256
Sarah A., 256
Walter D., 233
Wm., 223
Heckenroth
Clara, 229
Lewis, 229
Hecker, David, 207
Heckman, 209
Abraham, 219, 241
Abraham J., 241
Anna L., 240
B., 215
Carolina M., 246
Caroline M., 246
Catharine, 228
Catharine P., 251
Catherine, 228
Charles F., 264
Charles R., 230
child of George, 230
Clarence W., 268
Cora, 209
Daniel, 213
Daniel D., 213
Edith, 232
Ella S., 239
Fred, 249
Fred L., 249
Geo. I., 237
George, 221, 230
Harry B., 243
Harry R., 243
Helen V., 258
Ida M., 260
Isaac, 209, 216
James W., 237
Jean Marie, 263
Jeremiah, 223
John H., 225
John R., 246
Kate M., 241
Kate P., 251
Katharine J., 244
Laura, 249
Laura A., 249
Mabel M., 227
Madeline E., 242
Margaret, 257
Margaret S., 257
Marie, 222
Martha J., 221
Mary, 216, 221
Mary A., 229
Mary Ann Miller, 229
Mary E., 217
Minnie E., 228
Peter S., 226
Rebecca, 219
Rebecca K., 236
Reuben, Mrs., 216
Russel, 243
Sally, 216
Samuel H., 217
Sara E., 240
Sarah R., 212
Sarah Rebecca, 212
Susie, 245
Theodore J., 250
W. A., 235
Wayne, 215
Wm., 215
Wm. J. O., 215
Hedrick
Charles W., 261
Harvey J., 260
infant, 252
Lillie A., 247
Heebner, infant female, 261
Heere, Harry R., 232
Heferling, infant male, 260
Heffelfinger, 207
Ada R., 228
Addie L., 257
Alice, 246
Anna, 208
Cyrus, 207
Daniel W., 266
Diana, 219
Dorothy, 227
Earl, 225
Edith, 211
Florence, 224
Geo., 220
Harold W., 235
Harry, 247
Harvey, 254
Harvey A., 254
James L., 266
Leroy, 219
Lincoln, 242
Lizzie, 217
Louisa, 213
Rebecca, 220, 222
Robert, 212
Robert S., 226
Rosa, 211
Rosa E., 211
Steward, 224
Washington, 214
William S., 265
Heffner
Eva F., 226
Eva T., 228
George A., 264
Joseph H., 261
Rosie E., 265
Russel D., 229
Wm. B., 267
Hefs, Ellen, 212
Heft
Annie M., 222
George A., 250
Heifer, Bessie, 213
Heiffer, Bessie, 210
Heighs, Alice, 218
Heilman
A. J., 233
Carrie, 247
Catherine, 219
Charles F., 247
Chas., 229
child of A. J., 233
Ellen, 228
Ellen E., 228
Frederick, 232
infant, 251
Katherine, 219
Mary C., 255
Russell B., 231
Thomas, 222
Heim
Charles, 224
child of Charles, 224
Dorothy E., 238
Frank, 259
Hiester M., 232
Irvin H., 238
Katharine, 264
Katharine C., 264
Magdalena, 220
Susan K., 262
W. F., 214
William, 218
William E., 224
William F., 255
Wm. F., 211
Hein
Dorothy, 238
Irvin H., 238
Heine, 222
Heinem, Timothy, 206
Heineman, 206
Edward, 237
Ellen, 251
Harry, 255
Henry, 232
Sarah F., 235
Heinley, Donald R., 234
Heinly
Donald Reeser, 234
Kenneth R., 258
Maude A., 253
Michael Dennis, 263
Heintzelman, infant male, 265
Heiser, Marian, 248
Heisler
Adam, 229
Catharine, 244
Charles, 246
Fanny, 229
Frederick, 254
Heist, 222
Alice May, 214
Amanda, 232
Charles H., 268
Cora, 222
Elaine, 231
Elvin, 231
George W., 256
Ida May M., 231
Ida May Minerva, 231
Lewis, 250
Lewis E., 234
Lillie, 225
Luther H., 269
Luther K., 250
Lydia A., 256
Mary C., 258
Oscar, 239
Oscar S., 239
Peter, 224
Sallie, 267
Heister
Caroline, 267
Catherine M., 224
Elizabeth, 217
Mamie, 218
Paul E., 217
Helbert, Oliver, 243
Held
Fern H., 264
Robert F., 242
Helder
Elmira, 262
Frank, 217
Frank L., 263
Franklin L., 263
Joseph W., 262
Stewart R., 227
Stewart Robert, 227
Helfrich, 215
Almaretta, 226
Almaretta B., 226
Annie M., 256
Bernard P., 235
C. Martin, 259
Elisabeth, 212
Elizabeth, 212
George G., 259
Harold F., 229
Henry P., 216
John J., 260
Leila, 261
Peter W., 220
Walter, 221
William G., 237
Winfield, 220
Hell
Carrie J., 262
Chas., 215
Chas. H., 215
Clara R., 232
Elizabeth, 229
Geo., 206
Harry, 208, 239, 241
John, 226
John, Jr., 255
Louisa, 211
Mary, 215
Rebecca, 229
Sarah, 214
William H., 248
Hellar, Sallie, 208
Heller
Adam, 237
Daniel, 212
Eilizabeth, 215
Elizabeth M., 265
Elizabeth Miriam, 265
Frank, 227
Frank P., 266
Frank R., 266
Henry, 235
Jacob, 209
John, 216
Leroy, 268
Levi, 220
Lucher, 209
Lucy, 209
Mary A., 18
Michael, 213
Rosa, 236
Rose, 236
Sallie, 208, 262
Susan, 221
Tyson W., 234
Helms
Annetta, 226
Chas., 210
Emma, 209
Irvin, 230
Jacob, 210, 228, 245
Jacob, Mrs., 226
Priscilla, 206
Sarah, 212
Helper, 226
Hemmig
Albert, 216
Alice R., 257
Annie, 229, 232
Catharine, 208
Catherine, 208, 212
Fianna, 229
Irvin, 221, 224
Jacob, 213
Jennie, 263
Jennie M., 263
John, 231
John W., 231
Robert E. L., 258
Susan, 244
Thomas, 234
Walter, 223
Walter R., 223, 233
Wm., 233
Wm.., 223
Wm. D., 211
Wm. I., 223, 233
Hemmig-Kelly, 255
Hemming, Irvin, 224
Hemminger
Alvin B., 238
Bertha, 217, 228
Emma E., 254
infant, 249
John, 253
Hemming-Kelly, 255
Hempis, Tessey, 242
Henderson
Mary, 239
William, 238
Hendley
Albert, 213
Evelyn M., 231
Frank E., 255
Wm., 231
Hendrick, Catharine M. V., 268
Hendricks
Alexander, 227
Alexander R., 227
Catharine M. V., 268
Chas. A., 231
Harry E., 244
Henke
George, 235
Mary E., 252
Rosa, 207
Rose, 207
Henkel, Frank, 239
Henkle, B., 239
Henninger, Bertha, 228
Henry
Carrie, 268
Charles H., 269
child of James, 237
Christine, 257
Edward, 220
Elizbeth L., 254
Henry, 222
J., 209
James, 237
John, 263
Margaret A., 223
Hepler, 225
Albert G., 250
Alfred A., 225
Augustus G., 255
Bessie, 241
Candace A., 264
Candace E., 264
Clara A., 258
Clara R., 258
Ella May, 211
Ella May V., 211
infant boy, 258
William H., 234
Wm., 213
Heppinger, Robert, 212
Herb
Elias R., 238
Henry P., 229
Juliann, 223
Julius, Mrs., 223
L. M., 209
Laura M., 209
Olive, 215, 227
Ollie, 227
S. F., 213, 221
Sarah A., 243
Sidney, 227
Sidney F., 221
Sydney, 227
Wm., 209
Herbein, Samuel G., 236
Herbeine, Mary, 206
Herbert
Catharine E., 240
Catharine R., 240
Harry E., 220
infant, 257
Julia, 245
Julia A., 245
Lucien, 214
Lydia W., 262
M. Adelaide, 230
Mary A., 230
Susan, 214
Thomas L., 251
William B., 253
Wm., 214
Wm. W., 209
Herberts, Harry, 211
Herbine
Catherine, 216
Daniel F., 266
Hannah, 214
Helena G., 267
John G., 241
Mary, 206
Samuel G., 236
William G., 235
Herbst
Laura, 249
Ruth, 265
Susan, 242
Willie, 214
Herda
John C., 234
Mary, 258
Mary L., 258
Herflick, Mary, 216
Herflicker
John W., 244
Mary, 216
Mary Ann, 250
Hering, Anna, 227
Herm, Ellen, 250
Herman
Charlotte C., 241
Edward C., 268
Fred., 209
Frederick, 209
Lottie, 241
Mary A., 221
Peter, 212
Hermann, Mary A., 221
Hern, Ellen, 250
Herner
Clyde R., 259
Cordelia M., 258
Daniel S., 241
Eliza, 238
Henry, 249
Jacob, 209
Jennie, 224
Jeremiah, 220
Lucetta, 219
Paul S., 241
Hernle
Amanda, 245
Wm., 217
Hernley
Estella M., 210
Sallie A., 216
William H., 251
Herring
Adam, Mrs., 227
Alvin W., 222
Maria M., 265
Newton I., 254
Hertwig
Alex., 210
Alexander, 210
Hertzog
child of Silas, 235
Silas, 235
Hess
Edwin, 236
Elizabeth B., 258
Ellen, 212
Mary, 242
Milton, 223
Hessler
Christian H., 241
Elizabeth L., 266
Hetrich
Amelia, 247
Anna M., 217
Chas. A., 231
Harriet, 240
Harriet H., 240
Liza, 206
Wm., 210
Hetrick
Jacob, 224
Lydia, Mrs., 212
Mrs., 212
Hettrich
Anna M., 217
Liza, 206
Heyberger
Catherine, 227
Chas., 220
Emma A., 221
Frank, 241
Franklin, 241
Mary, 244
Mary E., 244
Heyen
Ellen May, 241
Frederick P., 249
Joseph, 266
Hiberger, Emma A., 221
Hibert, Walter, 217
Hickman, John B., 246
Hicks
child of Isaac, 231
Isaac, 231
Sarah, 247
Hiester, 232
Albert A., 263
Bessie R., 264
Caroline, 267
Carrie E., 259
Catharine, 228
Catherine, 228
Catherine M., 224
Charles, 242
Charles Frank, 242
Clarence G., 221
Clarence J., 265
Elizabeth, 217
Elizabeth C., 241
Evelyn, 228
George Albert, 268
Gery, Mrs., 221
J. George, 250
James A., 264
James G., 264
John A., 242
John A., Capt., 242
John H., 265
Kate, 221
Mamie, 218
Mary A., 254
Paul E., 217
Ruth, 225
Sallie, 245
Sarah, 229
William H., 254
High
Ada May, 266
Chas. R., 209
Chas. T., 225
Cyrus, 246
Deborha M., 260
Ellen, 232
Emily M., 233, 236
Emily Marie, 233, 236
Franklin, 256
Gertrude L., 221
Helen, 223
Helen E. M., 223
Henry H., 269
Jefferson, 217, 261
Jefferson K., 261
Kate, 239
Kate E., 265
Martha A., 449
Mary E., 266
Peter, 208
Peter K., 255
Peter R., 228
Rose M., 260
Rosetta, 260
Sallie A., 221
Samuel, 243
Samuel A., 243
Sarah H., 221
Susan, 233
Walter, 214
William F., 262
William H., 208
Wilma June, 246
Wm., 224
Higo, Elizabeth May, 247
Hilbert
Amelia, 261
Angeline, 238
Angeline G., 238
Elva L., 232
Emilie W., 261
Emma, 228
Emma P., 228
George I., 262
Hannah A., 263
Isaac, 214
Jacob K., 251
John, 246
John Y., 223
Mrs., 216
Olga, 244
Olga May, 244
Oliver, 243
Rebecca, 216
Robert I., 263
Sallie L., 269
William P., 258
Hildebrand, 240
Frank M., Jr., 268
Hile
Jacob, 229
Kate, 260
Samuel, 247
Hill
Amanda, 209
Amelia E., 260
Angelina F., 230
Anna, 209
Annie B., 260
Annie M., 256
Augustus Y., 246
Beatrice, 226
Benj. F., 209
Bertha, 240
Bertha V., 260
Bessie, 226
Catharine, 228
Catherine, 228
Charles B., 254
Chas. W., 228
child of Jonas, 213
child of William H., 233
Daniel J., 222
Edgar B., 241
Edward, 215
Edwin S., 235
Eliza, 232
Elizabeth, 226, 228
Emma, 264
Emma D., 264
Frank Y., 249
Franklin L., 255
Franklin Y., 249
George, 257
George W., 265
Gertrude, 235
Gertrude Q., 235
Hannah E., 222
Harrison, 210
Harrison H., 210
Harrison R., 261
Harry, 208, 257, 263
Harry H., 266
Harry R., 261
Harry W., 257
Irvin W., 265
Jacob B., 262
James G., 247
John W., 265
John Y., 244
Jonas, 213, 217
Joseph G., 247
Leroy B., 226
Louise, 316
Louise H., 262
Ludie A., 269
Luther M., 217
Lydia A., 235
Mary E., 213, 266
Mildred F., 241
Milford, 259
Milford S., 259
Millard, 248
Nettie C., 267
Richard L., 242
Richard P., 229
Richard T., 229
Sarah, 214
Sarah C., 266
Sarah J., 253
Sarah R., 231, 257
Sarah Z., 253
Simon, 233, 252
Simon, Sr., 233
Soloman, 207
Solomon, 207
Susan, 234
Thelma M., 264
William H., 233, 252
Hille
John, 224
Louisa, 217
Hiller
Daniel, 212
Francis, 210
Henry F., 259
Levi, 220
Mahlon, 223
Mahlon M., 223
Susan, 245
Hime, Wm. F., 211
Himes
Bertha, 223
Bertha Ann, 223
Himmelberger
Diana, 231
Dianna, 231
Himmelman
Amelia, 248
Amelia R., 248
Elizabeth, 230
Martin, 260
Himmelreich, Elizabeth, 261
Hinkel, 224
Chas., 214
Clarence, 224
Earl, 268
Kate, 234
Kate E., 234
Ralph, 229
Silas, 257
Walter, 226
Hinkle
Anna M., 223
Clarence, 218
Elmira, 261
George C., 261
Mary E., 213
Silas, 257
Hinnershitz
Adam N., 261
Amelia, 247
Amelia L., 242
Ellen, 234
Jere., 229
Jeremiah, 229
Luther V., 252
Nora W., 239
Wm., 218
Hipsch, Mary A., 228
Hitner, Edna L., 239
Hittner
Edna L., 239
infant boy, 259
Hoag
William E., 265
William G., 265
Hoagland, Howard, 232
Hoaster, Rose, 251
Hoauck, Rosa E., 236
Hobson
child of Saul, 237
Saul, 237
Hoch, 208, 241
Henry H., 294
Peter, 228
Wilson, 239
Hocker
Claude P., 207
D. R., 212
David R., 212
Hodge
Harriet J., 239
Josephus, 252
Mary F., 248
Hodgekins, Robert D., 242
Hodgkins
Helen M., 240
Robert, 243
Hoehl
Barbara, 224
George, 226, 247
Jacob, 259
Martin, 211
Hoehlmane, Margaret, 233
Hoellman
Charles, 268
Charlotte E., 267
Joseph, 219
Margaret, 233
Hoernle
Geo., 212
Geo. W., 212
Jacob W., 238
Pauline, 253
Hoff, Anna L., 261
Hoffa
Edwin, 245
Ester M., 248
F. H., 211
Hoffman
Alice, 252, 257
Angelina, 242
Archie F., 228
Blanche B., 240
Clara, 208
Custer E., 217
Doris Louise, 257
Dorothy, 219
Edgar, 248
Emma, 249
Emma Eck, 249
Fanny C., 248
Florence E., 245
Frances M., 253
Frances Mae, 253
Harry, 212, 213
Howard, 243
Ida M., 227
Irvin, 237
John F., 227
Lillian, 208
Lillian May, 208
Louisa, 213
Louisa Heffelfinger, 213
Maurice J., 250
Rebecca, 236
Samuel, 258
Susan, 206
Wm. O., 242
Hoffmaster, 208, 211
Amelia, 247
Anna W., 231
Caroline, 245
Caroline V., 245
Catharine, 262
Catherine, 262
Charles W., 257
Christianna, 226
Chrsitina, 226
Clarence E., 211
Elis., 209
Eliz., 213
Eliz. Lott, 209
Elizabeth, 234
Emma, 224, 237
Emma E., 241
Fanny, 214
Fanny Alice, 214
Geo., 213, 230
Geo. D., 244
Geo. W., 220
Harry L., 217
Harry W., 250
Henry, 210
Henry W., 240
Howard E., 214
Irvin, 232
Isabella C., 443
James, 207, 216
Jas. H., 228
John R., 218
Jos. H., 207
Julia, 214
Maggie, 213
Margaret M., 255
Martha L., 249
Mary, 216, 231
Mary A., 216
Mary E., 246
N., 211
Ralph S., 268
Richard K., 237
Samuel W., 219
Sarah, 218
Scott W., 219
Scott Winfield, 219
Virginia, 242
William H., 254
Hofmann
Frances H., 26
George F., 263
Harold J., 233
Margaret, 234
Hofses, Chas., 210
Hohl
Amazon K., 252
Amelia, 234
Amizon K., 252
Annie A., 240
Catharine, 232
Catharine F., 268
Catherine, 232
Ethel I., 226
George I., 236
Grace, 261
Henry, 266
Irvin, 215
Roy E., 229
Holder
Catharine, 231
Catherine, 231
Charles H., 206
Edward G., 259
Edwin G., 259
Hannah E., 216
Hettie Ann B., 237
Horace C., 255
infant, 248
Jacob F., 225
Louisa M., 253
Louise M., 253
Merwyn B., Sr., 267
Vara A., 260
Hole
David A., 256
Ethel I., 226
Harry, 207
James, 256
Leroy, 229
Reuben, 218
Ruth Esther, 257
Susanna, 248
Thelma L., 265
Thelma Leah, 265
Wilbur, 231
Wm. S., 231
Holl, 214
Annie, 213
Catharine, 243
David A., 237
Emma, 220
Emma L., 220
George W., 259
Gertrude, 230
Gertrude May, 230
Henry S., 222
Lawrence, 207
Mary L., 261
Sarah E., 235
Holland
A., 210
Abigail, 210
Percy, 238
Hollenbach, 214
Benj. B., 223
Elizabeth, 237
Emily M., 252
Hiram, 208
Kate, 234
Katie, 234
Mahlon, 238
Mahlon F., 238
Priscilla, 214
S., 206
Samuel, 253
Solomon K., 206
Wm., 217
Hollenboch
Benj. B., 223
Elizabeth, 237
Hollenbush
Abeline, 211
Ida Eva, 206
S., 206
Soloman K., 206
Hollenstein, 221
Peter M., 221
Hollman
Catherine, 210
Joseph, 219
Holmes, Frank, 233
Holswartt, Gottlieb, 218
Holsworth, Mary, 223
Holt
Edwin S., 263
Emma E., 256
Holtsworth, Mary, 223
Holtzinger
Gertrude, 241
John, 230
Holtzworth, John, 218
Holzheiser, Wm., 207
Holzinger
Ethel, 232
Eva, 247
Gertrude M., 241
John, 230
Stephen, 261
Homa, Levi J., 206
Homan, 207
A. F., 221
Aaron J., 228
Abraham F., 221
Alice, 236
Amanda, 258
Bridget, 213
Bridgitta, 213
Calvin, 220
Charles W., 252
Chas., 209
Chas, Mrs., 207
Clara, 232
Daniel R., 243
Edith M., 222, 227
Edward R., 244
Elizabeth, 239, 254
Ellen, 218
Ellwood F., 263
Elwood F., 263
Emily, 337
Emma E., 231
Emma L., 260
Eva, 243
Fern, 233
Florence, 210
Florence Mae, 261
Florence Mae Stott, 261
Floyd H., 267
Forest, 249
Forrest, 249
Frank O., 223
Hattie, 211
Helen, 208
Howard, 209, 242
Jacob, 211, 232
Jennie, 218
John, 224
John C., 238
John L., 245
Katie R., 246
Levi S., 206
Lucy A., 229
Mary, 235, 246
Mary E., 259
Mary Ellen, 207
Mrs., 214
Paul M., 246
Peter, 210
Rebecca, 220
Rebecca, Mrs., 214
Sarah, 224
Theodore, 206
William D., 234
William F., 253
William H., 224, 246
William I., 248
William T., 248
Wm. F., 234
Homas, Henry, 245
Hommas
George W., 251
Mary E., 253
Homrich
Ferdinand, 234
Florence, 259
Florence M., 259
Mary, 236
Honnan, Carrie E., 244
Hoog, Anna, 249
Hook
Amos, 207
Barbara, 212
Clara, 206
Elam, 230
Elam D., 230
Geo., 209
Jos., 206
Jos., Mrs., 206
Joseph, 230
Joseph W., 230
Mary K., 225
Hoover
Catharine, 210
George W., 211
Jacob, 211
John, 260
Susan, 253
Susan E., 253
Hopler
Annie, 244
Della M., 263
William R., 248
Hopp
Emma, 226
Susie M., 226
Horan, Amanda, 233
Horn
Annie Ellen, 222
Barbara A., 255
Cora, 255
Emma J., 265
Emma Julia, 265
Henry W., 241
John, 230
Mary J., 240
Samuel, 243
Horner, Elmer W., 237
Horniech, Ferdinand, 234
Horrocks
Abraham, 236
John, 242
Hoskin, 208
Bertha, 212
Florence Amy, 254
Frederick H., 267
George H., 225
George Henry, 225
Henry, 207, 214
Jane B., 251
John K., 232
Sallie A., 226
Hoskins, Florence A., 254
Hottenstein
Chas. A., 219
Mary, 228
Mary E., 228
Hottenstine, Chas. A., 219
Hotz
Charles S., 241
Chas. W., 236
Margaret, 236
Margaret E., 236
Rebecca E., 268
William, 236
Hotzman, Robert G., 269
Houck, 231, 240
Allen B., 235
Alwilda M., 258
Alwilda May, 258
Anson E., 256
Catherine, 223
Chas., 215
Clarence G., 268
David, 231
Eddie, 214
Elisabeth, 207
George C., 268
Grace L., 247
Harry Elwood, 207
Jacob, 207
John K., 212
Jonas B., 221
Lizzie, 225
Mahlon Edward, 267
Mary Ann, 223
Mary Anna, 218
Monroe M., 240
Morris, 228
Morris W., 228
Richard, 216
Samuel G., 249
Sarah S., 214
Houdinot, Anthony, 215
Houp
Emma, 226
Isaac, 206
John, 207, 234
John B., 219
Mary E., 220
Susie M., 226
William, 227
William H., 227
Houpt
Catharine, 207
Catherine, 207
John, 206
Houseer, John B., 253
Housekeeper
Edgar, 249
Edgar H., 249
Elizabeth, 248
Elizabeth R., 248
Houseman
Catharine, 227
Clarence, 213
Fannie, 226
James, 214
James J., 259
Sallie, 212
Housen, Gordon W., 223
Houser
child of Victor, 227
Emilie, 234
Emily J., 234
Florence, 223
Florence R., 223
Gordon W., 223
Victor, 227
Housman, Catherine, 227
Howard
Edna May, 221
Wm. C., 232
Howe
Catharine, 253
Catherine, 253
Elias, 247
James E., 233
Hower
Amanda, 237
Henry B., 245
Hoy, 240
Hoyer, 207
Agnes, 259
Arietta B., 229
Arnetta B., 229
Bessie, 599
Edward H., 265
Edward Hamilton, 265
Elizabeth, 168
Ellen M., 253
Emma R., 236
Harry, 246
Harry P., 246
Helen, 254
Helen A., 254
Henry, 253
Howard E., 221
Isabella, 240
Isabella M., 240
John, 211
John P., 211
Lillie, 207, 215
Norah, 238
Raymond E., 263
Reuben, 252
Sallie, 249
Samuel, 230
Samuel R., 239
Sarah, 406
Simon A., 246
Simon P., 246
Warren E., 266
Hoyt, F. L., 210
Huber
Catharine, 237
Catharine E., 237
Elisabeth, 210
Harry, 258
Henry G., 258
Ida F., 225
Joel, 237
William G., 236
Hubert, Lena, 211
Hubley, Sallie E., 237
Huertas, Tessey, 242
Huey
Esther, 237
James H., 224
Huffert
Francis, 235
Gertrude M., 238
Howard W., 267
John H., 268
Jos., 207, 208
Joseph, 219, 236
Laura, 264
Sallie A., 220
William H., 258
Hufford, Earl Wm., 221
Hugg, Joseph H., 235
Hughes
Alice, 218
Isaac R., 239
Israel R., 239
John W., 251
Mary E., 249
Thomas E., 257
Hull
Mary L., 250
Sarah, 206
William D., 255
Hulshizer, Louisa J., 241
Hulsizer
Eugene, 251
Eugene J., 251
Georgianna A., 247
Jacob C., 267
Stewart, 226
Stewart A., 224
Hummel, 227
child of Milton, 229, 231
Elisabeth, 211
Elizabeth E., 265
Elizabeth I., 265
Elizabeth T., 265
Frank, 244
Geo. W., 229
Gordan E., 229
Gordon E., 229
Hannah, 210
Helen, 233
Lillie G., 229
Lucy Ann, 250
Milton, 229, 231
Peter H., 218
Sarah Jnae, 326
Hummell, Catherine, 217
Humphreys
George W., 259
Jessie S., 239
Laura M., 230
Martha A., 236
Mary M., 229
Susanna, 217
William H., 237
Wm. H., 243
Wm., Mrs., 230
Humphries
Mary M., 229
Susanna, 217
Humphryes, Charles H., 257
Hungerford, 206
child of Thomas, 229
Thomas, 229
Hunsberger
Catharine, 368
Dorothy, 228
Elizabeth, 232
Elizabeth C., 232
Ellen, 266
George, 218, 228
George E., 248
Hannah, 226
infant, 251, 260
Jacob, 225, 243
Jacob H., 225
James, 212
Jeremiah, 227
Jeremiah C., 227
Jnnie, 226
Mark, 240
Marks, 240
Mary, 254
Paul, 257
stillborn of George, 228
Hunsinger, Martha, 210
Hunt
Herbert, 214
Laura M., 214
Robert C., 214
Hunter
Anna M., 262
Elmira, 244
George H., 240
Harry, 249
Katie, 255
Nicholas E., 238
Paul, 254
Huntley, Charles, 245
Hurst, 219
Albert J., 238
Ethel, 244
Lillie, 221
Pearl C., 245
Hutchinson
Elizabeth, 227
Emma Sarah, 262
James D., 221
James David, 221
S. Emma, 262
Hutchison, James M., 255
Hutzulak, Myrtle, 249
Huyett
Annie, 233
Chas., 230
Chas. G., 230
Clarie H., 246
Henrietta, 216
Huron, 269
Jacob H., 240
Obadiah, 251
Rebecca S., 269
Sadie, 216
Hyatt, Frank, 217
Hyett, Frank, 217
Hyneman, 220
Agnes, 244
Catharine, 219
Catherine, 213, 219
Charles, 250
Charles A., 253
Charles J., 260
Chas., 218
Clara, 236
Edward, 237
Harriet Elizabeth, 213
Henry, 232
John, 215
John E., 264
Margaret E., 252
Mary, 231
Mary A., 219
Mary P., 231
Virginia, 242
Wilda, 256
Ibach
Amelia D., 270
Charles A., 270
Edna I., 271
John C., 270
Ifland
Maggie, 270
William Martin, 271
William Martin, Sr., 271
Ilgenfritz
Clarence Leonard, 270
Emma A., 270
Lester O., 270
Imhof
Amleia, 270
Eugene C., 270
Rudolf, 270
Theresa, 270
Imhoff, Amelia, 270
Immel
William J., 270
William J., Jr., 270
Impink
Albert F., 271
Earl, 270
Florence E., 271
infant, 270
infant, 270
Ingham, William, 270
Inglefritz, 270
Clarence, 270
Emma A., 270
Insinger
A., 270
Arthur, 270
Mary, 270
Iplen, Maggie, 270
Irvin, Sarah, 270
Irwin
Harry T., 271
Henry F., 270
Sarah F., 270
Warren T., 271
William, 270
Ischinger, Clara, 271
Ives
Ida, 271
Joseph, 271
Jackson, 272, 273
Catharine, 275
Chas., 273
Chas. H., 273
Florence, 273
Harry L., 276
Henry B., 273
Ida I., 278
infant boy, 276
Jill Louise, 277
John, 275
Margaret J., 276
Robert D., 275
S., 272
Samuel B., 274
William E., 275
Jackstead
A., 273
Alex., 272
Annie, 273
Edward, 273
John, 272
Jacob, Areta A., 276
Jacobs
Anita C., 275
Areta A., 276
Frederick, 277
Frederick A., 277
Mary I., 277
Norman, 274
Paul Z., 277
Salinda, 276
Jacoby, Salinda, 276
James
Daniel, 273, 274
Daniel G., 274
Emma C., 276
Franklin, 272
Jacob, 272
Jacob M., 272
Rebecca, 272
Samuel, 274
Janda, 273
child of Frank, 273
Frank, 273
Russell, 274
Jansen, S. M., 274
Jecksteadt
Albertina, 273
Alexander, 272
Annie, 273
August H., 274
Charles, 272
Chas., 492
Edward, 273
John, 272
Jenkin
Charles, 273
child of Charles, 273
Paul R., 273
Jenkins
Bertha B., 277
Betty H., 240, 274
Paul R., 273
Jenning, Rose Ellen, 274
Jennings, infant, 275
John, Bertha, 272
Johns
Anna H., 276
Annie H., 276
Bertha, 272
Clarence J., 275
Ida V., 276
Johnson, 272, 273, 275
Agnes, 275
Agnes I., 275
Arthur E., 272
Arthur W., 276
Austin S., 275
Benneville, 272
Chas., 273, 274
D., 273
David A., 276
Grace, 275
Harry M., 276
Helen, 275
Ida, 272
Ida M., 273
infant, 276
James E., 274
John C., 277
Lizzie S., 277
Mary, 274
Mary C., 275
Mildred, 273
Paul, 274
Paul R., 273
Richard, 274
Richard H., 274
S. M., 274
Samuel, 273
Samuel, Mrs., 272
Sara, 274
Wallace W., 277
Johnston
Arthur B., 272
Benjamin L., 272
Edward E., 272
Geo. B., 273
Henry J., 274
James E., 274
Joseph F., 276
Margaret, 272
Mary, 277
Samuel, 273
William F., 277
Jones, 274
Alvina P., 274
Angelene, 272
Angeline, 272
Blaine D., 278
Chas., 272
child of Herbert, 274
Donald J., 276
Effie, 272
Ella, 276
Elvina, 274
Emma, 273
Geo. E., 272
Geo. W., 272
George C., 274
Heber, 277
Heber L., 277
Herbert, 274
Howard, 272
Howard P., 274
James O., 275
James O., Rev., 277
James Oliver, 275
James W., 272
Jennie E., 276
John D., 275
Jonathan W., 275
Lillian, 277
Lillie, 272, 277
Lillie May, 272, 273
Mary Ann, 276
Mary E., 275
Robert, 272
Samuel E., 277
William, 274
William D., 277
Jorena
Jos., 274
Katie E., 276
Katie H., 276
Jost, 273
Katharine R., 277
Paul, 273
Paul William L., 273
Kachel, Lillian A., 316
Kacninczak, Edwin, 299
Kaderine, Mary I., 315
Kaercher
Geore, 295
George W., 295
Kalbach
Anna May, 320
Annie, 299
Edna N., 289
Emma S., 318
Frank P., 312
Harrison A., 307
Katie, 314
Mary A., 297
Maurice M., 319
Paul A., 298
Paul R., 319
Robert C., 295
Kalcher, Henry W., 282
Kaley, Daniel, 305
Kane, John, 283
Kanel, George, 307
Kanelopulos, George, 307
Kantner
Annie C., 283
Caroline, 291
Catharine, 281
Catherine, 281
Edith, 282
Geo., 280
Geo. W., 280
Harry, 302, 304, 305
Helen M., 295
Ida, 281
Ida M., 281
Jennie B., 285
John M., 283, 293
Llewellyn, 315
Louisa, 283
Mamie, 289
Mary A., 289
Paul C., 298
Regina, 313
Stella Schmehl, 320
William H., 283
Karcher
George W., 295
Henry W., 282
Kase
Emma M., 294
Emma R., 294
Lewis, 297
Lewis R., 297
Llewellyn, 310
Milton A., 319
Sarah R., 311
Kasmierzak, Raymond, 301
Katerman, Warren A., 304, 305
Katzenmoyer, 280
Amanda, 511
Annie E., 309
Daniel, 287
Daniel R., 287
Edwin, 305
Elizabeth, 279, 304, 305
Geo., Mrs., 279
infant, 302
John J., 310
Levi, 283
Lillian E., 317
Lillie E., 317
Miriam, 305
Paul, 286, 290
Peter, 305
Peter J., 316
Robert, 290
Samuel, 312
Katzmirzak, Raymond, 301
Kaucher, 298
E. C., 298
M. G., 287
Marvin G., 287
Mary, 279
Mary Margaret, 279
Kauffman, 294
Anna M., 305
Catherine, 279
Chas. E, 288
Della E., 320
Florence, 296
Frederick A., 317
James S., 315
Lewis, 281
Mamie, 302
Mildred G., 311
Minnie A., 302
Oscar D., 308
Ruth E., 296
Kauffmann, Bessie M., 317
Kaufman
Chas. E, 288
Ruth L., 292
Kaufmann
Adelaide M., 319
Adloph, 314
Anton, 315
Bessie M., 317
Kathryn, 311
Katie, 311
Oscar D., 308
Ruth L., 292
Theodore, 289
Kaul, Mary Elizabeth, 315
Kauterman
Isaac, 296
John F., 297
Susan, 309
Warren A., 304, 305
Kautermann
Isaac, 296
Susan, 309
Kautermein, Helen M., 295
Kazmierczak
Charles, 304, 305
Edward, 307
Esther, 307
Rosie V., 297
Kazmierezak, Esther, 307
Kazmierszak, Edwin, 299
Kazmierzak, 300
Geraldine, 308
Kazmiorcsak, Edward, 307
Kaznierczak, Harold, 301
Kaznierzack, Harold, 301
Kazrueezok, 300
Keating, 295
Kebach, Clara Ann, 292
Keck, M., Mrs., 281
Keehan, Carrie M., 319
Keehn, 284
Adeline, 284
Agnes, 320
Annie, 307
Caroline, 284
Catharine A., 311
Catherine A., 311
Charles A., 316
Charles B., 311
child of Raymond, 296
Clarence, 309
Daniel B., 301, 307
Edward H., 300
Elizabeth B., 318
Emily H., 319
Esther, 284
Evan, 281, 289
Evan D., 309
Georganna, 287
Georgeanna, 287
Hannah E., 296
Harry E., 287
Helen Grace, 293
Horace, 296
Horace G., 296
Howard B., 313
Ida M., 317
infant, 283
John B., 307
John H., 314
Lotta, 280
Lottie M., 281
Louisa N., 290
Lydia, 286
Maria, 281
Martha K., 304, 305
Martin, 318
Martin E., 319
Mira, 281
Newton, 289
Orlando, 301
Peter B., 308
Raymond, 296
Raymond E., 318
Ruth, 285
Sallie M., 308, 320
Samuel, 285
Sarah, 301
Theodore, 280
Warren, 289
William, 284
Keeler
Carl H., 287
Chas., 287
Chas. H., 287
Harold, 287
Howard F., 319
Ida C., 295
Ida K., 295
Laura M., 309
Lester F., 317
Lester Franklin, 317
Ralph W., 308
Ruby M., 301
Ruth, 285
Sarah, 282
Sarah A., 282
William A., 313
William Augustus, 313
Keeley
Ella E., 300
John W., 305
Owen E., 279
Keely, 286
Ella E., 300
Keen
Clarence L., 293, 402
Esther, 284
Esther M., 298
Lotta, 280
Sarah C., 291
Thomas, 287
William, 284
Keenan
Charles K., 297
infant, 307
James V., 301
Keene, Newton, 289
Keener
Adam H., 300
Daniel, 284
Mary M., 310
Keeport
Amos L., 296
Elizabeth M., 312
Lavina, 294
Lavinia E., 294
Mark A., 312
Norman B., 316
Kefer, 292
Elsie B., 292
Keffer
Chas. A., 286
Hilary A., 309
Hillary A., 309
Laura, 299
Laura H., 299
Kegerise
Carrie, 307
Catherine M., 308
Elizabeth F., 318
Eva, 317
Frank N., 318
Harry H., 297
infant, 307
Laura L., 299
Lulu Etta, 315
Roy C., 305
William B., 315
William H., 317
Wm. S., 288
Kegerize
Carrie, 307
Lulu Etta, 315
William Hutchinson, 317
Wm. S., 288
Kegerrisan, James, 283
Kehler, Walter M., 320
Kehoe, Annie Agnes, 25
Keil
Anna, 295
Eliza, 282
Emma F., 319
Henry L., 292
Jacob, 283, 284
Jacob F., 284
Jacob W., 296
Mary M., 295
Oscar W., 283
Keim, 300
child of Mary, 291
Clementina, 300
Clementine, 300
Daniel J., 313
Israel, 286
John, 309
LeRoy, 291
Mary, 291
Mary S., 301
Raymond, 288
Raymond M., 288
Samuel, 311
Samuel L., 311
Sophia, 295
Sophia J., 295
Kein, Gertrude M., 298
Keinert
Maria, Mrs., 282
Mrs., 282
Keisel
Adam F., 298
Chas. W., 299
William Henry, 308
Keiser, 316
Beulah, 300
Charles J., 295
Charles T., 295
Clarence, 289
Eba H., 297
Emma C., 290
Eva H., 297
Irvin B., 311
Irvin O., 301
Paul, 311
Raymond B., 301
Rosa C., 294
Kelchner
Wm., 282
Wm. C., 282
Kellenberger
Caroline, 300
Carrie A., 300
Herbert, 301
John, 297
Sarah, 288
Keller, 289
Charles W., 308
Elisabeth, 279
Elizabeth, 279
Ellen, 290
Francis S., 307
Hannah, 281
Harry, 313
Henry, 313
John, 290
Lena L., 307
Lillie May, 281
Lloyd S., 300
Matthias, 288
Raymond F., 310
Rebecca, 285
Robert, 298
Stanley L., 295
Stanley N., 295
Violet M., 301
William W., 295
Kelley
Catharine M., 291, 293
Catherine M., 291
Ellen A., 307
Floyd S., 300
Frank, 317
James, 302
Louisa, 292
Rebecca, 307
Sarah, 304, 305
William H., 298
William J., 296
Kellner, Elizabeth, 300
Kelly
Carl, 295
Catherine, 293
Daniel F., 314
E. Gertrude, 318
Elizabeth, 293
Ellen A., 307
Elmira R., 304, 305
Elmira Rhoads, 304, 305
Frank, 317
James, 302
Jesse E., 312
Michael, 289, 300, 312
Michael J., 312
Robert R., 299
Sarah, 304, 305
Kemmerling
Arthur R., 315
Elmira G., 299
Oscar D., 311
Kemp, 294
Andrew J., 305
Anna, 296
Anna L., 296
Carherine, 78
Catherine, 286
Emma E., 294
George, 287
Grace I., 290
infant, 304, 305
Martin, 289
Mary, 314
Mary E., 286, 294, 314
Russell G., 317
Ruth A., 296
Ruth R., 296
Sallie, 292
Sallie B., 318
Sallie Bertha, 318
Virginia M., 302
Kendal, Chas., 279
Kendall
Adam W., 308
Charles, 296
Chas., 279
Emma, 304, 305
Emma E., 304, 305
Frank, 280
Ida Mame, 318
Jacob, 280
Lucy, 279, 283
William E., 314
William L., 314
Kenderdine, Esther L., 296, 298
Kennedy, Wm. Earl M., 285
Kenno, Charles, 305
Kepley, 301
Agnes, 301
Elizabeth, 293
Elmer, 318
Irvin S., 308
Kate, 299
Katie M., 299
Lucy E., 311
Walter E., 283
Kepner
David, 302
David F., 302
Emma, 313
Francis, 284
George, 314
John F., 295
Mrs., 286
Sophia, 279
Keppel, Thomas, 292
Keppen, Henry, 283
Kepple
Harriet, 300
Thomas, 292, 300
Walter, 283
Kepton, Stella, 298
Kerch, Annie, 347
Kercher
Albert, 310
Albert S., 297
Carrie, 292
child of Albert S., 297
Elmer R., 318
Emily, 312
Esther, 287
Katie A., 314
Naomi, 293
Naomi R., 293
Nellie A., 314
Kerkley, 297
Kern, 287
A. W., 293
Amande W., 293
Anna, 282
Anna J., 294
Annie, 294
Cora A., 317
Eli M., 286
Emily W., 287
Emma, 287
Eugene M., 314
George W., 308
Hannah, 280
Hermon E., 310
infant, 285
Israel F., 286
Mary E., 307
Michael, 284
Minnie C., 289
Phaon H., 289
Rosa E., 318
Rose E., 318
Rose Mary, 312
Verdia W., 314
William S., 310
Wm., 280
Wm. B., 285
Wm. C., 289
Kerner
Frank, 284
Helen, 295
Kenneth, 300
Kerns, 285
Geo., 285
Hannah, 280
Wm. C., 289
Kerper, Susan, 292
Kerryhard, Williard, 281
Kerryhart, 279
Catharine, 281
Kertzler, John J., 300
Kesling, Amelia, 293
Kessler
Christiana, 298
infant female, 317
Jacob, 298
Jacob F., 291
Raymond, 288
Kestler, Elmira J., 297
Ketner, Harriet, 286
Ketre, 289
Ketssel, Adam F., 298
Ketterer, 286, 289, 290
Alcie M., 291
Chas., 280
Emmaline, 283
Florence, 290
Fred. M., 294
Frederick M., 294
Geo., 282
George, 297
Jacob, 295
Jacob F., 286
Jacob L., 295
Laura E., 307
Lizzie A., 317
Maria, 297
Maria A., 297
Mary L., 299
Michael, 284
Stewart R., 294
Kettrer, Stewart, 294
Kicchhoff, John, 280
Kich
Adam H., 288
Charles W., 288
Daniel, 287, 288
Kicher, 286
Kiebach, John, 314
Kiefer
Barbara C., 311
Bertha I., 318
Charles, 308
Charles F., 308
Elizabeth, 312
Elizabeth D., 312
Frank D., 310
Paul E., 320
William L., 301
Kieffer
Amelia H., 313
Charles W., Jr., 319
Chas. W., 299
Edward C., 293
Hamilton C., 288
Wm. S., 291
Killian
E. Raymond, 300
Emanuel R., 300
Franklin D., 304, 305
Mary S., 293
Sallie L., 313
Kilpatrick
B. W., 292
Calvina A., 288
Caroline, 288
Daniel G., 317
Hattie H., 298
Hettie H., 298
James, 302
James W., 305
John E., 320
Lillian H., 298
Marie H., 298
Mary H., 293
Paul H., 292
Raymond, 287
Sallie O., 309
William J., 316
Kinert, Samuel, 280
King, 286, 292
Anna, 284
Anna M., 291
Bertha A., 313
child of W. R., 291
child of Wm. R., 291
Edwin F., 285
Florence, 315
Isaac, 286
Mabel F., 316
Mary L., 291
Millard Raymond, 292
Thomas, 288
W. R., 291
William D., 296
Wm. D., 279
Wm. R., 291
Kingsley, 299
Kinsey
Geo. W., 291
Gertrude A., 313
Howard F., 316
Jennie, 282, 286
Jennie A., 286
Lydia E., 309
stillborn, 297
Kirchoff
H., Mrs., 285
John, 280, 281
Kirkhoff
Catharine S., 317
Catherine A., 317
Hannah, Mrs., 285
John, 281
Margaret R., 301
Mildred J., 318
William R., 314
Kirn
Augusta F., 287
Elizabeth, 304, 305
Elizabeth S., 304, 305
George W., 308
Gertrude M., 298
Herman, 304, 305
Herman F., 304, 305, 310
Hilda, 313
Hilda M., 313
Michael, 284
Kirschman
George, 308
George F., 308
Lillian, 320
Kirst
Catherine A., 309
Henry D., 294
Katharine, 309
Kisel, Wilson A., 317
Kiser
M. C., 292
Morris C., 292
Sarah A., 296
Kisling
Amelia, 293
Cyranius, 293
Cyrenius, 293
Herbert H., 307
John J., 300
Kissel
Esther, 285
Esther J., 285
Kissinger, 280, 294
Allen B., 285
Anna, 298
Annie, 282
Arthur E., 292
Catherine, 280
Chas., 281
Clara J., 311
Edward, 281, 283, 289
Edward D., 314
Ellen B., 285
Ellen C., 310
Ellen M., 288
Florence, 302
Frances, 290
George W., 318
Hannah, 290
Henry, 281, 287
Hilliard, 295
Howard, 294
James L., 301
John, 290
John H., 316
John H., Sr., 316
John R., 291
John W., 293
Jos., 281
Laura B., 294
Maggie, 282
Margaret A., 282
Mary, 297
Mary E., 307, 316
Raymond, 291
Reuben C., 280
Susan E., 296
Thomas, 309
Kissling
Albert, 286
Elizabeth, 313
Elmer S., 319
Katie R., 309
Olivia, 313
Paul, 287
Kistler
Elmira J., 297
Geo., 279
Kistling, Albert, 286
Kitch, 280
Chas., 279
Klabach, Irvin R., 313
Klee, Calvin, 288
Klein
Augustus, 312
Bertha, 309
Kleinspehn
Earl, 288
John F., 315
Leon, 298
Mary J., 316
Klemmer
Annie R., 315
Charles, 289
Chas., 80
Elizabeth L., 315
John B., 310
Paul J., 318
William, 317
Klempert
Anna May, 315
Frank, 298
Klenow
Catharine, 294
Catherine, 294
Joachim, 299
Kline, 297
Aaron C., 310
Adah, 285
Amanda A., 51, 305
Amanda H., 318
Amelia R., 295
Anna Edna, 313
Augustus, 312
Bertha, 309
Calvin, 302
Calvin B., 302
Calvin H., 308
Calvin L., 308
Caroline, 294
Carrie R., 320
Catharine, 297
Charles, 314
Chester L., 316
Chester S., 316
child of George I., 297
D. K., 279
Dallas, 299
Daniel F., 300
Daniel K., 291
Edwin, 305
Elam J., 293
Elva H., 293
Elvah H., 293
Emma E., 289, 317
Emma L., 292
Emma P., 320
Ethel, 287
Eva V., 320
Fern G., 311
Florence E., 315
Franklin B., 305
Franklin E., 279
George, 285
George I., 297
Gertrude M., 288
Henry J., 293
Irvin, 283
Irwin, 283
Jacob, 285
Jacob S., 285
James, 288
John F., 311
Kate, 297, 298
Katie A., 297
Katie W., 298
Laura, 284
Lawrence, 287
Leah J., 312
Louisa, 305, 313
Margaret E., 317
Martha, 312
Mary, 292
Mr., 279
Nathan, 285
Nathan I., 313
Nathan S., 279, 285
Oswin H., 310
Paul R., 320
Rebecca D., 290
Robert P., 317
Ruth V., 314
S., Mrs., 280
Sallie, 304, 305
Sallie E., 304, 305
Samuel I., 299
Sarah, 285
Sarah E., 305
Sarah J., 280
Susan, 285
Susan M., 283, 285
Walter S., 301
Wayne M., 315
William, 288
William H., 307
William L., 302
Wilson J., 302
Wm., 288
Wm. L., 288
Klineyoung
Caroline, 296
Caroline M., 296
Wm. H., 298
Klingaman, Floyd, 291
Klingeman, Floyd, 284, 291
Klinger, 289, 293
Anna F., 296
Annie V., 291
Catharine R., 298
Catherine R., 298
child of Edward, 301
Edward, 301
Edward F., 290
Gertrude A., 291
W., 289
Klink
Emma Y., 319
Jacob, 281, 282
Jacob C., 299
John P., 283
Mary, 309
Klopp
Amanda P., 286
Amanda P. Muth, 286
Caroline B., 308
Carrie S., 308
Harry E., 318
John, 283
Klunk, Jacob, 281
Knabb
David, 283
David G., 283
Frederick, 284, 292
Frederick G., 292
John, 285
L. Frederick, 316
Mary F., 284
Mary G., 284
Wm. B., 286
Wm. P., 286
Knarr, infant girl, 313
Knau, John B., 302
Knaub, 296
Knauer
Milton R., 316
Sarah E., 316
Knaurer, Union, 310
Knaut, 279
Anna M., 286
child of Roy, 296
Dorothy L., 318
George, 284
Helen, 290
Henry M., 298
Ira, 284
John Geo., 282
Lucy M., 282
Paul, 289
Roy, 296
Knerr
Emma, 312
Emma H., 312
Geo., Rev., Mrs., 284
Harry D., 300
James, 279
M. Carrie, 284
Knoll, Luther H., 298
Knox
Henry C., 280
Robert, 281
Robert E., 281
Koch, 279, 287, 289, 300
Adam, 291
Allen, 285
Ama Alice, 304, 305
Amanda, 298
Anna Alice, 304, 305
Anna P., 299
Annie D., 312
Annie G., 312
Blanche, 292
C. Isaac, 293
Caroline, 305
Catharine Hartman, 287
Catherine, 287
child, 302
Clara, 295
Daniel, 287, 292
Daniel W., 295, 315
Earle I., 315
Elizabeth, 290, 295
Emma, 291
Emma E., 315
Frederick, 289
Georgianna, 290
Grace E., 292, 316
Grace Estella, 292
Harry, 294, 317
Henry, 289
Herman M., 293
Howard H., 312
Isaac, 293
James, 300
James Samuel, 320
John F. M., 289
John L., 288
John M., 289
Katie, 280, 316
Katie H., 280
Lewis, 298
Lillie L., 298
Louisa, 293
Lovina, 293
Malinda, 302
Mary, 304, 305
Mary A., 292
Minnie, 302
Oscar, 304, 305
Paul J. B., 309
Perry, 307
Ralph, 309
Sarah, 281, 312
Walter F., 292
Walter R., 307
William A., 297
Winfield, 291
Wm., 294
Kochel
Allison, 316
Caroline, 377
David W., 290
David William, 290
Lottie, 294
Sallie L., 317
Virginia H., 307
Kocher
Catherine, 502
Ella, 295
Emma M., 314
Robert, 316
Rosie V., 297
Sarah, 295
Kocherd, Ella Margaret, 283
Kochert, 279
Koforth, Mary I., 308
Kohl
Amos, 316
Anna, 285
Charles H., 312
Clara, 283
Clara L., 283
Elenora, 294
Hilliard, 311
Joseph, 300
Louise, 316
Magdalena, 79
Magdalene, 288
Kohman
Edward J., 319
Hazel N., 302
Hazel V., 302
Helen M., 315
Mary M., 290
Thomas K., 295
Wm. A., 290
Kohns, Carrie E., 319
Kohr
Harold DeF., 299
Harry, 299
Mary, 296
Kolb, 282
Adam, 305
Anthony, 285
Chas., 284
Chas. W., 288
Christian, 286
Christina, 287
Clarence, 284
Clive, 283
Dorothy S., 292
Elizabeth, 304, 305
Elizabeth C. Reedy, 304, 305
Ellen Nora, 281
Elsie H., 320
Elvie E., 283
Eva R., 292
Geo., 279, 282
George R., 289
Hattie, 286
infant of Anthony, 285
John Adam, 305
Kurk W., 320
Kurt W., 320
Sarah, 309
Sophia, 280
Theodore, 286
Kolbach, Robert C., 295
Koller
Christie, 317
Christie R., 317
Elizabeth, 76, 279
Eva M., 294
George O., 305
infant daughter, 295
Irene E., 292
John B., 295
Lagrand H., 297
Leroy, 297
Levi, 289
Levi, Mrs., 76
Mamie, 311
Mary, 311
Mary M., 290
Morris L., 310
Sarah, 125
William J., 301, 312
William J., Jr., 301
Wm. O., 294
Kolman
child of Walter, 291
Walter, 291
Kolp
Clarence, 284
Ellen Nora, 281
Geo., 279
Kombacher
Anna E., 287
Annie, 287
Koon, Franklin, 284
Kordalski, Joseph, 315
Korte
Amanda, 300
George, 301
Kosak, Peter S., 318
Koser
Allison A., 305
Annie S., 316
Matilda, 191
Kozmierzak, Charles, 304, 305
Kraemer, 291
Ella Hall, 301
Ellen H., 301
Emma J., 286
Isaac, 282
John H., 296
Lewis, 283
Louis F., 314
Louis H., 291
Wallace, 282
Walter, 282
Wm. G., 290
Krafft
Emma Young, 290
Joseph Charles, 320
Kraft
Anna, 319
Emma, 290
Joseph Charles, 320
Kramer, 286, 287, 302
Albert, 319
Alice W., 319
Amandus, 302
Amandus E., 302
Carrie, 302
Charles H., 320
child of John, 291
Cora, 308
Cora M., 308
Ethel R., 293
Fern, 289
Florence, 286
Floyd E., 287
Geo. John, 287
Harriet, 285
Harry C., 299
Howard, 299
Howard J., 305
Ida E., 312
Ida M., 312
Irvin A., 317
Isaac, 282
Isaac H., 314
James W., 308
John, 288, 291
John H., 319
Lillian E., 318
Lillian Irene, 318
Louis, 288
Louis H., 291
Marie, 294, 319
Mary Ann, 291
Mary Jeanette, 310
Mary M., 314
Minnie M., 319
Myrtle C., 296
Nicholas, 288, 314
Nora, 302
Richard A., 315
Sarah J., 304, 305
T. S., 289
William, 296, 308
William K., 310
Kramlich, Howard, 285
Kreamer
Emma I., 286
Henry Bryon, 320
Henry Byron, 320
Wm. G., 290
Krebs, John, 285
Kreider
Donald C., 293
Edith A., 290
Erma, 297
Erma G., 297
Florence M., 310
Mary A., 288
Kreidler
Annie, 301
Annie R., 301
C. Ellen, 79
Catharine F., 293
Cornelius W., 291
Emma A., 315
Emma D., 315
Grace Lucretia, 283
Katherine, 293
L., 283
Myrtle, 293
Myrtle E., 293
Samuel T., 311
Kreiser, Sallie, 279
Kreisher
Benneville J., 309
Catharine A., 477
Earl, 320
Elizabeth M., 314
Frank, 304, 305
Henry, 299
Ida, 286
Maud M., 288
Rebecca, 310
Wesley R., 318
Kreitz, Valeria L., 315
Krell, Edward, 279
Krepps
Amelia E., 309
Amelia E. Cramp, 309
Keever A., 309
Kress
Adam, 281
Annie, 311
Elsie A., 299
Geo., 279
Louisa, 281
Kretz, 281
Arthur, 280
Mr., 281
Krick
Annie E., 281
Elizabeth B., 311
Ellen B., 313
Lydia A., 305
Peter H., 286
William, 295
Krieder, Florence M., 310
Krimm
Esther, 312
Esther Culp, 312
Kriner
Marian E. Brumbach, 302
Marion, 302
Kroejeao, infant, 313
Kroejeco, infant, 313
Kroeseon, Adelia S., 317
Kroeson, Adelia S., 317
Krouse
Harold A., 294
Harold D., 294
Krumbacher
Chas., 291
Conrad, 309
Krunnewohl, Walter, 288
Kruppenbach, infant, 308
Kuhlman
Charles H., 310
Gertrude May, 319
Mary, 312
Mary B., 312
Matilda, 283
Philip M., 308
Susan, 291
Kuhn
Anna, 320
Anna R., 291
Geo., 290
George, 284
John P., 292
Joseph, 317
Kuhns
Anna Rebecca, 291
Annie E., 302
Augustus, 316
Carl, 296
Elizabeth, 293
Helen, 302
Helen F., 302
Howard W., 308
Howard William, 308
John B., 290
John Peter, 292
Joseph, 318
Joseph F., 319
Peter, Jr., 284
Kulb, Gertrude, 302
Kulp
Charles, 296
Chas., 284
David S., 294
Dorothy S., 292
Edward, 283
Emaline, 297
Emeline, 297
Geo., 279, 282
George, 310
Gertrude, 295
Gertrude S., 302
infant, 311
Laura A., 305
Martin, 283
Mary Jane, 318
Raymond, 299
Sallie, 310
Sallie M., 310
Sarah, 311
Solomon H., 307
Theodore, 286
Victor A., 313
William, 311
Kumbacher
Annie, 289
Chas., 291
Conrad, 309
John, 310
Lena, 310
Lena E., 310
Kunkelman, infant, 309
Kunkle
Kate, 311
Katie, 311
William, 304, 305
Kunkleman
Anna E., 291
Annie, 291
Kunsman, 282
Anna, 314
Anna L., 314
Chas. E., 282
child of Leroy, 296
Edwin, 282
George W., 309
Harry, 282
Irvin J., 282
Jacob, 282, 284
Jacob H., 301
Leroy, 296
Lizzie, 282
Mary, 304, 305
Mary A., 304, 305
Rosanna S., 283
Rose, 283
Viola, 283
Wm. H., 292
Kuntze, Walter E., 308
Kupp, Alice J., 297
Kurr, Agnus, 297
Kurtz, Wm. D. S., 320
Kurtzler, John J., 300
Kuser
Clara Maria, 280
Howard Eugene, 280
Lovinia Jane, 280
Wesley, 280
Kusser
Clara, 280
Howard E., 280
Lovina, 280
Wm. A., 280
Kussler
Eva D., 305
Maria, 283
Martin, 315
Kuster
Rosa, Mrs., 279
Rose, Mrs., 279
Kutz
James, 279
Kate, 282
Mary, 281, 282
Mary M., 282
Samuel, 282, 284
Labarre, Mrs., 322
Labeller, Anna, 365
Lacey
Harry W., 327
William, 331
Lachman
Edwin T., 346
Mary A., 342
Lacy
Isaac, 332
Mary, 321
Lafferty
Anna M., 335
Harry, 345
Jacob, 338
Laing
Josephine, 338
Rosa R., 339
Thos. W., 329
Laird
Abner, 333
Abner J., 333
Mary E., 343
Lake, Mary, 321
Lambach, Winfield, 321
Lambert
Lewis, 324
Mary A., 325
Lamka
August, 347
Augustus, 347
Lance, Samuel, 330
Landau, John K., 321
Landis, 329
Benjamin H., 332
Elizabeth M., 339
infant, 336
Katie A., 347
Lillie W., 336
Mary E., 339
Owen P., 334
Wayne, 336
Wayne Arlington, 336
Lane
Ernest E., 337
John J., 331
William E., 344
Lang, Rose, 339
Langer, infant, 337
Langner, infant, 337
Lanich
Elmer, 341
Elmer N., 341
Lanst, Rebecca, 324
Lantz, Margaret, 332, 344
Lapp, 332
Frederick H., 337, 349
Harry A., 342
Oscar W., 347
Rebecca L., 333
Larkin
Arthur F., 348
Margaret R., 348
Ruth E., 328
Larson, Anna Louise, 345
Lascomb, Beverly Anne, 345
Lash
Ellen, 343
Emma A., 331
Frank, 322
Geo. H., 323
James, 322, 323
James A., 322, 323
Mary A., 333
Mary N., 333
Philip H., 342
Latshaw
Alice K., 340
Eliza M., 341
Hannah, 338
Jacob C., 341
Robert W., Sr., 346
Lattanzic, George, 338
Latteman
Caroline R., 340
Eliz., 330
Gordon W., 337
Grace, 333
Wm. J., 347
Latterman
Conrad, 332
Eliz., 330
Grace, 333
Lattis, 321
Michael, 321
Lattus, Paul M., 329
Latus
Catharine G., 336
Jacob, 323
Michael, 321
Paul M., 329
Laub
Caroline, 338
John W., Sr., 345
Minnie, 345
William D., 334
Laubel, May M., 325
Lauck, Fulmer H., 345
Laucks
Fulmer H., 345
Russell M., 345
Russell McC., 345
Lauer, Charles, 335
Laufensweiler, Caroline, 340
Laufenweiler, Mary M., 346
Laufersweiler
Amelia, 332
Caroline, 340
Christian, 337
Emilia, 332
Jacob, 332, 333
Mary, 323
Mary E., 331, 338
Mary M., 346
Lausch
Amanda, 333
Amanda H., 333
Harry M., 344
Jennie, 327
Mamie E., 342
Lautenslager
Elias W., 346
Ida M., 332
Ida N., 332
Lautz, Margaret, 332, 344
Law
B. Hacker, Jr., 341
Bartley H., 349
Bentley H., 349
Lawrence
Abraham T., 340
Catharina, 341
Edward, 343
Edward L., 343
Emma, 326
Emma B., 340
Emma I., 340
Harry B., 344
Harry E., 327
James, 333
Jos. H., 333
Kate, 334
Kate V., 341
Mary Emma, 342
Richard L., 340
Thomas R., 346
Lawson, W. H., 321
Lax, May, 337
Leaman, George N., 331
Lear, Henry, 325
Leas
Clair R., 333
Claire R., 333
David J., 325, 340
Sallie R. M., 349
Lease
Harry M., 321
Lester D., 325
Maria, 327
Leavitt, Ellery J., 328
Lebo
Aaron, 339
Ardell M., 331
Ardell Margaret, 331
Bessie, 322
Bessie Edna, 322
Clarence, 327
Darah E., 338
Ella, 336
Ellen M., 336
Elmira A., 341
Franklin P, 340
Howard, 330
Howard D., 330
J. Clarence, 327
John, 324, 337
John A., 337
Laura, 336
Laura V., 336
Lillian J., 340
Luella M., 331
Raymond C., 340
Russell, 329
Sarah E., 338
Warren S., 347
Willis, 337
Willis H., 337
Lechner, Franklin S., 346
Lee, 334
Gertrude M., 324
James P., 328
Mary A., 339
Mary Alice, 339
William G., 341
Leeds
Annie, 327
Annie L., 328
Annie M., 327
Eva, 322
Lees
Bessie, 337
Charles C., 345
Emma, 325
Harry, 322
Harry E., 340
Henry, 325
Katie F., 342
Mary J., 346
Mary Jane, 346
Mrs., 322
Thos., 322
William E., 335
Leeser
Gertie, 343
Gertrude I., 343
William S., 345
Legge, William, 334
Leh
Elizabeth, 341
Harry, 335
Henry, 335
Jacob, 337
Wm. S., 325
Leib, Paul, 325
Leibert, Stella, 347
Leicey
Elizabeth A., 335
Harry W., 327
Joseph, 325
Lemon L., 322
William, 344
Leidy, Joseph, 325
Leier
Dorothy E., 332
Dorothy M., 332
Emma Schmeer, 328
Margaret, 343
Margaret M., 343
Leightham, Agnes, 338
Leinbach, 329
A. Laura, 322
Amanda E., 329
Anna, 339
Anna M., 345
Annie E., 339
Caroline, 325
Catherine, 327
Charles E., 343
Chas. R., 324
Daniel G., 337
Emma V., 348
Evelyn, S., 330
infant, 343
Irvin, 324
Jennie, 330
Jennie S., 330
Jonas, 344
Jonathan, 344
Jonathan G., 328
Leah A., 348
Leah M., 348
Lizzie E., 346
Mahlon A., 331
Mary E., 329
Mary Ellen, 329
Miss, 322
Raymond, 325
Russell G., 348
Sallie M., 322
Solomon, 336
Solomon L., 336
William O., 338
Leininger
Alice A. W., 347
Alice A. Weidner, 347
Benjamin F., 347
Flora R., 333
J. Earl, 332
James E., 332
John D., 344
Lottie I., 347
Leise, William E., 335
Leiser, 329
Emma, 328
Foster, 330
Helen M., 340
Leiserwitz
Ed., 326
Edward, 326
Leisey, Simon L., 322
Leister
Albert H., 346
David R., 330
Mary C., 342
Leitham, Agnes, 338
Lemmer
Anthony, 330
Anthony A., 330
Mary, 337
Lengal, Florence M., 329
Lengel
Alison, 337
Allison H., 337
Amelia, 339
Anna L., 340
Catharine, 338
Catharine A., 338
Catherine J., 344
Chas., 326
child of Irwin, 329
Emma R., 339
Emma T., 339
Erank, 324
Floyd L., 330
Gerald D., 335
Harrison, 334
Harrison D., 334
Harry, 326
infant, 336
Irwin, 329
Irwin K., 339
Jennie B., 332
John A., 341
John M., 329
Levi W., 339
Thomas W., 347
Lengg, infant, 336
Lengle
Chas., 326
Frank, 324
Harry, 326
Irvin K., 339
Lenhart
Catharine, 337
Howard F., 329
Oscar, 337
Lenich, George A., 343
Leonard
Emily R., 333
Frank J., 335
R. L., 336
Robert L., 336
Lepsinger, Marie, 341
Lerch
Daniel I., 345
Geo. C., 324
Irvin J., 335
Mabel B., 341
Mary C., 326
Ralph E., 326
William, 342
William J., 336
Willie, 323
Wm., 323
Lesser
T. I., 336
Thelma I., 336
Lessig
Alice L., 339
Alice S., 339
Allen C., 328
Allen Clayton, 328
Annie, 325
C. P., 328
Charles B., 348
Mary, 328, 332
Mary M., 328
Samuel, 334
Levan
Abraham, 493
Abraham R., 322
Agnes M., 160
Anna, 329
Anna D., 329
Anna M., 348
Anna N., 346
Arthur, 338
Arthur A., 338
Catharine, 336
Charles A., 338, 344
Charles O., 334
Clara, 329
Clara J., 347
Clarence, 326
Daniel, 324, 327
Daniel W., 339
Edmund, 325
Edmund S., 334
Edward, 323, 327
Elizabeth, 322
Elizabeth J., 346
Ella N., 328
Ellen Nora Moyer, 328
Elmer D., 341
Elmina, 337
Elmira, 337
Emma L., 340
Eva, 324
Francis, 338
Geo. Aug., 326
Harry A., 326
Harry L., 345
infant sons, 325
James, 323
Jennie E., 339
Joseph, 325
Joseph Z., 325
Kate, 588
Kayler, 321
Laura, 338
Lewis L., 332
Lewis Leroy, 332
M. Laura, 338
Mary, 326
Mary C., 334
Mary C. G., 334
Minnie, 344
Minnie S., 344
Nettie M. T., 348
Paul F., 331
Philippine, 333
Philopena, 333
Robert, 323
Rosa, 325, 346
Rosa H., 346
Sallie P., 334
Samuel N., 331
Samuel U., 331
Susan, 322, 494
William V., 345
Levering
Charlotte, 329
Samuel, 330
Levy
Emma, 341
Geo. W., 330
Ida B., 341
infant boy, 343
Lew, Jemina, 324
Lewars
Charles, 339
Charles E., 339
Lewis
Amelia, 336
Andrew, 337
Barbara, 324
Clifford, 332
Daniel B., 326
Edith, 322
Emma, 334
Florence, 334
Gerturde M., 346
Henry, 335
Henry I., 335
Hiester S., 348
Ida, 326
Ida C., 343
Ida L., 326
infant male, 347
Isaiah, 334
John, 326
John R., 345
Kenneth, 332
Levina L., 329
Lottie S., 339
Marie, 348
Mary L., 337
Mary P., 338
Mary W., 338
Matilda, 341
N., 322
Nehemiah, 322, 329
Norman, 330
Norman L., 330
Paul, 323
Paul R., 323
Richard F., 330
Samuel W., 326
Sarah J., 343
Sarah Jane, 343
Stanley, 324
Susan, 322
Susan R., 335
Susanna, 322
Thomas W., 325
Vincent, 333
Warren, 324
William G., 346
Leyva, Emily J., 345
Lichtenthaler
A., 323
Blanche May, 323
Lichty
Almeda, 333
Chas., 326
Daniel, 322
Elisabeth, 322
Eliza, 322
Herbert, 340
Herbert C., 340
Katharine B., 341
Ruth, 322
Ruth E., 322
Samuel, 338
Liebig
Wm., 323
Wm. C., 323
Lienbach, Charles M., 347
Lightner
Frank, 333
M. Alice, 340
Mary A., 340
Lilley
Effie M., 344
Melvin, 335
Limbeck
Anthony, 328
Anton, 328
Limpis, Thomas A., 340
Limpus
Katie S., 348
Thomas A., 340
Lincoln, 328
Esther N., 348
Evanna, 345
Hannah, 335
Harrison G., 332
Louisa, 328
Louisa R., 327
Martha, 344
Oliver, 324
Thos. W., 328
Lindberg
Anna H., 343
Anna M., 343
Erica, 342
Gus. Herbert, 329
Gustave Herbert, 329
Oscar, 341
Lindemuth, Lydia, 325
Lindley
George F., 344
Margaret, 344
Margaret S., 344
Line
George D., 342
George H., 345
George H. D., 342
Henry G., 330
Isabella C., 329
Katie, 343
Katie R., 343
Viola M., 334
Link
Catherine, 326
Charles L., 336
child of Monroe, 327
Christian, 328
Christiana, 332
Earl, 325
Harry, 323
James, 329
James R., 329
Katie E., 347
Katie Smith, 348
Monroe, 327
Stella, 322
Linser
Elizabeth, 333
Geo., 321
John George, 321
Linsman
Ellen, 330
Emma, 323
Harris, 321
Horace, 321
Irwin D. M., 321
Leroy, 330
Mary M., 326
Mary Margaret, 326
William H., 337
Willie A., 321
Wm., 322
Wm, Mrs., 323
Linton, Norman J., 335
Lintz
Benjamin, 326
Carrie E., 349
John B., 335
Norman, 329
Wm., 325
Wm. F., 325
Lishock, Harry, 323
Lively
Charles W., 332
Elizabeth, 338
Elizabeth A., 338
William H., 331
Livinghouse
Bernard, 322
Lester F., 325
Raymond Franklin, 322
Wm. H., 325
Livingood
Thos. F., 330
Thos. T., 330
Livingston
Lester F., 325
Wm. H., 325
Lloyd
David, 330
Mary, 337
Sarah A. Ray, 322
William, 340
Loarch, Annie M., 342
Loasch, Annie M., 342
Lockhart
Frank Harrison, 322, 323
Franklin, 323
Harry, 322
Logue
Elizabeth, 327
James K., 329
Long, 331, 333, 335
Alfred H., 341
Alice, 321
Alice H., 346
Carrie Shalter, 348
Charles F., 345
Charles M., 334
child, 328
Daniel D., 326
Darlene Frances, 342
Edna M., 325
Ellen, 321
Emily, 335
Emma, 328
Frank D., 335
Geo. S., 326
Geo. T., 326
George, 345
George M., 331, 341
Gertrude May, 338
Hannah, 327
infant, 336, 338, 339
John, 334
John A., 334, 340
John A., Jr., 335
John G., 343
John, Jr., 335
Laura E., 324
Laura M., 346
M. Raymond, 341
Mary E., 343
Matilda, 331
Moses H., 332
Ralph K., 327
Robert J., 342
Robert M., 342
Ruth G., 349
Walter R., 326
Longacker
Bertha, 325
Chas. H., 329
Longacre
Bertha, 325
Carrie, 330
Chas. H., 329
daughter, 328
J. Harry, 335
James W., 342
Lester L., 327
Sallie Saylor, 324
Sally, 324
Susan, 327
Susan A., 327
Longaker, 328
Longenecker
child of John, 326
John, 326
Loose
Annie, 328
Elizabeth M., 346
Ella, 325
Mena, 326
Peter K., 342
Richard S., 333
Verdilla S., 346
William E., 346
Loque, James K., 329
Lorah
Aaron, 330
Chas., 323
Eli H., 336
Elisabeth, 323
Elizabeth, 323
Emma R., 323
Gertrude H., 347
Hattie, 322
Lizzie, 339
Mahlon, 348
Peter, 330
Peter R., 330
Rebecca, 331, 332
Lord, 323, 334
Absolom R., 339
Albert, 321, 322, 326
Amanda, 327
Anna, 324
Anna May, 336
Clara, 348
Cyrus, 327
Emanuel, 322
Emanuel R., 322
Estella, 333
Estella A., 333
Hannah, 336
Harry A., 342
Helen E., 328
Isaiah, 328
James G., 340
Joanna, 324
John F., 344
John K., 344
Margaret, 76, 322
Mary E., 332
Nellie Irene, 344
Rosa, 341
Rosie R., 341
Sarah Jane Hummel, 326
William R., 331
Loring, Patricia Ann, 343
Lott
Aaron J., 228, 327, 332
Annie R., 326
Edna, 336
Eliz., 209
George, 324
George L., 336, 347
Harry J., 332
Harry L., 324
Harry Leroy, 324
Jacob, 324, 343
Jane E., 339
Kate, 331
Rebecca, 326
Susan Ida, 321
William F., 328
William J., 327
William T., 328
Lottangio, George, 338
Lotteman, Gordon W., 337
Lotz
D. Frank, 333
David, 323
David C., 335
David Frank, 333
Emily Homan, 337, 381
Emma, 342
Emma A., 325
Emma K., 342
Frank, 337
Harrison H., 331
Harry K., 339
James, 348
Jeffrey L., 347
John W., 337
Lidy, 323
Lizzie S., 333
Lydia Neihart, 323
Mary J., 332
Patricia Ann, 343
Patricia Anne, 343
Ruth, 331
Sallie Z., 342
Sarah W., 341
Sarah Wells, 341
Sue E., 343
William B., 332
Wm. H., 324
Loud, Evelyn, 327
Louden, Catherine, 338
Love, Belle, 327
Lovering
Elizabeth, 321
Mrs., 321
Low, Ruth L., 348
Loy
Charles H., 346
Isabella C., 331
Loyd
Mary, 344
Mary E., 344
Loynd
Matilda, 330
Matilda M. Greenleaf, 330
Luckenbill, Martha, 324
Luczewski
infant, 339
Victoria, 344
Ludwig, 334
Allen D., 335
Amanda, 328, 334
Amanda S., 328
Amelia S., 344
Annabell Miller, 346
Annabelle, 346
B., 321
Benneville, 323
Carrie, 321, 323
Carrie E., 321
Charles M., 341
Chas. G., 330
Chester G., 342
Clara, 340
Claude, 323
Clematine, 342
Clemmie V., 342
Corina Oneida, 347
Corinna Oneida, 347
Edith A., 332, 339
Edith W., 339
Edna, 333
Edna M., 333
Edward F., 330
Edwin F., 330
Edwin H., 328
Elizabeth, 331
Ella G., 331
Emma, 324
Esther E., 326
Florence G., 333
Frank, 343
Franklin M., 347
Geo., 327
Geo. R., 328
Geo. S., 328
George, 326
Gerald J., 342
Gertrude, 331
Guy, 331
Hannah, 324
Harry, 334
Harry C., 343
Harry E., 344
Harry L., 344
Harry S., 346
Hazel, 327
Hazel D., 326
Henry A., 327
Henry R., 336
Irwin, 321
Laura M., 344
Lewis B., 348
Maina Marie, 349
Martha M., 327
Mary, 321
Mary E., 325
Peter, 334
Reuben, 323
Reuben S., 333
Sydney C., 345
William, 335
Luft, Chas., 321
Luigard
Bertha M., 324
Chas., 324
Lultz, Bertha E., 348
Luozniski, infant, 336
Lush, Arthur E., 347
Luszewski, infant, 339
Luther
Emma A., 348
Emma A. Louise, 348
Louisa R., 329
Martin, 344
Lutz
Alice E., 338
Catharine, 321
Edwin F., 343
Eesais B., 331
Esaias B., 331
Henry F., 340
James, 348
Jennie G., 346
John C., 345
John F., 339
Lena H., 334
Mary F., 330
Samuel F., 347
Maberry, Cora S., 355
Mabilhart, Daniel, 357
Mabry
Clara, 355
Edwin H., 371
Harry, 375
Harry D., 375
James P., 367
Mary Alice, 382
Machette
Caroline W., 395
Caroline Weaver, 395
Harry L., 393
Mack
Catherine A., 385
Charles E., 383
Ellwood H., 373
Grace C., 370
Harry, 386
infant, 374
Irene V., 365
Irene Violet, 365
Jennie, 373
Sallie P., 395
William, 394
William P., 370, 394
William Penn, 370
MacKenzie
Amelia, 384
John W., 379
Wm. J., 369
Wm. John, 369
MacKittich, Robert, 374
MacKittrick
Annie W., 382
Robert, 374
MacLeod, Kenneth, 379
MaCloud, James, 359
MacNutt
Elizabeth, 385
Elizabeth A., 385
John, 382
Madary
Amos, 376
Dora, 383
Elmira, 383
Harry J., 385
Howard P., 388
John H., 378
Mamie T., 387
Peter E., 390
Queren, 354
Raymond C., 384
Madden, James Edward, 350
Madeira
Amos, 376
Annie E., 383
Arthur F., 394
C. Walter, 382
Carrie R., 396
Charles H. R., 391
child of George, 369
Clara A., 382
Elisabeth, 353
Elizabeth, 393
Ellen, 385
Elmer E., 393
Esther, 358
Frederick K., 391
G., 354
George, 369
George W., 392
Henry, 352
John, 352
John H., 378
Lizzie Geneva, 350
Mary E., 373, 383
Michael, 356, 381
Michael, Mrs., 358
Michael P., 381
Phanas, 360
Phineas, 360
Rose, 378
Walter, 382
Maderia
Cyrus, 370
Cyrus D., 370
Steward, 377
Stewart, 377
Maelss, Lizzie, 364
Magee, Leonard, 356
Maier, Catharine, 394
Maitland
Barbara E., 391
Josiah M. P., 356
Louisa, 356
Major
Jacob, 376
Jacob H., 376
Lucy A., 375
Margaret E., 393
Mayme I., 389
William M., 365
Malanius
Stephan, 397
Stephen, 397
Malich, infant, 379
Malick
Catherine L., 366
Ethel, 370
infant, 379
Margaret, 370
Mildred, 370
Mildred S., 370
Maller, infant, 380
Malsberger
Margaret, 378, 394
Peter, 351
Rosa T., 353
Rose, 353
Malsnee, Grace H., 397
Malzberger
Peter, 351
Rosa T., 353
Roseina, 353
Manchester, Lillian T., 367
Manderbach, Thos., 353
Manderson, Wm., 350
Manmiller, 354, 363
Arthur, 352
Geo., 355
Harry, 355
Ida, 355
Mannerbach, Thos., 353
Manning, LeRoy E., 388
Mannon, Anna R., 371
Manwiller, 363
Amanda W., 375
Daniel B., 372
G. B., Mrs., 372
Geo., 355
George, 386
George B., 386
Harry, 355
Ida, 355
James D., 396
Julia A., 395
Louisa B., 372
Rob't D., 375
Walter, 382
Manzke
Katie, 365
Katie I., 365
Marburger, John J., 397
March
Newton, 387
Newton W., 387
Marchousky, David Brian, 397
Marciniak, Lottie, 391
Marckley, Willie H., 365
Marget, V. F., 356
Markert
Mrs., 355
Priscilla, 355
Markes, Harry, 378
Markley
Annie M., 391
Benjamin, 381
Charles, 370
Emma F., 183
H. C., 360
Harry C., 360
Jacob, 364
John B., 378
Sadie, 382
William, 365
William S., 371
Marks, 354
Annie, 363
Annie M., 363
Carrie M., 357
Charles I., 354
Clarence, 356
Clarence E., 392
Clarence G., 362
Cora, 357
Elizabeth, 379, 387
Elizabeth B., 387
Elsie, 391
Elsie M., 391
Eva Z., 396
Florence, 357
Gertrude A., 396
Harry S., 363
Henry, 378
Hettie, 370
Howard, 381
Howard S., 381
John C., 394
John C., Sr., 394
Kate, 352
Levi M., 362
Lillie M., 363
Maggie, 368
Maggie M., 390
Margaret M., 368
Russell M., 389
Samuel, 366, 394
Willie E., 355
Wm., 355
Marley, Mary L., 522
Marmon, Anna R., 371
Marquart, Augustus, 359
Marquet, M. Hiester, 372
Marquette, M. Hiester, 372
Marten, 369
Martin
Annie A., 370
Chester, 397
Chester A., 397
Elizabeth, 368
Helen, 379
Sarah, 352
Martz
Caroline, 356
James, 351
Mason
Anna, 355
Carl R., 389
Chas., 362
Della, 358
George, 355
George N., 395
Howard A., 373
James, 350
Maggie C., 386
Margaret, 386
Robert H., 384
Tillie O., 358
William, 362
Masonek, Wilhelmina, 382
Masser
Catherine, 353
Clara I., 396
Clara Ida, 396
Ellswroth D., 383
Samuel, 356
Mast
Carl H., 397
Christine Elizabeth, 371
Westley C., 380
Masto, infant, 381
Mathews, Lovie May, 366
Mathias
Abraham, 366
Agnes, 354
Emma E., 353
Lucia, 357
May, 358
Peter, 363, 377
Rosanna B., 374
Sarah, 377
Wm. H., 353
Matick, Catherine L., 366
Matten, James, 350
Mattern
Anna Caroline, 355
James L., 371
John, 362
Jonathan, 362
Sarah A., 379
Matthews, Chas. R., Rev., 350
Matthias
Agnes, 354
Emma E., 353
Ida, 389
Ida M., 389
John C., 354
Luciane, 357
Mahlon, 390
Mahlon H., 390
Mary D., 382
Rosa, 390
Rosanna B., 374
Rose E., 390
William C., 395
Wm. H., 353
Mattice, Mary E., 134
Matz, 359
Bessie V., 388
Caroline, 356
Catharine A., 396
Catherine A., 396
Chas., 355
Elwood, 386
Emma L., 388
Gertie, 353
Gertrude, 393
Harry, 354
Harry H., 382
Harry L., 372
Howard H., 390
Jacob, 362
Jacob W., 362
Julia E., 376
Kate Alice, 380
Katie, 380
Reuben, 356
Sallie, 350
Samuel, 370
Samuel W., 370
Sue, 381
Mauger
Bessie E., 365
Edward, 394
Elmer H., 361
Geo., 355
Harry F., 378
Harry Z., 377
Henry, 356
Henry Leroy, 356
infant, 355
Martha, 381
Martha K., 381
Rebecca D., 355
Wayne S., 392
William C., 392
William Z., 375
Wm. H., 396
Maulick
Catherine, 389
Katherine K., 389
Kathryn M., 396
Robert, 373
Maurer
Aaron, 375
Alfred C., 367
Andreas, 350
Andrew, 350
Annie, 391
Arthur, 351
Catharine, 359
child of George, 360
Cyrus, 351, 366
Earl, 356
Erma, 359
Erma Marie, 359
Frances G., 370
Frank, 359, 386
Franklin, 358, 386
George, 360
George W., 385
Harry, 392
Harry R., 392
Henry, 364, 392
John, 360
Joseph R., 384
Katharine J., 376
Katherine I., 376
Lester H., 378
Lillie M., 358
Louisa, 362
Maggie M., 365
Margaret, 352
Marks C., 370
Minnie, 353
Priscilla, 382
Reuben, 354
Sallie, 382
Sallie C., 382
Sarah, 380
Sarah E., 380
Stella A., 365
Stella May, 365, 367
Wm., 350
Maxton
Edward, 394
Pearson, 359
Pierson, 359
May
Caroline, 392
Caroline W., 392
child of George, 368
Frank W., 376
Frank W., Jr., 387
George, 368
Harold W., 357
John, 358
John Albert, 362
Lillie P., 390
Lulu E., 357
Matilda, 355
William W., 377
Mayberry
Amanda, 357
Amanda Reifsnyder, 357
Annie, 391
Annie E., 391
Edmund M., 374
James P., 367
William F., 388
Mayer, 372, 374
Annie, 373
Arthur, 372
Christian, 384
Emma E., 397
Frank, 372
Harry G., 376
Herbert C., 377
Stella, 397
Maynar, Sarah A., 361
Mayner, Sarah, 361
Mazton, Rebecca, 393
McAdams, Helen, 395
McBride
Hannah A., 367
Richard, 370
McCabe, Solomon, 350
McCallicher, Wm. P., 368
McCann, Carrie J., 370
McCarraher
Carl Edward, 383
Carroll E., 383
McCarty, Harry D., 380
McCaskey
Rodney, 377
Rodney M., 377
McCauley
C. Elvin, 367
Chas. E., 367
Ella S., 388
Hiram L., 376
Stella H., 384
Stella M., 384
Walter Y., 395
McClatchie
Agnes, 358
child of James, 367
James, 367
McCloud, 358, 362
Evelyn, 365
Harrison, 353
Ida May, 350, 360
Mary A., 381
William, 376
McCombs, Sarah, 355, 362
McCormick
Annie, 381
Robert, 361
McCoy, 350
Anna L., 624
Arthur S., 370
B. Franklin, 376
Catharine, 368
Catherine, 368
D. Frank, 382
Daniel F., 382
Elizabeth F., 387
Frank B., 376
Henrietta, 350
Isaac, 353
Isaac W., 353
John William, 350
Lloyd E., 374
Mrs., 350
Robert A. W., 385
Sarah, 354
Stewart A., 370
William P., 377
Wm. P., 350
McCulley
Warren, 376
Warren M., 376
McCurdy, Edna I., 396
McDervel, Wm., 357
McDonald, William, 380
McDonough, 351, 352
Annie F., 376
Caroline, 372, 375
Catharine, 379
Catherine, 357
Edith M., 375
Harry S., 396
John, 386
Katharine, 379
Morris, 376
Morris M., 376
Sallie C., 363
Samuel, 384
Zach., 353
Zacharias, 353, 364
McDowell, 362
Alexander, 366
Annie, 387
Harry, 380
Ruth, 365
Walter, 390
Willie, 357
McFarland
Ida S., 380
Ida Sutter, 380
McGann
J. Brook, 358
J. Brooke, 358
McGaw
James M., 369
Laura, 375
R. Marshall, 387
Willis W., 374
McGinnis, Harry, 395
McGrail
Ida, 391
Ida M., 391
John, 371
John Madden, 371
McGrath
Ellen, 392
Ellen I., 392
Rosanna, 373
Rosina, 373
McIlvain, Katie, 376
McIlvaine, Kate, 376
McKinney
Catharine, 365
Catherine, 365
James, 354
Jennie L., 364
McKnabb
Alexander, 359
Elizabeth, 367
Samuel, 351
McKnight, James, 364
McLoud, 358
Anna, 350
Ida May, 360
James, 358, 359
Jos. F., 358
McMahon, Esther M., 392
McMullen, Henry G., 376
McNabb
Alex., 350
Alexander, 350, 359
Samuel, 351
McNoldy
James I., 396
John, 381
McQuade, Ralph, 360
McQuaite, Ralph, 360
Meaken, Tobias, 356
Mealay, Elisabeth, 353
Mearig
Caroline, 377
Caroline Kochel, 377
Earl E., 365
Elam, 363
Elmer, 363
John W., 372
Lizzie, 359
Rolandus, 387
Tobias, 356
Mease, 350
Charles, 378
Charles H., 370
Charles P., 378
Helen M., 379
Sarah, 354
William H., 378
Meck, 373
Earl, 361
Edward F., 385
Frank L., 387
Franklin L., 387
Harold, 373
John B., 357
Mary Ann, 373
Mary N., 373
Russel, 362
Walter R., 362
Meek
Mary A., 371
Mary M., 371
Mehaffee, Montrose B., 371
Mehaffie
George M., 382
Montrose B., 371
Mehrer
August J., 393
Sue Ann, 395
Sue Anna, 395
Meigs, Walter, 356
Meiran
Elizabeth A., 370
Marie E., 376
Meis
Alfred, 364
Alfred Max, 394
Anna, 396
Meitzel, Woodrw W., 368
Meitzler
child of George I., 368
Eva M., 386
George I., 368
George J., Sr., 397
Melcher
Jeffrey A., 397
Jeffrey Allen, 397
Mell, Thomas C., 394
Mellen
Alice, 355
Alice E., 364, 384
E. Franklin, 369
Edgar I., 371
Edwin F., 369
Emma E., 355
Francis S., 355
Frank, 353
Franklin B., 355
Lydia, 352
Mary C., 368, 369
Miss, 351
Samuel, 355
Wm., 361
Mellon
F. S., Mrs., 350
Frank, 353
Lydia, 352
Margaret, 350
Mary, 366
Miss, 351
Wm., 361
Menard, Elizabeth, 392
Menge
Geo. W., 369
Henrietta, 374
Jacob, 367
Mengel, 358, 366
Alice, 381
Arlene E., 392
Emily, 381
Eugene E., 380
infant, 379, 392
Lynne Iris, 395
Robert W., 366
Mengle
Alice, 381
Eugene E., 380
Mensch, Samuel, 377
Mentze, Mary C., 385
Mergert
Amy M., 369
Robley W., 392
Victor F., 369
Merget
Amy May, 369
Arthur L., 394
Catharine, 374
Ella, 393
Ella E., 393
George, 373
Harry, 383
Irene, 358
Jacob C., 391
June E., 378
Mamie M., 396
Robley W., 392
V. F., 356
Victor F., 369
William Preston, 394
Merkel
Elizabeth, 390
Elizabeth B., 390
Irvin H., 366
Lydia E., 386
William, 374
William M., 374
Merkle, Charles F., 360
Merrit, Richard, 378
Merritt
Mary Ann, 390
Orlando B., 364
Mertz, 369
Allen G., 384
Chas., 355
Ida R., 372
Irvin A., 373
Mertzler, 368
Mervine, 367
child of Lewis, 368
Lewis, 368
Metz
Carolina, 377
Caroline, 377
Emma J., 390
Harriet, 353
Howard, 360
Howard A., 360
James W., 380
John K., 376
Mahlon, 350
Meyer
Alfred, 383
Carl F., 394
Donald K., 374
Herbert C., 377
John James, Jr., 380
Mary C., 376
Mary Caroline, 376
Mildred E., 376
Wm. C., 396
Meyers
child of Earl, 364
Earl, 364
Earl L., 387
Frank, 367
Geo., 352
William R., 382
Wm., 351
Meyres, Annie L., 392
Michael
A., 350
Annett, 374
Annetta, 374
Bertha, 364
Carl R., 368
Caroline, 353
Edward, 379
Elizabeth, 359, 388
Elizabeth J., 389
Elsie, 369
Elsie E., 369
Henry M., 379
infants, 381
Loraine, 353
William G. H., 386
Mickel, Emma L., 379
Miehael, Carl R., 368
Miglionica, Leonardo, 397
Mildenberger, Francis J., 383
Miley
Nicholas, 355
Nicholas C., 355
Miller, 350, 351, 352, 354, 356, 357, 359
Adam, 362
Adam, Mrs., 358
Adeline, 386
Adeline M., 386
Adella, 350
Agnes, 361, 372
Agnes A., 361
Albert, 361, 383
Alice L., 505
Amanda W., 368
Anna, 353, 357
Anna K., 359
Anna S., 356
Annabell, 346
Annie E., 387, 388, 397
Annie K., 359
Annie L., 397
Arthur, 393
Arthur M., 362
Arthur N., 362
Barbara, 387
Bessie M., 396
Blanche E., 361
Blanche Elmira, 361
C. Frank, 354
C. H., 359
Catharine, 350, 364, 365, 368, 379
Catharine Hunsberger, 368
Catherine, 354, 361, 365
Charles A., 384
Charles E., 391
Charles J., 396
Charles T., 382
Charles W., 379
Chas., 351, 356, 357
Chas. A., 356
Chas. E., 369
Chas. H., 357
Chas. Luther, 356
Chas. R., 356
Chester, Jr., 386
child of Earl, 372
Clara, 388
Clara C., 372
Clara May, 389
Clarence, 366
Clarence K., 366
Clayton, 351, 377
Clayton R., 377
Corita H., 359
Cornelios, 386
Cornelius, 386
Daisy, 389
Daisy F., 389
Daniel H., 382
Daniel, Mrs., 352, 353
Earl, 372
Eddie, 351
Edgar W., 397
Edgar William, 397
Edith, 354, 574
Edith E., 351, 352
Edith May, 384
Edna, 351, 352, 353
Edna M., 377
Edward E., 392
Edward G., 366
Edward H., 390
Edward L., 369
Edwin Lewis, 369
Eleanor, 368
Eleanor May, 368
Elinor L., 396
Elisabeth, 355
Eliza, 379
Elizabeth, 355, 361, 379
Elizabeth F., 385
Elizabeth G., 374
Elizabeth J., 369
Elizabeth L., 374
Elizabeth M., 395
Elizabeth S., 385
Ella K., 390
Ella M., 370, 393
Elmira, 353
Elsie E., 367
Elwood, 386
Emma, 352, 355, 373
Emma C., 373
Emma E., 391
Emma S., 371
Emma T., 397
Ernest, 357
Erwin P., 389
Esther, 86
Ethel, 370
Eva, 378
Evelyn L., 370
Evoria E., 387
Florence C., 362
Frederick E., 393
Frederick W., 384
G. Wilson, 388
Geo. E., 360
Geo. H., 358
Geo. W., 359, 362, 374
Geo. William, 374
George J., 387
George L., 379
George W., 383, 397
Grace, 352
Grace Darling, 352
Hannah, 387
Harold J., 365
Harry, 357
Harry A., 393
Harry E., 360
Harry J., 390, 394
Harry M., 380
Harry Ormaude, 356
Henry R., 395
Homer F., 371
Howard B., 367
Howard E., 362
Ida, 396
infant male, 390
Iraneous, 379
Irvin, 389
J. Alexander, 382
Jacob, 360, 364, 395
Jacob A., 351
James H., 395
James Herbert, 395
James S., 391
Jefferson, 369
Jefferson R., 369
Jennie D., 383
Jesse J., 384
Jessie, 359
John, 175, 350, 352, 354, 357, 374
John A., 369, 374, 392, 397
John B., 373
John C., 364
John D., 385
John F., 364, 371
John H., 358, 384
John H. N., 378
John K., 362
John M., 356, 372
John P., 378
John W., 360, 368
John Young, 352
Joseph, 367, 375
Joseph H., 375
Junior C., 375
Kate, 364, 378
Kathryn, 392
Kathryn S., 392
Laura L., 367
Leon A., 385
Lewis, 354
Lewis, Mrs., 355
Lewis S., 372
Lillie, 352
Lillie Ida, 352
Lizzie, 390
Lizzie E., 361
Lora Virginia, 385
Louis S., 372
M., 352
M. Ethel, 370
Mabel, 359
Mamie E., 359
Mark H., 373
Martha, 351
Martha E., 364
Martha E. Rork, 364
Martha Rork E., 364
Martin S., 375
Mary, 352, 372, 385
Mary A., 372, 383, 389
Mary Ann, 229, 391
Mary C., 358, 384, 389
Mary DeB., 383
Mary Edith, 352
Mary J., 369
Mary Jane, 369
Mary L., 351
Mary M., 376, 394, 395
Mary R., 396
Mary Ruth, 396
Matilda, 380
Maude, 357
Minnie M., 361
Minnie V. R., 376
Mollie, 351
Morgan, 365
Naomi, 395
Naomi S., 367
Oliver K., 387
Oscar, 389
Paul, 367
Philip, 354
Rachael, 354
Rachel P., 354
Raymond W., 385
Rebecca, 358
Rebecca S., 377
Rose E., 389
Rosie, 389
Roy L., 391
Sallie E., 383
Sallie S., 352, 353
Sara S., 363
Sarah, 363
Sarah C., 363
Sarah H., 381
Simon J., 358
Simon John, 361
Stewart J., 370
Sue H., 358
Susan, 358
Susan A., 381
Susan Ellen, 396
Urias, 373
Virginia L., 385
W. Russel, 379
Walter S., 375
William A., 393
William F., 393
William G., 383
William H., 367, 381, 386, 395
William J., 375, 388
William R., 379
William S., 374
William T., 384
Wilson A., 369
Wm., 351
Wm. F., 364
Wm. G., 366
Wm. H., 396
Wm. J., Mrs., 365
Wm. L., 356
Wm. M., 363
Millet
Wm. F., 364
Wm. S., 364
Mills
Clarence, 351
Geo., 350
Hamilton, 350, 373
John W., 375
Margaret, 374
Robert, 363
Miltenberger
Emma, 394
Emma W., 394
Estelle F., 395
Estelle S., 395
Francis Joseph, 383
Howard J., 378
Jacob, 388
Laura, 358
Miner, Henry A., 361
Minker, Emma E., 391
Minner
Anna, 363
Annie, 363
child of Philip, 368
Elizabeth, 386
Helen A., 360
Henry A., 361
Jacob, 353
Jacob H., 366
Lottie V., 363
Philip, 368
Susan, 355
Talitha, 362
Minnich, 356
Chas., 350, 351
Chas. E., 352
Cyrus, 357
Emma, 366
Henry C., 372
Isreal, 365
Mary, 361
Rosetta, 357
Missemer, W. S., 353
Missimer
George, 371
Milford R., 368
Robert A., 373
Sallie, 359
Sallie D., 359
Sarah, 357
W. S., 353
Mitchel, John, 351
Mock, Lydia R., 390
Mohn
Ann E., 364
Anna May, 384
C. May, 358
Catherine, 378
Clara L., 384
David, 394
David F., 375
Emma E., 385
Emma K., 385
Isaac V., 374
James H., 387
Kate M., 378
Lafayette, 356
Lafayette K., 356, 367
Laura M., 374
Martin L., 390
Pearl, 360
Rosa, 357
Sarah, 393
Sarah S., 393
Mohring
Albert, 364
Anna L., 365
Anna Labeller, 365
Caroline M., 369
Charles D., 395
Charles Daniel, 395
child of Albert, 364
George, 368
Godfried, 360
Gottfried, 352, 360
Harry, 354, 373
James W., 389
Kate, 378
Lewis, 390
Margaret, 369
Sarah, 387
Sarah L., 387
Woodrw W., 368
Moll
Katie, 351
Mrs., 93
Monasmith, Mary Ann, 380
Monroe
baby, 375
Chauncey A., 377
Ida M., 386
Wm., 359
Monshower, Mary, 353
Montgomery
David M., 375
George J., 392
Mary A., 377
Mary H., 377
Montz, Mary J., 361
Moodhard
Daniel, 381
Nettie M., 388
William B., 378
Moodhart
Daniel, 357, 381
Mildred O., 371
Nettie M., 388
Pearl M., 359
Susan, 389
Susan M., 389
William B., 378
William H., 393
Moody
Earl R., 364
Elam, 363
Elinor C., 383
Elinore C., 383
Mary A., 372
Moore
Amy G., 382
Catharine, 360
Catherine, 360
Emma, 193
Eugene R. D., 366
Francis A., 374
Gertrude, 382
Harry M., 384
James, 356
Ralph E., 385
Morengy, Amanda M., 356
Morenzy
Albert C., 390
Amanda M., 356
Elsie, 384
John A., 395
Mary, 391
Mary S., 391
Morgan
Henry, 372
Luther, 371
Rebecca R., 389
Thomas, 359
Morris
Anna Louisa, 395
Anna Louise, 395
Anna Maria, 367
Eliza G., 352
Ella, 383
Enos E., 383
Harold G., 361
John D., 366
John W., 381
Lydia Virginia, 353
Paul A., 367
Virginia, 353
Wm., 365
Morrison
Annie M., 367
Catharine, 364
Catherine, 364
Morrow
David, 377
Elizabeth Wolf, 333, 372
Mory
Allen, 384
Allen D., 384
Amelia, 375
Clyde B., 387
Edward, 354
Jacob, 360
Mary D., 391
Olivia, 394
Willie, 355
Mose, Mabry, 371
Moser, 368
Abraham, 374
Abraham M., 374
Abraham, Mrs., 362
Albert, 366
Albert E., 369
Alfred, 380
Ambrose M., 380
Anna E., 366
Anna M., 386
Anna R., 388
Carrie E., 373
Catharine, 353
Catherine A., 362
Chas., 363
Chas. L., 354
child of Robert, 369
Christian, 358
Claire, 379
Clara, 389
Daniel, 373
Elizabeth, 365
Ellen N., 377
Frank, 375
Frank W., 380
George F., 391
Harriet, 357
Harry D., 387
Herman H., 397
Hettie, 366
infant, 376, 381
Irvin, 360
James, 350
John H., 388
Kate Elizabeth, 350
Kenneth R., 377
Lennie E., 397
Mary, 358
Mary Ann, 361
May, 358
Mayberry M., 371
Michael, 360
Miriam S., 394
Nathan, 367
Nathan M., 367
Oscar L., 386
Ralph R., 369
Richard, 379
Robert, 369
Russel, 371
Samuel, 356
Moss, LeRoy, 377
Mosser
Chas., 354
Irvin, 360
Kate, 350
Mosteller
David D., 363, 367
Fred G., 393
Frederick, 393
Nora L., 368
Moter
D. Herman, 360
Eleanora, 386
Fredericka M., 372
Fredricka M., 372
Herman, 352
Herman, Prof., 352
Lina, 390
Motor, D. Herman, 360
Mountz
Ida, 385
William H., 392
Moyer, 358, 362, 363, 371, 372, 374
A. Catherine, 371
Agnes Belle, 394
Alice M., 381
Amelia, 375, 388
Anna, 364
Annie R., 364
Annie S., 388
Aramanda, 355
Arthur, 372
C., 361
C. E., 357
Carrie, 389
Catharine, 366, 371
Catharine B., 370
Catharine C., 369
Catherine, 366
Catherine A., 387
Catherine C., 369
Charles, 374
Charles H., 374
Charles W., 371
child of C., 361
child of Harry G., 371
Cornelius, 381
Cornelius C., 381
Cyrus D., 369
Daniel W., 368, 391
Donald, 381
Donald K., 374
Edgar L., 393
Edith F., 394
Edith S., 394
Edward, 365
Edward L., 365
Edwin W., 389
Elias, 390
Elisabeth, 352
Elizabeth, 352, 359, 385, 394
Ellen Nora, 328
Elmer, 383
Emanuel, 354
Emma, 370, 379
Emma C., 363
Emma K., 392
Emmanuel, 354
Florence R., 365
Florence T., 360
Flossie, 360
Flossy, 365
Frank K., 372
G. Robert, 358
Geo., 366
Geo. E., 353
George B., 378
George L., 382
George R., 391
George W., 358, 371
George Willie, 363
Gertrude E., 361
Gertrude H., 386
Hannah K., 380
Harry G., 371
Harry I., 376
Helen A., 397
Helen E., 360
Henrietta, 367
Henrietta R., 366, 367
Henry, 351, 378
Henry F., 380
Henry J., 380
Homer E., 393
Howard M., 386
Howard P., 385
Ida Pauline, 390
infant, 383
Jacob, 364
Jacque N., 388
Jane E., 375
John, 352
John F., 382
John H., 397
John J., 373
John M., 367
John S., 353
Joseph P., 362
Kate, 370, 387
Katie R., 392
Kenneth, 357
Laura, 361
Lessley George, 382
Levi F., 377
Lewis, 352
Lewis G., 377
Lewis L., 365
Lillian A. Polluck, 397
Lizzie W., 388
Louis G., 377
Louisa, 381
Lovina, 351
Lucy M., 388
Mabel Caroline, 385
Marks L., 380, 397
Mary, 354, 363
Mary Ann, 364
Mary E., 365, 375
Mary H., 359
Mary J., 368
Mary Jane, 393
Mary R., 378, 395
Mary S., 359
Matilda, 352, 378
Morris W., 377
Nathan, 351, 354
Nellie, 351
Paul S., 375
Pearl, 368
Philip, 350
R. Amanda, 355
Raymond D., 384
Raymond F., 384
Rebecca, 371
Reuben, 364
Richard A., 381
Roger, 387
Rosie B., 390
Rosie M., 67
Ruth C., 366
Sadie I., 371
Sallie, 379
Sallie K, 379
Samuel R., 394
Susan, 359, 486
Susan M., 360
Susan Y., 376
Susanna, 359, 376
Sylvester A., 368
Thomas L., 365
Walter, 354, 357
Walter H., 374
William, 392
William F., 392
William H., 383, 385, 392
William W., 389
Muckenfoos, John, 358
Muench, 356
Charles A., 382
Chas. E., 352
Chas.E., 351
J., 357
Rosa, 372
Mull, 374
Andora, 392
Betty, 372
Carrie L., 394
Charles W., 396
Daniel W., 375
Edna Mae, 393
Ella E., 388
Florence M., 359
Isabella L., 366
Katy, 351
Lillie, 355
Mary, 365
Mary, Mrs., 352
Mrs., 352
Nathan, 360
Sarah J., 386
Mulligan
Annie, 385
James M., 376
Mumer, 368
Mummaw, Annie, 389
Munch, 356
Munchouer, John, 354
Mundell
Geo. H., 369
James F., 395
Lavinia, 376
Mary L., 372
Munshower
Eli, 359
John H., 354
Mary Ellen, 353
Munska
Annie, 358
Annie E., 358
Muntz, Robert E., 396
Murphy, 377
Christian, 360, 361
May C., 361
Murray, 364
Bertha M., 361
Bessie, 394
C. Warren, 365
Carrie L., 370
child of John W., 363
Christianna, 357
Edward, 362
Edwin C., 362
Ethel L., 370
H. L., 363
H. Lackey, 363
Irene R., 363
John K., 391
John S., 395
John W., 363
Laurence, 377
Lawrence, 377
Martha, 380
Mary E., 371
Matthias L., 391
Nathan N., 375
Nathaniel, 383
Ruth N., 385
S. K., 361
S. Kathryn, 361
Virgil E., 363
Musser, Florence E., 370
Muth, Amanda P., 286
Muthard
Henry N., 355
Sarah J., 373
Muthart
Anna, 389
Anna E., 389
Clara A., 387
Earl L., 373
Lewis P., 393
Mutler, Annie E., 360
Myers
child of George, 364
Elizabeth, 383
Geoge B., 391
Geoge B. M., 391
George, 364
Stanley O., 388
Nachtrieb
Emma, 401
Mary Alice, 409
Wm, Mrs., 401
Nadeau, Mary, 406
Naftzinger, 401
Amanda, 403
E. E., 410
Edward C., 400
Edward E., 410
Edwin, 400
Harrison, 403
Katie V., 410
Mara Wava, 400
Maria, 595
Thomas C., 410
Naftzinver, Tillie A., 410
Nagle, 401
Alexander, 405
Alexander G., 405
Amelia E., 405
Annie M., 406, 407
Barbara Anna, 408
Betty Jane, 405
Catherine, 399
Catherine M., 407
Charles R., 410
child of Sam, 403
Christiana, 403
Clifford G., 403
Dorothy A., 404
Edith M., 410
Edward L., 410
Effie A., 407
Elizabeth E., 406
Esther E., 409
Ethel C., 404
Francis, 399
Frederick, 403
Frederick J., 403
George, 400, 408
George H., 406
Harry C., 407
Henry, 399
Howard M., 410
Mabel May, 402
Mary A., 404
Mary E., 401
Minnie M., 407
Pershing L., 404
Peter, 398
Sam, 403
Sarah, 399
Sarah Ann, 399
Sarah E., 399
Walter M., 406
William, 405
William H., 403
Wm. A., 402
Narr
Beatrice P., 405
Ella, 398
Naugle
Harry, 409
Morris J., 409
Nawa
infant, 407
Mary E., 407
Neatherry, Thomas, 402
Neeb
Chas., 402
Chas. F., 401, 402
Chas, Mrs., 401
Conrad S., 400
Jacobine, 401
John, 398
Lewis W., 401
Louis, 401
Louisa, 400
Mary, 403
Mary E., 403
Nellie D., 404
Wm. S., 399
Neff
Amanda C., 406
Elizabeth M., 403
Elmer J., 410
Geo. W., 403
Harry A., 409
Mae L., 405
Mae S., 405
Maude B., 410
Ruth E., 401
William D., 400
Wm. D., 401
Neib, John, 398
Neida, John, 399
Neider, 398
Adam, 408
Amos, 401
Arthur W., 408
Caroline, 402
Charles H., 408
Chas., 400
Christina, 398
Etta B., 406
Eva, 401
Florence, 400
Frank G., 407
Geo. P., 398
Harry, 402
Howard W., 399
J. Annie, 402
J. Harry, 401
John, 399, 402
Julia A., 401, 402
Lafayette, 410
Leah, 404
Lily L., 406
Louisa, 406
Mae L., 410
May L., 410
Rose B., 404
Susan, 404
Susanna, 404
Neidig
Benjamin, 405
Benjamin R., 405
Caroline A., 401
Elmer S., 400
Elmer Y., 400
Harold B., 400
John C., 401
M. Emma, 409
Martha E., 409
Samuel Y., 408
Neidley, Cora L. M., 409
Neihart, 398
Daniel, 401
Daniel O., 407
Elizabeth, 402, 404
Francis, 398
George, 402
Lucy A., 400
Lucy Ann, 400
Lydia, 323
Neiman
Calvin, 405
Calvin W., 405
Catherine, 400
Dora, 399
Edwin, 408
Elizabeth C., 408
F. A., 399
Frederick A., 399
Grace, 400
Harvey, 407
infant, 407
Jane L., 405
John J., 401
Lizzie, 408
M. M., 401
Rosa, 399
Rose E., 399
Sophia, 405
Urias, 400
William, 404
Wm., 399
Nein
Clara N., 409
Clarence L., 402
Emma L., 406
George W., 404
Harry, 401
Harry D., 401
Howard, 399
Howard E., 399
infant, 405
Lester P., 402
Lucinda N., 398
Mary Catherine, 406
Milford, 400
Milford H., 408
Nora M., 402
Nora May, 402
Reuben R., 399
Rosie M., 405
Samuel K., 407
Sarah A., 402
Warren E., 404
Warren I., 404
William, 409
Wm. A., 402
Neithamer
Catherine, 400
Clara M., 401
Emma E., 410
George C., 405
John C., 399
Lillian I., 409
Neithammer
C. John, 399
Chas., 400
Eliz., 403
John C., 399
Regina, 403
Walter, 405
Neitheimer
Catharine, 400
Clara M., 401
Geo., 399
John G., 398
Katie, 398
Wm., 399
Neubling
George, 400
Sophia D., 400
Neudoeffer, Mary A., 407
Neudoerffer, Mary A., 407
Newkirk
Frank C., 408
Frank L., 408
infant, 406
Sarah E., 408
Newman
Anna Dora, 407
Geo. Henry, 398
John W., 409
Margaret, 406
Margaret E., 406
Newpher
Adam, Mrs., 398
Frank, 399
Franklin, 399
Minnie A., 400
Ney
Scott W., 409
Tillie, 407
Nice
Mary E., 410
Sarah, 406
Nicholai
Adam W., 401, 402
Emma, 402
Nicholas
Amelia, 398, 400
Amelia M, 407
Emilie, 398
Emma E., 401
Margaret, 404
Mr., 399
Reuben, 405
Nicholaus, Amelia M., 407
Nickel
George H., 408
Sallie M., 405
Nicklas
John G., 400
Margaret, 404
Nickless, John G., 400
Nickolas, Mary D., 401
Nicolai
Dorothea, 401
Emma E., 401
Harriet, 406
Henry, 408
John, 399
Niehart
Julia Ann, 398
Julien, 398
Mary, 403
Nieman, Jane L., 405
Niethamer
John C., 407
Lucy, 408
William E., 409
Niethammer
Chas., 400
Eliz., 403
Georgie, 399
John, 399
John G., 398
John W., 405
Katie L., 398
Lucy J., 408
Peter B., 403
Regina, 403
Willie, 399
Nieto, Lazaro, 404
Nimmes, Elisabeth, 398
Nimmis, John, 399
Nistle
John J., 399
Lawrence, 400
Noecker
Beulah R., 408
Chas. T., 403
Sarah E., 407
Nolde
Carl L., 402
Carl Louis, 402
Lydia, 399
Nolf, Edward A., 411
Noll, 398
A. Elizabeth E., 404
Andrew E., 410
Annie E., 404
Annie May, 410
Bessie, 399
Catharine E., 405
Catherine E., 405
Charles H., 410
Charles Hartman, 410
child, 402
child of Warren, 403
Daniel, 398
Daniel D., 402
Daniel E., 398
Daniel, Mrs., 398
Daniel W., 402
E. Jennie, 402
Elizabeth, 401
Elizabeth M., 404
Emma C., 400
Franklin, 405
Franklin W., 405
Geo., 398
Gertie, 398
Harry J, 406
Henry, 398
Henry K., 408
Henry Luther, 399
infant, 398
Jennie, 402
John S., 403
Kenneth Charles, 406
Lloyd, 403
Lloyd W., 403
Loretta, 402
Margaret L., 404
Martha S., 400
Mary, 398, 404
Mary M., 404
Norman H., 402
Paul, 398, 404
Roberta, 403
Sallie, 402
Solomon, 401
Warren, 403
William A., 407
Northeimer
Catharine, 402
Clara I., 408
Eva, 408
John, 408
John E., 409
Kate, 402
Mary A., 407
Stella B., 404
William, 404
Wm., 402
Norton, 403
Frederick, 409
Fredric S., 409
Mary Louise, 408
Nuebling
Agatha, 403
Carl Edw., 400
Ernst H., 400
George E., 406
George J., 403
Sophia D., 400
Sophia E., 403
Nuland, Elizabeth, 404
Nunemacher
Clayton J., 405
Kate, 410
Nurs, Chas., 399
Nuss, Chas., 399
Nycuist, Stanley, 409
Nye
Barbara Ann, 409
William E., 409
Oaks
Adam R., 414
James J., 413
Lydia, 414
Pearl I., 420
Obenhausen
George J., 418
Mary E., 414
Obenhauser, Mary E., 414
Oberly
Bartley, 418
Catharine, 415
Fern L., 415
Harry M., 415
Susan, 412
Oberst
Catherine, 418
Paul, 414
Obert, Christian, 413
Obold, Frederick, 414
O'Brien
Dorothy, 420
Dorothy M., 420
Ellis E., 413
Robert H., 416
William A., 419
O'Bryan
Ellis Elwood, 413
John H., 418
Mary E., 418
Obyle, Harvey D., 419
Odinot, Ellen, 412
Oels, Mantana, 419
Oerdenot, Louisa, 412
Oese, Lillie M., 419
O'Halloran
Dennis, 419
Louisa, 415
O'Hara, Richard, 415
O'Hare, Richard, 415
Ohlinger
Cora V., 418
David, 415
Hiester, 413
John H., 413
Kate Rebecca, 417
Lizzie L., 415
Lucy, 414
Lucy A., 414
William, 418
Ohnmacht
Emma, 414
Emma R., 414
Olds
Annie E., 413
Wesey L., 413
Oley Cemetery, 59, 75
Olinger
John H., 413
Kate Rebecca, 417
Thomas, 413
Oliver, Jennie, 412
O'Neil
Cathrine L., 414
Elisebeth, 412
Gladys, 418
Ida A., 418
Ida Agnes, 418
Leon, 412
Morris, 412, 416
Robert, 412
Robert E. P., 412
Thomas, Mrs., 414
O'Neill
Ruth B., 418
Ruth E., 418
Thomas G., 418
Oplinger, baby girl, 420
O'Reilly
Harry, 417
Harry M., 417
Kate, 417
Katie, 417
Orr, Henry E., 413
Orrs
Anna E., 419
Annie, 419
Annie L., 416
Howard G., 416
John W., 415
John William, 415
Laura, 416
Lillie M., 420
Mauger, 414
Susan C., 416
William, 418
William O., 413
Orth
Barney, 419
Bertha, 413
Carrie, 412
Catharine, 414
Charles, 414
Daniel, 412
Elizabeth, 418
Elmira, 412
Elmira H., 412
Emma, 413, 417
Florence, 412
Frank, 416
Frank A., 416
Gertrude I., 415
Harry, 412
Harry J., 412
Howard, 412
Howard L., 419
infant, 416, 417
James, 412
James M., 417
James P., 414
Laura, 416
Lizzie, 418
Louisa, 413
Louisa B., 415
Mary Ella, 420
Minnie, 116
Peter M., 415
Peter W., 415
Philip, 412, 416
Raymond, 413, 414
Raymond P., 413, 414
Salena F., 414
Salina, 414
Shirley Thelma, 417
Stella, 417
Walter, 413
William C., 414
Ortmiller
Clarence, 415
Clarence E., 415
Orvill, child, 418
Osaba
Mary, 413
Mary A., 420
Oseba, Anton, 414
Osman
Elizabeth, 419
Elizabeth A., 419
George F., 416
Gertrude B., 417
William, 417
Osmer, Ethel M., 420
Osmun
A. Gertrude, 417
William I., 417
Osoba
Anthony, 414
Joseph, 417
Krystina, 419
Krystyna, 419
Marie, 413
Oster
Benjamin, 412
James, 413
Osterman, Mrs., 412
Oswald
Alfretta E., 419
Ammon L., 419
Ammon LeRoy, 419
Catharine, 416
Charles, 416
Charles H., 417
Charles W., 416
Chester R., 417
child of Harry, 414
Edward, 419
Ellwood, 414
Elwood H., 414
Harry, 414
Harry R., 420
Infant, 416
John Arthur, 412
Kathryn H., 416
Mahlon, 418
Mamie, 419
Mayme K., 419
Minnie, 415
Minnie B., 419
Peter, 416
Robert J., 417
Sallie, 415
Sallie E., 416
Sally A., 415
Wayne E., 414
Wayne G., 413
Wilbur R., 413
Ott
Barbara Ann, 417
Blanche, 417
Blanche E., 417
Francis I., 420
infant girl, 418
infant male, 419
Laura M., 418
Mamie, 413
William, 414
Otto
Alfred L., 417
Anna E., 418
Emma, 414
Emma E., 414
James, 416
James W., 416
Oudinot, 415
Annie E., 415
Anthony, 412
Chas A., 413
Daniel, 417
Daniel J., 420
Dennis I, 415
E. Bertha, 415
Ellen, 412
infant, 416
Jospehine, 415
Louisa, 412
Mamie, 419
Mamie H., 419
Walter I., 419
William, 415
Ould, Wesey E., 413
Overdorf, Ross, 415
Overly
Agnes, 412
Agnes A., 412
Martin, 412
Rosa, 413
Samuel, 412
Owens, 413
Chas., 412
child of Daniel, 413
Daniel, 413, 416
Elsie G., 413
Helen E., 420
Maggie, 412
Mary, 414
Mary E., 413
Sylvia B., 413
Oyster, Benjamin, 412
Oysterman, Z. W., 412
Pachali
Sarah E., 435
Theodore, Dr., 428
Packer, Sallie, 222
Paehali, Theodore, 428
Paff
Francis H., 429
Paul W., 427
Phoebe A., 433
Paililo, Efifanio, 428
Painter
E. Edna, 435
Edna E., 435
infant male, 434
John T. N., 434
Palida, Epeifanio, 428
Palm
Alberta, 427
Amos, 432
Annie, 430
Annie M., 430
Bertha, 130
Caroline, 424
Elmer E., 435
Francis B., 433
Franklin B., 435
George M., 426
Henry, 424
Henry B., 424
Ida L., 429
James H., 424
Richard, 425
Richard L., 425
Sarah B., 426
Palmer
Alfred, 434
Elizabeth, 424
Frank, 424
Ida M., 432
J. Robert, 434
William F., 428
Palsgrove, Harvey H., 426
Panley, Catharine, 422
Parker
Daniel, 422
George W., 432
Leah, 425
Sallie, 423
Pashonic, Laura, 432
Patterson
Edward F., 428
infant, 431, 432
Kathryn M., 426
Patton
Charles W., 421
Elmer, 421
Elmer E., 421
George R., 436
James, 421, 423
James F., 423
Kathrine E., 436
Kathryn E., 436
Mary A., 423
Sallie, 423
Sallie A., 430
Sarah A., 423
Paul
Sarah L., 433
William C., 433
Paules, Howard, 423
Pauley
Barbara, 430
Catherine, 422
Dorothy, 433
Dorothy I., 433
Frank, 425
Irene M., 429
Jacob, 432
Mary M., 430
Mathias, 426
Matthias, 426
Ruth M., 427
Paulus, Howard, 423
Pawling, 428
Anna Mae, 432
C. John, 427
Cecilia, 424
Cecilia E., 424
Charles J., 436
Charles John, 427
Charles M., 431
Lizzie H., 429
Robert B., 428
Rosa, 426
Rose E., 426
Walter, 434
Walter L., 434
Peacock
Florence M., 425
Florence May, 425
Hannah E., 431
Pearce, Bertha May, 431
Pearson, Harry, 422
Peck
Samuel, 422
Samuel Edward, 422
Sarah, 432
Sarah Romig, 432
Wm. M., 422
Wm. Morrk, 422
Peffer
Wm. H., 429
Wm. Henry, 429
Peffley
Charles, 425, 426
Chas., 426
child of Charles, 425, 426
Harry, 427
Mary J., 427
William C., 432
Pehlman
Dorothy F., 428
Herbert F., 428
Raymond D., 428
Peifer
Amanda, 421
Clara, 422
Eliza E., 432
Ella, 427
Ellen E., 421
Emma L., 434
infant, 421
Samuel, 425
Peiffer, 421
Amanda, 421
Chas., 421
Clara, 422
Ella, 421
Ellen, 427
Emma M., 434
Samuel, 425
Peipher, Daisy L., 432
Penn, 425
Dorothy M., 425
Milton C. K., 430
Robert F., 428
Pennepacker, James, 424
Pennypacker, 423, 428
Chas., 426
Chas. R., 426
Emma M., 436
Esther, 422
Frank S., 435
Helen, 422
Henry D., 434
infant, 423
James, 424
John F., 433
Mary E., 431
Maud, 423
Maudy, 423
Robert B., 433
Penrose
Francis, 429
John D., 426
Pentland, infant male, 434
Perigo, Walter, 429
Pershoni, Albert, 427
Pershonic
Charles, 433
Frederick, 424
Herman, 433
Laura, 432
William, 431
Pershonie, Albert, 427
Pershonik, Fritz, 424
Peters
Annie, 423
Anthony, 430
Anthony W., 430
Dora S., 434
Fehna M., 427
Howard A., 423
Ira E., 434
Sara P., 425
Sarah, 425
William, 430
William H., 427
William I., 426
Petree
child of Robert E., 425
Esther M., 435
Ralph, 436
Robert E., 425
Robert F., 435
Robert Fidler, 435
Pfautz
Benjamin, 433
Benjamin C., 433
infant, 430
John W., 432
Mary A., 428
Robert E., 435
Robert Elwood, 435
Pfleger
Amos, 431
Annie M., 427
Bertha S., 430
Calvin B., 432
Christian, 435
Elizabeth, 427
Elwood, 430
infant, 431, 432
Jackson, 431
Paul E., 424
Ray, 430
Robert U., 431
William, 431
Wm. H., 436
Pflugfelder
Alice E., 435
Beverly P., 432
Carl W., 425
Caroline, 433
Charles D., 430
Charles L., 431
Charles P., 430
Chas., 427
Chas. F., 424
Clara, 429
David, 422, 424
David W., 435
Dorothy A., 423
Esther, 423
Esther M., 423
Frederica, 422
Fredericke, 421
Howard, 424
John, 431
John H., 431
Karl W., 425
Mary, 423, 424
May E., 423
Mrs., 421
Wm. D., 422
Wm. David, 422
Pflum
Arthur D., 434
Lillie R., 433
Ralph, 431
Ralph A., 431
Pfromm, infant male, 434
Philipi, John, 421
Philipison, child of Chas., 426
Philips, Paul E., 425
Phillippi
Eva E., 425
John E., 430
Phillips
Bessie, 428
Caroline R., 435
Carrie, 435
Chas., 422
Elizabeth B., 433
Ephraim, 421
Eugene B., 429
Florence M., 436
Florence May, 436
Francis P., 428
James B., 428
John C., 426
John E., 430
John G., 429
Leah B., 434
Lena S., 427
Leroy, 428
Matilda R., 427
Paul, 422
Paul E., 422
Raymond W., 429
Robert, 428
Samuel, 421, 425
Susan, 422, 425
William T., 431
Phillipson
Ada, 434
Ada G., 434
Chas., 426, 428
Chas. J., 428
Daniel W., 436
Fern L., 428
John, 427
John Edward, 431
John J., 427
Sarah J., 428
Phleger, Henry, 421
Pickel, 426
Harry, 424
Pieper
Henry, 427
Henry C., 427
Pinheirs, Gabriel, 428
Pitman
Edgar M., 424
Edgar Mowbray, 424
Place
child of Walter, 424
Walter, 424
Plotts, Peter M., 18, 421
Plucher
Emma, 17
Lucian, 19
Plucker
Annie E., 429
Charles P., 434
Edith May, 423
Emma, 421
Geo. W., 435
Hamilton, 434
Harry T., 435
Helen, 423
Henry T., 434
Irvin, 424
Lucian H., 427
Lucien, 421
Lucien H., 427
Margaret, 430
Poff
Floriteen, 432
Florteen, 432
Susan, 425
Wellington, 428
Pollock, Arelue J, 427
Polluck
Archie J., 427
Lillian A., 397
Poor, Blanche, 421
Porcare, infant, 432
Porr
Blanche Susan, 421
Dorothy E., 425
George P., 430
J., 421
Mary Bertha, 421
Mary E., 433
Susan, 428
Susan R., 428
Portman, Adeline, 435
Potteiger
Lillie E., 434
Nora M., 434
Nora S., 427
Potter
Andora, 430
Calvin H., 431
Daisy E., 435
infant, 430
John, 423
John A., 423
Oliver, 421
Valeria D., 429
Valerie D., 429
William, 431
Potts
Francis S., 429
H. Lester, 430
Minnie I., 429
Minnie J., 429
Powers
Curtis L., 431
infant, 431
Poye
Ella F., 434
Ellen, 434
Preisser
Harry C., 436
Russell I., 428
Presser
Emma S., 426
Lydia, 422
Philip, 424
Price, 421, 423, 425
Alice R., 426
child of Fred, 424
David, 427
David W., 427
Dorothy, 429
Elizabeth A., 436
Elizabeth Ann, 436
Ella V., 423
Elmira, 425
Emma, 426
Emma L., 432
Fred, 424
Fred., 421
George W., 434
Harry H., 436
Henry, 427
Ida, 431
Ida M., 431
Irwin, 434
Jacob, 424, 426
Jacob H., 429
Jacob, Sr., 426
John W., 432
Laura S., 436
Margaret S, 423
Margueretta, 423
Mary, 422
Mary Ellen, 422
Mary Jane, 433
Mary Jean, 433
Ralph L., 424
Sarah, 426, 430
W. L., 421
William Lemon, 421
Wm. H., 426
Priesser, Norma A., 425
Priest
Alfred H., 424
Catharine, 422
Catherine, 422
Samuel, 151
Printz
Albert C., 429
Alex., 421
Alexander, 421, 425
Alexander H., 425
Arthur F., 423
Beatrice C., 425
Benjamin, 425
Bessie, 425
Bessie M., 425
Carrie E., 433
Charles I., 429
Daniel E., 435
Edward N., 433
Elizabeth, 426, 428
Elizabeth D., 428
Elsie, 422
Emma, 422
Emma I. Frees, 422
Frederick, 424, 427
Frederick H., 424
Fredrick, 427
George A., 435
infant, 431
Jeanetta, 425
Jeanette, 425
Job, 423
Job B., 423
John, 421
Lizzie, 421
Lucy, 422
Lucy M., 434
Mary, 421, 433
Mary A., 423
Mary C., 423
Mary Elizabeth, 429
Mary Ellen, 422
Mary M., 424
May E., 429
Rebecca, 421
Rosa, 426
Ruth, 428
Sallie, 421
Sarah, 596
Sarah E., 425
Susan, 427
Warren, 423
William H., 432
Wm., 421
Wm. H., 426
Wm. L., 423
Pritz, Katharine, 430
Profit, Samuel, 424
Prollins, Fred F., 430
Prollius, Fred F., 430
Prutzman
Alice M., 425
Benneville, 424
Geo. H., 421
Kate, 422, 433
Katie E., 433
Priscilla, 426
Priscilla J., 426
Walter, 423
William H., 430
Purchase, Allen, 431
Putt
Howard E., 434
Levi, 429
Minnie A., 435
Susanna, 423
Quaintance
George, 438
Hannah, 438
Quaintence, James, 437
Quaring, Charlotte, 437
Quarry, Mrs., 437
Quigg
Adam, 438
Albert F., 438
child of Enos, 437
Enos, 437
Lulu M., 438
Quinter, 437
Amelia, 438
Amelia E., 438
Amos M., 439
Anna, 439
Annie, 437
Catharine, 438
Charles, 439
Chris, 437
Daniel J., 439
Daniel P., 437
Daniel R., 437
Edward, 437
Elizabeth, 437
Ellwood P., 437
Ellwood Paul, 437
Emma A., 437
Emma I., 438
Florence, 439
Frank, 437
Franklin, 439
H. Irene, 437
Hannah A., 437
Harry, 439
Howard, 438, 439
Irene H., 437
James, 437
Jefferson, 437, 438
John I., 439
John T., 437
Kate, 438
Katie E., 438
Katie M., 437
Lillian A., 438
Lillie A., 438
Lizzia A., 437
Lizzie, 437
Loretta May, 439
M., 437
Mahlon A., 439
Mildred H., 437
Missouri, 437
Peter, 437
Peter R., 437
Sallie M., 438
Soloman, 437
Soloman H., 437
Solomon, 437
Solomon H., 437
Warren L., 438
William, 438
William H., 438
R**
S** M., 451
Sarah, 454
Raab
Charles T., 481
Charlotte, 473
Elizabeth, 476
Elizabeth B., 476
Frank C., 480
Rabold, Alfred E., 474
Race
Christian A., 457
Christian F., 457
Frederick C., 477
John H., 468
Martha P., 464
Radcliff, Maud, 465
Radcliffe
Charles, 462
Chester, 445
Chester P., 462
Clara L., 468
Maude, 478
Rader
Arus, 479
Elizabeth, 455
Ethel, 456
Ethel L., 455
Ethel Linda, 455
John, 448
Kate, 465
Katie, 465
Leona, 453
Malinda M., 459
Reuben, 460
Sarah E., 478
Wm., 445, 446
Raedman, John, 444
Rahm, John, 443
Rahrer, Florence A., 447
Raifsnyder
Emma J., 480
Nora, 458
Nora E., 458
Raiser, Enos, 441
Raising, Catharine, 440
Rambo
Abbie, 470
Harold, 476
Harold F., 476
Henry, 448
Isaiah, 470
James B., 453
James G., 453
James J., 453
Jennie S., 482, 484
Ramich
Ella M., 483
Ella May, 483
Jacob, 461
Sarah K., 461
Ramsay
Marion, 481
Oscar E., 483
Ramsey
Edward Oscar, 457
Lydia, 457
Marian, 481
O., 457
Thomas, 444
Ramsheim, 464
Ramstein, I., 464
Rand, Albert, 442
Rank, Beverly June, 483
Ranker, Amelia C., 446
Rankin, Amelia C., 446
Rapp, 441, 443, 456
Alice, 472
Anna, 445
Arthur, 446
Auther, 446
Barbara, 443, 450
Barbara A., 450
Catharine A., 477
Catharine A. Kreisher, 477
Charles A., 467
Clara M., 481
Daniel, 461
Deborah, 454
Dora, 445
Earl, 476
Edward, 481
Elisabeth, 444
Elizabeth, 444
Ellen, 446
Eugene, 467
Eugene A., 465
Eugenie, 465
Floyd N., 456
Frank, 470
Harry, 444
Harry G., 466
Helen, 444, 446, 456
Howard, 485
Ida Ella, 455
J. F., 456
Jacob, 444
Jennie, 472
John, 442, 483
John A., 472
John W., 468
Katie, 445, 448, 596
Mamie, 446
Mamie L., 446
Mary Ann, 455
Mary N., 455
Mildred M., 462
Minnie, 456
Nicholas, 465
Nicholas, Jr., 465
Robert, 451
Rosa, 56
Rudolph, 451
Rudolph U., 451
Sallie, 467
Sallie A., 477
Sallie E., 539
Samuel E., 475
Thomas, 463
Walter, 457
Walter G., 466
William, 456
William H., 456
Rase, Martha P., 464
Raser, John, 451
Rash, Susan, 443
Rasi
Johan, 450
John, 451
Rasing, Catherine, 440
Rath, Samuel, 466
Rathse, Bessie T., 485
Rauch
Chas., 442, 445
Chas. F., 453
child of John A., 462
John A., 462
Lovina, 470
Rauck, 462
Rauensahn, John N., 475
Rauenzahn
Annie, 462
Caroline E., 470
George H., 480
Gideon, 466
Sarah A., 459
Rauenzalu, Sarah A., 459
Rauewzahn, Maggie, 462
Rauhauser, Curvin K., 481
Rausch
Annie, 455
Chas. J., 453
Francis R., 452
John F., 472
Ravely, Catherine, 442
Ray
Benjamin F., 450
Charles, 478
Chas. W. B., 451
Dorothy E., 452, 453
Elizabeth G., 475
Emma L., 468
Frank, 466
Frank M., 475
Franklin M., 475
Harvey, 455
Helen, 445
Jacob, 443, 457
James, 468
James M., 468
Lillian, 461
Lloyd, 444
M. Catherine, 466
Margaret, 470
Mary C., 466
Phoebe, 459
R. Myrtle, 452
Rhea M., 452
Ruth A., 451
Sallie, 444
Sara A., 480
Sarah A., 322
Sarah Ann, 440
Susan, 474
Thomas J., 458
Thomas J., Jr., 483
Winfield S., 477
Rea
Emma N., 477
John, 468
Mary Jane, 474
Read, William, 479
Readinger
Effie, 458
Emma C., 457
Emma N., 457
Florence, 473
James, 465
Ready, Helen, 451
Reagan, Adeline, 195
Ream, 447
Abirham, 458
Abram, 458
Bessie, 446
Cyrus T., 463
Elizabeth L., 480
Geo. W., 444
Howard P., 479
Jennie M., 455
John, 455
Lizzie S., 480
Lucetta, 446
Lydia, 451
Margaret Y., 477
Sallie W., 482, 484
Wm. Henry, 482, 484
Reber, 459
Allen W., 477
Benjamin F., 460
Charles, 461
Charlotte L., 471
child of Rebecca, 454
child of Robert, 459
Earl, 446
Earl Gordon, 446
Edith V., 471
Elisabeth, 444
Elizabeth, 477
Florence L., 461
Geo. W., 458
Gideon, 471
H. S., 450
Harry D., 472
John M., 449
Jonas, 471
Leah, 441
Lena M., 461
Leona M., 461
Levina, 474
Levinia, 474
Lillie K., 455
Louisa A., 457
Lucy Ann, 457
Margaret, 470
Mary, 460, 474
Minnie R., 464
Philip, 442, 474
Rebecca, 454
Robert, 459, 473
Sallie K., 455
Sallie M., 479
Wilhelmina, 464
Rebholtz
Charles E., 464
Geo. J., 466
Theresa, 481
Rebman
Henrietta, 459
Henrietta A., 459
John P., 460
John P., Sr., 460
Reckon
Minnie, 476
Minnie L., 476
Redcay
Annie, 470
Annie B., 470
Annie R., 473
Charles, 467
Charles M., 467
Chas., 453
Edith M., 477
Mary, 450
Mary A., 450
Mrs., 442
Reddig
Edwin L., 458
Elizabeth, 458
Elizabeth D., 458
Elsie S., 460
LeRoy, 467
Martin, 469
Paul M., 478
Reddinger, James, 465
Reed
Alice, 450
Amanda, 462
Bertha M., 483
Clara F., 476
Eleanor, 457
Elisabeth, 442
Eliza, 442
George F., 481
Harriet, 452
Harrison, 441
Howard F., 475
Irva F., 460
Jacob, 442
Katie A., 480
Kersey, 445
Lottie, 485
Louisa, 449
Lydia, 483
Mary, 441, 442, 444
Steven A., 482, 484
William, 459
Wm., 442
Reedy, 460
Anna M., 445
Calvin B., 440, 459
Clara R., 464
Elizabeth C., 304, 305
Ellen, 453
Ellen E., 453
Elmer, 453
Geo., 443
Helen, 448
Howard E., 485
Isabel, 472
Isabella, 472, 473
John, 446, 452
Joseph, 464
Lottie, 482, 484
Louisa, 443
Marie, 449
Mary E., 470
Samuel H., 459
Sarah J., 457
William J., Sr., 480
Wm., Mrs., 464
Reegner, Minnie C., 466
Reehns, Bessie, 446
Reese, John, 443
Reeser
Carrol, 453
child of John, 450
Florence, 444
Harold, 453
Henry S., 473
Howard E., 477
Howard Wm., 450
infant, 450
John, 450, 451
Martha B., 474
Mary E., 597
May H., 447
May Helen, 447
Robert H., 468
Robert L., 459
Robert W., 459
William, 449
Regar
Catherine E., 456
George W., 472
Regenfuse, May E., 467
Rehr
Charles, 461
Gussie Waldman, 475, 618
Rehrer
Ella S., 440
Ellen, 440
Emma C., 461
Emma K., 461
Flora, 444
Flora May, 444
Henry, 456
Lawrence, 447
Mary, 440
Reich
Catharine E., 453
Catherine E., 453
Harry, 461
Harry W., 461
Martin, 452
Mary M., 469
Mary M. Graul, 469
Michael, 452
Rodney, 471
Reichardt, Albert W., 461
Reichart, Emma, 453
Reicheneder, Marie H., 477
Reicherd, Jos., 446
Reichert
Emma, 453
infant, 474
Jos., 446
Reid
Eleanor D., 457
Laura L., 468
Reider, 440, 450, 466
Barbara, 478
Gideon, 462
infant, 467
Jeremiah, 465, 480
Jeremiah, Jr., 453
Matilda, 455
Oliver, 463
Sallie, 441
Sarah Louisa, 479
stillborn, 465
William, 459
Reif
Frederick, 473
Ida May, 465
Reiff, 457
Amos, 459
Carrie, 454, 459
Carrie E., 459
Carrie R., 454
child of William, 457
Henry, 441
J. William, 476
Joseph W., 460
Rebecca, 460
Sarah, 440
William, 457, 476
William J. E., 460
Reifsnider, James, 462
Reifsnyder, 466
Amanda, 357
Amanda C., 469
Anna S., 457
Annie R., 468
Ben'j., 461
Bertha, 441
Calvin O., 473
Caroline, 461
Catherine, 451
Catherine Rebecca, 451
Chas J., 466
David M., 475
Edward F., 479
Elisabeth, 450
Elizabeth, 449, 453, 479
Ethel Mary, 471
Frank K., 479
Frank P., 466
Franklin, 454
Franklin P., 466
George H., 467
Harry B., 478
Howard, 441, 443
Howard A., 441
Irvin, 463
Irwin K., 463
J. Edw., 459
Jacob, 458
Jacob B., 450
Jacob E., 458
James M., 482, 484
John, 450
Lewis J., 471
Lydia, 448
Martin, 440
Mary, 470
Owen, 449
Owen E., 449
Raymond, 453
Robert, 470
Rosa Ann, 452
Rosie, 452
S., 443
S. Margaret, 455
Sally E., 480
Samuel, 450
Samuel M., 467
Samuel O., 450
Sarah, 440, 460
Savillia, 443
Wm., 448, 450
Wm. A., 463
Wm. L., 450, 464
Reigner, 462
Annie M., 470
Catharine L., 448
John D., 463
John Donald, 463
John I., 471
Minnie C., 466
Newton C., 462
Violet I., 462
William M., 479
Reilly
Emma, 476
Emma Belles, 476
Ethel E., 464
Fannie A., 466
Harry F., 478
Reimert
Nancy Ann, 475
Ruth R., 465
Wm. F., 481
Reinenhouer, Anna, 447
Reinert
Benjamin, 449
Bessie, 454
Catharine, 459
David M., 468
Ellen D., 471
Franklin F., 457
Gideon, 476
Helen E., 471
John, 470
Lillie L., 483
M. Clemantine, 457
M. Clementine, 457
Mary, 465
Nancy Ann, 475
Oliver D., 458
Oliver O., 458
Peter, 462
Ruth R., 465
S. Louisa, 463
Sarah L., 463
Senora R., 464
Sonora, 464
Reinger
Agnes L., 466
Louisa M., 467
Mary L., 454
Reinhard
Albert, 440
Harry, 467
Reinhardt
Mary, 476
Maximillian H., 462
Reinhart
Albert, 440
Amelia, 453
Benjamin, 478
Edwin, 457
Frank, 474
Isaiah, 449
John, 449
John M., 444, 449
John, Mrs., 447
Joseph B., 459
Mary, 476
Maxmillian H., 462
Reiniger
Anna Marie, 449, 481
Daniel, 469
Daniel J., 469
Geo. L., 445
John, 476
John L., 449
Paul D., 460
William F., 470
Reininger
Agnes L., 466
Anna M., 481
Anna Marie, 449
Geo. L., 445
Louisa, 467
Paul D., 460
William F., 470
Reinmuth, Karl E., 482, 484
Reipert, William, 466
Reisnyder, Allen H., 464
Reiss, Otto, 462
Reiter
Albert, 448
Annie, 470
Annie E., 477
Annie J., 470
Annie L., 477
Daniel, 446
Ella, 448
Hiram, 455, 476
Hiram G., 455
Hiram, Jr., 476
James M., 447
John S., 452
L. Albert, 448
Lucretia, 453
R. Ella, 448
Rebecca A., 478
William F., 474
Reitmeyer
Hannah, 450
Hannah Maria, 450
Michael, 451
Reitnauer, 448
Amos, 468
Hannah M., 468
Wm., 455
Reitnouer, Charles A., 482, 484
Reitz, 449
Carrie, 479
Carrie M., 479
Dora R., 483
Elmer, 475
Elsie, 466, 575
Florence, 452
Hannah A., 472
Harry L., 480
Henry, 445
James, 463
James F., 462, 463
John N., 482, 484
Jonathan, 454
Jonathan L., 454
Jonathan M., 482, 484
Lena, 480
Luther, 447, 453
Mary, 452
Mary Ann, 474
Rudy S., 480
Ruth B., 475
Relker, infant male, 479
Reller
Ellen B., 455
John W., 458
Reninger, 440
Renneberg
Samuel, 467
Sarah, 469
Renninger, 440
A. D., 449
Abraham D., 449
Annie R., 452
Edward, 441
Geo. W., 447
George K., 477
Hannah, 460
Hannah M., 460
Howard, 442
John L., 449
Sarah A., 467
Sarah W., 467
Renno
Christiana, 450
Christianna, 450
David, 445
Rentscheller, 461
Rentschler
child of Willets, 461
Edward M., 456
Mary, 460
Mina D., 467
Willets, 461
Rentscler, Edward M., 456
Rentsehler, Mary E., 460
Rentz, Annie S., 456
Rentzel, Ellen C., 476
Reppert
Ada, 444
Catherine, 447
Kate C., 448
Robert, 457, 458
Resch, 460
Andora, 469
child of Adam, 460
Forrest G., 483
George R., 466
Kenneth R., 485
Mathias, 460
Matthias, 460
Resse, Fanny, 447
Ressler, Joseph, 440
Rettew, Katie, 445
Reuther
Maggie E., 454
Maggie Ellen, 454
Otto, 469
Rex
Emma, 471
Frank B., 473
Rhein
Anna C., 482, 484
Annie V., 471
Clara V., 480
Frank T., 449
Franklin T., 449
George G., 474
George I., 474
George L., 474
Harry W., 485
Timothy, 481
Timothy Peter Michael, 481
Rhine
Hiester, 470
Mary A., 462
Sallie A., 460
Rhinehart, Mrs., 453
Rhoades
Frederica, 478
Howard K., 446
Susan, 451
Rhoads, 440, 444, 445, 455
August N., 467
Augustus N., 467
Barney K., 456
Bessie C., 458
Carrie L. Trout, 483
Carrie W., 472
Catharine, 470
Charles J., 477
child of John G., 455
Claude E., 458
Daniel M., 476
Daniel W., 480
Edith, 447, 459
Edith S., 447, 459
Edward, 471
Edward J., 477
Elisabeth, 442
Elizabeth, 454
Emma G., 477
Fredericka C., 478
Geo. B., 456
Geo. F., 483
Geo. J. McC., Jr., 443
George B., 478
George B., Sr., 478
Geraldine, 454
Harold E., 476
Harriet M., 472
Harriett M., 472
Howard, 443
Howard K., 446
infant, 469
Irvin, 443
Irvin B., 477
Isabella C. Hoffmaster, 443
Jacob H., 480
James R., 482, 484
James Robert, 482, 484
John G., 455
John Y., 482, 484
Kate, 464
Lizzie, 443
Margaret L., 478
Marguerite, 478
Martha R., 475
Mary L., 473
Mary W., 473
Maurice H., 452
Minnie, 458
Oscar A., 468
Paul C., 469
Rebecca, 460
Sallie L., 471
Sarah, 474
Susan, 451
Susan R., 469
Walter L. R., 481
Walter S., 456
Warren E., 473
William B., 463
William R., 479
Wm. A., 452
Wm., Mrs., 443
Rhoda
Barbara H., 469
Benjamin, 462
Emma, 449
Gertrude S., 485
Harry, 476
Russel I., 458
Rhodes
Caroline, 456
Catharine A., 472
Esther, 460
Esther Dunkelberger, 460
George, 460
George M., 467
Jos., 442
Lovenia, 471
Lovinnia R., 471
Mahlon, 445
Marion M., 476
Marion W., 476
Rhorbach
Christian, 441
Christie Anna, 441
Ribble
Agnes, 455
Elizabeth D., 469
Esther A., 463
Jennie R., 483
John H., 478
Loretta, 451
William H., 456
Wm., 456
Rice, 462
child of Paul H., 462
Curtis E., 455
Edward F., 474
Edward T., 474
George, 447
George A., 457
George E., 457
George L., 466
Mabel L., 447
Maria D., 464
Marie Dorothea, 464
Paul A., 462
Paul H., 462, 485
Raymond, 453
Richard, 448, 459
child of Samuel, 453
child of W. W., 459
James P., 461
John, Dr., 446
Leon S., 480
Rosanna, 479
Samuel, 453
Samuel P., 466
Samuel R., 461
W. W., 459
Wm., 443
Richards, 448, 453
Adam S., 443
Augustus, 453
Bernard E., 469
Caroline, 461
Earl A., 472
Edward, 461
Edwin E., 473
Elizabeth, 442
Elmer, 441
Emma E., 468
Esther M., 448
Florence M., 478
Fredricka, 463
Fredrkher, Jr., 463
Ida, 471
Ida M., 471
Isaac K., 453
James B., 458
James P., 461
John, 442
John, Dr., 446
John F., 450
Jos. C., 458
Jos. S., 448
Leon S., 480
Lila M., 447
Lizzie, 441
Louisa, 457
Mary A., 482, 484
Rosanna S., 479
Samuel, 447, 448
Samuel A., 459
Richardson, Kenneth, 459
Richars, Caroline, 461
Rickenbach
Caroline, 456
Caroline A., 456
Levi P., 457
Levi W., 451
Luther, 482, 484
Oscar, 476
Rider
Sarah Louisa, 479
William H., 466
Wm. H., 335
Rieber, Elenora, 452
Riegel
Allen LeRoy, 468
Ellen D., 471
Florence K., 481
Florence M., 481
Robert, 479
Robert A., 479
Rieger, Evelyn, 468
Riegner
John G., 476
Kate, 448
Newton C., 462
Rier, Wm. S., 445
Riess, Otto C., 462
Rife, Charles E., 478
Riffert, 447
Cyrus, 440, 441
Cyrus M., 440
Janetta H., 448
Jeanetta, 442, 444, 448
John E., 467
Mary E., 481
Valentine, 442
William, 466
Rigg
Catherine M., 456
Catherine May, 456
Helen, 478
Irvin E., 469
Lena S., 482, 484
Miriam L., 482, 484
Miriam Loretta, 482, 484
Wm. R., 452
Righthour, Anna, 447
Rightmeyer
Cath., 441
Catharine, 441
Catherine, 452
Eliz., 443
John W., 456, 475
Leander, 440
Lewis B., 440
Louis, 451
Maggie, 441
Mary, 449
Thos., 444
Wm., 444
Rightmyer
Alvin J., 463
Blanche, 464
John W., 456
John W., Sr., 475
Julia, 444
Kate, 460
Kate J., 460
Leander, 440, 448
Mary, 443, 449
MayBelle, 471
Michael, 451
Thos. E., 444
William A., 462
Ringler
Catherine S., 482, 484
Chas. L., 452
Emma, 25, 462
Helen, 454
Louisa M., 454
Robert, 468
Ruth E., 467
Samuel J., 474
Walter A., 481
William J., 475
Wm., 445, 448
Wm. H., 448
Wm. L., 445
Rinker, 463
Rishel
Anna L., 452
Emma, 446, 457
L. Wm., 450
Miss, 441
Nathan, 441
Wm., 450
Rishell
Albert, 457
Emma, 446, 457
J. Albert, 454, 457
Jas O., 454
Rissmiller, Edwin J., 479
Ritter
Catherine L. M., 457
Katherine L. M., 457
Mary, 474
Mary E., 474
Maud, 446
Maud I., 446
Maude I., 454
Sarah C. G., 454
Rivera, Joseph M., 483
Roberts, 464
Annie E., 465
Annie R., 465
Bernard E., 472
Bruce A, 472
Carroll S., 458
Chas. W., 449
Darlene J., 471
Edna May, 468
Elizabeth, 481
Estella, 451
Henry, 467, 473
Mira, 441
Sarah, 462
Wm., 442
Robertson
Laura M., 464
Laura May Ubil, 464
Robinson
Elizabeth, 475
Gertrude, 480
Henry, 451
Henry E., 451
James F., 470
Mary E., 471
Robert L., 479
Robles
Apolina, 468
Cameirno, 468
Roche, infant, 473
Rock
Agnes O., 475
Anna B., 446
Barbara, 446
Geo., 446
George, 465
John, 460
John G., 446
Mamie A., 463
Mamie O., 463
Mary, 465
William, 465
Roder, Elizabeth, 455
Rodgers
Catharine, 450
Emma, 441
Harry A., 452
Harry F., 452
Henry, 458
Henry, Mrs., 450
Josephine, 458
Nathan, 446
Thos., 445
Thos. E., 445
Rodman
John, 450
Mabel J., 448, 449
Roland, 455
Roland I., 455
Rodolff
Annie M., 466
Arthur P., 452
Elizabeth A., 150
Rodriquiz, Jose, 463
Roduquiz, Jose, 463
Roeder
Elizabeth, 455
Louisa, 478
Rogas, Catharine, 472
Rogers, 443
Emma, 441
Helen M., 483
Helen Marie, 483
Samuel, 444
Rohrbach
Aaron, 458
Daniel A., 477
Earl M., 450
Elmer H., 449
F H., 450
George H., 482, 484
Harry, 478
Harvey, 478
Henry E., 460
Henry R., 453
Isabella, 454
James B., 458
James R., 458
John E., 452
John R. H., 455
Martha A., 449
Martha A. High, 449
Mary, 448
Mary A., 463
Mary C., 478
Morris, 475
Nathan E., 449, 469, 479
Paul, 469
Paul B., 469
Priscilla, 440
Raymond L., 463
Ruth, 454
Sallie R., 449
Sallie R. Stichter, 449
Sarah A., 471
Rohrer
Albert, 458
Laura, 481
Roland, 445, 465
Albert, 440, 442, 472
Allen O., 460
Alvin, 442
Annie M., 478
Carl B., 472
Catharine, 464, 472
Catharine E., 469
Catherine, 449
Chas., 454
Chas, Mrs., 445
Clara A., 479
Daniel, 470
E., 454
Eliza, 447
Ella C., 460
Elmira, 454
Emma, 443
Emma M., 475
Florence, 447
Frank, 462
George, 467
George A., 467, 472
George W., 459
Hannah, 445
Harriet, 446
Helen C., 449
Henry A., 472
Howard, 459, 474
Ida L., 468
Irvin, 440
J., 93
J. W., 444
Jacob, 442, 445
Jacob B., 443
Jacob D., 443
Jane, 447
Jennie A., 457
John, 447, 456
Kate, 473
Laura, 447
Levi L., 476
Lizzie, 443
Louisa, 474
Lynton, 480
Martha, 474
Mary, 443
Mary A., 464
Mary F., 447
Mary M., 454
Mary T., 447
Matilda, 465
Norman, 440
Paul, 444
Paul P., 481
Paul R., 481
Reada, 462
Rita Y., 462
Robert, 442
Sallie E., 478
Samuel, 446, 473
Samuel W., 473
Violet, 446
Warren G., 482, 484
Wesley, 472
Wesley W., 472
Wm. N., 447, 455
Zeno, 447
Rollman, Julia Anna, 476
Roloff, Frank, 462
Romanski, Frank, 482, 484
Romig
Arthur S., 481
Catharine, 448, 467
Catharine G., 467
Catherine, 448
Cyrenius F., 483
Dorothy I., 454
Edna M., 462
Edward, 441
Edward E., 441
Emily S. M., 456
Emma L., 476
Ezra L., 452
Floyd V., 472
Ida A., 483
Irvin B., 480
Jacob, 461
John H., 459
L. S., 449
Lincoln S., 449
Lucia, 440
Lucy A., 464
Mary S., 478
Nellie, 440
Sarah, 432, 446
Sue, 477
Washington B., 463
William, 480
William H., 476
Wm. H., 448
Wm. H. C., 448
Rommel, Gustavus A., 442
Rono, David, 445
Root
Anna, 441
Annie M., 441
Edward, 461
Eleanor D., 452
John, 463
John H., 464
Robert, 456
Sarah, 445, 455
Wayne, 475
Rork
Amy E., 461
Annie M., 480
Cornelius, 443
John, 475
Martha W., 364
Mary, 453, 454
Paul S., 483
Paul Stanley, 483
Samuel, Jr., 463
Samuel, Sr., 464
Rorke
Amy E., 461
Cornelius, 443
James E., 473
Samuel, 464
Sarah, 451
Thomas, 441
Rorkle, Clara B., 446
Rosan, Christina, 465
Rose, Catherine, 481
Roshon, Mary, 463
Ross, 463
Rossman, Mabel, 463
Roth
Bessie L., 483
Caroline, 461
Darlene Carletta, 475
Darlene Carlotta, 475
Elizabeth, 450
Elmira, 455
Emma D., 453
Emma M., 449
Jacob, 440
John J., 467
John Jacob, 440
Joseph R., 458
Mabel H., 447
Mamie, 449
Mary A., 447
Mary S., 447
Milton, 461
Polly R., 455
Sallie, 483
Samuel, 466
William H., Rev., 461
Rothe, Jacob, Mrs., 450
Rothenberger
Bessie B., 481
Howard, 465
Howard T., 465
William, 478
William D., 478
Rotherham, Lilah, 478
Rothermel
Catharine, 470
Jacob, 469
Katharine, 470
Minnie R., 461
Rothrock
Harry J., 467
Harry Y., 467
William C., 480
Rott, Casper, Mrs., 448
Rottgers, Josephine, 458
Rotz
infant son, 445
John L., 464
Laura B., 478
Mary A., 465
Mary Ann, 465
Roup, Wm. H., 481
Row
Annie M., 462
Benjamin F., 457
Earl D., 479
Henry J., 442
John, 443
John D., 473
Miriam R., 465
Rowan, Christian, 465
Rowe, 466
Benjamin F., 457
Earl D., 479
Edyth, 470
Jesse E., 480
Mary Ellen, 470
Rebecca, 444
Richard J., 465
Sarah, 450
Susan R., 475
Thelma A., 455
William R., 469
Rowland, Catharine, 469
Roy
Ellen D., 475
Harry, 457
Harry H., 457
Helen, 445, 475
Laura H., 465
Laura Helene, 465
Sarah E., 448
William P., 468
William Penn, 468
Royer
Mary, 466
Mary A., 466
Wm., 443
Rudolph
Anna, 463
Arthur P., 452
Bessie, 476
Bessie M., 476
George, 461
Roger B., 461
Rudy
child of John, 460
Dorothy, 464
Dorthy, 464
Elmer, 453
George, 454
John, 460
John, Sr., 474
Maggie, 449
Margaret, 477
Wm., 445
Rufe
Hannah V., 473
Margaret M., 474
Oscar P., 481
Ruge, Armista Bruce, 56, 471
Ruhenhurst, 457
child of William, 457
William, 457
Ruhf
J. Alfred, 475
Jonathan R., 475
Mary E., 459
Rumble
Sarah Ann, 468
William M., 471
Rummel, 440
Margaret, 442, 445
Mrs., 445
Rupp
Allen, 444
Catharine, 452
Catherine, 452
Helen, 444
Ludwig, 450
Margaret, 453
Mary, 453
Ruppert
Elisabeth, 444
Fred. B., 474
Frederick B., 474
Gedion, 447
Gideon, 447
John, 470
Katie, 477
Katie S., 477
Rebecca, 463
Rush, Susan, 443
Russell
Elmer E., 454
infant female, 479
Ruth, 441, 442, 451
A. Pernetta, 451
Adam, 469
Alice, 466
Almaretta R., 465
Amelia, 456
Annie, 448
Annie E., 483
Annie M., 461, 483
Annie May, 461
B. Frank, 469
Caleb B., 451
Catherine, 479
Charles, 469
Charles H., 473
Christiana, 456
Christiana O., 456
Christine P., 473
Cyrus, 440
Dorothy, 459
Edward E., 465
Edward I., 465
Elisabeth, 446
Elizabeth, 446
Elizabeth G., 477
Frank, 442, 444
Franklin, 440, 444
George M., 466
H., 451
Harry, 441
Helen, 451
Howard F., 442, 451, 479
James, 471
James F., 441, 471
Jas. F., 451
Joanna H., 448
John, 464
John A., 446
Joseph W., 451
Katie B., 481
Mary, 445, 480
Mary A., 454
Mary E., 459
Pernetta, 451
Sallie, 444
Samuel B., 452
Sarah C., 472
Warren H., 483
William, 450
Wm. H., Mrs., 451
Wm. W., 443
Rutz, Helen, 586
Ryan
Emma S., 483
Harry, 442
Mary A., 462
Mary A. Rhine, 462
Sabo, John, 507
Sackerman, Clarence, 533, 534
Safontzes, Nick, 533
Sailor, Magdaline, 490
Salada, Anna M., 523
Sale, Willie Bouchat, 493
Sallada
Andora, 543
Anna M., 523
Bertha, 543
Charles, Jr., 551
Clayton R., 549
James F., 545
Jennie S., 538
Joseph F., 554
Kate E., 535
Kathryn M., 558
Mary, 532
Rose, 559
Rose A., 559
Tracey, 545
Tracy, 545
Walter, 544
Walter J., 544
Sallade
Kate E., 535
Mary, 532
Saltzman, Charles G., 525
Salusk, 509
Salusky
Joseph A., 528
Rose, 557
Salzman, Charles G., 525
Samazal, Thomas, 533
Sampson, Carrie A., 530
Samsel, Thomas, 533
Sand, 501
Sandel, 505
Catharine, 536
Ellsworth, 515
William H., 522
Sanders, Russell C., 516
Sandford, Clara E., 539
Sands, 510
Aaron, 524, 525
Aaron S., 535
Adam W., 506, 555
Anna, 500
Anna E., 553
Annie A., 546
Arlene, 535
Arline, 535
C. Clifford, 494
Charles, 549
Charles S., 556
Daniel, 507, 552
E. L., 502
Edwin L., 502
Eliza, 492
Emma, 543
Emma R., 543
Florence A., 514
Geo. W., 496
Henry, 489, 504
Irene D., 509, 513
Jacob, 486
Margaret V., 501
Marguerite, 501
Martha, 504
Martha E., 504
Mary, 489
Mary A., 521
Matilda, 513
Melissa, 541
Michael, 76
Paul A., 532
Ruth E., 547
S., 509
Sabilla, 509
Sarah Virginia, 545
Susan, 494, 539
Susan M., 539
Susannah, 494
W. Clarence, 511
Walter A., 527
William H., 549
Wm., 501
Wm. C., 511
Wm. J., 496
Wm. S., 496
Sandt
Anne E., 501
Catharine, 487
Catherine, 487
Flora, 493
Helen M., 520
Irvin H., 547
Mrs., 501
Sabina, 512
Wm., 495
Saneholtz, Phillip, 533
Sanford, Carrie, 555
Sarbrye, Geo. H., 505
Sarge
Bertha M., 563
Elizabeth G., 535
Victor E., 550
Sassaman
Aaron, 491
Anna, 486
Anna Maria, 486
Emma, 495
Euphemia, 540
Robert, 490
Thomas, 529
Saudel, William H., 522
Saueholtz, Phillip, 533
Saul
Alma M., 528
Alpha C., 563
Anna, 549
Earl, 501
Elias G., 525
Elmira A., 546
Franklin, 523
Mary, 507
Sauppe
Dorothy F., 521
Elizabeth S., 526
Heister, 495
Lester, 509
Marion, 506
Valentine, 505
Sauppee
Clara A., 555
Dorothy F., 521
E. Marian, 506
Harold, 508
Harvey A., 561
Heister C., 495
Hiester M., 505
John, 508
Lucy L., 565
Luther K., 560
Valentine, 505
Sausen
Anna M., 520
Catherine E., 559
Emma K., 551
Esther A., 505
John K., 507
Laura Bertha, 489
Michael K., 545
Michael L., 545
Wm. M., 511
Sausser
Esther, 505
J. K., 507
Savage
Elizabeth A., 512
Ellen R., 511
Ellen Rebecca, 511
Elmer, 561
L., 494
Levi, 518
Lizzie, 561
Mamie, 508
Mary E., 491
Robert Mark, 547
Sophia, 494
Wm. H., 489, 505
Savason, Edward G., Jr., 545
Sayar, Wm. B., 521
Sayer
Catharine, 552
Catherine, 552
Viola May, 530
Wm. B., 521
Saylor, 486, 504, 523
Absalom H., 525
Absolum, 491
Ada L., 563
Albert, 518
Alice P., 550
Anna B., 554
Annie R., 511
Catharine, 527
Charles, 563
Clara, 496
Cora May, 496
Edna, 501
Edward, 508
Edward F., 566
Elias D., 486
Ellen Maud, 491
Emily E., 507
Emma C., 529
Emma M., 551
Eva H., 556
Eva Magdana, 490
Florence C., 503
Francis P., 494
Geo. F., 489, 506
George S., 526
Grace E., 508
Harry, 500, 502
Harry P., 565
Harry Paul, 500
Harry W., 557
Helen M., 548
Henry E., 494
Ida B., 506
Ida L., 563
Irvin E., 551
James, 527, 554
Jennie, 529
John, 502
Laura A., 557
Lillie M., 564
Lucetta, 511
Margaret G., 513
Margaret M., 517
Mary, 531
Mary A., 520
Mary Ann, 552
Mary Ellen, 487
Mary L., 560
Mildred E., 551
Minnie E., 557
Paul, 501
Paul E., 501
Peter G., 549
Rosa E., 522
Rose, 522
Sallie, 324, 502
Walter J., 566
William C., 545
William H., 523
Wm., 494
Wm. R., 504
Zachary D., 506
Zachery, 506
Scarlet, Earl L., 532
Scarlett
Flora M., 505
John J., 564
Schable, Amelia D., 522
Schackerman
Alice, 505
Alice L. Miller, 505
Schade, 527
Benj. J., Rev., 493
Elizabeth, 560
infant, 538
Margaret, 541
Richard C., 540
Ruth, 506
Sadie, 494
Schadebrodeet, Augusta, 534
Schadebrodt
Augusta, 534
Frederick, 540
Frederick C., 540
Schader, infant, 538
Schaderbrodt, Fred D., 515
Schaefer
August, 568
George J., 561
Josephine H., 532
Magdalena, 526
Mary, 534
Schaeffer, 500, 518
Adam, 516
Albert, 504, 561
Albert Frank, 487
Alfred R., 539
Alray M., 555
Anna M., 540
Bertha, 495
Bertha May, 495
Carrie, 529
Cassea A., 487
Cath. E., 512
Catharine, 520, 544
Catharine M., 532
Charles C., 551
Charles H., 557
Charles T., 496
Chas., 495, 529, 535
Clarence, 507
Clyde K., 528
Cyral L., 552
Daniel A., 525
David C., 552
Earl F., 518
Elizabeth A., 136
Emanuel, 513
Emma, 557
Emma T., 557
Eva, 553
Fannie May, 558
Frank P., 516
Franklin, 522
Fred., 489
Frederick, 489
Geo. V., 501
Geo. W., 518
George, 561
George H., 545
Gerald, 523
Grace E., 523
Grace M., 548
Harrison H., 530
Harry, 487
Herbert, 510, 536
Howard, 489
Ida May, 530
infant, 541, 546, 548
infant of Samuel, 490
Irvin J. H., 547
James, 489
James B., 565
Jennie C., 560
John K., 559
Kate, 523
Katie P., 550
Katie R., 550
Levi, 504
Mary, 518, 519
Mary A., 526
Mary F., 534
Mary M., 545
Minnie, 545
Mrs., 509
Myrtle, 514
Rachel, Mrs., 509
Rosa E., 565
Russell L., 560
Sadie, 492
Sallie, 560
Sam'l L., 534
Samuel, 513
Sarah E., 527
son of Geo., 501
Theodore, 543
Theresa, 543
William, 555
William A., 557
Wm., 491, 503
Wm. H., 515
Schafer
Frederick, 548
Geo. C. C., 521
John, 511
John P., 542
Katharina, 544
Levi, 555
Martin, 561
Wilhelmina L., 552
William E., 566
Schaffer
Bertha, 495
C. Irene, 529
Clara, 495
David C., 552
Geo. A., 495
Geo. J. A., 495
George W., 556
Herbert, 536
John, 495
John E., 552
John K., 559
Kate A., 548
Kate H., 554
Laura, 502
Lily, 494
Mary A., 556
Sadie, 492
Wm. E., 491
Schall, Miss, 495
Schappell, Jos., 508
Scharett, Robert G., 561
Scharlett
Emma M., 563
Emma Martha, 563
Schaufer
Mary C., 552
Ruth Irene, 542
Schaufert
Carl, 524
Cath. E., 512
Catharine E., 512
Charles A., 524
Dorothy A., 534
Frank A., 523
Gertrude, 512
infant, 512
Jacob, 512, 535
John J., 520
Rosa C., 527
Rose A., 512
Rosie, 512
Schauffel, Jacob, 493
Schauffert, Jacob C., Jr., 536
Schaum, John E., 567
Scheaffer
Charles Calvin, 551
Russell L., 560
Schealer
Adaline, 521
Adaline K., 509
Adeline, 521
Lily May, 487
Samuel, 486
Samuel G., 530
Schearer
Chas., 491
Ella M., 554
Laura M., 529
Roy H., 538
Sarah J., 535
Walter E., 568
William D., 538
Schears, Roy H., 538
Scheck
Fredericka, 536
Fredricka, 536
Jesse A., 567
Jesse Andrew, 567
Scheeler
Anna E., 525
Lillie, 487
Scheets, Pauline, 536
Scheetz
Emma C., 554
Geo. A., 521
infant child of Percy, 517
John, 486, 562
Pauline, 536
Percy, 517
Schefer, John, 511
Scheffly, Jacob, 495
Scheiffel, Jacob, 493, 508
Scheiffler, Mrs., 492
Scheiffley
Christian J., 561
infant son, 555
Mary Jane, 556
William J., Rev., 559
William J., Sr., 559
Scheiffly
Christian J., 561
Eva, 500
Fred., 495
Scheifle, 524
child of Christian, 524
Christian, 524
Scheifley
Catharine Bobst, 492
Frederick, 495
Jacob, 495
John S., 516
Scheirer
Chas. C., 510
Geo. F., 501
George, 531
J. Richard, 565
Katie A., 559
Richard J., 565
Sarah A., 524
Scheke, Margaret, 523
Scheldt, Mary L., 525
Scheler, Estella, 486
Schell, 496
Bernard J., 566
Bernard James, 566
Catharine, 531
Catherine, 496
Charles, 541
Charles H., 568
Chas., 489
child of Isreal, 496
Florence, 506
Florence Beryl, 506
Geo. W., 516
Gertrude L., 492
Howard N., 495
Irvin, 559
Isaac D., 514
Isreal, 496
J. Irvin, 518
Louisa, 535
Mary R., 524
Samuel, 489
Samuel H., 489, 516
Vivian L., 527
Walter D., 551
Warren, 492
William, 537
Schenfelder, Mary, 496
Scheoler, Adaline, 509
Scherer
Benjamin B., 504
Elizabeth, 506
Schetler
Catharine, 537
Catharine B., 537
Schick, Geo., 494
Schild, Charles, 530
Schildt, 491
Amanda L., 554
Bessie, 491
Cyrus, 489, 490, 521
Elmer, 494
Henry, 501
Howard H., 489
Jacob, 500
James, 491, 544
Mary E., 525
Rebecca, 496
Susan, 491
Schilling
Annie G., 500
Edmund F., 542
Emanuel, 542
Geo. Thomas, 492
Leonard, 532
Leonard P., 516
Magdalena L., 538
Magdelena L., 538
Rosa G., 496
Schirer
Catherine Kocher, 502
Emma M., 562
Emma M. Small, 562
Harry, 492
Mary Elizabeth, 502
Oliver, 542
Schitler, Wm. J., 500
Schlabach
Clifton S., 563
Elam, 549
Ezra, 563
Lemon, 561
Peter, 509
Roxey A., 561
Sallie, 554
Wayne E., 567
Schlappich
M. Stanley, 548
Miriam A., 550
Schlappig
Emanuel, 538
Emanuel T., 538
Emma, 549
Emma V., 549
Mandon S., 548
Paul A., 502, 506
Schlarb
Mary E., 554
Peter, 547
Schlaub, Fannie, 505
Schlaybach, Ezra, 563
Schlear, Amos, 489, 491
Schlegel
Alice R., 550
Aquilla P., 556
Edith E., 523
Eresta K., 523
John F., 563
Lillie, 546
Martin, 551
Martin M. H., 551
Sallie A., 496
Samuel, 529
Thomas, 545
Schleich, Leonard V., 566
Schleifke, Reinhold, 566
Schliech, Christie L., 551
Schlocter, Sarah E., 558
Schlosser
John, 501
Mary L., 522
Mary L. Marley, 522
Schlott, 491
Schmear, Louisa, 515
Schmeck, 487
Alfred H., 504
Catherine, 504
Daniel, 486
Frank, 489, 533
Franklin, 533
Hannah, 493, 504
Henry, 544
John, 534
Lulu, 493
Margaret E., 530
Wm., 502
Schmeer
Emma, 328
Louisa, 515
Peter, 524
Schmehl, 487
Anna, 533
Annie E., 533
Arthur S., 567
Arthur W., 567
Caroline, 505
Charles, 487
Elias, 486
Emma M., 538
Ethel May, 519
George W., 546
Howard H., 520
Jefferson, 496
Jesse R., 563
Jessie R., 563
John, 528
John B., 509
John K., 515
Mabel, 495
Mary, 489, 493, 526
Mary Ann, 501
Oliver, 505
Paul Evans, 568
Stella, 320
Warren H., 545
Warren J., 545
Wm., 502
Wm. B., 486
Schmid, Ellen S., 509
Schmidt
August, 537
Christina S., 518
Elizabeth, 522
Ellen, 524
Frederick W., 558
Gustav, 537
Jacob E., 543
John, 513
John H., 555
Marie E., 531
Sophie, 518
Wilhelmina, 538
Schnabel, Amelia, 522
Schnable
Alice R., 562
Bessie I., 563
Frank L., 529
John J., 515
John Jacob, 515
Lewis W., 512
Schneegas, Lucy, 510
Schneegass, Lucy, 510
Schnieder, George W., 537
Schober
Albert, 558
Albert G., 558
Annie M., 564
Dorothea, 540
Herman, 533
John M., 534
Schoelkopf
Bertha, 547
Bertha H., 547
Schoellkopf, John Augustus, 538
Schoellkops, J. Augustus, 538
Scholl, 487
Albert E., 513
Amelia L., 553
Barbara, 516
Christian, 496
Earl Wm., 510
Francis Q., 520
Frederick, 519
Frederick S., 539
Jacob, 509
Julia, 515
Juliana, 515
Lydia E., 554
Lydia R., 554
Milford W., 521
Wm., 511
Wm. M., 511
Schollenberger, 528
child of Wm. W., 528
Wm. W., 528
Schorr
Albert, 504, 512
Catherine, 563
child of Albert, 504
Schott
Adam, 487
Christianna, 506
Christina, 506
Clara A., 532
Clara S., 532
Schoustal
Annie L., 522
Harold W. A., 522
John, 520
Schoustel, Annie L., 522
Schrade
Caroline H., 535
Jacob, 495
Schrader
Ann S., 515
Ann Susan, 515
Ellen Eva, 562
Eva Ellen, 562
Geo. P. S., 514
Schreffler
Laura F., 559
Matilda E., 548
Mayberry F., 563
Milton J., 540
Milton M., 539
Walter, 509
William B., 548
Schrier, William S., 496
Schroeder, 106
A. Walter, 548
Adam H., 522
Adelaide, 514
Adelaide M. Dauth, 514, 530
Bertha, 492
Bertha May, 492, 530
Catharine B., 532
Catherine, 552
Daniel J., 548
Elizabeth, 510
Elizabeth L. H., 510
Geo. P. S., 514
Henry, 492
Schucker
Alice, 551
Alice Z., 551
Schuffer, Lillie F., 494
Schuhmacher
C. Augustus, 515
Catharine, 566
L. Annie, 550
Schuler
Elizabeth, 554
Howard H., 532
Ida S., 555
Jeremiah T., 551
Joseph B., 547
Melvin, 522
Sarah, 527
Sarah R., 527
Schultz, 492, 500
Amelia, 547
Anna, 500, 525
Bennett, 554
Chester, 512
Emma B., 525
Hannah, 490
Harry, 511
Herman, 537
infant of Harry & Mary, 511
Jacob, 490, 500
John, 486, 504
Katie, 540
Mary, 511
May, 500
N., 511
Sallie E., 539
Sallie E. Rapp, 539
Samuel, 500
Sophia, 500
William, 537
Schum
Aaron B., 544
Anna Maria, 491
Jacob, 510
Maria, 491
Schumacher
Carl A., 515
Kathryn, 566
Lucy Ann, 550
Paul T., 542
Schupp, John M., 511
Schutter, Anna, 559
Schuyler, Geo., 521
Schwambach
Annie, 514, 515
Annie M., 514, 515
Benj. F., 512
Charles, 538
Elizabeth, 545
Evelyn, 522
Geo. W., 510
infant, 547
John, 513
John H., 556
John R., 566
Mary M., 518
Mary S., 518
Violet, 531
Schwander
Elis., 494
Elizabeth, 494
Maggie, 494
Marg., 490
Margaret, 490, 494
Mary Ann, 535
Philip, 521
Schwartz, Harry J., 490
Schwartzhafer, Geo., 514
Schwartzwald, 107
Schweikert
Christian W., 512
Christopher, 502
Pauline L., 558
Schweinart, Wm., 512
Schweitzer
Betty, 537
Chas., 507
Isaac, 553
Isaac S., 553
Jane, 496
John A., 553
Lizzie E., 568
Lloyd J., 534
Lloyd M., 534
Rose B., 566
Wilbur B., 522
Schwenk
George F., 540
Wm. A., 535
Wm. R., 535
Schwenr, John W., 565
Schwerart, Christopher, 502
Schwoarer, Erustina, 523
Schwoerer, Ernestina, 523
Scmeck, James, 489
Scott
Elizabeth I., 552
Ella L., 528
Ella R., 528
Hattie B., 567
Joseph, 503
Joseph W., 515
Robert F., 564
Walter, 559
William R., 532
Scriven
G. Lester, 502
George, 502
Scull, Bessie, 487
Scwambach, Geo., 510
Scwartz, John, 503
Seachrist, Alice B., 560
Seamon
Geo., 637
George W., 509
Sechirist, Oliver K., 531
Secksteadt, Chas., 492
Segina, Anton, 562
Segman, Arthur, 502
Segmund, Percy C., 523
Sehl, Wm., 493
Seibert
Ada, 500
Ada Blanche, 500
Albert J., 568
Albert John, 568
Catharine, 523
James M., 509
Kate, 523
Margaret B., 565
Margaret P., 565
Seidel
Albert, 490
Annie M., 489
Annie Margaret, 489
Bertha Lena, 545
Charles M., 548
Charles W., 548
Christian, 556
Christian A., 556
Elijah, 509
Elizabeth, 494
Frederick, 544
Hannah M., 519
Henry, 532
John, 530
Jonathan, 519
Jonathan K., 533, 563
Jonathan K., Jr., 533
Jos., 489
Lydia, 502
Lydia D., 502
Maria L., 539
Marie P., 539
Mary E., 519
Raymond D., 511
Raymond K., 511
Raymond L., 535
Raymond S., 535
Rebecca, 531
Russel F., 513
Russell F., 513
Solomon, 538
Solomon E., 514
Susan, 523
Thelma M., 525
Seider
infant, 540
Mary J., 544
Mary J. K., 544
Matilda L., 556
Rosa C., 548
Seiders, 490
Catharine A., 502
Catherine, 502
Chas., 519
Clara, 508
Clifford M., 566
Elizabeth, 516
Elizabeth M., 507
Elmer, 512
Elmira, 517
Elvina, 517
Emma A., 524
Emma N., 559
Geo. W., 516
Henry F., 568
Henry J., 553
Hiram D., 520
Ida, 260, 527
Ida A., 566
Luther, 539
Mary A., 517
Mary E., 516
Rosa C., 507
Seidle
Elijah, 509
Elisabeth, 494
Seifert, 506
Albert, 522
Catharine, 506
Catherine, 506
Clinton, 519
Ellen, 506
Emma L., 555
Howard, 504
infant of Clinton, 519
John A., 563
Pauline E., 522
Vera, 505
Seigel, Mary, 515
Seigfried
Mary E., 494
Sophie, 495
Wm., 489
Seilheimer
Barbara, 493
Henry, 491
John, 510
John, Sr., 510
Seiling, Laura May, 563
Seiter
Chas., 493
Mary A., 517
Seiters
Ella M., 528
Walter, 517
Seitter
Clara, 508
Wm., 504
Seitters
Charles, 538
Clarilla, 522
Wm., 504
Seitz
Anna M., 530
Annie L., 560
Charles W., 561
David, 535
David J., 535
Mary A., 553
Seitzinger
Annie L., 558
John W., 486
Mary A., 509
May A., 509
Milton W., 541
Wm. R., 496
Seivard, Howard, 504
Seiz
Anna M., 530
Charles W., 561
David F., 568
Mary A., 553
Selheimer
Elizabeth, 526
Fred, 511
John, 510
Sell, 534
Christine, 536
Geo., 489
George D., 568
George F., 559
George H., 507, 637
Mabel Jane, 526
Margaret G., 560
Mary J., 556
Sylvester A., 567
William, 536, 639
Sellars
Chas., 487
Sarah, 496
Sellers
Catharine A., 549
Chas., 487
Ephraim Z., 511
Ephriam, 511
Henry, 555
Samuel, 496
Sarah, 496
Sellheimer, Frederic, 511
Seltenberger, Violet, 517
Seltey
John H., 532
Warren P., 532
Seltzer
Lewis M., 535
Mary E., 523
Semar, Mabel C., 521
Semer
John, 527
Laura, 527
Semore, Mabel C., 521
Senk, Blanche, 493
Sensening, Samuel H., 540
Sepp, Henry, 489
Setley
Charles F., 549
Chas., 504
Dorothy, 539
J. Howard, 532
Lee, 507
Mary, 555
Mary E., 555
Paul, 535
Paul I., 535
Warren P., 532
Severin
Fred., 494
John Fred., 494
Lewis H., 496
Severn, 508
Abraham, 493
Daniel, 503
Elisabeth, 492
Geo. W., 492
Jacob, 490
Louisa, 529
Louise, 529
Mary, 493
May, 494
Minnie, 489
Susan, 494
Seyfert
Belle, 518
Eva Schell, 564
Vera, 505
Zenas, 548
Seyler, 510
Charles A., 540
Chas., 493
Emma E., 533
Esther, 516
Florence A., 510
Ida J., 562
Irene V., 543
Jacob N., 531
Reuben M., 524
Stella M., 549
Walter F., 564
Shaaber, 490, 532
Miss, 490
Shade
Amanda, 557
Amanda M., 557
Benj., 493
Florence, 496
George, 500
Harry E., 507
Helen Sarah, 506
Ida R., 555
infant male, 558
Isaac, 527
Josiah B., 549
Minnie M., 554
Ruth, 506
Sadie, 494
Sophia, 513
Virginia M., 532, 534
William Y., 524
Shadel
Emma R., 563
Howard, 500
Irvin E., 551
John, 504
Shadell
Catharine, 495
George F., 561
Louisa, 521
Tamar P., 501
Thos., 501
Wm., 494
Shadle
John, 504
Mrs., 495
Shafer
Anna, 548
Anna J., 548
Jonathan B., 533
Katherine, 523
LIllian B., 532
Mamie, 554
Mamie A., 554
Maria, 171
Milton W., 547
Wilhelmina L., 552
Shaffer, 500
Albert, 504
Carrie, 558
Catharine E., 512
Chas., 495, 529
Clara, 495
Clarence, 507
Frank, 487
Franklin J. H., 560
George W., 556
Grace D., 536
Harrison H., 530
Herbert, 510
Kate H., 554
Keziah, 487
Laura, 502, 503
Luther W., 555
Mary, 519
Mary E., 567
Mary R., 518
Noama, 508
Rose, 530
Samuel, 490
Wm., 503
Shalter
Augustus, 526
Carrie, 348
Charles W., 526
Clarence, 550
Clarence A., 510
Clarence W., 550
Elmer, 489
Geo. W., Jr., 515
Harry, 559
Irvin, 508
Rebecca, 505
Sallie, 553
Sarah E. W., 518
Valentine, 490
Wallace Augustus, 490
Washington, 530
Wm., 520
Shalters
Charles W., 526
Clarence A., 510
Fred, 536
Geo. W., Jr., 515
Kathryn J., 558
Laura M., 545
Sallie, 553
Wm., 520
Shane, William H., 557
Shanefelder
Gussie L., 531
James M., 531
Shaner, Clare, 521
Shannaman, Chas., 500
Shannon
Anna, 550
Anna M., 550
John S., 546
Shappel, Ruth E., 509
Shappell, 510
Geo. L., 513
infant, 547
Ruth E., 509
Sallie, 510
Sharman
Hannah, 504
Wm., 502
Sharp
Adam, 487
Elizabeth, 524
Shauer, Clair R., 521
Shea
Amanda, 537
Henry, 519
Shealer, Helen Y., 568
Shearer
Ann M., 529
Benjamin, 504
Elizabeth, 506
Lucetta, 538
Shears, 517
Anna, 517
Annie M., 517
Doreas, 512
James, 517
James C., 567
Kathryn G., 553
Mary Anna, 514
Sheeler
Anna E., 525
Howard H., 519
Howard R., 519
John, 486
John W., 523
Samuel, 486
William, 518
Sheetz, 517
Anna M., 554
Annie Marbel, 486
Charles A., 557
Chas. R., 534
Dorothy A., 510
Dorothy May, 510
Ellen M., 517
Geo., 521
Geo. A., 521
Geo. H., 521
Isaac, 539
John, 550
Mabel A., 486
Salome, 508
Samuel, 562
Samuel L., 562
Solomon, 508
Susan, 486
Sheffer, Noami V., 508
Sheibe, Margaret, 523
Sheidy, 493
Sheirer
Catherine, 520
Eda, 503
Kate, 502
Mary E., 502
Shell
Chas., 489
Geo. W., 516
George, 500
Gertie, 492
Mary R., 524
Warren, 492
William, 537
Shenfelder
Gussie L., 531
James J., 538
James M., 531
Shenk
Albert, 493
Albert A., 493
Eliza A., 514
Shentin, 509
Shenton, 509
Sherker, 494
Sherler, William, 518
Sherry, Frank E., 526
Shick, George E., 536
Shide, infant, 553
Shieffley, Christian, 552
Shild, Charles, 530
Shilling
Anna, 500
Catharine R., 541
Geo. T., 492
Gladys E., 528
John J., 540
Leonard P., 516
Rose, 496
Sallie E., 544
Shiner
Bessie C., 562
David L., 557
Shingle
Clair R., 538
Claire R., 538
Morris E., 524
Robert W., 527
Rosie E., 516
Shirer, Geo., 501
Shirey
Amelia, 557
Amelia E. Eyrich, 557
Angeline, 543
Angeline M., 543
Edith, 503
Elmer, 521
Harriet, 489
infant, 543
J. Frank, 549
Jeremiah, 506
John F., 549
Nathan, 528
Samuel, 486
Sarah A., 565
Sarah Amanda, 565
Ward F., 561
William I., 554
William J., 554
Shober, 528
Shoeman, Magdalena, 520
Sholl, Minnie, 487
Shollenberger
Almon M., 551
Ammon, 504
Claude, 507
Claude R., 507
Clyde R., 504
Donald, 545
Mary M., 543
O. C., 518
Oscar C., 518
Shon, 504
Shonic
Caroline, 33, 514
Frederick, 509
John, 526
Shonk
child of L. D., 517
L. D., 517
Shoop, Melvin, 511
Shorr, Albert, 512
Shoustal
Antonia, 539
Antonio, 539
Arthur, 517
Arthur E., 517
Frank J., 531
Harold W., 522
Jeremiah J., 566
John, 520
Rosa Anna, 538
Rose Anna, 538
Showalter
Ellwood, 533
Elwood, 533
Emma V., 539
J. John, 517
Jay John, 517
Showers
Mary, 489
Minnie, 535
Viola D., 547
Shrade, Jacob, 495
Shubing, Minnie, 489
Shue
Jennie, 553
Maggie R., 532
Margaret, 532
Robert W., 563
Samuel W., 548
Shule
Rebecca M., 557
William M., 565
Shuler
Harry C., 538
Howard M., 532
John L., 548
Shull
Christian, 496
Miss, 495
Susan A., 516
Susan U., 516
Shulley
Mary E., 568
Parke L., 568
Shultz, 500
Amelia, 501
Anna, 500
Annie, 501
C., Mrs., 489
Carrie, 486
Christian, 503
Christian, Mrs., 489
Christopher, 522
Earl W., 512
Emma R., 525
Esther, 523
Eugene, 530
Evelyn, 513
George F., 503
Hannah, 490
Harry, 557
Harry E., 519
Helena, 522
Henry A., 503, 513
Henry M., 502
Herman, 500
infant, 537
James, 486, 542
James M., 542
John C., 502
John W., 520
John William, 520
Mary, 489
Mary E., 533
May, 500
Millie, 501
Rachael L., 552
Robert E., 545
Shuman, Samuel E., 563
Shunk
Edward F., 560
Ella, 521
Lee E., 510
Viola L., 560
William J., 518
Siegfried
Geo. I., 517
Geroge G., 541
Henry, 520
Irvin G., 517
John R., 520
Mary E., 494
Morris, 541
Sallie I., 544
Sophie, 495
Stanley, 519
Stanley F., 519
William F., 552
Wm., 489
Sigman
Emma C., 543
Thomas, 551
Sigmund
Anna, 560
Anna B., 560
Arthur L., 502
Comfort, 538
Percy C., 523
Silvis, Mary, 529
Simmon, Ammon G., 564
Simmons
Clifford H., 535
E. Martha, 553
Katie, 534
Simon, 524
Aaron F.,, 524
Aaron F., Jr., 524
Catharine E., 104
Charles C., 527
Charles F., 541
Chas. R., 517
Chas. W., 504, 522
Edwin, 525
Emma, 505
Emma H., 543
H., 509
Harry, 509
Herman, 489
John, 558
John C., 554
John Miller, 507
Kate, 511
Katharine A. Fair, 511
Lillie E., 550
Minnie, 523
Sallie A., 566
Virginia May, 519
Wilhelmina, 523
Simons
Clara A., 518
Clifford H., 535
Eva M., 533
Floyd B., 552
George F., 539
James, 532
Kate, 534
Simpson, Elwood L., 562
Sindel
Emma, 525
Reuben S., 561
son, 501
Sink
Blanche, 493
Emiily E., 550
Harry, 496
Henry, 553
Lillie, 505
Sinking Spring Cemetery, 59
Sipe
infant, 543
Raymond, Jr., 543
Sippel, Mary, 540
Sittaro, James J., 541
Sittner
Edward R., 534
Emma A., 553
Robert E., 534
Sitzer, Warren J., 567
Skean, Bertha, 486
Skila, infant, 542
Sleatt, Susan, 515
Slegel, Sally S., 496
Slichter
Augustus, 529
B. Frank, 544
Benjamin F., 544
Catherine, 546
Hannah, 540
Katie C., 546
Lillian, 493
William H., 562
Slider
Bertha, 543
Bertha F., 543
Edward H., 548
Sarah S., 547
William, 551
Slonaker, George, 523
Slough
Emma, 546
Morris L., 524
Smale
Clara N., 565
Daniel N., 537
Ella, 551
Mary Ann, 501
Wm. B., 486
Smalfus, Charles A., 552
Small
Annie Y., 567
Daniel N., 537
Delilah, 538
Emma M., 562
John C., 559
Ralph E., 517
Ralph Emerson, 517
Smeck
Alexander, 543
Alfred H., 504
Alice E., 512
Alice R., 512
Amelia, 550
Carolina M., 546
Caroline M., 546
Carrie, 514
Charles E., 562
Charles M., 559
Chas. W., 506
Daniel, 486
Elizabeth, 563
Elizabeth H., 563
Elsie May, 513
Ephraim, 524
Ephraim M., 524
Frank, 489
Franklin, 489
Franklin R., 559
Geraldine F., 500
Hannah, 504
Harry, 546, 553
Harry M., 546
Henry, 489
James M., 544
James W., 561
Jane, 489
John F., 534
Lulu, 493
Margaret E., 530
Reuben, 509
Rosa, 535
Rose E., 535
Sallie, 559
son of William, 518
Stella, 487
William, 518
Wm., 502
Smehl, Wm., 502
Smeitzer, infant, 537
Smith, 489, 493, 507, 526, 531
Adam, 503
Albert, 507
Alice A., 556
Amanda, 513
Amanda Katenmoyer, 511
Anna A., 524
Anna L., 503
Annie, 503, 529
Annie A., 511
Annie F., 549
Annie M., 529, 541, 558
August, 493
Augustus, 493
Bertha M., 558
Bessie, 555
Bessie H., 517
Bessie L., 555
Bessie V. Z., 564
Carl L., 523
Caroline, 534
Carrie, 535
Catharine, 536
Catherine, 536
Charles E., 561
Charles H., 555
Chas., 491
Chas. P., 505
child of Samuel, 526
Clara, 501
Clyde, 529
Constance J., 514
Cordelia A., 526
Cordilia A., 526
Daisy A., 507
Daniel, 496
Daniel M., 549
David, 495
David J., 511
Dorothy A., 533
Edith, 489
Edith Lavinia, 489
Edward P., 541
Edwin S., 538
Ella E., 559
Ellen S., 509
Emily R., 495
Emma, 548
Emma J., 522
Emma M., 568
Esmerelda L., 550
Eva E., 549
Francis D., 554
Frank D., 528
Franklin D., 528
Frederick, 514
Frederick C., 557
Frederick K., 557
Geo., 489
Geo. W., 489
George E., 554
Gertie, 508
Gertrude A., 562
Hannah, 494
Harry, 539
Harry E., 556
Harry W., 556
Helen G., 513
Helena, 523
Henry B., 530
Henry W., 516
Howard H., 487
infant, 547
infant female, 556
Jacob, 539, 555
Jeremiah A., 561
John, 544, 546
John A., 523, 552
John D., 530, 557
John D., Jr., 562
John F., 525
John J., 525
John Jas., 495
John W., 508, 546
Katie, 348
Leo F., 559
Leroy, 525
Lillie, 490, 491
Louisa M., 561
Margaret J., 517
Martha, 489
Mary, 487
Mary A., 526, 536
Mary Alice, 564
Mary C., 544
Mary E., 556
Mary Irene, 567
May I., 512
Michael, 496
Miranda G., 533
Nancy S., 537
Nellie E., 567
Paul E., 564
Paul S., 531
Pauline, 539
Peter, 530
Raymond F., 515
Rebecca, 561
Robert Lee, 565
Ruth V., 564
Samuel, 526
Samuel R., 560
Sarah, 492
Sarah J., 492, 512
son, 505
Spencer O., 559
Vera, 529
Vera M., 529
W. Frederick, 492
Walter, 558
Walter C., 526
William, 537, 555, 561
William A., 549, 566
William C., 549
William H., 567
William Henry, 567
Wm., 487
Wm. F., 492
Snavel
Eli, 489
John, 505
Snavely, 486
Snell, Mary, 505
Snivel, Sophia, 495
Snovel, Sophia, 495
Snovil
Annie, 528
Emma, 528
Snyder, 506, 507, 521, 531
Aneete Lucy, 545
Annette Lucy, 545
Annie, 62
Annie C., 519, 525
August O., 507
Augustus M., 558
Augustus O., 507
Calvin, 492
Calvin B., 492
Charles Thomas, 513
Chas., 496
Chas. W., 535
child of Henry E., 521
Daniel P., 489
David, 486
Earl, 536
Earl C., 528
Edna M., 516
Edward H., 494
Edwin Ulysses, 507
Elizabeth, 506, 513
Elsie May, 505
Emaline, 527
Emma, 500
Emma R., 500
Erma I., 551
Estella G., 567
Florence E., 547
Frank, 506
Hannah, 502, 506
Harriet, 514
Harriet S., 514
Harry, 492
Harry A., 490
Hennrietta B. M., 522
Henrietta, 522
Henry E., 521
Herman, 502
Howard H., 567
Howard H., Sr., 567
Howard M., 516
Ida E., 513
infant of Luke, 505
J. M., 504
Jennie, 537
John, 502, 532
John A., 552
John H., 506, 543
John L., 530, 561
John M., 493, 542
Lillie, 487
Lillie May, 487
Lottie, 525
Luke, 505
Mame, 493
Marguerite, 541
Marion, 504
Mary, 503, 505, 538
Mary E., 517, 551
Mathias, 504
Matthias, 504
Mildred, 525
Orlando, 537
Percy, 495
Percy B., 529
Rebecca S., 553
Robert P., 546
Robert R., 566
Robert Raymond, 566
Rosa F., 540
Rose E., 541
Rosie, 541
Sabilla, 528
Sarah, 546
Sarah B., 515
Sarah Benson, 515
Stella, 520
Stockton, 513
Stockton S., 513
Theodore, 487
Thomas, 500
William, 531
William W., 531
Willmina H., 554
Wilson, 507
Wm., 489, 492
Wm. A., 510
Wm. D., 510
Soder, 525
child of John, 525
Christianna, 558
Christine, 558
Elizabeth A., 546
John, 525
William F., 558
Sohlabach, Ezra, 563
Sollers, Edward, 503
Sommers, Mary B., 516
Sonan, Catherine, 505
Sonnan, infant, 542
Sonon
Catherine, 505
Florence E., 561
Souder
Catherine, 491
Charles E., 532
Charles H., 532
Clara K. A., 566
Edward, 508
Emma, 552
Souders
Ann, 556
Anna M., 556
Christie, 567
Edward, 508
Elizabeth, 525
Elizabeth C., 525
Ellan J., 562
Ethel M., 527
Howard P., 527
John, 528
John C., 549
John J., 568
John S., 528
Mary E., 521
Thelma E., 533
William A., 568
Souillard
Emma M., 556
Martin, 528
Soulliard
Arthur, 540
Arthur E., 540
Souslin, Ellen, 509
Southley, Ellen, 509
Sowa, baby boy, 566
Spang
Henry W., 537
infant, 543
Pauline C., 532
Sarah W., 562
William H., 553
Spangler, 487
Adam J., 548
Albert I., 106
Alberta I., 529
Annie, 521
Annie C., 512
child of Wm. E., 516
Edgar W., 527
Elizabeth, 487
Ellen M., 554
Freda F., 549
Harry, 501, 516, 529
Harry A., 501, 557
Harry E., 528
Helen O., 525
Helen V., 525
Howard, 489
infant, 539
John Clarence, 552
Leroy E., 507
Maggie, 513, 533
Mary A., 491
Mrs., 491
Oliver, 541
Oliver N., 541
Rose, 555
Sadie, 544
Susan, 542
Susan M., 508
William A., 537
Wm. E., 515, 516
Spartz, Carolyn F. E., 543
Spatts, Augustus, 505
Spatz
Adam J., 510
John, 510
Mary, 505
Regina, 504
Sallie, 525
Sarah, 525
Wm. H., 490
Spayd, 531
Charles E., 565
Esther M., 511
Leonard, 549
Sallie, 512
Sarah, 489
Spear
Ida M., 549
Ida May, 549
Spearce, Ida M., 503
Spears, 489
Charles Alexander, 489
Cyrus, 489, 514
Cyrus G., 514
Edward, 501
Edward G., 501
Emily Catharine, 489
Ida M., 503, 512
Julia A., 516
Julia Anna, 516
Mary R., 513
Speedy
Hannah, 560
Hannah W., 560
William A., 541
Speise, Katie Rhein, 512
Spengle, Elisabeth, 487
Spengler
Kathryn F., 564
Kathryn P., 564
Sperry, Barbara, 501
Spies, George, 528
Spiese, Katie, 512
Spiker, Bessie, 558
Spink, Mary Ann, 490
Spitler, Adam, 494
Spittle, Mary L., 534
Spohn
Arthur, 491
Christina, 560
Christina C., 560
Ella Welder, 557
Ellen, 557
Ellen C., 522
James E., 559
John, 546
John Y., 494
Kathryn, 539
Lewis L., 542
Miriam A., 527
Rosa E., 555
Sarah, 493
Spotts
Augustus F., 505
Edward, 557
Edward E., 565
Florence M., 516
Margaret L., 563
Raymond J., 526
Regina, 504
Sprecher
Chas., 493
E. I., 489
Edwin, 493
Ida M., 556
Jesse, 527
Jesse B., 516
Jesse W., 516
Jessie M., 527
Rosa C., 547
Willard, 493
Williard, 492
Williard S., 492
Springer
Arthur, 526
Ernest, 525
Ernst J., 525
Josiah S., 543
Lizzie M., 524
Margaret, 545
Sproesser, Minerva E., 526
Spuhler
Adam, 494
Daisy R., 551
Ida, 525
William H., 558
Squibb, Oliver, 517
Squint
Ida, 550
Mildred E., 513
Mildred I., 513
Walter S., 534
William, 539
Stable
Caroline, 540
Frederick, 511
Frederick A., 511
Gottlieb, 539
Stacey
Lillie, 503
Wm., 503
Stackhouse, infant, 560
Stader, William, Prof., 493
Stafford
John B., 557
John S., 557
Nellie F., 564
Stahlnecker
J. H., Mrs., 515
Missouri, 511
William H., 527
Stahman, Henry, 517
Stahr
Elizabeth, 518
Fred. J., 529
Frederick J., 529
George W., 547
Mary A., 529
Sallie V., 565
Samuel A., 528
Stalnecker
Anna, 501
Elizabeth E., 544
Geroge H., 555
Harry F., 550
Harry S., 550
John, 495
John H., 526
John R., 514
Maud, 492
Messura, 511
Rebecca, 515
Robert, 492
Theodore, 500
William H., 527
Wm. H., 486
Stam, Katie, 486
Stamm
Annie S., 531
Augusta, 530
Ella E., 517
Ferne D., 516
infant, 542
J., 534
James E., 514
John H., 536
John M., 546
Kate Irene, 487
Katie, 487
Martin, 495, 515
Martin L., 519
Susan A., 546
Viola, 526
Stanley
Fannie, 523
Mary E., 511
Thomas W., 546
Unity, 543
William, 517, 545
Stanton, Anna, 502
Stanwood
Chas., 501
infant, 501
Stark
Albert F., 539
Bertha A., 493
George J., 552
John G., 513
Lizzie M., 537
Mary E., 537, 563
Mary M., 514
Starnure, 534
Staub
Adam, 496
Florence V., 523
Geo., 492
Geo. K., 490
George, 537
infant, 550
John R., 515
Mary, 518
Wm. D., 505
Staudt
Adam A., 535
Bertha M., 557
Fay Laura, 536
Stauffer, 507
Anna May, 524
Emma D., 164
H. Winters, 565
Heber, 514
Heber James, 514
Helen B., 563
J. W., 494
Mary M., 534
Mr., 493
Ora May, 524
Sadie, 544
Sadie V., 544
Wm., 487
Stauttler, Irvin, 560
Steckline, Alice M., 506
Steel
Ella May, 539
Harry J., 553
Winfield J., 548
Steeley
Anna, 545
Annie, 545
Esther M., 529
Katie E., 523
Steely
Charles F., 565
Esther M., 529
Floyd F., 568
Katie E., 523
Laura M., 521
Steen, Hilda, 525
Steer, William C., 533
Steffe
Albert, 527
Paul S., 517
Steffey, Charles W., 531
Steffy
Albert, 527
Dorotthy, 545
Elizabeth, 561
Lillian B., 567
Lizzie, 561
Paul S., 517
Samuel L., 551
Stehlman
Robert I., 530
Robert J., 530
Stehman
Alberta C., 555
Dorothy M., 518
Emma L., 552
Henry F., 526
Howard E. H., 560
Mary E., 544
Minnie, 540
Nora E., 621
Wendell E., 554
Steiff, William Henry, 564
Steiger
Cahterine, 503
Catherine D., 505
Henrietta, 519
Ida, 495
John, 487, 502, 515
John L., 515
John W., 553
John William, 553
Samuel, Mrs., 505
Samuel S., 513
Steigerwald
Alfred, 528
Amanda, 512
Caroline, 521
Harry T., 533
Hiram F., 530
Irvin E., 538
Lewis, 534
Louis, 534
Pearl, 508
Stewart, 520
Stewart W., 520
Steigerwalt
Affred G. W., 528
Anna, 541
Annie M., 541
Hiram F., 530
John, 502
John B., 502
Mary E., 562
T. Harry, 533
Stein
Carrie E., 540
Claud J., 528
Claude J., 528
Emma L., 547
William A., 552
Steiner, Barbara Diane, 567
Steinmetz
Anthony W., 527
Charles M., 524
John D., 558
Mary E., 524
Steiwald, Amanda, 512
Steling, William, 528
Stepehnson, Harry F., 537
Stephan
Calvin A., 534
Catherine, 503
Harry, 544
Stephen, Calvin, 534
Stephens, Elizabeth, 550
Stephenson
Albert LeRoy, 544
Blanche, 531
Sarah, 548
Sarah E., 548
William I., 561
Stepner, 526
Steppacher
Mamie, 518
Mamie H., 518
Walter, 519
Sterling
Anita, 528
Benjamin, 536
Catharine, 553
Catherine, 553
Dorothy, 539
Edward, 519
Elizabeth C., 554
Ethel E., 531
Harry, 526
Harry H., 526
Kenneth, 542
Quentin D., 568
Raymond, 543
Robert L., 529
Robert R., 565
William L., 549
Wm. H., 514
Stern, Harry, 507
Sterner, 526
Earl N., 518
Edgar C., 531
Edgar T., 531
Elizabeth R., 548
M. LeRoy, 501
Mark, 501
William H., 547
Wm. C., 496
Sterns, Mary, 501
Sterrett, Mary, 491
Steubner
Chas., 512
Geo., 520
Lewis W., 511
Violet J., 542
Steve
Catharine, 504
Catherine, 504
Elizabeth, 520
Harrison, 511
Kittie, 502
Mary C., 565
Peter H., 518
Peter H., Mrs., 515
Richard H., 564
Sallie J., 513, 515
William A., 554
Stevens, 496, 520
Catherine, 503
Elizabeth, 550
Rosa C., 530
William, 557
Stewart
C. T., 532
Thomas, 532
Stichter
Alfred, 490, 500
Alfred J., 490
Alice K., 544
Augustus, 529
Daniel J., 559
Edward, 491
Edward Garfield, 491
Frank B., 566
Minnie M., 550
Sallie R., 449
Samuel J., 558
Sarah, 541
Timothy, 568
Stief
John, 491
Lydia, 496
Stieff
Elias R., 513
Elsie, 567
Howard, 553
Kate, 530
Kate B., 530
Sarah, 513
Sarah Y., 556
William H., 526, 553, 564
Stiegerwalt, Anna B., 541
Stiely
Edna E., 528
Margaret B., 555
Stiffert, Isaac, 502
Stitzel
Sarah A., 534
Sarah M., 534
Stitzer
Anna H., 557
Katharine A., 533
Kathryn, 533
Stitzman, Catharine L., 527
Stock
George, 557
Minerva, 487
Stone, John A., 542
Stoner, 520
Alameran H., 545
Almaren, H., 545
Catharine, 544
Eugene H., 536
Ida M., 519
Kathryn, 544
Stong, Anna M., 565
Stortz
Arthur, 489
Catherine, 515
Clarie M., 560
Jacob F., 564
Katherine A., 515
Stott
Ann, 489
Calvin R., 517
Florence Mae, 261
Harry, 508, 564
Harry E., 564
Hattie B., 567
Henry G., 565
Henry J., 508
Howard P., 543
Jeremiah, 507
Marilyan M., 528
Rosa A., 563
Rosanna M., 563
William L., 565
Stoudt, 527
Adam A., 535
Frank I., 540
Geo. W., 514
infant, 541
Isaac B., 562
John M., 534
John Martin, 534
Lydia, 527
Paul W., 519
Sarah B., 548
William, 542, 562
Stough, Morris T., 524
Stout
Chas. E., 507
Emma, 491
Geo. W., 514
Joseph H., 537
Laura, 551
Laura H., 551
Lillie, 527
Margaret, 542
Mary A., 519
Mary Emma, 491
Mrs., 489
R. D., 509
Reuben A., 510
Reuben D., 509
Sarah V., 548
William F., 546
William S., 546
Stover
Elmer, 549
Eugene H., 536
Hannah, 531
Harry, 520
Ida M., 519
Noah, 508
Strack, Levi, 508
Straub
Albert, 532
Annie, 486
Blanche, 515
Christian, 487
Clarence, 530
Dolores, 551
Dolores May, 551
Elizabeth M., 558
Florence, 535
Florence V., 523
Florentine, 550
Florentine F., 550
Florentine H., 523, 535
Geo. K., 490
George, 504
Harry, 559
Harry D., 557
Ida R., 518
John R., 515
M., 489
Mary E., 550, 558
Sarah, 546
Sarah A., 546
Susan, 549
Susan R., 549
Tillie A., 528
William, 533
Strause, 527
Cyrus, 533
Elfena A., 566
Emanuel W., 531
Franklin, 486
Isabel, 535
Jared W., 513
Jean S., 544
Strauss
Charles J., 546
Emanuel W., 531
Flora J., 528
Geo. F., 520
Strausser
Alfred J., 567
Anna D., 562
Edwin E., 568
Howard, 550
Irene, 514
Strawbridge, 531
Clyde J., 537
Clyde James, 537
Strickler
Catherine A., 562
John, 543
John M., 543
Kenneth, 520
Striswel, Thos., 491
Strock
Charles R., 564
David, 487
Eliza, 536
Emma J., 548
Levi, 508
William, 529, 568
Strodach
Aron, 490
Catherine, 514
Ernest, 511
Ernst, 511
Henry, 517
Lydia, 489
Strohdach, Henry, 517
Strong, Anna M., 565
Stroudt, Harry, 537
Strouse, 527
Cyrus W., 533
Edward E., 564
Edwin E., 564
Geo. F., 520
George D., 559
Isabella, 535
Sarah A., 545
William H., 564
Struben
Ella E., 491
James, 489
Mrs., 495
Strubing
James W., 528
Minnie, 489
Mrs., 495
Sarah, 491
Strump, Henry W., 562
Strumpp, Henry W., 562
Strunk
Arthur A., 553
Arthur E., 553
Bessie, 489
C. Irvin, 528
Catharine, 564
Catherine, 486
Charles I., 528
D L., 490
Daniel L., 510
Edwin R., 524
Elisabeth, 489
Ellen, 492
Elmer D., 566
Elmer E., 492
Emma L., 562
Emma Louisa, 562
Geo. O., 512
Harry, 520
Harry T., 520
Howard, 505
Ida K., 546
infant male, 556
James, 501
John J., 542
Kate, 530
Laura, 486
Lawrence, 508
Mary, 486, 532
Michael, 501
Rebecca, 510
Rebecca I., 510
Sarah Ann, 503
Susan Moyer, 486
William H., 534
William L., 524
William P., 527
William T., 527
Strup, 506
Stuart
Charles J., 542
Christine C., 560
Stubblebine, 508
John L., 550
Jonathan, 550
Mary, 510
Naomi, 522
Stuben
Ellen, 491
Sarah, 491
Stuber
Augustus, 503
Augustus J., 503
Barbara, Mrs., 489
Catherine, 519
Catherine R., 519
Charles M., 535
Elizabeth, 506, 545
Elsie, 541
Henry, 539
Irvin E., 541
Jackson L., 533
Jacob, 496, 535
Jacob K., 539
John, 500
John A., 500
Laura, 491
Laura S., 491
Lillie, 492
Lizzie, 545
Matilda E., 492
Missouri, 566
Mrs., 489
Philip C., 542
Raymond, 532
Raymond H., 532
Sophia, 542
Violet J., 542
William, 547
Stucker, infant, 541
Stuebner
Chas., 512
Frances, 516
Geo., 520
Lewis W., 511
Stuffert, Lincoln H., 516
Stufflet
Angeline, 525
George D., 562
infant, 541
Isaac, 502
Lincoln H., 513
Sadie, 536
Tilda Dorothy, 507
Stump, 508
Annie M., 564
Carl E., 507
Henrietta, 507
Henry L., 549
June Margaret, 543
Matthias, 486, 489
Paul John, 507
Wayne J., 568
Wayne Jacob, 568
William, 509
Wm., Mrs., 507
Stumpp
Anna C., 555
Charles A., 559
Flora, 508
Helen, 504
Karl E., 507
Paul John, 507
Sturgeon, Mary Emily, 544
Stutzman
Byron, 511
Carrie, 509
Styer, Ida, 495
Suel, Alma, 190
Suiter, Percy, 496
Sulkis, Lottie Roma, 519
Sultis, Charlotte R., 519
Summers
Charles S., 542
Chas., 520
Chas. H., 520
George H., 551
Mary B., 516
Suttel, Mary, 508
Sutter
Emma H., 510
Ida, 380
John, 566
Leonard F., 512
Louise E., 537
Mary Ada, 508
William, 552
William B., 552
Swarmer, James C., 556
Swartz
Clara, 514
Dorothy, 518
Elizabeth, 553
Henry, 516
Maranda, 509
Pearson S., 522
Pierson, 522
Wm. H., Jr., 515
Swavely, 487
Anna Florence, 563
Anna M., 547
Cora R., 547
Daniel H., 524
Daniel L., 562
Daniel, Mrs., 509
Edna, 504
Emma, 509
Esther, 511
Florence, 627
Florence A., 563
Hannah, 508
Harold J., 521
Harry F., 521
Helen Ruth, 550
Ida A., 521
Irvin, 542
Irwin, 490
Jacob, 502
Jacob F., 538
Jacob T., 502
Jeremiah L., 557
Joanne Gertrude, 546
John L., 503
Leroy H., 503
Lester L., 564
Magdalene, 486
Mildred H., 536
Paul Henry, 510
Rebecca C., 519
Sallie, 529
Walter, 560
Warren, 524
Zacharias, 512
Swearer, John, 522
Sweesey
Catherine J., 536
John H., 540
Sweezey, Catharine J., 536
Sweiger, Elisabeth, 503
Sweimler, 503
Calvin, 538
Edna May, 514
Francis A., 517
Frank, 518
Frank R., 518
Franklin, 518
Geo. W., 516
Mary, 503
Richard E., 540
Sarah, 547
Sweimley, Mary, 492
Sweinhart
Jessie, 540
Jessie S., 540
Sweitzer
Annie L., 565
Chas., 507
Jane, 496
Robert J., 533
Vernon E., 525
Swezey
Benjamin, 486
Emma, 486
Swisher
Elma G., 528
Emma, 556
Harry G., 566
William B., 529
Swoards
Andrew T., 522
Dorothy, 518
Lillian S., 521
Rosanna, 514
Swords
Gertrude, 567
Lillian S., 521
Rebecca, 536
Swoyer
Hazel E., 526
Jennie, 509
Jennie R., 509
Reeser, D., 567
Richard W., 536
Saloma I., 529
Salome, 529
Thomas T., 519
William, 556
William B., 556
Sychterz, Michael Lee, 557
Talbert, Alice, 570
Talbot, 571
Alice, 570
Grace B., 572
Helena M., 575
M. Helena, 575
Mildred E., 572
Paul, 570
William P., 577
Taubitz
Anthony, 577
Francis, 575
Isabella I., 578
Taylor
Elsie I., 579
William H., 579
Teaal, John, 569
Teahl, Barbara, 573
Teal, John, 569
Teasdale
Elizabeth, 579
Eva May, 579
Samuel S., 578
Tegge, William, 574
Tellam
Amanda, 576
Amanda L., 576
Temple
Charles H., 577
Emily K., 579
Henry H., 577
Templin, Dolores May, 576
Tensley
James T., 572
William J., 572
Wm. J., 572
Terry
Elsie Reitz, 575
J. W., 580
J. William, 580
Tetherham, Lilah, 578
Texter, 569, 571
Bertha P., 580
child of John, 573
Daniel M., 572
Earl C., 572
Earl Clinton, 572
Hannah R., 573
Harold V., 572
Harriet, 576
Irwin, 569
James K., 573
John, 569, 571, 573
John Irwin, 569
John M., 577
John Nathan, 569
Nancy, 572
Nancy Whitney, 572
Peter, 569, 573
William, 578
Thiess
Joseph A., 579
Mary A., 577
Thirey, Oden F., 580
Thomas
Annie, 576
Annie L., 576
Chas. E., 570
Freida, 578
Frieda, 578
infant, 577
John W., 573
Marie S., 578
Mary, 571, 575
Michael, 578
William, 574
William J., 576
Thompson
Frank, 574
Franklin, 574
infant, 578
Thornberg
Charity, 573
Matilda, 571
Robert, 569
Thomas, 571
Thos., 570
Thornberger, Lulu, 570
Thornburg
A. G., 571
Arthur G., 571
Charity, 573
Louise, 579
Matilda, 571
Robert, 569
Robert S., 578
William C., 579
Thurlow
Fred, 569
Jos., 569
Tilson, Margaret, 634
Tinsley
Alice, 573
James P., 571
Lillie, 573
Robert S., 576
Tippit, Robert, 569
Titlow
Edwin B., 572
Ida M., 573
John H., 569
Mary N., 574
Titus, Esther, 570
Tobias
Ada L., 575
Alfred M., 579
Emma, 579
Emma R., 579
Frederick M., 579
June, 575
Margaret, 572
Ruth L., 574
Todd
infant, 578
Sallie A., 578
Samuel K., 579
Tokach, Michael, 574
Tomlinson
Emily J., 576
Lewis K., 576
N. Robert, 574
U. Robert, 574
Tomney
Amelia M., 573
Cyrus L., 579
John N., 572
Margaret M., 574
Philip, 570
Tompkins
Hannah L., 575
Howard E., 574
Jerome B., 577
Ruth, 571
Tonkin
Edith M., 574
Edith Miller, 574
Toole
Edna May, 580
George V., 579
James G., 577, 580
James G., Jr., 577
Tothero, Susan, 570
Totheroh, Wm. H., 575
Townsend
May, 577
Norman J., 579
Rose, 573
Trace
Ellsworth, 576
Franklin G., 575
Mary, 579
Reuben, 570
Sarah Ann, 570
Tracey, Louisa, 574
Trate
Howard, 579
infant, 575
Lydia A., 576
Paul, 576
Paul J., 576
Trausue
Mary J., 575
May J., 160
Trayer
James, 572
Mary Ann, 95, 570
Samuel, 156, 573
Wm., 571
Trechsel
Anna K., 571
Gotlieb, 572
Gottlieb, 572
Lizzie, 571
Mary B., 570
Trego
Jon E., 572
Percy C., 571
Treotle, Susan, Mrs., 570
Tressel, John, 577
Trestle, Mrs., 570
Trexel, Lillie M., 570
Trexler, Lillie M., 570
Trievel, Florence M., 578
Triner, Irene M., 157, 574
Trinity Cemetery, 83
Triveiets, Adam, 572
Trivel, Elizabeth, 636
Trivets, Eugene R., 577
Trivetts
Camilla, 570
Emma, 576
L, Mrs., 571
William, 574
Triviets
Adam, 570, 572
David, 578
John, 574
Letitia, Mrs., 571
Trivietts, William, 574
Trivits
Alice, 570
Camilla, 570
Emanuel, 574
Maggie, 569
Trivitts
Adam, 570
Benjamin, 570
David, 578
Emanuel, 570, 574, 576
Emma, 576
John, 574
Katie, 570
Troatle, 574
Troop
Charles, 575
David, 572
Gordon L., 569
Mary, 569, 571
Roy, 573
Theodore, 575
Wm. H., 572
Trostle, 574
Troup
Catherine, 573
Mary, Mrs., 570
Mrs., 570
Theodore, 569, 575
William, 569
Trout
Annie R., 577
Carrie L., 483, 580
Catharine A., 580
Catherine H., 580
child of Heber J., 572
Daniel, 569
Daniel G., 570
Earl W., 580
Earl Winfield, 580
Elsie M., 571
Harry F., 579
Harvey K., 577
Harvey L., 577
Heber J., 572, 580
Hiram M., 574
Irvin D., 569
Irwin, 569
J. Franklin, 569
James, 576
Janet Grace, 576
Jarris, 572
Jarus A., 572
Jeanette C., 576
Kate M., 573
Laura K., 576
Pual S., 571
Rosie, 577
Sara, 575
Sarah A., 575
Viola, 573
Warren W., 573
William, 573
William E., 578
William F., 575
Troutman
John T., 580
Maggie, 571
Troxel
Chas. A., 572
Chester N., 571
Elsie L., 579
John A., 572
John Q. A., 572
Jos., 569
Katharine, 578
Katherine, 578
Levi S., 572
Lizzie, 571
Morris, 573
Mossis V., 573
Priscilla, 572
Rosa E., 571
Rose E., 571
Troxell, 569
Chas. A., 572
Chester L., 571
Elizabeth, 573
Henry, 569
Levi, 569
Mrs., 570
Priscilla, 572
Rebecca E., Mrs., 570
Sarah, 569
Walter W., 580
Trumbauer, Thelma, 573
Trumbore, 574
Amos R., 577
Andrew H., 573, 575, 580
Andrew M., 573
Anna D., 574
C. Louisa, 574
Christine L. H., 574
Harry J., 578
Henry, 571
Henry E., 577
John, 578
Thelma, 573
Trump
Elisabeth, 570
Elizabeth, 570
Floranda, 572
Henry, 570
Peter, 574
Reden, 572
Reeden, 572
Urias, 571
Turczynski
John, 577
John D., 577
Turner
Alfred, 575
Chas. H., 573
Chas. J., 575
Earl, 576
Edna G., 572
Eleanor R., 574
Elenor R., 574
Fannie E., Mrs., 574
Geo., 569
John, 576
June M., 575
Lucy, 577
Paul, 577
Raymond, 570
Ruth, 574
Sallie, 573
Sarah R., 198
Tyler, Clarence, 570
Tyson, 571
Harry J., 575
Henry E., 573
James M., 575
James R., 569
James W., 575
Minnie A., 578
Ubel, 582, 583
Raymond, 584
Ubil, 582, 583
Amanda, 581
Bessie, 581
Carl E., 584
Caroline, 584
Celia, 581
child of David, 581
David, 581
Ellen E., 584
Emma, 581
Geo. W., 581
Howard, 584
James G., 582, 583
James R., 585
Jennie May, 581
Joseph, 582, 583
Laura May, 464
Mary, 581
Ray R., 585
Sally, 581
William B., 585
Ucky, Hiram, 581
Ulle, August J., 585
Ullmer
Mr., 581
Mrs., 581
Susan, 581
Ulmer, 582, 583
Anna M., 584
Anna R., 582, 583
Carolina, 581
Daniel, 581
Geo. M., 581
Harriet, 581
Henrietta, 581
Howard, 581
Jacob, 582, 583
John J., 581, 584
S. Della, 584
Sarah D., 584
Susan Anna, 581
Violet, 581
Violet A., 581
William, 585
Wm. J., 581
Ulrich
Adam, 582, 583
Annie R., 585
Elizabeth, 584
Laura, 14
Samuel M., 581
Sarah, 581
Susan, 582, 583
Unger
Adam L., 584
B. Herbert, 584
Erma Pearl, 582, 583
Esther M., 584
Herbert, 584
Ida May, 584
Unnamed, 581
Unnamed child, 584
Uxley
Chas. F., 581
Ida, 584
Samuel F., 585
Wm. L., 581
Wm. L., Jr., 581
Valentine
Hannah, 586
Harry, 586
Winfield Scott, 587
Van Reed, 586, 587
Edith, 588
Emma M., 587
Ethel M., 586
Geo. H., 586
Henry W., 588
Levi R., 586
Mary, 586
Mary B., 588
Mary Beulah, 588
Ruth B., 586
T. Maria, 586
Tamson M., 586
Van Sickle
Clarence W., 586
Morris R., 586
VanArsdale, George, 587
Vanarsdale
Florence, 587
Leah F., 587
VanBuskirk
Abraham, 588
Maria, 586
Vanbuskirk
Emma J., 586
Emma V., 586
VanKerk, Susan, 587
VanKirk
Paul, 587
Ruth E., 588
Susan, 587
Vankirk, Edna S., 586
VanReed
Geo. H., 586
Howard I., 588
James W., 587
Walter L., 587
VanSickle, Paul, 588
Vansickle, Lena M., 588
Vanstaten, Helen, 586
Veiver, Lydia, 599
Velker, Catharine, 587
Verker
Katie, 587
Walter S., 588
Vickery
Charles M., 588
Esther, 586
George D., 587
Hiram, 581
Hiram R., 586
Ruth A., 586
Viering, F. W., 586
Vloatgraven, Bertha, 586
Vogel
Christian E., 586
Josephine, 588
Paul P., 588
Volker, Arthur Gorr, 588
Vollman, Virginia E., 587
Vollmar, Virginia E., 587
Voltz
Eugenia, 587
Leonard, 588
Von Neida, Kate L., 588
Von Nieda
Kate Levan, 588
Russell, 586
Von Staten, Helen, 586
Von Stavoren, Helen Rutz, 586
VonNeida
Emma J., 587
Emma L., 588
J. Wesley, 588
Paul, 586
Robert F., 587
Ruth E., 587
Sadie S., 587
Sarah S., 587
VonNieda, Paul, 586
Vonwartz, Geo., 586
Wade
Annie E., 621
Christiana, 619
Geo., 602
George, 614
Wagner
Anna F., 621
C. Mabel, 616
Catharine E. M., 618
Chas. W., 590
Edith M., 624
Emma, 606
Francis, 594
Geo. E., 598
George W., 607
Harry C., 610
Helen K., 595
Helen R., 595
Isaac, 607
James F., 600
Kathryn, 618
Mabel C., 616
Mahlon H., 616
Malinda, 605
Martha L., 607
Martha W., 607
Paul, 612
R. Kenneth, 608
Raymond H., 626
Rosanna, 610
Sallie M., 600
Samuel I., 617
Samuel J., 617
Sara I., 608
Sarah J., 608
William, 613
William H., 621
Wagonhurst
T., 599
Theophius R., 599
Wahl
Antionette A., 623
Ethel V., 610
Eugenia Mary, 625
John, 613
Margaret, 611
Margaret Alice, 363, 598
Sarah A., 605
William H., 617, 625
Wahlen, Naomi, 604
Waid, Harry E., 614
Wails
Anna L., 624
Anna L. McCoy, 624
David W., 619
Waissner, infant, 614
Walb
Laura A., 621
Wm. F., 593
Walder, Raymond A., 621
Waldman
Catharine, 598
Catherine, 593
Charles F., 605
Geo., 603
Gussie, 475, 618
Gussie Rehr, 618
Harry E., 615
John W., 625
M. Cora, 614
Maximillian, 599
Philip, 589, 591, 598
William B., 615
Walk
Albert J., 618
Benjamin, 602
Benjamin F., 602
Martha Ellen, 592
Mary Ann, 607
Wm. P., 594
Walke, Albert, 618
Walker
Harold, 608
John W., 614
Lifia W., 617
Lisa W., 617
Perkin, 603
Purkin, 603
Samuel W., 598
Wm., 592
Walks
Laurence I., 600
Laurence Irvin, 600
Wm. P., 594
Wall, Wm., 593
Walleisa, Harry I., 606
Walsh
Catharine, 604
Gene Rodney, 617
infant male, 621
Joseph T., Pvt., 622
Walter
Albert, 590
David, 600
James, 589
Walters, 609
Albert, 592
Alice H., 615
Annie M., 603
Catharine, 590
Catherine, 590
David, 600
Eddie, 590
Eddie Davis, 590
Geneva M., 601
Helen A., 614
Henry L., 603
Howard, 591
James, 589
Janet Louise, 618
John, 609
John A., 609
Jos. C., 603
M. G., 608
Marie, 91
Mary E., 601
William J., 607
Wm., 589, 591, 592
Wm. H., 589
Waltman
Catherine, 593, 598
Elizabeth, 613
infant, 613
Jacob, 617
Philip, 589, 591, 598
Wan, George, 610
Wanamaker, 597, 598
child, 597
Emma J., 626
Emma R., 604
George, 614
James B., 627
James W., 608
Llewellyn A., 618
Minie E., 618
Sarah, 597
W., 590
Well., 591
Wellington, 618
Wangmer, Edith M., 624
Wann
Anna M., 602
John, 594
John M., 611
Wannamaker, Emma R., 604
Wanner, 589
Carrie, 606
George, 612
Wanshop, Elmer R., 610
Wara, Betty Jane, 613
Ward
Bessie D., 626
James, 614
Waren
Catherine, 616
Isaac, 616
Warm, Anna M., 602
Warr, 592
Beatrice D., 611
Betty Jane, 613
Eliza Ann, 615
George, 610
George W., 627
Warrick
James, 589, 593
Lydia A., 608
Wassner, infant, 614
Waters
Albert, 592
David, 592
Franklin P., 592
Harry E., Jr., 625
Watson
Annie, 599
Mary E., 598
Watts
Benjamin F., 625
Brooke C., 608
Carl B., 622
Loraine J., 618
Waughtel, Jess C., 620
Waushop, Elmer, 610
Waynarowski, C. H., 606
Weaber
Frederica, 598
Fredericka, 598
Wealand
infant, 615
Kenneth, 618
Wean
Erma V., 627
Herbert E., 626
Weand
Anna E., 618
child of Henry B., 601
Henry, 595, 608
Henry B., 601
Henry J., 608
John E., 617
Judith, 608
Julia, 609
Julia A., 609
Katie I., 603
Levi, 614
Lydia, 593
Maggie, 597
Morris R., 626
Olive G., 627
Sarah A., 624
Stanley J., 626
Stanley J., Sr., 626
Wm., 597
Wm. H., 597
Weaver
Annie, 604
Caroline, 395
Chester D., 612
Elisabeth, 590
Harry, 596
Katie E., 607
Lucy R., 607
Lydia, 596
Mary, 610, 622
Mary Ann, 598
Mary C., 610
Richard G., 602
Richard Garfield, 602
Richard, Jr., 618
Sarah A., 608
William H., 621, 623
Webber
Frederic, 595
John, 589
Maggie E., 595
Webekind
Mary, 618
Matilda R., 605
Weber, 603
Agnes, 593
Amelia B., 607
Anthony, 613
Barbara E., 622
Bessie M., 624
Catharine, 593, 605
Catharine S., 605
Catherine, 593, 624
Charles A., 626
Charles A., Dr., 626
Chester A., 602, 626
Christian, 595
Claude F., 601
Daniel A., 625
E. C., 597
Edwin H., 597
Elizabeth, 616
Elizabeth E., 620
Emma M., 613
Emma S., 623
F., 600
Fidel, 600
George A., 609
Grace Helen, 617
Harry A., 620
Henry H., 620
infant, 619
John F., 627
John F., Jr., 627
Katherine, 619
Lewis C., 623
M. Agnes, 593
Maggie E., 595
Mary J., 619
Mina, 625
R. Elizabeth, 616
Rebecca C., 619
William F., 617
William S., 617
Weberkind
Augustus, 593
Mary, 618
Matilda R., 605
Peter, 593
Wechter
Antoinette R., 626
Dorothy, 598
Dorothy May, 598
Wegman, Emma, 627
Wehner
Alfred S., 609
Clara E., 619
Geo. I., 606
Geo. W., 606
George S., 625
Sallie K., 617
Sarah, 607
Sarah S., 607
Weiand
Catharine E., 609, 612
Catherine E., 612
Hattie E., 626
Henry J., 589
John R., 609
Sarah A., 624
Weiandt
Catharine, 609
Henry, 610
Weida
Daniel, 623
Daniel Z., 623
Louise N., 625
Weidenheimer
Hannah, 600
Richard, 610
William, 618
Weidenmyer, Louis, 616
Weidler
Annie, 620
Annie B., 620
Chas. H., 589
Emanuel, 609
Mary, 616
Weidman
Aaron, 593
Aaron R., 593
Adma A., 617
Annie R., 604
Mahala, 624
Mary, 591
Matilda, 598
Samuel O., 603
Weidmeyer
John, 615
Mary A., 612
Stewart, 600
Weidmyer, Mary A., 612
Weidner
Alice A., 347
Anna, 597
Annie, 590
Bessie, 597
C., 594
Catharine, 600
Catherine, 600
Clara D., 623
Daniel, 606
Daniel W., 606
Dorothy C., 625
Edgar LeRoy, 614
Eliz., Mrs., 591
Elizabeth, 596
Elva E., 621
Geo. M., 609
Geo. P., 398
Geo. S., 598
George D., 607
George P., 591, 594
Gideon W., 599
Hannah M., 605
Harry, 594, 603, 625
Harry G., 617
Harry J., 616, 618
Henry S., 603
infant, 611
Jacob Y., 592
James L., 615
John C., 593, 594
John R., 608, 624
Kathryn, 622
Leonard B., 616
Louisa E., 622
Martha, 597
Mary, 590, 605, 616
Mary Ann, 590
Mary E., 605
Mary Ellen, 622
Morris B., 614
Mrs., 591
Philip A., 597, 611
Renold G., 607
Sallie E., 609
Sarah, 595
Wellington, 600
Wellington B., 617
Wm. H., 589
Weihrer, William J., 620
Weil
Carl, 605
Catharine, 606
Eva F., 624
Eva Florence, 624
Henry, 611
Leah, 596
Oscar, 607
Oscar W., 607
Pauline, 606
Susan E., 595
Weiler, 591, 599, 600
Ada, 590
child of John and Louisa, 591
Daniel, 590
David, 604
Emma, 590, 591
Ida, 589, 590, 591
James, 596
John, 591, 612
John L., 599, 600
Katie Rapp, 596
Laura, 593
Leonard, 616
Louisa, 591, 600
Louise, 600
Martha, 615
Mary C., 618
Philip, 599, 600
Rosina, 605
Rosinia, 605
Samuel, 611
Sarah, 591
Weimer, Susan, 592
Weinhold
Albert W., 623
H. Helen, 610
Helen F., 610
William, 610
Weinland, 596
Weinsheimer, Isabella, 612
Weir
John C., 624
Lydia E., 620
Weis
Charlotte, 597
Harry, 622
Wm. H., 598
Weisbrod
Emma, 615
Jacob, 609
Weise
Ella, 621
Rosetta, 601
Weisenford, Donald Franklin, 612
Weiser
Catherine, 623
Clara, 593
Clara E., 593
Edna Mae, 625
Elmira R., 609
Elnora, 73
Helen, 595
Irvin G., 623
John, 609
John S., 624
Mary C., 622
Samuel H., 611
Susan, 596
Teresa, 595
Tracy, 595
Weiss
Charles, 607
Clifford L., 620
Harvey C., 623
Jefferson S., 599
John F., 621
Kenneth A., 610
Leona, 602
Lydia L., 626
Maggie, 620
Maggie T., 620
Weitzel, 593
Annie, 592
Florence, 613
Florence V., 613
Gertrude, 604
Henry, 592
Henry H., 620
infant daughter of Henry and Annie, 592
James, 594
Lulu A., 604
Marian, 604
Pearl V., 604
Robert H., 593
W. Ann, 623
Wm. A., 599
Welch
Laura A., 619
Samuel A., 620
Welder, 608
Amos F., 601
Amos R., 624
Cora, 621
Ella, 557
John A., 604
Mary A., 604
Raymond, 596
Weldy
Sadie E., 622
Sallie, 605
Sarah, 605
William, 601
William H., 617
William H., Jr., 617
Wm. H., 603
Welfly, John T., 604
Welleher, James W., 599
Weller, Grace, 607
Wells, 591
Anna C., 624
Annie S., 611
Catharine, 600
Catherine, 600
Christian, 589
Dorothy A., 600
Evan K., 609
Howard, 622
Ida, 590
Mary C., 592
Sarah, 341
Thomas, 621
Walter, 592
Walter E., 592
Welsh
Catharine H., 604
Mary E., 621
Wenrich
Adam, 600
Annie M., 606
Harry D., 623
Harvey O., 613
Kate, 612
Katharine, 612
Mary J., 603
Paul I., 605
Pearl, 605
Wm., 595
Wensel, Henry, 597
Wensheimer, Jacob, 602
Wentzel, 589, 591, 592, 595, 609
Agnes, 611
Agnes C., 611
Alberta S., 604
Alburtis, 604
Allen A., 613
Amanda, 604
Amanda H., 604
Amelia, 612, 618
Anna, 590, 592
Anna C., 606
Aug., Mrs., 593
Augustus, 603
Augustus L., 603
Barbara, 594
Barbara Ann, 618
Barry E., 594
Benjamin, 593
Besie Hoyer, 599
Carl W., 606
Carrie, 620
Cecelia D., 627
Cecilia D., 627
Charles, 591, 606
Clarence, 603
Clarence L., 613
Clarence W., 603
Cyrus S., 603
Daniel, 603
Daniel H., 595
Donald E., 610
Edna, 598
Edwin, 595
Edwin W. C., 614
Elizabeth, 606, 626
Ellen, 589
Ellen M. L., 618
Emerline Leroy, 593
Emma, 590, 595
Eva K., 599
Florence, 597
Frank, 597
Frank R., 589
Franklin C., 597
Geo. B., 594
Geo. B. McC., 595
Geo. W., 595
Harry, 591
Harry R., 598
Henry, 597, 602
Henry H., 590, 602
Henry W., 597
Hettie G., 593
Horace, 594, 620
Isreal C., 593
Jacob, 595
James W., 593
John A., 627
John W., 626
Kate, 597, 608
Katharine E., 599
Kathryn, 614
Katie E., 614
Lawrence, 589
Lillian M., 618
Lydia, 599
Lydia Veiver, 599
Mahlon A., 601
Margaret, 605
Maribell, 602
Marigold, 602
Martha, 601
Martha A., 601
Mary A., 607
Mary E., 600, 608, 617
Mary Ellen, 608
May June, 612
Oscar, 610
P., 593
Philip B., 594
Richard, 606, 624
Rose, 592
Rose B., 624
S. B., Mrs., 592
Samuel, 598
Sarah E., 589
Simon, 589
son of William, 596
Susan, 592
Susan E., 599
William, 596
William J., 608
William Z. J., 622
Wm., 589, 590
Wentzell
Emma, 593
Lawrence, 589
Wenzel, Daniel H., 595
Werden
Lucy F., 601
Sadie M., 612
Sadie P., 612
Werner
child of Robert E., 605
Gracelyn Frances, 620
Hannah, 607
Robert E., 605
Sylvia Joyce, 620
Werntz, John F., 611
Wert, 602
Agnes E., 625
B. Frank, 595
Caroline B., 620
Chas. J., 597
Chester, 625
Elsie C., 599
Esther, 596
Esther V., 596, 601
Ethel, 601
Geo., 591
Geo. Thomas, 591
Geroge, 603
Henry K., 594
Howard M., 601, 621
John J., 596
Leonard, 605
Sarah A., 610
Thomas H., 611
Vernon F., 610
William F., 621
Wm. I., 601
Werts, Emma M., 601
Wertz, 596
B. Frank, 595
Chas., 593
Clarecne A., 622
Elizabeth A., 606
Emma, 596, 603
Emma M., 601, 603
Henry K., 594
infant male, 623
J. Rudolph, 596
John, 606
Lizzie, 606
Mary, 599
R., 596
William, 615
Wesley, Sarah, 591
Wesner
Elizabeth S., 602
Leroy, 602
Lizzie, 602
Maria, 591
Maurice, 591
Sarah Printz, 596
Wessner
Charles, 614
Charles F., 614
Helena, 597
Lester Leroy, 602
Wm., 597
West
Bert J., 627
Charles, 601
Charles J., 601
Eliza, 609
Elizabeth, 591
Elizabeth M., 623
Leonard, 605
Thomas, 590, 599
Vernon F., 610
Westley
Sarah, 591
William S., 612
Westner, Deborah L., 598
Weston
Albert R., 620
Bertha May, 611
Westwood, Charles E., 623
Wetherhold, 589
Bessie May, 591
Chas., 593
Chas. W., 593
Herbert Zerr, 592
M. W., 592
Weyand
Amanda, 592
Daniel, 619
Eva M., 627
Weyandt, 598
Edna, 597, 598
Esther, 598
George, 617
George M., 617
Howard F., 596
Howard M., 614
infant, 596, 616
Jairus E., 623
Jarius E., 623
John, 609
John R., 609
Leroy, 598
Lillie, 605
Mary Jane, 611
Monroe, 602
Monroe S., 602
Rebecca M., 618
Sallie, 596
Walter L., 605
Weyant
Cyrus, 620
Esther, 598
Lillie, 605
Sallie, 596
Weygand, Amanda, 592
Weyman, 589, 596
Anna C., 627
Bessie Hoyer, 599
Herman, 596, 599
Herman H., 599, 626
Herman, Mrs., 599
Horace C., 605
Horace G., 605
Howard, 597
Lillie M., 596
Mary, 626
Rosie E., 589, 596, 615
William A., 619
Woodrow W., 613
Whalen
Joseph, 614
Lucetta, 594
Mamie, 620
Wheeler
Annie E., 600
Geo., 600
Geo. W., 600
Mary C., 619
Mary Catharine, 619
Sue E., 621
William G., 612
Whitaker, Kenneth S., 598
White
Agnes, 608
Agnes S., 608
Annie E., 609
Bella Rose, 619
Catherine, 619
Catherine A., 606, 619
Hollis H., 616
James, 624
May, 596
William, 613
William M., 623
Whitehead
Chris. A., 600
Christopher Arthur, 600
Eva, 619
George H., 626
George Henry, Sr., 626
Jennie M., 599
Marian M., 605
Marion M., 605
Wm. F., 609
Whiteley, William, 605
Whitelock, Jack Edgar, 613
Whitely, William, 605
Whiteman
Charles W., 625
Esther S., 626
Esther Susanna, 626
George Irvin, 614
Whitlock, Jack Edgar, 613
Whitman
A. May, 599
Abraham, 595
Augustus, 589
Catharine, 605
Chas., 594
Chas. A., 590
Dallas, 602
David, 602
Emma E., 626
F. Aug., 602
F. Augustus, 602
Flora, 594
Franklin L., 601
Henrietta, 618
Isaac, 595
John H. J., 623
Kate, 615
Larance, 597
Lawrence, 590, 597, 613
Louisa C., 601
Lydia, 596
Mary A., 158
Mary C., 614
Mary E., 597, 598
Mary E. Reeser, 597
Matilda, 601
May A., 599
Richard, 591, 603
Richard E., 614
Richard M., 603
Robert, 592
Robert M., 609
Russell N., Jr., 623
Sallie, 592
Sophia K., 608
Susan, 601
Thomas W., 599
Wm. H., 603
Whitmoyer
Catherine, 615
Dallas, 602
Oliver, 593
Samuel, 597
Whitner, 595
Whitney, Nancy, 572
Whittaker, Kenneth, 598
Whor, Joseph, 596
Whorld
Emma, 605
Emmaline, 605
John, 611
John H., 611
Wick
Fred. J., 603
Frederick J., 603
Mary E., 602
Wickel
Alfred E., 608
Sadie F., 617
Wickers, Rachel, 589
Wicklein
Anna M., 590
Anna Maud, 592
Annie, 592
Annie Maud, 590
Catherine, 619
Elisabeth, 592
John, 611
Jonas, 612
Kathryn, 619
Wieder
Clara B., 621
William O., 609
Wiedinmyer, 609
Louis, 616
Wieland
Charles H., 616
Florence Swavely, 627
Irvin John, 627
Joanna, 596
John I., 627
Mary, 613
Wien
Emma, 594
Emma May, 594
Martha, 593
Mary Catherine, 406, 615
Mary Martha, 593
Ralph R., 627
Reuben, 619
Reuben S., 619
Wier
John C., 624
Lydia E., 620
Wiess
Charles, 607
Leona, 602
Wilder, William O., 609
Wilfart, Edwin, 591
Wilferd, Sarah, 591
Wilfert
Dora, 615
Edwin, 591
Frederica, 612
Harry, 602
Henry, 602
Laura, 606
Sarah, 591
Wilgeroth
Amelia E., 594
Ella, 610
Ellen, 610
John, 601
Mary, 594
Sadie, 593
Sadie Cordie, 593
Wilhelm, Edith, 595
Wilk
Annie C.E., 604
Harry, 612
Harry J., 612
Martha C., 611
Mary, 612
William J., 604
Wilkens
Gustav, 622
Louise F., 624
Wm. W., 602
Wilkins
Emma L., 600
Gustav, 622
Louise F., 624
Wm. H., 603
Wm. W., 602
Wilkinson, 592
Albert C., 607
Anna E., 626
Catharine E., 616
Catherine E., 616
Ralph C., 591
Solomon S., 612
Thomas, 611
Thomas F., 611
Will
Alfred, 592
Alfred W., 615
Anna, 607
Sarah G., 623
William, Ernest H., 625
Williams
Agnes, 603
Anna M., 620
Catherine, 590
Charles A., 622, 624
Charles E., 604
Cora M., 620
Dona, 616
Elsie M., 610
Enoch, 617
Eva M., 624
Eva Minerva, 624
George F., 615
infant, 615
infant female, 621
John B., 589
Mamie, 615
Marguerite, 597
Mary A., 119
Mary E., 597
Mayme E., 615
Miles Nelson, 627
Ralph, 599
Thomas A., 627
Verda G., 619
William O., 607
Wills
Martha C., 611
Valentine, 590
Walter, 590
Wilson, 590, 599
Ella, 618
Ellie, 618
Emma L., 616
Emma Leah, 616
L. Birch, 606
Lilith, 617
Lilith Mae, 617
Winders, Lewis, 595
Windsor
Ella, 626
Ella Good, 626
Wing, Li-Joe, 607
Winsheimer, Jacob, 602
Winter
Goldie M., 622
Lillie K., 625
Louis, 612
Sarah, 615
Winters
Agnes E., 626
Charles H., 626
Christ, 608
Christian A., 600, 608
Clara, 600
Clarence C., 624
Frederick, 606, 618
Geo., 594
Geo. H., 594
Harry, 594
Harry I., 594
Harry N., 603, 607
John, 594, 610
John A., 594
John W., 610
Mae L., 624
Mary, 591, 609
Mary Ann, 612
Robert, 607
Winton, 610
Wirth
Adeline V., 626
Stanley E., 621
Wise, 589
Annie I., 627
Annie Irene, 627
Catharine C., 611
Catharine F., 602
Catharine M., 611
Catherine F., 602
Charlott, 597
Cora L., 622
Cora S., 622
Daniel, 599
Ella, 592
Elmer E., 595
Henry, 596
Howard W., 623
Irvin, 595
Irwin, 595
Isadore, 606
Isidor, 606
John Y., 613
Katie W., 621
Lillian A., 613
Lillie, 613
Lincoln F., 601
Mahlon E., 618
Mary Ann, 601
Mary L., 616
Rachel, 594
Rosetta, 601
Samuel, 605
Virginia M., 608
Virginia W., 608
Wm. H., 598
Wiskeman, infant, 610
Wisler
Charles, 609
Mary C., 603
Wisner
Mary, 622
Sarah, 596
Wisniewski, Mary, 622
Witchey
Emily M., 625
George, 607
Ida, 615
Witman
Anna, 89
Augustus, 589
Carrie, 613
Charles F., 625
Charles L., 605
Emma E., 626
Henry, 596
Irvin W., 611
John J., 596
Kate, 615
Mary C., 614
Mary E., 623
Philip S., 619
Susan, 601
William, 601
Wittich
Frederick, 598
Walter A., 590
Wilhelmina, 589
Willma, 589
Witzel, Woodrow Wilson, 604
Wix
Bessie, 600
Dorothy M., 602
Ida M., 617
Kate, 590
Lydia A., 597
Mary A., 596
Mary Ann, 596
William, 596, 613
William L., 604
Wobenhausse, Fred., 593
Woftsinger, Maria, 595
Wolf
Alvin B., 606
Annie, 621
Carrie, 602
child of John, 602
Christine, 622
Claude H., 612
Ella, 611
Elmer A., 603
Fred A., 624
Howard, 621
Ida, 601
J. George, 622
Jennie, 604
John, 602
John J., 622
Judith Ann, 621
Kathryn E., 616
M., 592
Martin, 604
Nora E., 621
Nora E. Stehman, 621
Russell S., 625
Susan C., 608
Walter, 596
Wolfe
Forrest N., 607
Hiram, 611
infant, 614
Nelson F., 620
Susan, 614
William, 607
Wolff
Ida, 601
Martin, 604
Walter, 596
Wolfinger
Barbara, 589
Jos., 591
S., 589
Wolfskill
Elizabeth, 606
Harold, 604
Ulysses G., 613
Wollenweber
Alice, 602
Fred., 594
Fredericka, 594
L. A., 593
Lewis A., 593
Wood
Charles H., 625
Hiram C., 613
L. H., 596
Linford H., 596
Linford K., 596
Margaret, 595
William H., 598
Woods
Betty E., 616
Mary C. Drexel, 616
Woodward
Elmer L., 625
Kathryn, 623
Woodworth
Annie G., 601
Kate M., 619
Katharine, 619
William C., 615
Woofruff, I., 607
Woomer, 590
baby, 600
Clarence, 590
John, 589
Woomert
B. Frank, 606
Jacob, 618
Jennie S., 623
Thelma, 624
Wooten, Harry E., 616
Worrick
James, 589, 593
Lydia A., 608
Woynaranski, 606
Wright
Florence, 614
Forest S., 602
Forrest S., 602
John, 622
Joseph H., 617
Mabel L., 621
Rose E., 619
Wumer, Clarence A., 590
Wummer
Jacob A., 615
Sarah, 617
Wunch
Franklin L., 619
Thomas, 608
Wunder, 594
Abraham L., 610
Annie L., 604
Daniel, 608
Deborah E., 598
Katie C., 619
Laura, 605
Milton, 616
Susan, 602
Sylvester, 592
W. H., 594
William W., 611
Wm., 597
Wunsch
child of Frank, 595
Elsie, 606
Frank, 595
Frank D., 604
Fred., 604
Frederick, 593, 601, 604
Mary E., 604
Thomas, 608
Wurst
Lillian May, 610
Wm., 594
Wusch, Frederick, 593
Wynn
Emma, 607
Howard B., 621
Lawrence, 600
Robert, 611
Samuel L., 606
Stephen, 598
Yandt
August F. W., 634
Sarah Ellen, 634
Yarington
Emma L., 632
Thomas O., 630
Yarrington, T. O., 630
Yeager, 629, 631
Amelia, 628
C. Raymond, 634
Charles F., 633
Chas J., 630
Chester, 631
Edwin G., 634
Elizabeth A., 632
Esther, 629
Esther R., 634
George, 632
George A., 634
Harrison, 628
infant, 632
James, 628
John C., 631
Levina M., 629
Lewis B., 635
Lovina M., 629
Mabel I., 633
Margaret, 629
Martha M., 634
Mrs., 628
Sadie, 632
Sadie M., 632
Susan R., 633
Thomas R., 631
Wm. James, 628
Yeakley, infant, 633
Yeity
Anna, 628
Charles F., 630
Chas., 628
Ervin J., 628
Eva M., 628
Geo., 628
Geo. F., 628
Irwin J., 628
Russell L., 634
Sallie L., 634
William A., 631
Yeitz
Bertha M., 628
C. F., 628
Yelles
Aaron, 631
Susan, 632
Yenser, infant, 633
Yerger
Annie, 630
Carrie K., 634
Emma, 628
Emma E., 628
George W., 630
Harry, 632
Henry W., 630
John, 628
Mary, 632
Mary M., 632
Rachel Ann, 632
Rebecca, 628
Sarah, 629
Simon, 629
Wm., 628
Yergey
Amelia, Mrs., 628
David L., 631
George D., 635
Henry, 629
Leroy, 629
Lillian, 634
Lillian I., 634
Mary F., 248, 632
R. Emma, 630
Rachael E., 630
Rosa B., 631
Yhoe, Hannah, 631
Yocom
Harry E., 635
stillborn, 631
Yocum
Allen L., 630
Angeline H. Fox, 635
Annie L., 633
Elsie M., 634
Howard W., 634
John A., 628
Richard G., 630
Yoder
Anna, 632
Anna M., 630
Annie, 630
Carrie M., 631
Edward, 634
Edward E., 634
Edwin W., 631
Eliza E., 631
Frank D., 635
James E., 629
Jennie M., 634
Jeremiah, 629
Joseph J., 630
Mabery M., 631
Margaret Clouse, 634
Margaret Tilson, 634
Martha A., 635
Mary R., 628, 629
Mayberry, 631
Rachel H., 629
Sadie C., 635
Samuel H., 634
Wm. R., 629
Yohe
Hannah, 631
Thomas, 631
Yohn, 629
Carl, 630
Catherine H., 630
Chas. A., 630
Clara, 630
Estermere, 628
Esther, 628
Harry F., 629
infant child of John, 628
John, 628
John H., 630
Katherine H., 630
Laura, 628
Lillie R., 629
Lillie Rose, 629
Louis C., 629
Louisa M., 633
Louise C., 629
Louise M., 633
Sarah, 628
William, 633
Yohnson
Elizabeth, 630
Elizabeth A., 630
Yonson
Elizabeth, 632
William E., 635
Yorgey, Alfred B., 635
Yost, Joseph, 629
Young, 631
Abbie, 632
Abbie U., 632
Anna, 633
Anna F., 633
Annie, 633
Catharine, 632
Catharine R., 632
Charles H., 631
Chas. A., 629
Chas S., 630
child of John W., 631
child of Sylvester, 630
Eliza, 630
Elizabeth, 634
Emma, 290
Frank G., 632
Frank J., 633
Harry M., 634
Harry R., 633
Hettie, 629
Hilda, 631
James, 632
Jennie R., 630
John W., 631
Laura, 628
Lillie C., 630
Manella, 629
Mannilla M., 629
Marian M., 629
Mary T., 634
Paul, 628
Sylvester, 630
Walter, 628, 630
Walter S., 630
William K., 634
William R., 629
William W., 632
Youngkin, Chas. A., 629
Youse
Carrie, 629
Catherine, 72
Catherine I., 634
Elinora R., 632
Elnora R., 632
Evan, 630
Evan S., 630
George A., 634
Mary Jane, 633
Mary Jane Fink, 633
Stanley H., 629
Zabel
Catharine E., 639
Henry J., 637, 639
Ida M., 640
Jeannette B., 643
Zable
Jeanette B., 643
John, 639
Katherine E., 639
Zahner, John, 637
Zdradzinski, Peter A., 643
Zeber
Annie C., 638
Sarah J., 638
Zechman
Adeline, 637
Amelia, 637
Annie, 638
Annie E., 638
Benjamin, 641
D. Benjamin, 641
Zeebe, John, 639
Zegler
Caroline, 638
Earl F., 638
Mary, 638
Ray S., 638
Samuel, 638
Samuel R., 638
Zeiber
Annetta, 641
Edward S., 640
Elmer, 636
John, 636
Lena, 638
Peter, 636
Sarah, Mrs., 636
Zeidlar, Emma, 637
Zeidlear
Ellen Esther, 638
Ida I., 640
John, 638
John A., 638
Zeidleas, John, Mrs., 638
Zeidleer, John W., 642
Zeidler
Emma, 637
John W., 642
Zeigle, John, 636
Zeigler
Agnes C., 642
Catherine Z., 642
Charles, 640
Cora, 636
Edwin, 636
Elizabeth Trivel, 636
Ellen E., 642
Geo., 636
George E., 643
Jacob, 636
Jacob, Mrs., 636
John, 636
John E., 636
John K., 636
Lillie, 636
Samuel P., 639
Zeimer
Beulah C., 643
Geo., 637
George W., 643
Zell
Belle, 639
Catharine, 638
child of William, 637
Ebb, 640
Elizabeth, 640
George, 636
George H., 637
James M., 639
Mary Emma, 643
William, 637, 639, 640
Zeller
Albert, 639
Florence E., 643
Howard F., 642
Malinda, 642
Zellers
Adelaide A., 640
Elizabeth H., 641
Jacob D., 640
John S., 638
Levi, 641
Millie S., 642
Norman, 642
Zellhardt, Dorothy, 636
Zempleman, Chas F., 638
Zerbe
Annie M., 642
Daniel A., 639
Darriel O., 639
Elmira E., 643
Harry J., 643
John, 639
Robert C., 642
Sadie Catherine, 641
Sallie, 641
Silas F., 639
Zerby
Christian, 636
Christie A., 636
George H., 637
Henrietta, 640
Howard, 638
Isaac R., 641
Luther, 636
Mahlon, 636
O. P., 636
W. H., 636
William H., 636
Zerr
Charles A., 638
Chas., 637
Eliza, 638
Eliza Bollman, 638
Helen V., 641
Jacob, 636
Sara A., 640
Sarah A., 640
Zickler
Baltzer W., 642
Blazer W., 642
Clara E., 643
Zieber
Annetta, 641
Barton, 643
Edward S., 640
Ella A., 643
Ellen L., 643
Elmer, 636
Emma K., 643
Francis, 637
Irvin, 643
John, 636
Joseph S., 643
Lena, 638
Zieger, Josephine, 637
Ziegler
Agnes C., 642
Alice, 643
Alonzo, 637
Alwilda H., 642
Annie I., 643
Caroline, 640
Charles, 640
Cora, 636
Earl F., 638
Edwin, 636
Ellen E., 642
Emma L., 639
Evelyn R., 639
Florence, 637
Florence C., 637
George W., 633, 641, 643
Harry, 643
Harry W., 643
Henry J., 643
infant, 641
Jacob, 640
John, 636
John C., 641
John F., 636
John K., 636
Josephine, 637
Kathryn Z., 642
Marvin, 640
Mary E., 642
Robert, 639
Sadie Ethel, 637
Sallie E., 637
Samuel P., 639
Sara A., 639
Sarah Ann, 639
Viola, 641
William Leonard, 636
Ziemer
Eleanor B., 640
Kate, 639
Katie A., 639
Peter O., 643
Zillhardt
Christian, 636
David J., 641
Dorothea, 636
Zimmerman
Alfreda, 637
Catharine, 637
Catherine, 637
Charlotte E., 640
Clarence, 636
Daniel, 636, 637
Ellen, 639
Emma, 640
Esther, 637
Florence, 636
Howard, 637
Howard J., 637
John, 639
Laura, 637
Laura E., 637
Leo M., 643
Louisa, 641
Mabel, 637
Mayme R., 637
Wilson, 636
Zimpleman, Kathryn E., 643
Zinn, Benjamin, 641
Zohner
Amelia, 639
Christina, 637
Gertrude, 642
John, 637
Lewis W., 640
Zollers
Edward, 503, 637
Ellen, 637
Zuber
Addison, 641
child of Sam, 639
Ellen, 637
Ellen Nora, 637
Florence E., 642
Frank, 638
Harry F., 642
Harry Frank, 642
Hazel E., 638
Helen, 642
Henry C., 642
Henry L., 638
Jeremiah, 638
Jos., 638
Joseph, 636
Lee C., 633, 641
Lee Carroll, 641
Sam, 639
Sarah M., 639
Susan, 638
Walter C., 636
William, 641