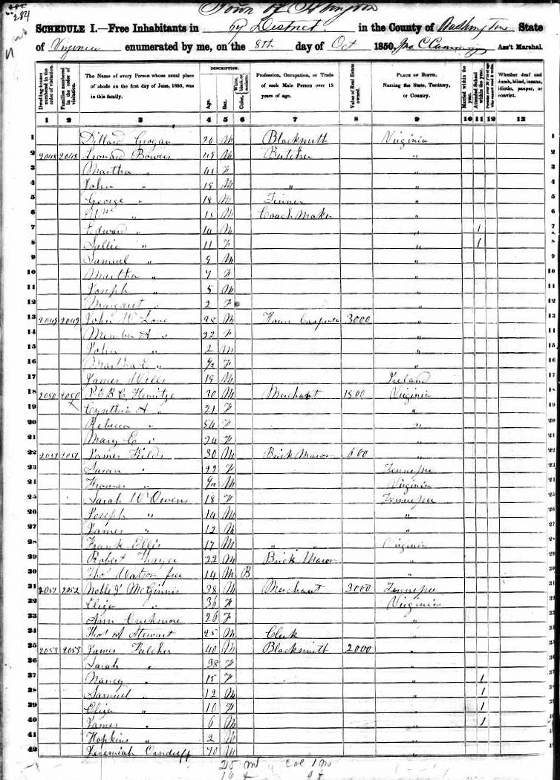 A distant cousin, Kim Livaditis, recently asked me about P.E.B.C. Henritze of Abingdon, Washington Co., Virginia and specifically about his second wife and daughter. I have researched nearly every known Henritze descendant of Balthaser Henritze and Dorothea (Rapp) Henritze, so it was a reasonable question. She found birth and death years completely different than my research.
Peter Earl Bourne Clapp Henritze appears with his first wife, his mother and sister in the Abingdon, Washington Co., Virginia 1850 federal census. His son Beverly J. was born ca. 1851. His first wife, Cynthia A. Keller Henritze died in 1853 and was buried in Sinking Spring Cemtery, Abingdon. Peter appears with his second wife and two children in the 1860 census in Abingdon. His second wife Anna J. Gaines Henritze appears in District 10, Sullivan Co., Tennessee with her brother in the 1880 census. Kim wanted to know what happened to the children, especially the daughter, Theodora or Theora not quite a year old in 1860. Kim found conflicting data from Find-A-Grave and the Sullivan Co. TNGenWeb page for Gaines Cemetery, Theo G. Ray b. 20 Sept. 1850 d. 18 Oct. 1853, daughter of Annie Ray, buried near or next to Annie J. Rayl b. 2 May 1834 d. 4 Aug. 1906, wife of J. A. Rayl…
What to do when the sources conflict?
I have seven pages of information about this nuclear family, a lot for a family with two children, neither of whom married or had children. I didn't want to copy seven pages into the email since my email strips off the footnotes so I have to copy and paste them back into the text. I only wanted to send what she really needed, so I cut and pasted a bit and sent back some information about Theona Blanche Gaines Henritze, born in 1859, died in 1863 and buried in the Gaines Cemetery in Sullivan Co., Tennessee. She was the daughter of P. E. B C. Henritze and Anna Judith (Gaines) Henritze and appeared only in the 1860 census, age 11/12ths of a year.
1850 Va Washington Abingdon 67 Dist. p. 209 fam. 2058, P. E. B. C. Henritze
This census was taken prior to the birth of the son of Peter and Cynthia Henritze.
1860 Va Washington Abingdon p. 183 fam. 1364, Peter E. B. C. Henritze
Beverly J. Henritze, the son of P. E. B. C. Henritze and Cynthia (Keller) Henritze, nine years old, lived with his father, step mother Annie and half-sister Theona in 1860. The census could very well be read Theora or Theona. P. E. B. C. Henritze's will specifies Theona. For the first piece of conflicting data, her father's will trumps a census that may well have read Theona anyway. Supporting information came from the Gaines book by Calvin Southerd, Theona was a Gaines family name.
Peter Henritze died in 1861 and was buried in Sinking Spring Cemetery according to Catherine McConnell on page 84 of High on a Windy Hill. His will dated 5 January 1861 filed in Washington Co., Virginia in 1861 mentioned his wife Anna J., his son Beverly J., his daughter Theona G., his sisters Mary E. Grimm and Frances Shaver.
Theona Blanche Gaines Henritze born 20 Sept. 1859, died 18 Oct. 1863 and was buried in Gaines Cemetery, Sullivan Co., Tennessee according to Calvin E. Sutherd's book A Compilation of Gaines Family Data with Special Emphasis on the Lineage of William and Isabella Pendleton Gaines, page 237. Nearly the same information is available on page 29 of Karen Sherman Morrell's Sullivan County Cemeteries, Theo C. Rayl Sept. 20, 1859 – Oct. 18, 1863 d/o Annie J. Rayl. Two different books, one written in the 1960s, published in 1969, updated and revised in 1972 about the Gaines family and another researched in the 1980s, published in 1989, revised in 1990 with enumerations of various Sullivan County cemeteries, both mention Theona's grave in the Gaines Cemetery, Sullivan Co., Tennessee.
The second piece of conflicting data was Theona's birth year 1850 or 1859. The 1860 census, Sutherd, Morrell and photograph of the gravestone clearly show 1859 not 1850.
The third piece of conflicting data was Theona's death year 1863. NOT 1853.
Anna Gaines a.k.a. Anna Judith (Gaines) Henritze lived with her parents in 1870 with no children in District 10, Sullivan Co., Tennessee. Her stepson Beverly was enumerated in Abingdon in 1870.
Anna J. Gaines Henritze lived with her brother William Henry Harrison Gaines in 1880 in Sullivan Co., Tennessee and his children.
1880 Tn Sullivan Dist. 10 125-2-9 fam. 99, William H. Gaines
In 1900 Anna Judith Gaines (Henritze) Rayl lived with her husband in District 10, Sullivan Co., Tennessee, next to her sister. The census shows her with one child born and none alive. The fourth piece of conflicting data was Theona's surname, which could not have been Rayl since her mother married James A. Rayl after Theona was born, lived and died.
1900 Tn Sullivan Dist. 10 110-5a-27 fam. 81, James A. Rayl
Anna Judith Gaines Henritze married (2) James A. Rayl on 26 September 1881 in Sullivan Co., Tennessee and lived with him in 1900 but had no further children.
Absent these new photographs, why did I not believe the information on Find-A-Grave, the Sullivan Co., Tn. Gaines Cemetery genweb site transcribed in 2003 or partial information on MyKindred attributed to Tony Viertel and various information submitted on Ancestry linked files. It didn't fit the facts I had already gathered, from the federal census, wills for P.E.B.C. Henritze, Beverly J. Henritze and Letitia Dalton Moore Gaines, marriages and Gaines research. Nor did it fit the facts Calvin E. Sutherd, a man who made the Gaines family his life work, gathered, revised and published about the Gaines family. (The McClung Collection of the East Tennessee Historical Society holds the Calvin E. Sutherd genealogical manuscript collection available for research in Knoxville.) It also did not fit the facts gathered by Karen Sherman Morrell who transcribed Sullivan Co. cemeteries in the early 1980s. At first I suspected that the stones were weathered and rendered illegible. Kim Livaditis' photographs this week show that wasn't the case. Sutherd and Morrell had been solid sources and their data matched each other almost perfectly and fit the other facts I had gathered. This new information stating the stone read 1850 and 1853, didn't match Sutherd or Morrell and didn't fit the facts. Since she's close, I suggested Kim read and photograph the stones herself.
The words chiseled into the stone read Theo. G. [no surname] daughter of Annie J. Rayl and dates. Since Theona died in 1863 and her mother remarried in 1881, the stone was set after her mother's second marriage and probably at the same time as Annie's stone. No where on the stone does it mention her surname but that situation is ripe for wrongly made assumptions.
photo by Kim Lavaditis
Annie J. Rayl's gravestone
I love the FindAGrave web site pages. I would rather cemeteries were read plot by plot and listed that way instead of alphabetically, but many have been read row by row or plot by plot and are transcribed that way in other places on the Internet and in the local town or county historical or genealogical societies. In this case the FindAGrave information was submitted in 2007. When you come across something that doesn't fit with what you know, ask further questions. Asking for a photograph of the gravestones could have solved this question. Kim didn't doubt two different sources with the same wrong transcription. The MyKindred information had the right daughter, Theona Blanche Gaines Henritze, but the wrong father, William instead of Peter Earl Bourne Clapp Henritze. P.E.B.C. Henritze's will and the newspaper mention of his marriage pretty clearly identify him as the father. I don't know where the William misinformation originated.
Kim found the graves, took the photographs and shared them with me. I don't see either the 1850 or 1853 date. To my eye, the first year on Theo.G.'s gravestone is 1859 and the second year is 1863. The surname rendered Ray instead of Rayl by both FindAGrave and GenWeb, is clearly Rayl in the photograph, which is still wrong but at least is the surname of her mother. One may have been copied from the other as the mistakes are identical. In this case, it appears to be a visual error, a transcription error or typographical error, but in other cases those discrepancies like this could have been from weathering. The earliest transcription date would be the one to trust the most, especially if weathering issues are involved.
For me, the question is still, why was Theona buried with her mother's family in Gaines Cemetery in Sullivan Co. instead of with her father and his family in Sinking Spring Cemetery in Abingdon. Was it the second marriage, did her mother not want her buried with Peter's first wife? Or more likely was it geography, had Annie moved home to live with her parents as a young widow in 1861 with her daughter and her stepson Beverly? Her parents lived in District 10 in Sullivan Co., Tennessee. In 1870 Beverly lived in Abingdon and Annie lived with her parents in Sullivan Co. but what happened in between 1861 when P.E.B.C. died and 1863 when Theona died and 1870 when they were clearly in different places. By 1880 Beverly was in Hot Springs, Garland Co., Arkansas. He may have left when his father's estate was settled in 1874/1875, when he got his 4/5ths of 2/3rds of the estate.
Data differs, check the sources, evaluate the sources and choose the information that best fits the other information you have gathered. If need be, note the anomaly and move on. In this case, I will add to my footnote on Theona that while two later Internet sources differ from the 1972 and 1980s transcriptions, the photographs taken in March 2012 appear incontrovertible. Theona's gravestone was chiseled after her mother's marriage to James A. Rayl in 1881 and probably in 1906 or at the same time by the same stone mason who set her mother's gravestone, the arch around the names and the decorative markings around the arch are extremely similiar and may have been carved by the same person. Perhaps Annie Rayl left money in her will for the setting of these two stones, I haven't looked for a probate packet for her since she left no surviving children. Did her second husband die between 1900 and 1906 or did he give the money for the stones after his wife's death? Perhaps Annie's brothers Ben or William who survived her, advanced money for the stones. That's supposition, purely wondering. Theona Henritze enumerated in the 1860 census and mentioned in her father's 1861 will is the child buried in the Gaines Cemetery under a stone describing her as Theo. G., daughter of Annie J. Rayl a.k.a. Anna Judith (Gaines) Henritze Rayl. There are two definite period marks in order to fit Theo. G. in the same space as Anna J. on a different stone. My conclusion is the same now as it was twenty years ago, one wife and son buried in Abingdon and one wife and daughter buried in Tennessee.