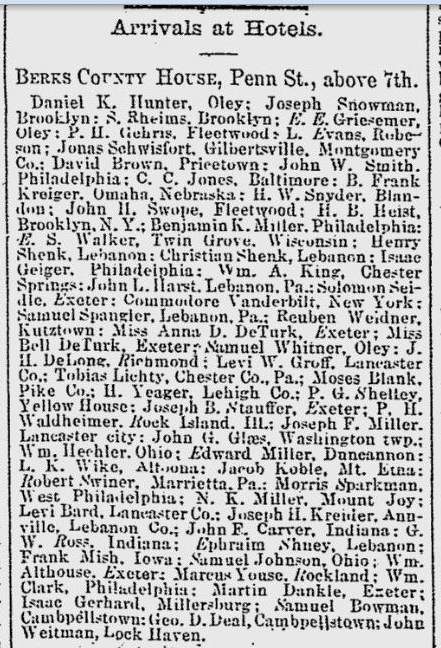 Several curious situations came to light while I was reading an 1868 issue of the Reading Eagle.
Many local names were typeset as J. B. Hawley instead of Jesse B. Hawley, possibly to save on typographical overhead. Initials instead of given names makes it harder to distinguish one person from another, especially in an area settled by a lot of farmers with surnames of Miller, Yoder and Landis, but true anywhere. David and Daniel Ermentrout are indistinguishable as D. Ermentrout. J. Miller is ridiculous, especially if his complete name was Jared Ermentrout Miller to begin with.
Every once in a while one of the pages or several pages are filmed sideways, i.e. landscape instead of portrait, and are horrible to read and I wonder if they can even be dealt with by OCR. Sometimes two or three issues of a newspaper are filmed in a row as though it was one newspaper issue with 12 pages instead of three newspaper issues of four pages. It looks like in the running index that the second two issues aren't filmed, but in fact they are, just filed at the end of a different issue instead chronilogically by their own date. The Reading Eagle has its own Google search issue. Reading, the gerund or present participle of the verb to read and Reading, the city in and county seat of Berks Co., Pennsylvania are spelled the same butpronounced differently – heteronyms. Search engines will bring them up together, even when your mind doesn't.
The typeface for the Reading Eagle in 1868 contain glyphs or ligatures, OE and AE for example, making me think the set was the German/English set used by the Reading Adler, a German newsapaper in Reading in the first half of the 19th century. These glyphs or ligatures may be hard or impossible to recognize by various unsophisticated OCR programs.
The typesetter frequently used an italicized capital letter for a regular one, P instead of P and R instead of R. I don't know if these leads were stored in the same box to lower overhead or if they were accidently stored in the same place, but this kind of switching back and forth may also lead to "wrong answers" by OCR programs besides making the words harder to read. Broken or dirty type leads to the same obscuring the letters so OCR programs can not correctly identify the words.
Examples of Typographical Curiosities and News Articles
One of the more interesting news items was a column reporting the personal property sales in the county. Sometimes when a person died without real estate, a probate estate was not opened in the Probate office, instead a personal property sale was held. In addition to estate sales, personal property sales might have been held prior to moving west, liquidating for bankruptcies, or partnership dissolutions. Another curious column reported hotel guests and their hometowns. In addition to local Berks Co. towns, Philadelphia, Lebanon, Montgomery, Chester, Lancaster and Lehigh Counties, there were visitors from Brooklyn; Baltimore; Omaha; Twin Grove, Wisconsin; Rock Island, Illinois; Indiana; Iowa; Ohio; Mount Joy, Yellow House, Altoona, Mt. Etna and Marrietta, Pennsylvania.
In February of 1868, Commodore Vanderbilt stayed at the Berks County House on Penn Street above 7th Street in Reading. While this is interesting as it places Reading in a hot spot for economic news, it probably wouldn't mean much to a family researcher for the Vanderbilts. Conversely, the knowledge that E. S. Walker of Twin Grove, Wisconsin was in Reading in February of 1868 might be very valuable to that particular Walker family.
A list of the names in the Berks County House hotel register February 1868:
Daniel K. Hunter
Joseph Snowman
S. Rheims
E. E. Griesemer
P. H. Gehris
L. Evans
Jonas Schwisfort
David Brown
John W. Smith
C. C. Jones
B. Frank Kreiger
H. W. Snyder
John H. Swope
H. B. Heist
Benjamin K. Miller
E. S. Walker
Henry Shenk
Christian Shenk
Isaac Geiger
Wm. A. King
John L. Harst
Solomon Seidle
Commodore Vanderbilt
Samuel Spangler
Reuben Weidner
Miss Anna D. DeTurk
Miss Bell DeTurk
Samuel Whitner
J. H. DeLong
Levi W. Groff
Tobias Lichty
Moses Blank
H. Yeager
P. G. Shelley
Joseph B. Stauffer
P. H. Waldheimer
Joseph F. Miller
John G. Glaes
Wm. Hechler
Edward Miller
L. K. Wike
Jacob Koble
Robert Swiner
Morris Sparkman
N. K. Miller
Levi Bard
Joseph H. Kreider
John F. Carver
G. W. Ross
Ephraim Shuey
Frank Mish
Samuel Johnson
Wm. Althouse
Marcus Youse
Wm. Clark
Martin Dankle
Isaac Gerhard
Samuel Bowman
Geo. D. Deal
John Weitman