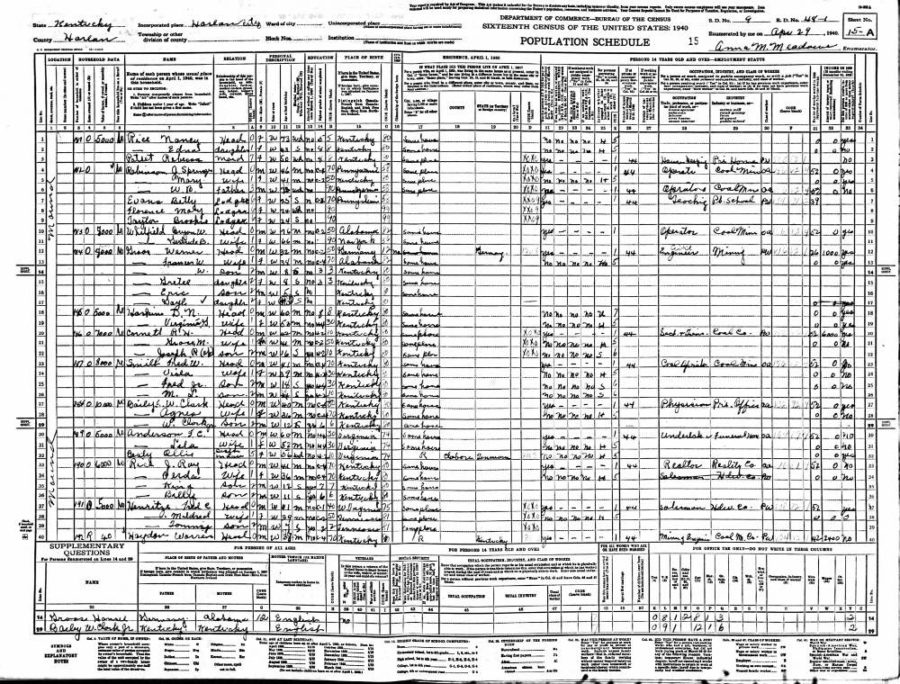 The National Archives and Archives.com pretty much miscalculated demand and ease of use for the 1940 census search site.
I don't know how it went for the rest of you, but the first day was a bust for me. I tried pretty much continually from morning 'til night, more than a hundred times and never got to a screen with names on it. I already knew the two enumeration districts (EDs) I wanted to see first. Both of my parents were born in the 1930s and lived with their parents in houses I had been in, so not only did I have the EDs, addresses and exact locations, I could find them on the map and knew neighbors' names. I was ready. I couldn't get through, – all day.
Both sets of my grandparents lived in Kentucky in 1940. Ancestry's web site's first day priorities, might have been District of Columbia, Delaware, Nevada and Guam or American Samoa. I knew there were some fifth cousins I could check in D.C., but I didn't really have a question about them. When Pennsylvania went up, I started to get hopeful as Berks Co. was in the forefront, but Reading and all its Wards were put up last.
By April 4th, I could get into the Archives site and Jefferson Co., Kentucky was up on Ancestry. I used both in tandem. All the images have still not been set up on Ancestry yet, specifically Maryland, Minnesota, Mississippi, South Carolina and Puerto Rico. The Ancestry site was faster to load, easier to read and you could move to a specific image number instead of paging through, loading and reloading the pages in numerical order…
I found my father's family in less than three minutes. I didn't learn anything new, but it was fun to see my dad as Tommy.
My maternal grandfather was one of nine brothers. By 1940 he bought and was farming his parents' entire farm in Okolona, Jefferson Co., Kentucky. I searched the EDnd found some neighbors but not him. I eventually searched fourteen different enumeration districts (EDs). I found my great grandparents and eight of their nine sons, but not my grandfather, grandmother, mom and uncle. It is possible one of the pages was skipped in the digitization process as I did find instances of pages duplicated. It is ironic I can't find a farm in a census seventy years ago that is still visible on Google Maps today. My aunt thinks it's likely her parents did not answer the door and specifically avoided the enumerator. I will keep looking.
I am going to miss the answers about marriage and children from other census years; years married; number of marriages; total children, and children alive. The supplemental questions for two people per page will not replace all those other helpful genealogical clues. I am going to like the answers to the highest grade of school completed and the residence in 1935.
The indexing race is on, Ancestry has finished Delaware and Nevada with other states in progress. FamilySearch has Colorado 72% indexed and Delaware 99% indexed with other states in progress also. I hope they go after different states in different orders, as American Samoa isn't high on my list.