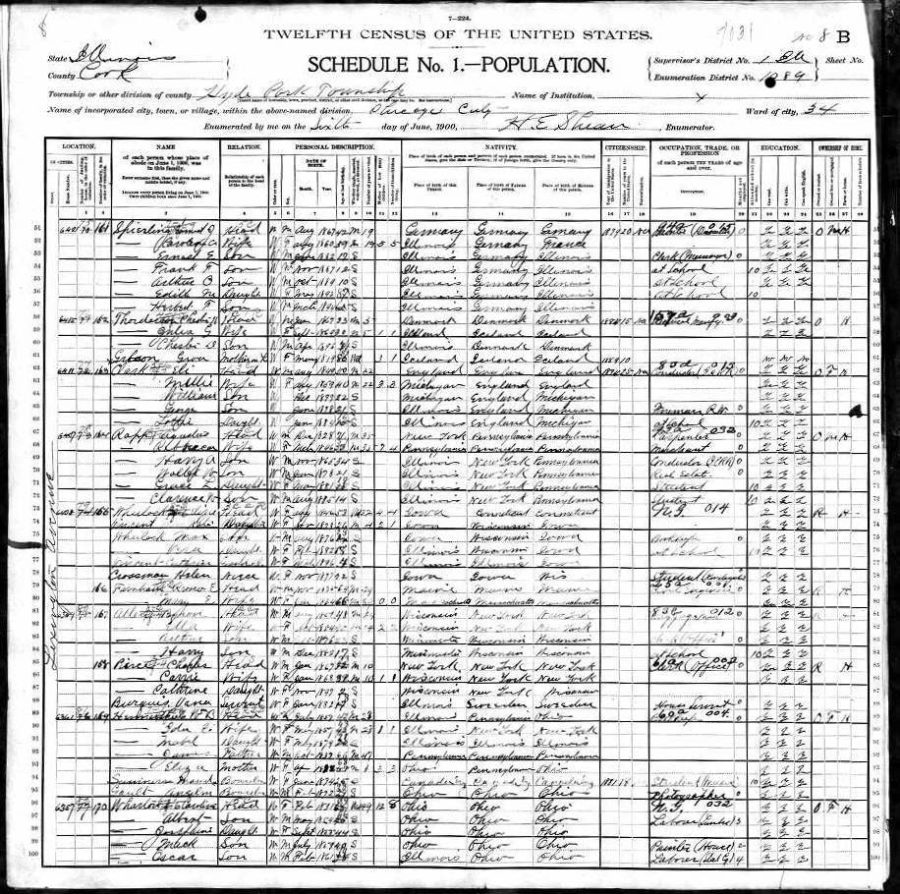 Large City Research
Sometimes researching in a large city is problematic, too many people with similar names, hard to differentiate. Various immigrants with strong accents made the census much harder to use. The Soundex program was a huge help in this situation. This family because of a good surname and varied birth places, was tracable across the greater Chicago area, through the census, newspapers and the Cook Co. and Illinois records on the web.
Frank Felix Spierling, the second child and son of Ernest John Frederick Spierling and Caroline (Behr) Spierling, was born 28 November 1887 in Chicago, Cook Co., Illinois. According to the 1900 census, Frank lived in Hyde Park Township, Chicago, with his parents and his siblings, Ernest E., Arthur O., Edith May and Herbert Frederick. His parents had been married 19 years, his mother had five children all living, his dad was born in Germany, his mother was born in Illinois, her father born in Germany and her mother born in France.
1900 Illinois Cook Co. Chicago Hyde Park Twp. E.D. 1089 page 8b line 51 fam. 151.
Ernest Spierling and Caroline Behr were married 19 April 1882 in Chicago, Cook Co., Illinois. Ernest appears as the 23 year old son of Edward Spierling and his wife Caroline (Ahearns) Spierling in the 1880 Illinois Cook Co. Chicago census
World War I Draft Registration Card of Frank Felix Spierling
Frank was a traveling salesman for the Gilbert & Bennett Mtg Co., in 1917 and 1942 when he filled out draft registration cards for World War I and World War II.
His father, Ernest John Frederick Spierling, born ca. August 1857 in Germany, immigrated in 1865, naturalized in 1889, married a girl of German descent Caroline or Carolina Augustine Behr/Baer ca. 1881 probably in Illinois. He was a decorative painter which in a city the size of Chicago was lucrative enough to support a wife, raise a family of five children and provide a home for his mother and stepfather with him on the south side.
1910 Illinois Cook Co. Chicago Tract G-26 Ward 7 E.D. 431 page 3b line 67 fam. 70.
1920 Illinois Cook Co. Chicago Ward 6 5746 So. Park Ave. E.D. 360 page 10a line 8
Ernest, the eldest son of Ernest John Frederick and Caroline Augustine (Baer) Spierling was born 23 June 1883 in Chicago, died December 1907 in Chicago and was buried in Graceland Cemetery, Chicago, changing Frank into the oldest son after twenty years of being second.
Chicago Tribune, 24 Dec. 1907, (Chicago, Cook Co., Il.), Ernest E. Spierling, Dec. 22, 1907, aged 24 years 6 months, beloved son of Ernest J. and Caroline A. Spierling. Funeral from late residence, 6421 Lexington-av., to Graceland cemetery. Tuesday, Dec. 24, 11 o'clock.
Frank met and married Marjory Josephine Moffatt, daughter of Frederick John Moffatt and Maud Augusta Allen Moffatt, ca. 1921. This marriage does not show up in Illinois records so they were probably in or near Boston or Dorchester, Massachusetts, where she was living.
1920 Massachusetts Suffolk Co. Dorchester E.D. 474 page 4b line 51 fam. 88.
Frank and Marjory Spierling had two children; Robert Allen and Marjory Edith. Robert was named for Marjory's mother's family.
Illinois Birth Certificate Robert Allen Spierling
Robert does not appear to be a common family name in the Spierling, Moffatt or Allen families, but the Baer family has not been traced. Marjory Edith may have had an additional Christian name beginning with J. Marjory was named for her mother Marjory and for her paternal aunt Edith May Spierling.
Very much the south side of Chicago immigrant success story, when Edith Spierling married Roy William Larson in 1951, the reception was held for 400 guests.
Chicago Suburbanite Economist
Chicago Tribune, 18 May 1959, (Chicago, Cook Co., Ill.), Mrs. Frank F. Spierling. Mrs. Marjory M. Spierling, 65, of 10863 S. Bell Av., died Sunday in Little Company of Mary Hospital. She was a reconstruction aide for the Chicago unit of the Illinois Association for Crippled Children. She leaves her husband, Frank F., a retired salesman; a son, Dr. Robert A., and a daughter, Mrs. Edith Larson. Services will be held at 2 p.m Wednesday in the Church of the Mediator, 110th street and Hoyne avenue.
Robert Allen Spierling attended medical school, married, moved to Missoula, Montana and was the town's doctor for years and raised his family. Edith married Roy Larson, moved to Wisconsin and raised her family. When Marjory (Moffatt) Spierling died in 1959, she was still involved with the Illinois Association for Crippled Children.
All of this information and more is available on the Internet from original documents digitzed on Ancestry and FamilySearch and HeritageQuest without writing letters or without spending more than two hours searching. Ancestry's service at home is a paid service but many libraries have the library edition available for free to customers while inside the library. FamilySearch is a free service online at home. More digitized information is available; newspapers from the Library of Congress, and Chicago City Directories from the Newberry Library and Polk's 1929 Chicago City Directory at Chicago History Museum formerly known as the Chicago Historical Society. It's important to distinquish this reliably accessible information with that involved in linked genealogies also available on the Internet. One does have a lot more value than the other. If you are going to put names up on a linked genealogy, use the source citations available, so others can see your work.