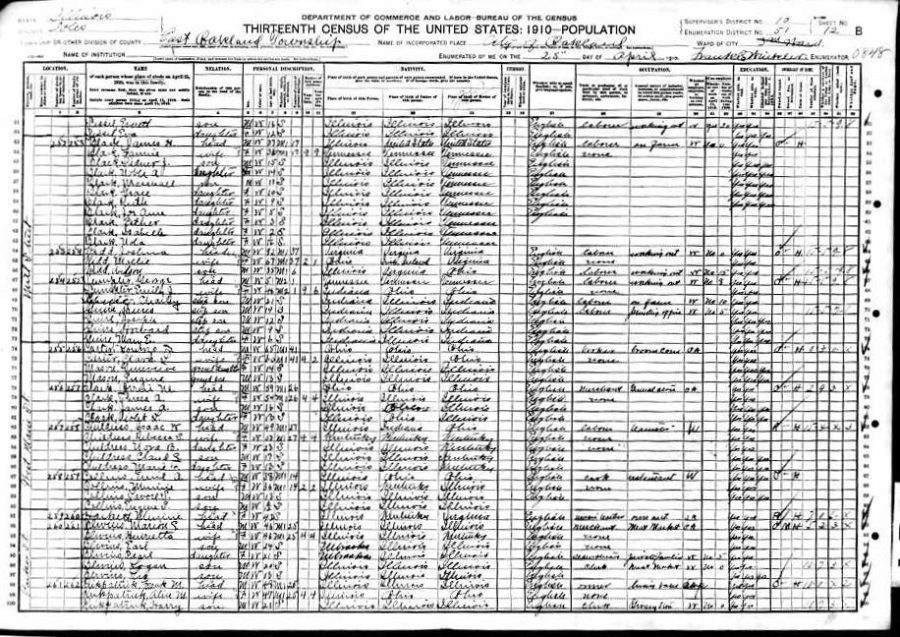 Age Variances in the Federal Census
One common genealogical lament is that the range of age variations among census years make it hard to definitely identify specific people and differentiate them from contemporaries with the same name in the same place.
Ages in federal and state census enumerations are notoriously varied. In general the older a person is, the greater the variance from the real age. The converse is also true, the younger a person is, the smaller the probable variance from the real age.
1910 Illinois Coles East Oakland Twp. City Of Oakland Ward 3 51-12b-91 fam. 260.
In 1910 Minnie Hackett a single 42 year old music teacher, head of household, is enumerated renting on Parker St., City of Oakland, Ward 3, East Oakland Twp., Charleston, Coles Co., Illinois. She was born in Illinois, with a father born in Kentucky and a mother born in Virginia…
Which Census is most likely to have the right age?
In 1900, Minnie D. Hackett, a single 34 year old music teacher born in Illinois whose father was born in Ohio and whose mother was born in Virginia, lived on Main St., East Oakland Twp., Coles Co., Illinois.
1900 Illinois Coles East Oakland Oakland City Ward 1 23-5b-65 fam. 41, Minine D. Hackett 34
The 1880 census for the Village of Oakland, Coles Co., Illinois shows Susan A. Hackell (sic should be Hackett) born in Virginia with three of her children all born in Illinois, Susannah E. 31, Minnie I. 19 and Henry T. 21.
Further back one more decade brings up the 1870 census. on page 99/31 family 221 is the Rice Hacket family. Rice is 66 born in Ky, Susannah is 44 born in Va, while the four children including Minnie age 10, were born in Illinois.
The first census in which Minnie I. Hackett appears, the 1860 federal census for Illiniois, Coles Co., East Oakland Twp. lists her as a one year old.
1860 Illinois Coles East Oakland Twp. p. 12 fam. 89, R. J. Hackitt.
In addition the 1865 Illinois state census has a female child [Minnie] in the 0-9 year category.
By the 1910 census Minnie a spinster of 51 had lost nine years.
1860 Minnie A. Hackitt – age 1
1870 Minnie Hacket – age 10
1880 Minnie I. Hackell – age 19
1900 Minnie Hackett – age 34
1910 Minnie Hackett – age 42
Minnie Hackett may have actively misrepresented her age and lied to the enumerators as the decades wore on. She may have looked comparatively young for her age and others may have estimated her age on the low side over and over. Certainly as an unmarried woman in town, she was spared the hardships of childbearing and farming.
The Illinois Deaths and Stillbirths Index, 1916-1947 available from Ancestry.com contains Minnie I. Hackett born Aug. 1859 in Coles Co., died 19 Dec. 1918 in Charleston, Coles Co., Illinois. Age 59, a music teacher, she was buried in Oakland, with Rice Hackett born in Ky her father and Susan Permerstin (sic should be Pemberton) born in Va her mother.