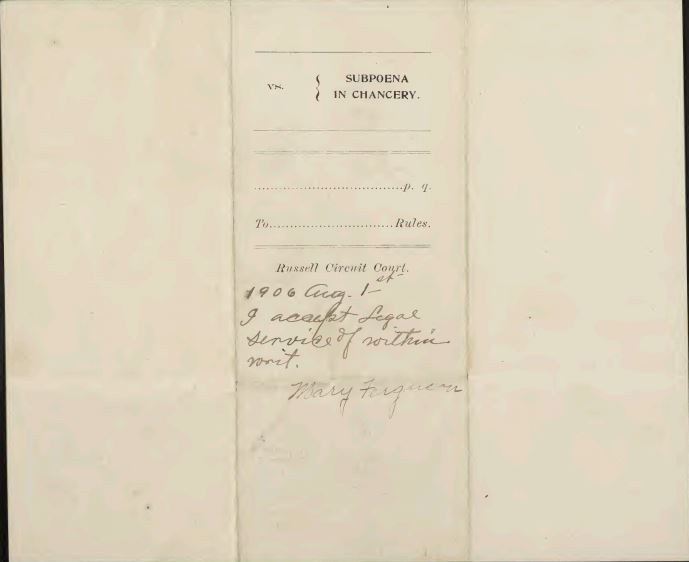 Library of Virginia
Virginia Memory: Chancery Court Records
I have been lacking a death date for Mary Stella (Henritze) Ferguson for several decades. Jewel Sykes suggested a Texas death with no date probably found in The Ferguson Connection by Chris and Conley Stallard. I haven't seen the book and do not know the source. Mary lived with her husband Charles William Ferguson in Lebanon, Russell Co., Virginia in 1900. Betty, their nine year old orphaned daughter lived with her paternal grandparents, John Thomas Ferguson and Martha Washington (Ferguson) Ferguson in Russell Co., Virginia in 1910, while her maternal grandparents, James J. Henritze and Betty S. (Gilmer) Henritze lived in San Jon, Quay Co., New Mexico.
Mary Stella Henritze Ferguson
Comparing sequential census enumerations and birth dates or birth years of children are two good paths to narrowing down a death to ten year increments or smaller in a case of multiple children. A Russell County Chancery Court Case record 1909-17 contained documents which narrowed the death of Mary Ferguson even farther.
Mary Ferguson was served and signed for a subpoena on 1 August 1906 for a court case in Russell Co., Virginia. Most of the records of the case list Mary Ferguson and her father-in-law, J. T. Ferguson adm. for C. W. Ferguson. In the last set of documents dated 28 June 1909 through 1 August 1909, only J. T. Ferguson is listed, which makes me feel that Mary died prior to the close of the case and the creation of that set of documents.
These and other chancery court records are digitized and available online through the Memory program at the Library of Virginia.
Knowing Mary died between 1906 and 1909 makes me interested in a 1907 death record in Texas. In San Antonio, Bexar Co., Texas there is report of death for Mary Ferguson 14 January 1907. The age works with the data from the 1900 census but some other clue is needed to prove these two woman named Mary Ferguson are one and the same.
The 1907 date fits within the 1906 and 1909 framework from the courtcase. The age at death, 31 years, 2 months and 10 days fits with the month and year, November 1875 from the 1900 census. More information, a cemetery marker with a Virginia birthplace, an obituary or funeral record may solve this.
So why didn't I find this years earlier on the Texas Death Index Microfilm at Denver Public library or the Indexed Texas Death Index 1903-2000 available on Ancestry.com? It was in the Texas Deaths 1890-1976 index and images, Newly Indexed, digitized images available at FamilySearch.org which is a different set of records!! The moral of the story is the same as always, read the catalog descriptions, check all the records, all the resources available at various sites and places.