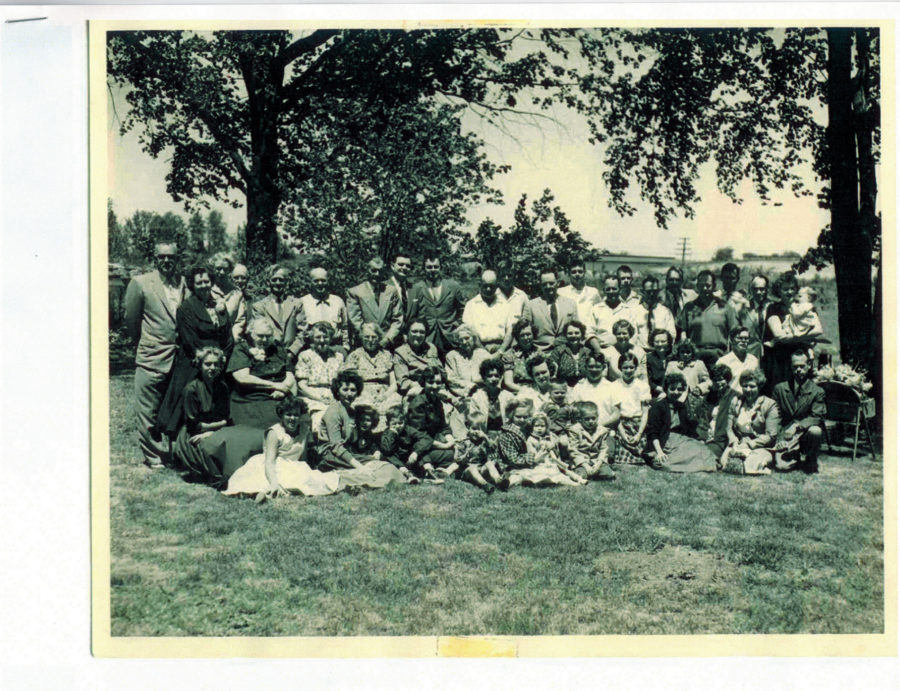 Locate the family groups, identify the babies, check for death dates of grandparents, get a fashion time estimate and reunion photographs will be a cinch to date.
Break it down, who is missing from the photograph? Who ought to be there and isn't because he died and who would have been there, but wasn't born yet?
My cousin Mara sent me a photograph of a Breitenstein Reunion in Okolona, Jefferson Co., Kentucky with an estimated date ca. 1958. My guess is either after Easter 1955 or May 1955 from the children involved, marriages which had taken place, and some second guessing with Carl, a cousin who is in the photograph. Easter was April 10th in 1955, if it had been taken on Easter Sunday, the dress code would have been even fancier and there would have been corsages, at least for my grandmother and mother.
Who is Missing from This Breitenstein Reunion?
First off, Lawrence Breitenstein is missing. He died in 1952. His family is there, but he is not. Second, David McGee is missing. He was born in 1956. His family is there, but he is not. Right there, the window is narrowed to four years. Third, Doug Breitenstein's wife Elizabeth is holding a baby girl, his daughter was born in 1954. She does not look like an infant in this instance.
It is a great picture with loads of brothers, sisters-in-law, children who were first cousins and even a couple children who were second cousins. More importantly, Mara's mom Dorothy had written some names and groupings on the back. To identify this group from the back and left to right, all Breitensteins except where noted:
Keith, Ethel, Helen, Uncle Ed, Uncle Mike, Uncle Theo, Uncle John, John Allen, Coleman Hughes, Uncle Herm, Herm Jr., Uncle Carl, Tom Henritze, Uncle Emil, Emil Jr., Uncle Jule, Sweeny Burnett, Kenneth Farmer, Jimmy McGee, Doug, Elizabeth and Jane.
Wanda, Aunt Anne, Aunt Minnie, Aunt Rose, Aunt Mara, Aunt Doris, Aunt Marguerite, Aunt Lili, Aunt Flora, Aunt Pearl, Carol Lynn, Julius Earl.
Sharon, Thelma Farmer, Linda Farmer and Kenny Mike Farmer, Carol Hughes, Virginia Burnett with Bruce and/or Larry, Marilyn and Susan, Grace McGee with Joseph, Steven and William McGee, Carl Jr., Nancy, Clara Bigot, Ruth Henritze, Betty and Vernon.
What better place to search for great family photos, than the archives of your second cousins!