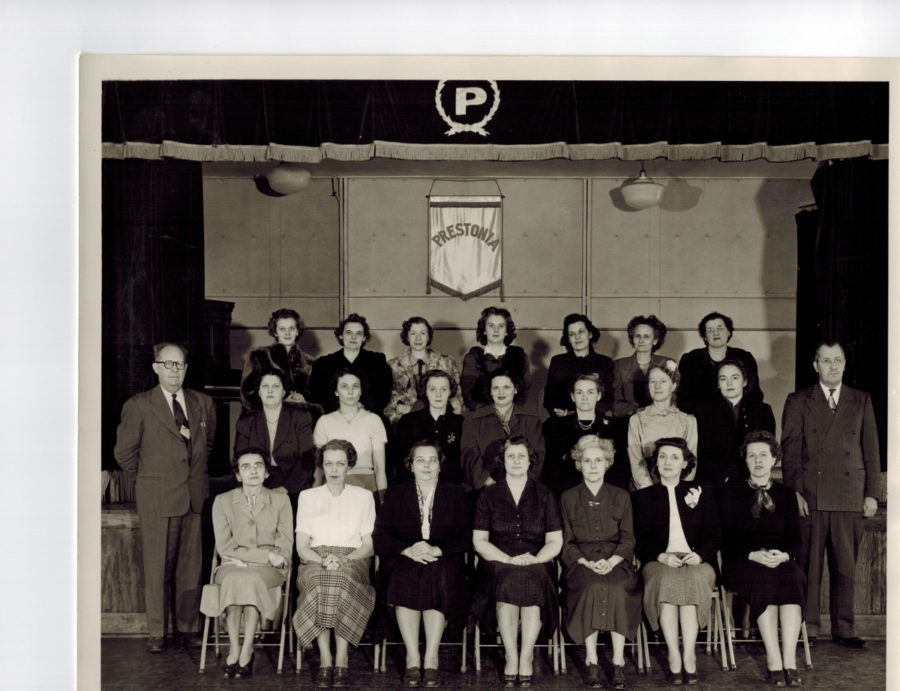 Flora A. Breitenstein, a.k.a. Mrs. Emil R. Breitenstein, was the president of the Prestonia P.T.A. in Jefferson Co., Kentucky in 1950. She saved memorabilia from her term in office minutes, photographs, thank you letters, ephemera, PTA annuals, programs, name tags, things important to her, to remember this fairly significant time in her life.
This group of photographs taken by the Nash Studios on Bardstown Rd was found in the back of an expandable folder labeled Flora Breitenstein PTA. She is seated front and center in two of the photographs.
In the picture of the parents, she is in the fifth row, fourth from the right side.
The final photograph of the staff of Prestonia, has written on the back in pencil: Cox, Browning, West, Mather, Martin, Kemp, Roby, Mr. Brown, Pottinger, Brooks, Reigler, Tucker, Mrs. Brown and finally Collings. This is obviously not all the names of the teachers. I would like to add as many names as possible to this collection.
Also in this expandable folder, inside an envelope postmarked 14 March 1951 Louisivlle Ky 4 pm from Mrs. Wm. Dannenfelser, 2591 Greenup Road to Mrs. Emil Breitenstein, 1344 Durretts' Lane was a handwritten manuscript entitled "Notes on History of Prestonia School." It is transcribed below.
Back in the years of 1880, there was a school at the edge of Standiford Park called Deer Park. Deer used to roam in the park and that is why the school was so named. The school was a log school and had an enrollment of around fifty children. These children came from the districts of Camp Taylor Spring Garden and Prestonia. The school had three trustees, Mrs. Edward Zeitz, Mr. Mike Breitenstein Sr. and Mr. Herman Meier. None of whom are living today.

About 1889 a school was built on Preston Street Road and was called Breitenstein School Dist 36. Miss Sallie Durrett was the teacher at this time. German was a favorite subject that she taught. This school began to increase and teachers were added. When Miss Ella Yager became Principal there were two other teachers. Spring Garden School was built about 1898 at Hess Lane and Preston St. Rd. Miss Amelia Vogt became the Principal there.

About 1908 Mr. John Kalmey became trustee of the Breitenstein Dist. 36 and the school was called Perstonia School. Mrs. John Kalmey, wife of the trustee organized an improvement league. There were seven members of this league and Mrs. Louis Schaaf who is the only living member, was one of the original seven. They gave suppers to make money for the improvements of the school. Some of the things that were bought were a filter for the cistern and screens for the windows of the school. They also did nice things for the children as planning picnics.

In 1921 after World Wr I, the enrollment became so large that it was decided to locate a school in the Camp Taylor area. This school was held in one of the government buildings in the camp and was called Camp Taylor. Mr. Mike Breitenstein Jr. became trustee of both Prestonia and Camp Taylor. In a few years a school was built at Camp Taylor. Mrs. Sallie Thompson, the former Miss Sallie Durrett was President of a Parent Teacher Organization at Prestonia School in 1921. Many improvements continued to be made.

In 1925 plans were made to build a new school to house both Spring Garden and Prestonia It was called Prestonia Consolidated School. Miss Blanche Singleton was prinicpal of Prestonia school consolidation. Mrs. Dominic Ehler was the first President of the P. T. A. of Prestonia Consolidated School Mrs. Kinsley Walker, the second, and Mrs. Mary Breitenstein, the third.
From 1928 to 1969 the school was at 3442 Preston Street Road/Highway near Keller Avnue. Additional land was purchased from Mike Breitenstein Jr. in 1946 and from the Mann Estate in 1947. According to the Jefferson County Public School website, JCPS History, there is an Aldi food store on the site now.
This school and its predecessor Prestonia #36 were important to the farmers and their families in the Okolona area. The students from Prestonia who continued their education went to Okolona High School and later to Durrett High School. Many of those who attended prior to this new school building in 1928, attended only through the 8th grade. Especially in the late nineteenth century, they graduated and began working. This was their alma mater.