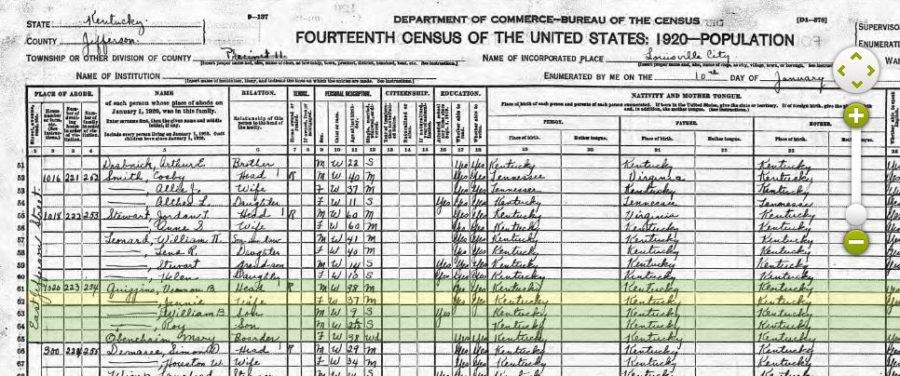 Heritage Quest, Ancestry.com, FamilySearch.org and various newspaper websites have made family history research rewarding so instantaneously, it has devolved into genealogical retrieval instead of research. The Soothsayer in Julius Caeser said "Beware the Ides of March." For genealogists, it is "Beware the perils of retrieval and reliance on indexing instead of researching." It is too easy to think you are finished, when in fact you have just begun, just barely scratched the surface of available sources.
Jenney Butler Quiggins
Jennie B. Quiggins lived at 1020 East Jefferson St., Louisville, Jefferson Co., Kentucky in 1920 with her husband Vernon and children.
In 1930 Vernon Quiggins, a widower lived in Jefferson Co. with the children, but Jennie is not with the family. There is a strong likelihood she died between 1920 and 1930 in Kentucky. In fact, given the birth of the last noted child, you could tighten that window to 1926-1930. Most of the false positives for widows or widowers are women who did not want to be tagged as divorced in the census. However, Jeffersonville, Clark Co., Indiana is just over the Ohio River bridge. There could have been an Indiana death certificate.
The 1940 federal population census for 1020 East Jefferson St., Louisville, also shows Vernon as a widower.
A search for Jen* Quigg* within Ancestry's Death, Burial, Cemetery & Obituaries has these results:
Find-A-Grave shows a gravestone in Canesyville Cemetery for Jenney B. Quiggins indexed on Jenny (sic).
In addition to the data and the wonderful picture of her gravestone, there is commentary provided by the host that there is no Kentucky death index entry or record for Jenny. While this is not an unreasonable assumption, it is wrong. It is true "Jenny Quiggins" does not show up in either of Ancestry's Kentucky death index files, Kentucky Death Index and Kentucky Death Records.
Ancestry has two record files with Kentucky deaths for that time period; Kentucky Death Index, 1911-2000 and Kentucky, Death Records, 1852-1953 which includes original data from Kentucky Birth, Marriage and Death Records – Microfilm 1852-1910 rolls 994027-994058; Birth and Death Records: Covington, Lexington, Louisville, and Newport – Microfilm (before 1910) rolls 7007125-7007131, 7011804-7011813, 7012974-7013570, 7015456-7015462; and Vital Statistics Original Death Certificates – Microfilm (1911-1955) rolls 7016130-7041803.
Using the information from the photograph of her grave stone, I changed the search parameters specifically for the Death Records file as it has digitized images of individual death certificates. Adding the birth year, the death year and then two wild card astericks * so Jenney Quiggins became Jen* Quig*, gave me more latitude in spelling issues. Obviously Jennie, Jenny and Jenney are indexed differently as are Quiggins, Quigins, Quiggens and Quigens. Still I found nothing, so I deleted the surname entirely and searched every Jen* born in 1882 who died in 1927. Jennie Omggins showed up. Examining her death certificate, there she was Jennie Quiggins died 11 December 1927 in Louisville. She was born 25 November 1882 in Grayson Co., to parents Joseph A. Butler and Lucinda M. Kimble, while her spouse, and the informant, was V. R. Quiggins.
You can retrieve the multitude of records others have indexed and stop there, or you can search the digitized records methodically, thoroughly, not relying solely on indexing. In order to mine the data available in those records, change your search patterns by adding or deleting various parameters, dates, places, names, or partial names, dates or places. Use the wild cards available.