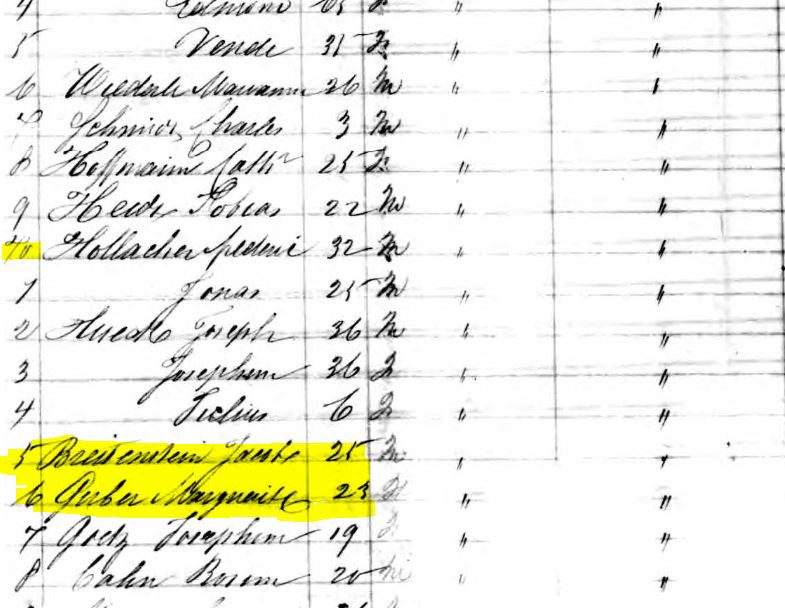 WEDDING DATE vs. APPLICATION DATE
A common conflicting date issue is when the wedding date found differs from another researcher's date by a day or two. Upon investigation the two dates are for different events surrounding and including the wedding, the application date, bond date, parental or guardian permission date, date of the banns, date of a newspaper article about the wedding, recorded date, or license return date, in addition to the actual date of the ceremony. Generally it is "operator" or "researcher" error, the marriage application date was recorded instead of the date of the ceremony. In cases where the license was not returned to the courthouse signed by the minister, the application date may be all that is available. It needs to be written as "were married on or after"or circa instead of "on" if the marriage indeed took place. It may have been the officiant's error of not returning the license. The courthouse clerk may have not recorded the return. A marriage can be inferred from the application and said to be "ca. 4 December 1814" or "on or after 4 December 1814" if the couple lived together as married for many years. Check the laws of the state at that time to see if there was a waiting period. Anticipate those date conflicts and watch for them.
Two Records or Two Weddings
The wedding day known to the family doesn't match the marriage date found in records for various reasons:
societial pressure
family pressure
religious pressure
economic pressure
legal pressure
cultural pressure
WEDDING DAY vs. MARRIAGE DATE
There is still societal pressure to lie about a marriage date due to premarital relations resulting in pregnancy. The desire to hide that particular indiscretion from friends, neighbors and relatives, causes lies to be created and maintained. A wedding is said to have been in January but in fact was not until June and then out-of-town in another state or even Canada or Mexico, a place that could not be easily disproved. Then when the baby arrived in October it was perceived as on time, full term and legitimately conceived. That one is as old as the skies.
Economic pressure results from employment rules against marriage or rules about no benefits until after there is a marriage. Life insurance and health care benefits encouraged couples to marry prior to their wishful date. Hurried marriages occurred prior to going into the service or an overseas job or just a new job in a different city, as a spouse was eligible for benefits which a fiance wasn't. A different result would be a secret marriage so a fiance could keep her job as a teacher whilst a bride could not.
Legal pressure from civil or military rules change marriages dates. Officers can't marry enlisted personnel so marriage would be deferred until one of the couple is demobilized. Miscegenation laws prevented interracial marriage in certain states for varying amounts of time. Virginia's law was overturned by a Supreme Court Appeal in 1967 in 388 U.S. 1, Loving vs. Virginia. Divorce and remarriage created timing issue problems. In Texas there is a 30 day waiting period between the final divorce date and the ability to remarry. There was a sitcom episode of Reba that poked fun at this issue. Bigamy was illegal in almost every state, so marriage could not occur until after a divorce was final with the papers to prove it. If a divorce was not finalized in time, and the wedding ceremony goes ahead as planned, it's not legal. A real marriage ceremony must take place later as soon as it is legal to do so. As immigration laws have multiplied so have marriages tied to Visa expirations. Staying in the United States by marriage to a citizen, an example of the story in The Proposal, the 2009 Sandra Bullock movie. In reality, immigration issues can cause couples to marry prior to their planned date. They may have a civil marriage performed before a justice of the peace in order to start the paperwork necessary to get the correct visas resolved prior to a big wedding celebration, or they may solve the dual countries issues by having a ceremony in each country. This does not address the fraudulent issues of trying to get around the laws by marrying in name only.
Familial pressure – disapproval so strong that a runaway secret marriage made sense, i.e run off to Elkton, Md, Ringgold, Ga., Las Vegas or anywhere that has "easier" waiting rules, until the families gave in. Then another celebration, to do it all over again in the hometown with accolades all around. A double wedding used to mean two couples marrying on the same day at the same wedding. Now, in addition, it could mean the same people married twice on different days. This is the dream of a child from a "broken home" that his parents will remarry. It occassionally comes true and definitely creates two marriage dates!
Religious pressure to marry someone in the same faith, while waiting for a conversion or annulment, a civil service might be followed by a religious service months apart. A civil service before a dissolution could be received/performed in the Catholic church. Dual weddings take place when the couple needs and wants to placate and assuage all the sides of a complex union, culturally, religiously and geographically. An example of an Armenian/American union was in the Wall Street Journal article.
Geographic pressure – A couple, living so far out on the frontier the circuit riding minister visited only once or twice a year, may have married themselves or had a neighbor do the honors when neither had any official standing and then waited for the minister to come and bless their union and officially create it when he could. Common law marriages could have occurred if the couple married themselves and never had an officiant licensed by the state do the deed, but ended up in court to have the marriage declared official or legal. In France there is a civil ceremony and a religious ceremony usually on the same day, but sometimes on different days. All of those stories have held up through the ages. Nowadays, bi-coastal dual weddings are becoming more common while previously there would have been a wedding on the bride's coast followed by a family reception on the groom's coast where the couple would then reside. All of these examples might create a scenario with two different dates of marriages, one hidden, one not, one official, one not, one known, one not, one acknowledged, one not.
DOUBLE WEDDINGS – A NEW MEANING
In the past year, I have come across several different reasons for multiple marriage or wedding dates and a difference in how the weddings are celebrated, twice, big and beautiful, a new definition of double wedding.
Officiant issues: The first wedding ws with a family member as the planned officiant. Two weeks before the wedding, the bride and groom went down to City Hall and were married by a Judge. It turns out the officiant wasn't licensed in the state, so while the invitations were out, bride, groom, date, place, parents, on the perfect imprinted source, the actual marriage date was earlier by two weeks. I asked, they plan on celebrating the second date, the date of the wedding and reception, not the first date of the legal ceremony.
Cultural issues: A friend's daughter became engaged this fall and the groom's parents insisted on a promise ceremony before they would consent to their living together arrangement worked out while he finished his advanced degree. The bride's mother felt the cleric at the ceremony may have truly married the couple. They are planning a wedding in about two years, with the second date as their anniversary.
Civil Law issues: The next conflict question came up when I asked a friend about this curious double date phenomenon. She said when she was married nearly thirty years ago in Connecticut, they went to Town Hall with their blood work and were in essence married by the clerk accepting their money three or four days prior to their wedding and reception. They celebrate the second date.
Long distance issues and civil vs. religious: The fourth example was an overseas civil ceremony in Germany and later a religious ceremony back in Massachusetts. They considered their marriage date the first date. this combined two different reasons, long distance geography before destination weddings and civil vs. religious.
Date issues
The significance of the date itself may cause a second event. Anniversary date vs. wedding date, a couple wanting the anniversary date 09/10/11 was in luck on the weekend aspect of the wedding, but not the couple wanting 11/11/11 or 11/12/13 which was a Tuesday. A couple wanting 12/13/14 could be married on a Saturday, but perhaps the venue is only available on that Sunday, 12/14/14 which might be hard for out-of-town guests. Going for a specific numerically interesting wedding date or easy to remember anniversary date, carried to the extreme almost superstitious was described in Marriage Dates and Consequences. Some people want to be married on Valentine's Day no matter the year. Compare that to days or dates perceived as auspicious as opposed to lucky within the Jewish religion. In an urban legand way, I have heard of men who get married on the same date for multilple spouses so they don't get confused and remember the wrong anniversary date.
The funniest of the recent spate of articles about this dual wedding phenomena was in a 2012 blog, Trying to have your wedding cake and eat it too.
All of those series of events would involve two sets of dates both listed as marriage dates. If I had to answer the six million dollar question, which marriages these couples celebrate as their anniversary date, I would arbitrarily pick the first one. Luckily, I type my genealogy work in word processing files instead of in a database program, so I won't face that choice problem. An entire article was written discussing the gedcom problems evolving in different programs for those multiples dates. I type out the words they were married by a judge 10 August 2013 followed by a wedding and reception two weeks later, 27 August 2013. If I had a program that made me choose, I would probably switch programs but in the meantime, I would begin with the first marriage with the explanation, followed by the second marriage and that explanation and then state which date the couple planned to celebrate.
After all this research, if I wanted to hide a marriage date, I would choose a state that did NOT consider marriage a public record or at least had a 50 year set off. Then within that state, I would choose a small, out-of-the-way, rural county, one without a website or at least without an integrated website with search functions, without email capability, a county that required letters in order to get answers. Within that framework, I would get married on January 7th and claim it to be July 1st or vice versa, taking advantage of date transposition issues to add to the general confusion.
If I ever felt the need to run off to Paris and get married, I might redo the whole thing in a civil ceremony in the United States for purely legal reasons. It appears it might be way too easy to think you got married in another country and not have it completely right and thus not be truly married.
Although this ship's passenger list shows Jacob Breitenstein and Margaret Gerber traveling together with different surnames, I suspect they were married in Germany in the fall of 1846 prior to their arrival in the United States, 24 December 1846 in New Orleans on the Tallahassee.
They married 2 April 1847 in Louisville, Kentucky with Philip Held of Oberotterbach proving the age of Jacob Breitenstein. I wonder if this civil ceremony had been a marriage for the sake of clarity just to be able to prove they were married in the United States.
An aside: To all upcoming brides and grooms trying to make decisions about the wedding and reception they want or need, this wonderful celebration is the equivalent of pregame show. What matters is the game (i.e. the marriage) not how many six year olds, or five year olds, have a chance to shoot at the basket for a free trip to Disneyland before the game begins or what they are wearing while they shoot. It doesn't matter if the game is on a Friday or Saturday or what time it is scheduled to begin or who is bringing snacks, what matters is the bride and groom have chosen to be each other's team for the rest of their lives.