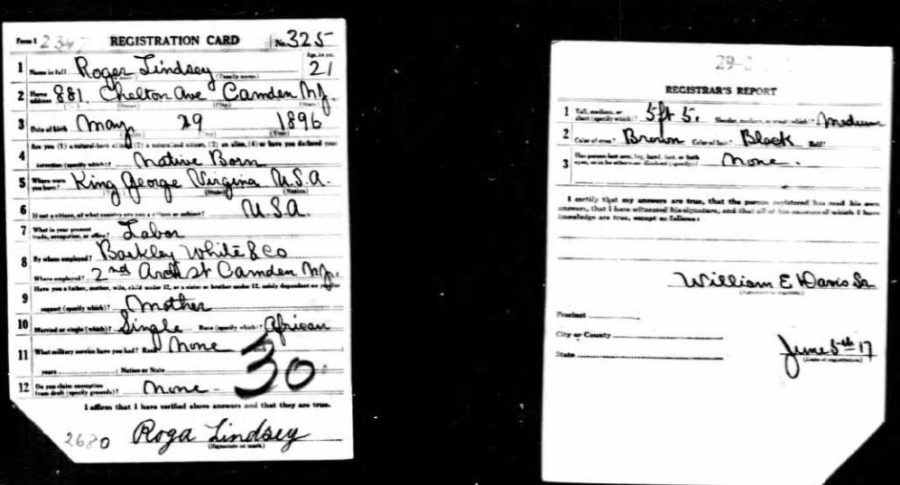 Curiously, the odds are pretty good that there will be people of the same name in the same place at the same time. Think of all the little girls named Ashley, Brittany or Jessica born in the 1980s. Names go in and out of style and certain given names are popular in specific geographic regions and uncommon in others. For example, Benjamin Franklin was big in Pennsylvania and up and down the East Coast in colonial times while Jefferson Davis was a much bigger hit in the South in the 1860s. Some given names like Elizabeth, Mary, William and John are so common, there will always be duplicates. In addition to the scenario that could leave three related males with the same name in forty years, (Sr., Jr., III,) some names run in families, with every cousin clump including a Lavinia, Amanda, Daniel, or Thomas. What feels like an unusual name combination in a specific era and place may turn out to be two different men with roughly the same name.
In 1910 Rodgie Lindsey lived with his parents Charles and Annie Lindsey in Caroline Co., Virginia. He has not been easy to find, for instance, I have yet to identify him in the 1900 census. There were two contemporaneous black men born in Virginia ca. 1897 who lived in different parts of New Jersey when each of them registered for the draft.
The first card for Roger (Roga) Lindsey, 881 Chelton Ave., Camden N.J. born 29 May 1896 in King George Co., Virginia seems plausible as an older brother John Lindsey lived in Camden Co., New Jersey in 1930 and 1940.
The second card for Rogers Lindsey, 193 Clay St., Hackensack, Bergen Co., New Jersey born 8 April 1897 in Bowling Green, Caroline Co., Virginia has better matching birth information, but the name of the nearest relative, Maria Lindsey, gives pause, plus no one yet in the family was known to be in Hackensack.
Rodgers Lindsey or Roger B. Lindsay
This burial in Arlington National Cemetery clearly matches the first man's birth date, though the surname is different, LINDSAY instead of LINDSEY.
The 1920 federal population census for Robert Lindsey 272 James St., Hackensack, matches Roger Lindsey, 272 James St., Hackensack in the 1919 and 1921 Hackensack City Directories.
The family who lived at 286 James St., Hackensack in 1930 was the same family of Matthew Toliver who lived at 272 James St. in 1920. In 1930 Rodger was not living with Matthew Toliver though he was a lodger in the house of Matthew Toliver in 1920. Perhaps he had already moved to New York. You have to love a city directory that tells you where a man moved.
It is clear that there were two different men, Rodger Lindsey and Roger B. Lindsay, who were both born in Virginia in 1897 and 1896 resepctively. One Roger Lindsey married Catherine and lived at 258 West 127th St., New York City in 1940. Yet another Rodger Lindsey was born 22 May 1898 and died September 1983 probably in Camden, New Jersey with a social security number issued in New Jersey prior to 1951.