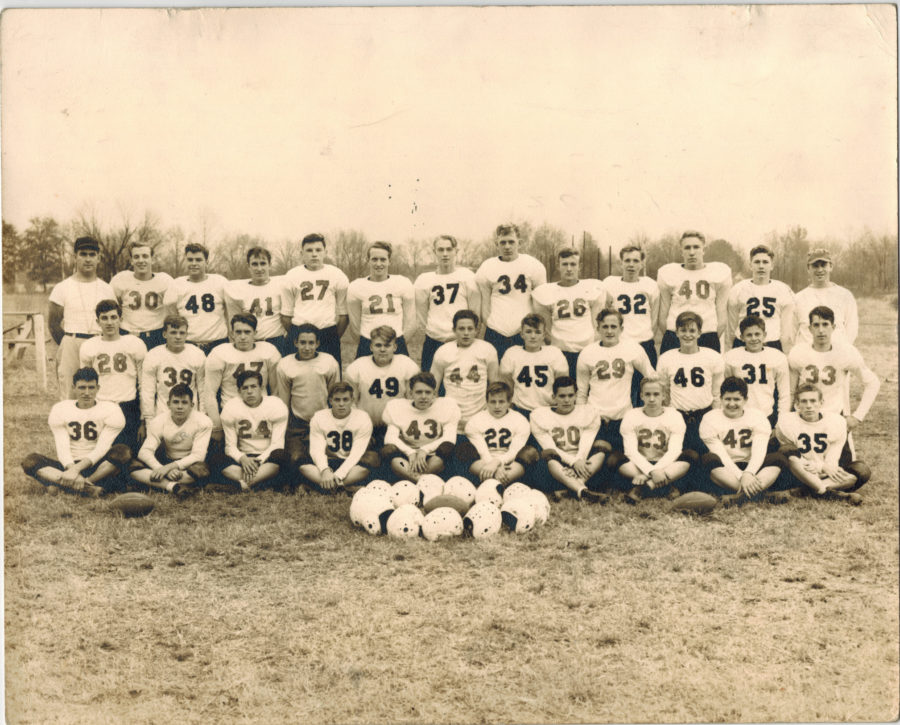 Unidentified Photographs Can Still Be Useful
Here is a professional 8 1/2 x 11 inch black and white photograph of an unidenified football team that was loose inside an old photograph album from the 1940s from rural Jefferson Co. out by Okolona.
Can this photo be identified as 1946 or 1947?
By itself, this photograph is nearly worthless, an unidentified crowd of football players, some time and some place, but in context and connected with the writing on the back, it becomes more clear and possible; 16 names are inscribed, 14 of them followed by their jersey numbers.
Charles Lamont 48
Earl Harelfield 24
Dave Fischer 35
Raymond Riggin
Ernest Steillery 46
John Parrish 23
Eugene Tichenor 22
Jim Metcalf 20
Bill Kramer 38
Orval Lindsey
Don Dearing 26
Billy Van Meter 31
Eugene Nicholas 40
Stanley McCauley 21
Carl Snyder 33
Billy Ferring 44
Most of these young men, born from 1930 to 1932, were in either the class of 1948 or 1949 at Okolona High School in Jefferson Co., Kentucky. Dave Fischer, John Parrish, Jim Metcalf, Don Dearing and Billy Ferring have all passed away. It would be nice to identify the whole team and determine if it was the 1947/48 team or the 1946/47 team. Orval Lindsey didn't write his jersey number on the photo, but I'll bet he could name most of the team.