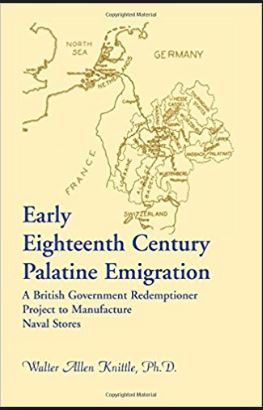 A Holy Grail of genealogical research is immigration, that first ancestor's name, date, place, family, proof of immigration. We want to know who that first immigrant was, who rose up one morning somewhere in the world, and said, "I am out of here, going to America." Notwithstanding those of Native American descent, those of Spanish descent who came up through the southwest, or those of African descent who came involuntarily, many Americans descend from men and women who said (to paraphrase), life stinks here, let's leave, get on a boat, and make better lives for ourselves and our children in America.
I recently reread Knittle's 1936 book, Early Eighteenth Century Palatine Emigration: A British Government Redemptioner Project to Manufacture Naval Stores,  reprinted by Genealogical Publishing Company of Baltimore.  On my first read, I concentrated on the lists about the 1709 Palatine Migration, because I wanted to know which of my ancestors was listed. The second read was different.
Immigration is a constant news topic. When I read the book again, I found parallel after parallel from 300 years ago through to today. It was fascinating. The phrase "the more things change, the more they stay the same," came to mind. I recommend reading it, if you haven't already or reading it again if you have. Anything that causes so much thought, reflection, and comparison, has got to be good for your research.