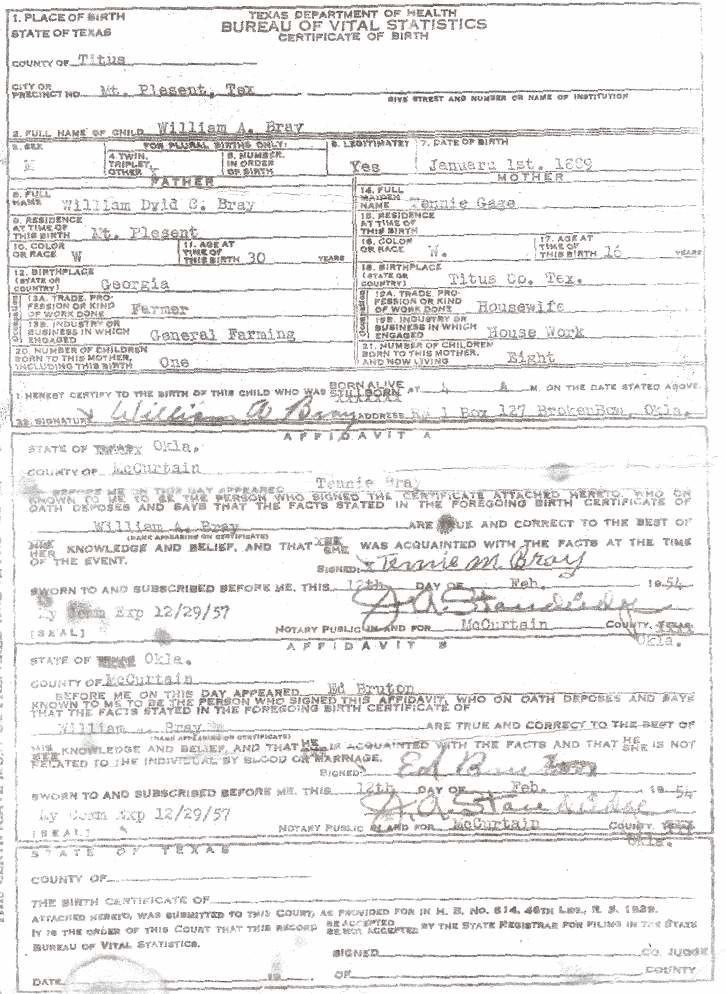 Family History – Tennie Bray – Part One
Start with what you know. Genealogy research is like any other, research from known to unknown proving each link along the way. Interview living members of the family with specific questions and for a free flow of memories. Don't suggest specific dates or places, let the memories work.
Family Memories
Census
Social Security Death Index
Cemeteries – FindaGrave
The question is the parentage of Tennie A. (Gage) Bray. Ruby Lee Bray, one of many granddaughters of Tennie Bray, a daughter of William Alexander Bray and his first wife Mary (Virgin) Bray, was born 17 April 1912 in Arkansas, most likely in Sevier Co. Ruby married (1) Velton Lonzer Chapman. They had children, including some born in Bowie Co., Texas in the early 1930s. William A. Bray, Ruby's father and Tennie's son, filed a delayed birth certificate on 12 February 1954 which his mother Tennie Bray signed. Her maiden name was listed as Gage. The timing for the issuance of this delayed birth certificate suggests he needed a birth certificate to apply for social security benefits.
First find each pertinent families in every possible census. The census is the skeleton on which hangs other facts, events and connections. Without it, there is just a pile of data.
Velton Chapman does not show up in the 1930 index available from Ancestry. When there is a person missing in the census index on one of the Internet sites, Ancestry, HeritageQuest or FamilySearch, it is possible to find someone by going back a decade or forward a decade on the same site OR switch sites and search again in the original decade. In this case neither Heritage Quest nor FamilySearch had a 1930 index. Velton Chapman is enumerated with his parents in 1920 in Titus Co., Texas.
1920 Texas Titus Co. Pre. 6 171-2a-19 family 18.
Neither his father Ira (sic) Chapman, Velton, nor Argile show up in Ancestry's 1930 index, but Russell does. Up the street from Russell Chapman are Arvil P. Chapman and his family and Velton Chapman and his family.
1930 Texas Bowie Co. Pre. 3 19-24-8a-15 family 167, Velton L. Chapman
Reviewing this 1930 federal population census of Bowie Co., Texas shows Ruby was 17 at the time of the census, born in Oklahoma with parents listed as born in the United States. The 1920 Oklahoma census lists Ruby Bray in Sulphur, McCurtain Co., Oklahoma with her parents William A. Bray and Mary.
1920 Oklahoma McCurtain Co. Sulphur 121-8a-9 family 100, William C. Bray
William A. Bray and Mary are clearly Ruby's parents in 1920 census. In the 1930 census William lived with his second wife Ester, in McCurtain Co., Oklahoma.
1930 Oklahoma McCurtain Co. Sulphur 45-20-3a-19 family 47, W. A. Bray
William Alexander Bray, a married man with a wife and five children. was born 1 January 1889 in Mt. Pleasant, Titus Co., Texas and registered for the draft in Gillham Sevier Co., Arkansas.
William's parents were William D. C. Bray and Tennie Bray.
1930 Oklahoma McCurtain Co. Eagle Twp. 45-3-8b-57 family 163, William D. Bray
The 1930 census has Tennie Bray born in Texas, her father born in Tennessee and her mother born in Texas.
1920 Texas Titus Co. Pre. 7 1-7-1a-48 family 11, William D C Bray
In this census, Tennie C. Bray was born in Texas as were both her parents.
1920 Texas Titus Co. Pre. 7 1-7-1b-51 family 11, Geo. W. Bray
1910 Arkansas Sevier Co. Jefferson 176-1a-15, William D. C. Bray
In the 1910 census Penny C. Bray was listed as born in Texas; both her parents were born in Tennessee.
1900 Arkansas Sevier Co. Jefferson 113-5b-54 family 84, Bill Bray
In the 1900 census both Tennie and her mother were born in Texas, while her farther was born in Tennessee. In summary, Tennie was listed as born in Texas in four of four of these census enumerations. Her father was born in Tennessee in three and Texas in one. Her mother was born in Texas in three and Tennessee in one. Tennie's husband was enumerated as Bill, W.A., William C., and William A. The 1920 census clearly shows William C., however when you compare that C to others on the page, my hunch is that it was an A, the rounded part of the penstroke and it didn't hit the paper for the back part of the penstroke or it faded. As much as I believe that by examining other capital As and Cs on the page, I transcribed it as William C. since that is what it looks like. Don't change your mind or adjust your view about what the page says, just because you know what the enumerator should have written.
Three pronged research strategy:
Research Tennie Bray
Research probable connection with Sarah R. (Narramore) Hobbs Preston's family in 1880; obtain obituaries and death certificates of Sarah and all her children.
Research possible connection with Frank Gage in Texas, concentrate on son of Ephriam and Melinda (Ashton) Gage.
Research Tennie Bray
Review Tennie M. (Gage) Bray's death certificate.
If Tennie Bray had a social security number, form ss5 should be obtained from the Social Security Administration.
Tennie Bray's funeral record should be examined.
Review Death Certificate for William A. Bray in 1930 to see if Tennie's maiden name is mentioned.
Each of Tennie's children's birth certificates and death certificates should be examined for alternate maiden names.
Order Microfilm for the newspaper McCurtain Gazette, from 1966 when Tennie died, on Inter Library Loan (ILL).
Tennie Bray's family needs to be brought forward until all of her grandchildren are identified including middle names. Incorporate all the family supplied information. Compare information in the 1920 and 1930 census and in April of 2012, add the 1940 census data.
Any great grandchildren identified should be brought forward. Past that, middle names have many other influences and may be next to useless.
Any or all of the grandchildren still alive, could be contacted by letter for more information. Check to see which women if any lived in McCurtain Co. with or near Tennie, were over twenty born in the 1940s and still alive today. They might have better insight into Tennie as a grandmother and some stories of growing up with her. Can someone corroborate the story of her parentage?
Concentrate on the second son, Franklin Jerry Mires/Miner Bray, He married Cora D. Dudley, and had children; looking for either Frank(lin) or Jerry. A son of Grandson or granddaughter of his would be good. Where did he get that name?
Identify children and grandchildren of Tennie's eldest and youngest daughters.
To be continued in What to Do While Waiting for the Mail to Arrive.