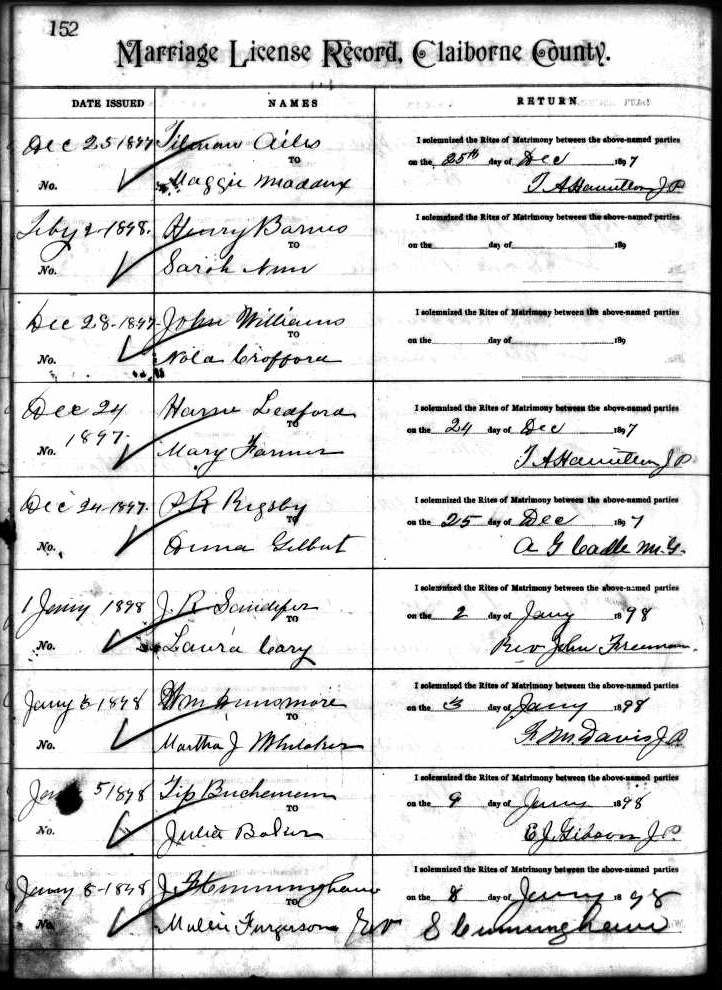 Marriage Records

Marriage records include applications, bonds, coupons, registers, licenses, returns, certifications and solemnizations.
My friend asked what she should do since the local courthouse had no record of her ancestors' marriage. I started a riff about indexing, illegible handwriting, married names vs. maiden names, initials vs. first names, middle names and nicknames vs. given names, misfiled returns, accents, pronunciation, phonetics, typographical errors and the worst, the dreaded ink blot, all of which can affect whether a record is found in the courthouse.
Below is page 152 of the Marriage License Record, Claiborne Co. Tennessee Book including the year 1898 with an offending ink blot.
Examining the record above shows Tip Buchanan and Julia Baker applied for a license on 5 January 1898 and were married 9 January 1898. Even though the ink blot obliterates the end of the word January, leaving it open to interpretation as June, it is obvious in this chronological register of licenses that this record falls between others issued 1 January 1898 and 8 January 1898.
Then I started in on marriage applications, bonds, coupons, registers, returns, licenses, and mentioned the county courthouse employees who threw the ministers' returns in a box next to the wall and left them there for pickup for decades. Bless her heart she said patiently "the lady said it wasn't there." I explained county boundaries, open record laws, varying state laws regarding age, waiting periods, blood tests, degrees of cousinship, topographical barriers of rivers and mountains, in addition to market day marriages and elopements, all of which can affect which courthouse was visited.
On page 320 of a Hawkins Co., Tennessee Marriage Book in 1911, is included a letter from Will Massingill of Grainger Co., expressly forbidding the marriage of his daughter Ruby Sweetheart Massingill who was only 14. He obviously expected Ottis Watson and his daughter to run away to a neighboring county, where the clerk or deputy clerk did not know that she was underage.
I didn't go into variable state political subdivisions. Most states have counties from which marriage licenses are obtained, Louisiana has parishes, Alaska has boroughs, Connecticut, Rhode Island and Vermont have town clerks, Virginia and a couple other states have Independent Cities in addition to counties and Hawaii has counties but marriage records are kept in Honolulu at the Dept. of Health and under 75-year-old retrieval restrictions. Some states keep records on a state level, some keep them on a county level, some keep them on both levels, some are considered open records, some restricted records, some are closed except to participants. In many states marriages are funneled through the County Clerk and Recorder's Office. Arkansas Vital Records has marriage records available at the state level from 1917, currently (2012) through a coupon program which has limited information. The marriage record itself, license, application, bond and return are kept at each individual county clerk's office. Pennsylvania's marriage records are kept in the County Register of Wills/Orphans Court, some of which have web sites with marriages online like Berks, Bucks and Montgomery. Washington State has marriages obtained through the County Auditor's office. Every state has the right to regulate the performance of marriages, keep and disseminate marriage record information according to individual state revised codes. The combinations and permutations are endless. Right now there are states which permit marriage between two members of the same sex, those that don't, those that won't and those that are in the midst of legislation to change one way or the other, just as there are states with varying ages of consent as young as fourteen for girls.
My friend cracked up, she couldn't even write it all down, how could I know all that. I laughed too and admitted I didn't know it all, but I could look it up. I got out an atlas, Everton's Handy Book, The Librarian's Guide to Public Records, got on the Internet and checked out a twenty mile radius – a full morning's wagon ride and a sixty mile radius – a long day's wagon ride, which included up to three states and more than ten counties. County formation dates were compared with the dates of the record streams. One adjacent county had some kind of a disaster, fire or flood since there was a thirty year gap between county formation and the beginning of the records. I pegged it as the next most probable county. She had two different third cousins who had been working this line in the last ten years. Since the marriage record hasn't been found, it safe to say it wasn't easy to find, and that might be because of courthouse trauma. I suggested the local newspaper, hoping that good and thorough reporters were on the courthouse beat that week. All the while I was laughing because "burned counties" are research killers, and I hadn't even mentioned that possibility. Besides laughing is the only response to the genealogical lament of records lost, at least before rolling up your sleeves and going at it from another direction.
An aside about The Handy Book For Genealogists published by Everton. I have the 1991 edition. It is so old it is missing the county of Broomfield, Colorado. There have been three editions since mine. Whether you need a new one or whether an old one will do, is a personal question. I buy a lot of used books from my local used bookstores, but if you want a specific title that is unavailable in town, try Amazon, ABE Books, or Alibris. All of this information is more current on the Internet, but there is a conciseness along with the maps which makes this a book I keep on my shelf and use. A typical entry, Sevier Co., Arkansas created 1828 from Hempstead and Miller, phone number and address and parenthetically (Co. Clk has m, pro rec from 1829, Cir Clerk has div. civ ct, lnd rec). The Internet is fabulous and may have Arkansas marriage records, but knowing the earliest possible record is important. Had that year been 1929, there would have been no reason to search further for an 1871 marriage in those records. Another option for the same kind of information is The Librarian's Guide to Public Records published by BRB Publications. Again, my copy is old, 1997. Like the Handy Book, it is not current and has not been updated for hurricanes, floods and fire damages to courthouse and records. Think of Katrina in the Gulf, I can only imagine the records that were destroyed.
Some records kept 150 years ago are not dissimilar to those records kept now in the same county. Below are several different records from 1851, 1898, 1950 and 1994 all from Claiborne Co., Tennessee.
The last record on this set of pages from Claiborne Co. 1851 is for Jacob Garrison and Sarah Hurst.
The license is registered as issued on the left page and the certification or return is on the right page.
Compare the records above to those 100 years later in Claiborne Co., Tennessee.
In 1994 Claiborne County, Tennessee had nearly the same book containing the application, license and return, all on one page.
Running away to get married, eloping to a county where you weren't known, or to a state with less restrictive requirements, is a time honored tradition. In the United Kingdom, it used to be Gretna Green in Scotland. It was Elkton, Maryland, a town close to the Pennsylvania border which until 1 January 1939 had no waiting period, and therefore became a mecca for runaway marriages for residents of Delaware, New York, New Jersey, and Pennsylvania. In western Ohio, it was Indiana, in eastern Ohio, it was West Virginia. From Chicago, it was Crown Point, Indiana. In California, it was Reno and Las Vegas, Nevada. We are a country of states and each state has enacted different rules, waiting periods, exclusions, blood tests, and costs.
Eloping is not the same as a destination wedding. The result of not being able to locate a wedding certificate is the same, but in a destination wedding, people come along with the wedding party for a vacation experience, particularly the Caribbean and Hawaii. Destination weddings have evolved in the last ten years along with the bridezilla craze. The research result will be the same as for eloping except more people will remember where it was.
When requesting marriage records, ask for what you want. If all you want or need is the marriage date, ask for the marriage return or a copy of the register. If you are hoping for further information about the parents or parents-in-law, birth dates and places, you probably want everything, especially the application. Logically, the more you request, the more you are apt to pay in copying fees.
Sometimes, the record is just not available for a union at hand. Examples:
A courthouse disaster ruined the records for that time period.
The state didn't have rules for civil unions that time period.
The couple wasn't married. They had a common law union. You will NEVER find the record you so valiantly seek because it does not exist. OK that one hurts.
The couple did not marry in the county in which they lived their entire lives; they ran off to get married and until every set of records is searched in the United States, Mexico, Canada, the Caribbean and the world, you won't find that record.
The couple lied about the date and/or place. That first baby was not early – a seven month baby, it was full term. They ran away to Mexico and were married the month before the baby was born; the month after the baby was born; six years after when they had the time and inclination; or twenty years after when no one would check. They celebrated a fake day or year for decades.
If the marriage can not be found in local records, town, county, or state, make do with the answers and or deductions which can be made, right or wrong, from the census. See the Genealogy Blog for realistic but erroneous deductions possible in an example from the marriage of Leonidas Alexander King and Margaret Taylor in Whitley Co., Kentucky.