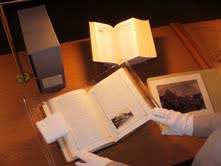 My Top Ten Personal Favorite Genealogical Research Libraries
I love libraries and try stop by to visit even the smallest library when I travel. If the library is having a book sale that day, all the better for me. When I am lucky enough to be in a large city on business, I plan trips to libraries like other people plan restaurant and chef sampling adventures. I figure out taxis vs. buses vs. parking vs. time available vs. hours open like a chess game. My favorites in no particular order:
My Genealogy Blog lists them from East to West. When planning trips, keep these gems in mind, so you leave time and energy to explore them. So much genealogical research can be done with original digitized images on the Internet that it is easy to forget the immense amount of information available only to those who visit in person.
Western Reserve, Newberry, Filson, D.A.R. and Family History Library are private libraries. Review each of their web sites for information about membership or readers' privileges and hours. Private libraries may require membership or charge daily admission. They may have museum hours, closed Mondays, open three days a week, four and half days a week, open some Saturdays, closed Sundays, open late one night a week, etc. etc. It depends on demand, funding and probably tradition and expectations.
Denver, Clayton and Allen County are public libraries owned and run by the City and County of Denver, Colorado, City of Houston, Texas and Allen County, Ft. Wayne, Indiana. Sutro in San Francisco is part of the California State Library system and the Library of Congress is our National Library in Washington, D.C. Sutro is to close in March and to move in May to the 5th and 6th floors of the J. Paul Leonard Library at San Francisco State University, which will alter its hours, policies, parking and accessibility. The Library of Congress is closed on federal holidays which means a lot of Mondays.
The Library of Congress is both an awe inspiring tourist stop and a library. There are some great shots of the library in the movie National Treasure: Book of Secrets with Nicholas Cage. It looks that glamorous in person, the height, the richness, the splendor. Visiting the National Archives in Washington, D.C. was not a library visit, but a museum trip. I was in awe of the holdings, the experience itself. I didn't research there. I saw and touched a couple original census books. I have researched numerous times in the Rocky Mountain Branch of the National Archives in Lakewood, Colorado, but consider the Archives and its branches, a national repository, rather than a library.
The most famous or largest library missing from my list is New England Historic Genealogical Society Library. Numerous friends have sung the praises of this library. I haven't been to Boston in over 30 years and when I was there last, I did not research there, so I can't count it. I don't know which of my favorites it would knock out of the top ten, but I have been told, it would be in anyone's top ten.
I have been in all of these libraries multiple times except Sutro in San Francisco. I had only four hours on a vacation morning, I prepared more for that visit than many others since my time was miniscule. I would go back in a heartbeat.
Preparation is the key for sucessful visits to all of these institutions. Most of these libraries are closed on Sunday. Most of them have a pencil only rule. Most of them have lockers for coats, briefcases, purses, backpacks. Some of these libraries catalogue with the Dewey Decimal system and some use the Library of Congress system. Some have open stacks and some have closed stacks. Some require and supply gloves and book cradles while handling books and manuscripts. Some have security screenings. Some have paid parking, some have parking reimbursements, some have free parking and some have no parking. Review each web site and be certain which research can be done online and which research must be done in person. Find out the policies on laptops, cellphones, hand held scanners, book retrieval frequency, copies, copiers and payment. For example, some require exact change, some use copy cards, some don't allow money at all and in some copies must be made by employees only.
Some standard preservation steps at the Western Reserve Historical Society Library include archival manuscript file boxes, books in book cradles, and photographs handled with gloves.
Photo by Becky Carlino, WRHS
Use your time researching subjects, books and manuscripts that can not be found in other libraries, manuscript files, unusual collections, strong local collections unavailable elsewhere or least anywhere near your regular haunts.