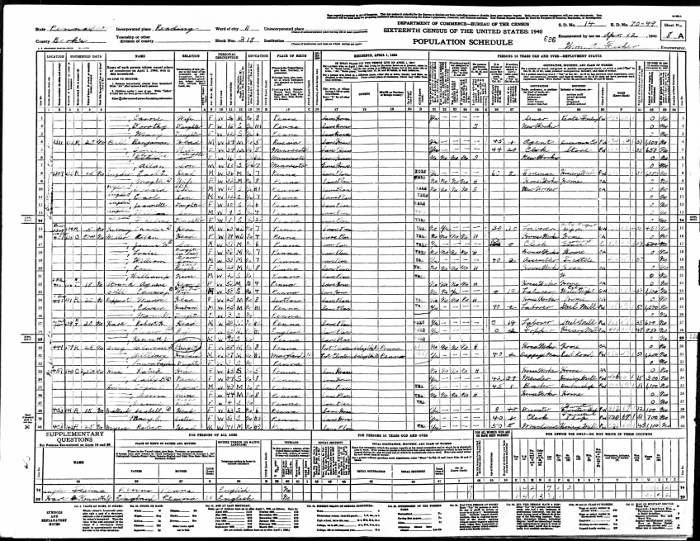 When Christina Brown wife of Conrad Brown appeared in the will of Balthaser Henritze, my heart sank a bit at the thought of tracking down Browns. However, it wasn't so bad, the family generally stayed in Reading and Conrad is a nice searchable first name. When another descendant Mary Brown married Charles Gile Willson, my heart sank a bit more, but Gile is a great middle name and at least Willson was the more unusual spelling. However, when Susan Ellen Schmeck married William S. Miller, I truly wanted to sit down. Yes, the families nearly always stayed in or near Reading, Berks Co., Pennsylvania, but William Miller? Just finding his parents took ages, getting his middle name, William Spangler Miller was huge. William and Ellen had a son James Herbert Miller who died half a year before his mother, so Ellen lived with her grandson William Miller prior to her death. His middle name Monroe didn't really differentiate him enough, he didn't seem to use it much. The 1940 census was the source that broke it open.
Easy Surnames or Impossible Surnames
Searching the surname Henritze is both easy and hard. It is easy because there are a finite number in the country at a time. The family branches are all lined out, I know pretty much who is who and sometimes where and when they might be in a specific geographic area. They are a migrating family for sure. The name is misspelled many different ways and so frequently tangled that I expect it and am used to the variants. Soundex, wild cards and astericks can be used to compensate for misspellings and illegibility. Even families with common given names of John, William and James are differentiated by geography, occupation, age, place of birth, and spouse, children, parents or siblings' names. Common Henritze given names include Thomas, Samuel and Charles. Abbreviations and nicknames for Thomas include T., Thos., Thom, Tom, Tommy, and Tommie. Common exchanges for James are J., Jas., Jamie, Jimmie, and Jimmy whereas William has W., Wm., Will, Willy, Willie, B., Bill, Billy, Billie off hand. Any time the first initial of the name is changed it doubles the searching. In any given place, there are bound to be more men named William Miller than people with the surname Henritze.
Searching for a Miller family has completely different patterns, also easy and hard at the same time, but for vastly different reasons. Easy to pronounce, easy to spell, easy to read in printing or cursive, commonly not misspelled, but so hard to differientate families. Looking for William Miller compared to searching for William Henritze, yikes.
It is possible to locate a needle in a haystack in the 1940 federal population schedules. William Miller is found here in Ward 11, Reading, Berks Co., Pennsylvania, with his wife, Rose, child, William, parents, James H. and Louise Miller with his grandmother Ellen Miller at her home 401 North 13th Street. Since he was so obliging as to live with his parents and grandmother the fact that his son James William is listed as a 2 year old male neice of Ellen Miller named William doesn't obscure that fact that, yes, it is the right William Miller. Not an easy task.