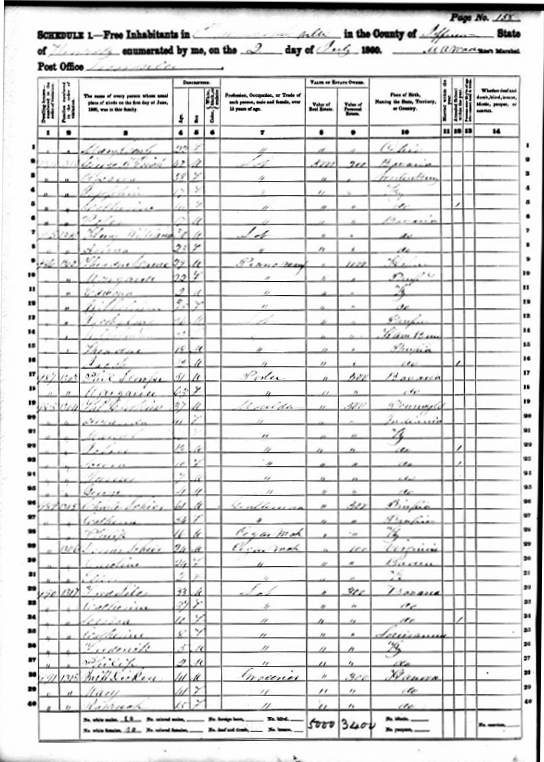 William Breitenstein of Louisville, Kentucky
Genealogical research into the federal census of Jefferson Co., Kentucky brings up a couple of questions. William Phillip Breitenstein was enumerated with his father Jacob Breitenstein and mother Maggie in 1860 and 1870 in Jefferson Co., Kentucky. He did not living with his mother and older brother Jacob in 1880 on the home farm in Okolona off Preston Highway. St. John's Evangelical Church records show Phillipp Breitenstein married Catherina Zeitz in 1873, so he should have been enumerated with her and their children in 1880. There is no evidence to suggest he lived anywhere except Jefferson Co., Kentucky. In 1900 he lived in Louisville with his wife and family. He died in 1918 and should have been enumerated with his wife and family in 1910, though he was not. Were there two different census years in which he was not counted, was he truly skipped twice?…
Was His Surname So Mangled No One Recognized Him?
Missing?
Where was he in 1880 during the census? There is no evidence he left the greater Louisville area. He doesn't turn up by searching the same enumeration district (ed) as his brother Jacob. His father Jacob passed away prior to the 1880 census and his mother Maggie lived with his eldest brother Jacob. Searching the Kentucky Soundex B635 doesn't reveal William or his family. Sometimes he is William and sometimes Phillip which leaves all the nicknames for William, in addition to W., P. and Phil* which covers Philip, Phillip, Philipp, Phillipp, Phillippe and Philippe. His wife Kate, aka Katherine or Catharina was born in Louisiana. Searching for a Kat* or Cat* in Jefferson Co., Kentucky born ca. 1852 plus or minus five years in Louisiana should have been an easy pickup. That didn't work. There is always the page by page by page path, but Louisville is a large city, many wards and outlying areas, even more eds, with an alternate city across the river in Indiana.
In order to verify the parentage of Kate Zeitz Breitenstein, the Zeitz family was located in 1860 and 1870. In 1900 Katie Zeitz Breitenstein's daughter Minnie Breitenstein lived with her uncle Fred Zeitz and her grandmother Katherine Ganter Zeitz in Louisville. When searching for German families it is important to know that ei sounds like a long i instead of a long e. So Breitenstein is pronounced Brightenstine and Zeitz is pronounced Sights.
Fred. Zeitz and his family were in Ward 1, Louisville in 1860. A key identifier is a daughter Catherine born in Louisiana.
1860 Ky Jefferson Lou. W1 p. 158 fam. 1317, Fred Sites 33 Bavaria, Catherine 37 Bavaria, Louisa 10 Bav, Catherine 8 La, Frederick 5 Ky, Philip 2 Ky.
Kate Zeitz, a widow, and her family are in Ward 4, Louisvile in 1870 with the same key identifier, a daughter Katherine born in Louisiana.
1870 Ky Jefferson Lou. W4 p. 60 fam. 4113, Kate Seitz 50 Bavaria, Kate 18 La, Frederick 14 Ky, Philip 12 Ky, Lena 10 Ky, Elizabeth 4 Ky.
By searching the 1880 Kentucky Jefferson county census for a son Geo* born 1877 and a father William, the William Raglestine family comes to light, with a wife Kate age 28 but born in Kentucky not Louisiana. The clincher is the next door neighbor is Kate Sites, with sons Fred and Phillip and daughters, Lena and Lizzie.
1880 Ky Jefferson Lou. 101-44-2 fam. 370, William Ragelstine 28 Ky, Kate 28 Ky, William 6 Ky, George 3 Ky, Amelia Scroder 26 boarder Ky.
It is important to realize that Ragelstine can not be inferred from Breitenstein as Sites can be from Zeitz. When each census was finished, two copies were made, so federal, state and local entities had a census. It appears very likely the federal copy was just that a copy or a copy of a copy. It would be interesting to see what the original made of that name.
1900 Ky Jefferson Lou. W2 20-12B-62 1568 Brent St. fam. 245, William Breidenstein Oct. 1851 m 26 Ky, Kate June 1852 m 26 6/6 La, Bertha Feb. 1884 Ky, Robert April 1890 Ky, Margarette June 1892 Ky.
i
1910 Ky Jefferson Lou. W2 45-52-10 413 South Shelby St. fam. 227, Kate Breitenstein wd 58 La 6/6, Robert William 20 Ky, Margaret 17 Ky.
His 1918 grave marker in St. Stephen's Cemetery in Louisville is near his older brother Jacob, his mother Maggie and other family members. His wife Katherine Zeitz Breitenstein, daughter of Fred. Zeitz and Katherine Ganter/Zanther Zeitz both of Oberotterbach, was buried in 1924 in Lot 158, Section 14, Cave Hill Cemetery in Louisville. Usually, spouses are buried next to each other in the same plot.
Usually spouses are enumerated with each other in each applicable census. In the 1910 Kate is listed as widowed and William has not been located.
Geo. F. Breitenstein, the second son of William and Katherine Breitenstein, was the informant for both of their death certificates.
For his father, there is no information regarding parentage.
While it is true that his grandfather jacob Breitenstein died before he was born and and his grandmother Maggie Gerber Breitenstein died when he was six, his mother's family, the Zeitz family was from Oberotterbach, the same small town in Bavaria that Jacob Breitenstein was from. She knew who her in-laws were and she was alive when William died. George did not even notice or care that his father's surname was mispelled on the certificate, even though George's was correct.
For his mother six years later, Geo. F. Breitenstein answered everything.
With three strikes, buried separately in different cemeteries, enumerated alone and listed as a widow before it was true and the complete lack of information on the death certificate, makes me think that William and Katherine were separated perhaps on the way to a divorce. It is more likely that a lone man was missed in the 1910 census, possibly a boarder somewhere, than the whole family in 1880. He wasn't with any of his children or his wife in 1910. As far as the 1880 census goes, I think he is William Raglestine. The family size and first names fit perfectly. The geography is excellent, next door to his mother-in-law. Ragelstine is not a name that appears in or around Louisville or anywhere else for that matter.