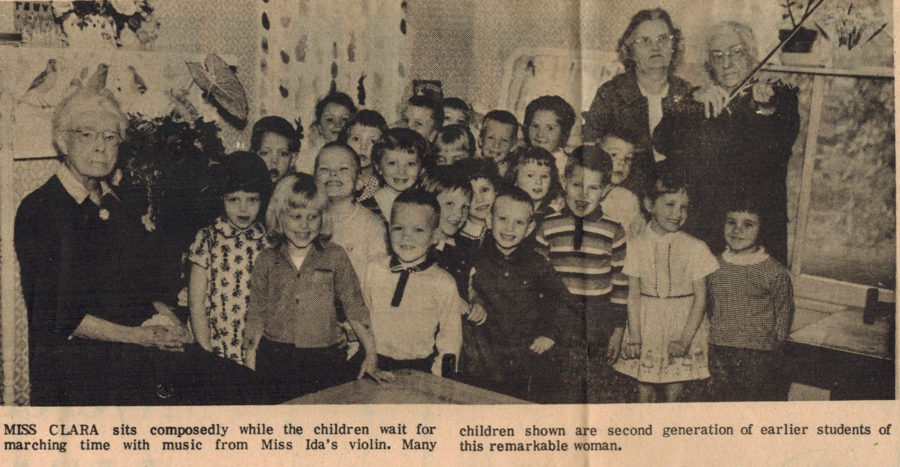 More than forty-five years ago, my grandmother sent my mom a page from the Citizen Tribune, 28 March 1967, page 3. It was a story about her great-aunts teaching preschool, which was kindergarten for some, in Morristown, Hamblen Co., Tennessee. Luckily for me, my mom saved this and I kept it too.
There were several points presented in this article:
The ladies involved were in their eighties and nineties.
There was a waiting list for this school.
At least one of the ladies had college degrees.
One of my second cousins is in the photo, a great-great-niece of the teachers.
The photo with the story was four years older than the story.
Miss Clara Mae Sherwood and Mrs. Ida Pearl Sherwood Bettis were children of Lydia Minerva (Fisher) Sherwood and Henry McDonough Sherwood.
I knew the genealogical points in the article, but I did not know that Aunt Clara went to Bristol Intermont College, South West Virginia Institute or Chicago University. I did not know she taught in Laurel, Mississippi or Knoxville, Tennessee. I did not know she taught Aunt Ida. I do know she and Aunt Ida had a cool chair lift for the stairs in their house, which "was not a toy." I wonder how many of these children still live in Morristown and can be identified. I also wonder if that chair lift called to them, as it did to me when I was four, like a ride at the carnival, even more interesting than the merry-go-round.