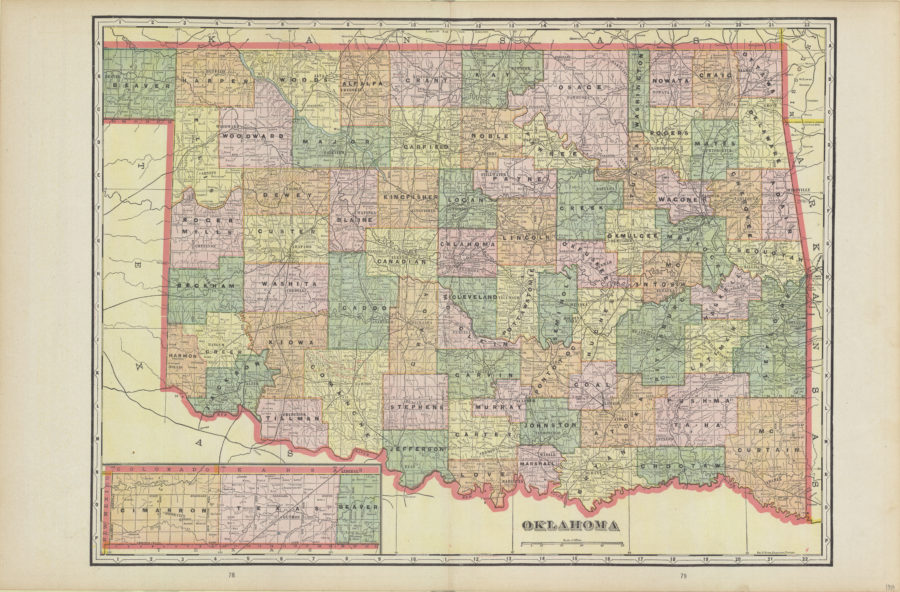 Maps Show the History of Indian Territory, Oklahoma Territory and Indian Territory, and the State of Oklahoma
The Digital Collection of the Oklahoma State Libraries has a phenomenal collection of Oklahoma maps. These three maps from 1887, 1903 and 1909, show the progression from Indian Territory to statehood.
Maps – Visual History Time Capsules.
In order to find the records you want, you need to know how and when the tribal and county lines evolved. These colored maps are nice visual renditions of governmental divisions.
OK2Explore
In addition to the digital map collection at Oklahoma State University Library, Oklahoma researchers have at their fingertips, the Oklahoma Department of Health web site, OK2Explore, a free searchable index of births and deaths in the state of Oklahoma. Limited information on births occurring more than 20 years ago and deaths occurring more than 5 years ago are available. Oklahoma has determined birth records more than 125 years ago and death records more than 50 years ago are open records. For other dates, records may only be released to eligible applicants, the specifics of which detailed on the Oklahoma State Department of Health website.
These birth and death indices, are NOT records but indices. They have all the problems associated with indices, mistaken handwriting analysis, typographical errors, indexing attention span issues, skipping  or combining records.
On Demand Court Records
Marriages are found in county records. These can be accessed statewide with a search through On Demand Court Records. While the database includes all kinds of court records, searches can be limited to marriages, or specific counties. Using this search engine in conjunction with original Oklahoma marriage records indexed by FamilySearch.org and/or Ancestry.com, offers a double blind index advantage, so helpful when translating poor handwriting or coping with poor indexing.
Many records and indices are available in addition to those found in FamilySearch and Ancestry. The Oklahoma Historical Society is a case in point. There are nearly forty different record searches including: Dawes Final Rolls, Removal of Restriction Applications for the Five Tribes, Divorce Records – Oklahoma County, 1890 Oklahoma Territorial Census, City Directories, Year Books, Phone Books, Daughters of Union Veterans, United Daughters of the Confederacy Applications and the Military Casualties Database.
Maps reprinted with permission from the Oklahoma State Library.