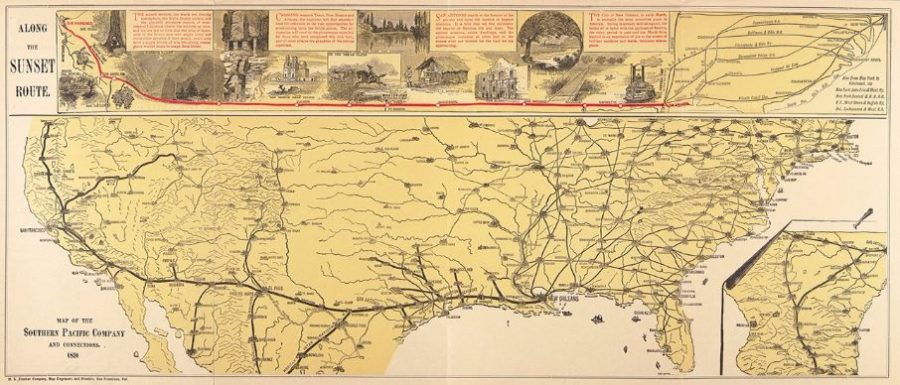 Railroad Maps
The local railroad may have played important roles in your ancestors' lives. It may have been their ticket to a runaway marriage, the migration path to their new homestead property, or it may have been even more central to their everyday lives, their livelihood, their employer, their main source of income.
Railroad maps can be a boon for genealogical research, particularly for marriages, migration and employment. Railroads were the main means of intermediate and long distance transportation for three generations from the 1870s through the 1930s. If there was a railroad depot or terminal in or near the town in which your ancestors lived, that opened up much more territory for migration, employment, school, friends, shopping, church, weddings, vacations, and adventures. In 1887, the last six stops on the Passaic and Delaware Railroad were Bernardsville, Basking Ridge, Lyons, Millington, Sterling and  Gillette. Eighty years later, this piece of track was run by the Erie Lackawanna Railroad, then Conrail, and now the Gladstone Branch of the Morris and Essex Line of New Jersey Transit. Prior to 1960, this piece of track was run by the Delaware, Lackawanna and Western Railroad. The Erie Lackawanna Historical Society web site specifically states it does not have access to nor maintain employee records, but suggests the U.S. Railroad Retirement Board web site and Jim Sponholtz's web pages.
EMPLOYMENT
If you already know the name of the railroad your ancestor worked for and when, then you need a map for the specific company and year, for example this map of the
Atchison, Topeka and Santa Fe, in 1881. Sometimes a library archives has a large collection for a specific railroad, like the Northern Pacific Railway Company Records, 1870-1968, in the Archives and Special Collections, Maureen and Mike Mansfield Library, The University of Montana-Missoula, which contain personnel records and maps.
MARRIAGES
If the marriage record is not in the logical town or county in which the bride and groom lived, or where the parents of the bride lived, the next logical place is the county seat, or the next county seat on the rail line or the county seat of the next state with less stringent marriage requirements or the closest large city for a marriage and honeymoon, Niagara Falls, Kansas City, Fort Smith, Hollywood, Myrtle Beach, Chicago, San Francisco, Miami, Vancouver, destinations that all come to mind. Wheeling, West Virginia, Elkton, Maryland, and York, South Carolina, on the other hand, are all examples of places with no waiting periods or less stringent application processes, than surrounding states.  
George Franklin Cram, a printer in Chicago published quite a few state railroad maps in 1895 including this one of Wyoming.
The Library of Congress has a tremendous collection of about 5000 Railroad Maps, 600 or so which have been digitized from Modelski's compilation Railroad Maps of the United States: A Selective Annotated Bibliography of Original 19th-century Maps in the Geography and Map Division of the Library of Congress, compiled. This annotated list includes "progress report surveys for individual lines, official government surveys, promotional maps, maps showing land grants and rights-of-way, and route guides published by commercial firms."
MIGRATION
The Homestead Act was a huge motivator in the westward migration as were the relatively inexpensive railroad lands, created in the checkerboard pattern when the United States gave so much property to the railroads to encourage western expansion.
One map designed to encourage settlement in Iowa and Nebraska on the Burlington and Missouri River Railroad Company was included in the the PJ Mode Collection of Persuasive Cartography cataloged by Cornell University, the 1873 Gulf Stream of Migration.
Places to find Railroad Maps
Historical Atlases
Google Maps
University Library Digital Map Collections
Rand McNally Yearly Atlas
Annual reports for Various Railroad Corporations
Ayers' Advertising Annual Year books
Genealogical and Transportation Websites
Transportation is key to so many decisions, how did your ancestors get around, walking, horseback, wagons, boats, trains, trolleys, cars, buses, or planes. Each has its own distance, time, and expense factors, using and creating, rivers, oceans, trails, roads, bridges, canals, railroad tracks, highways, ports, terminals, and airports.