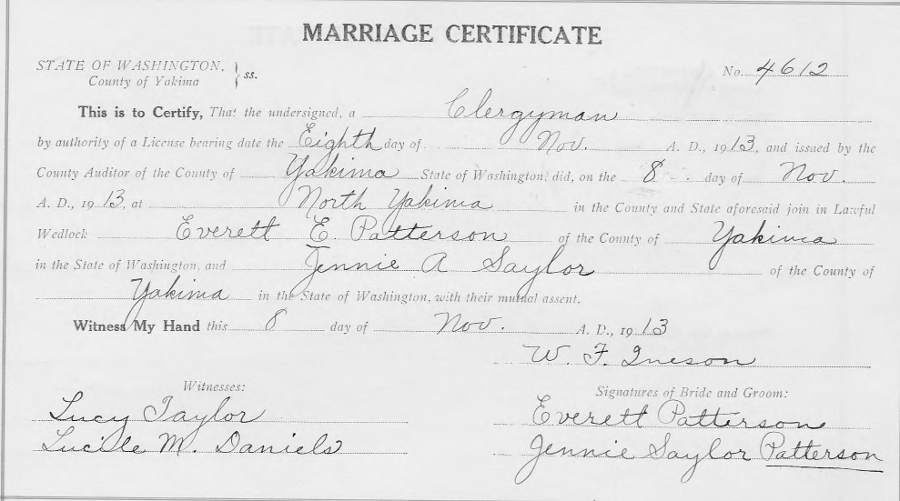 The Washington State Digital Archives has wonderful digitized images of vital records from the state including a nice selection of marriage records, returns and certificates. Why should you care especially if the family you are searching settled on the East Coast, the Midwest, the Great Plains or any specific place as a stable part of the community for decades. Migration is a part of the American experiene and generally went from east to west. California, Oregon and Washington are as far west as the continental United States goes. Except for Hawaii and Alaska and the Territories, the West Coast is the place of last resort. In addition, there are military bases galore, remember An Officer and a Gentlemen. If you can not locate a great aunt, uncle or cousin for a while, check the West Coast. This Archives has made that search so much easier.
An early example is the marriage certificate indexed as Everett E. Petterson and Jennie A. Saylor in Yakima Co., Washington in 1913. This marriage is indexed under Petterson while every mention of the surname on this certificate clearly reads Patterson. I sent a comment about the typographical error. Typographical errors occur all the time in indexes. Creative searching leads to more success. A Soundex search option is also offered.
The Marriage Returns from Yakima Co. from 1896 to 1910 and the Marriage Certificates from 1910 to 1947 are included in this data base. Review each record and the database discussion will explain what is covered and for which years. In general the Washington State Marriage Return has more information including parentage and place of birth, so read them both….
Check the West Coast for Marriage Returns and Certificates
A nice clear example is the second marriage certificate of Jennie Adeline Saylor Patterson Foust in Walla Walla Co. in 1948.
Once a researcher has located the marriage record for his own ancestors, he may stop researching because he doesn't really care about the subsequent marriages. Perhaps there were no children except from the first marriage, perhaps even if there were children, the researcher is just not interested in those lines, perhaps the previous and/or subsequent unions were a source of discord within the family, perhaps the researcher felt disloyal examining those records, perhaps there isn't the time or money to obtain every marriage certificate of a "serious serial monogamist." A distant cousin once told me her grandmother had been married seven times. I have found five of those marriages.
There are several reasons second or third marriages are important in research beyond the need for completeness.
It gives an updated bride's surname for which other records can be searched, death records, ssdi, probate, newspapers, census.
It gives geographic clues, where the marriage took place and also which counties both of the participants were from.
Witnesses in a second marriage are often children of either the bride or groom or both, instead of close friends or siblings which is more the case in first marriages.
Fourth, middle names left out of previous records, may appear here.
If you collect all the marriages, those couples will be identifiable in city directories and deed records and newspaper articles. Otherwise, you will be searching for the wrong couples.
The second marriage of Jennie A. Saylor is the only place her middle name is listed as Adeline. Two of Jennie's children, Mrs. Earl Meyers and G. W. Patterson are the witnesses. If George Welton Patterson generally signed his name, G. W. Patterson, it could explain the dearth of records listed under George, George W. or George Welton.
The Marriage Return of William A. King in Yakima Co. in 1906 contains much more information than the later Certificates of Marriage do.
Once again the indexing is not perfect. That is a function of being an index. Don't spend time railing against the indexer, be glad it was done at all and try to work the system. It is indexed as William A. King even though the Return says William Alonzo King. Wonderfully, his parents' names, his birthplace, his age and those of his bride are recorded on this return. There are thousands of men named William A. King. His age, middle name, place of birth and parents' names distinguish him from the rest. The Auditor of each county in Washington keeps these records. Knowing how much more information was collected on the Return, look for both the Certificate and the Return. If there are only digitized copies of one or the other is doesn't mean both were not collected at the county seat.
Jennie Adeline Saylor Patterson Foust's grandparents Lewis and Adeline Saylor lived in North Carolina and Virginia. As far as I know Adeline never left southwest Virginia, the area around Abingdon and Lebanon, Viriginia. Their son Charles born in Virginia, moved through the southwest, Missouri, Kansas, back to Missouri, on to Oklahoma, before finally settling his family in Washington. From the East Coast to the West Coast in one generation may be the sped up version of the migration story, but it is the story.
In addition to the wonderful digital archives maintained by the Washington State Archives Digital Archives, another easily accessed web site, the Washington State Courts site contains statewide information about court cases as far back as 1979. Use these web site and other Washington records for the missing branches of your families, you may find one.