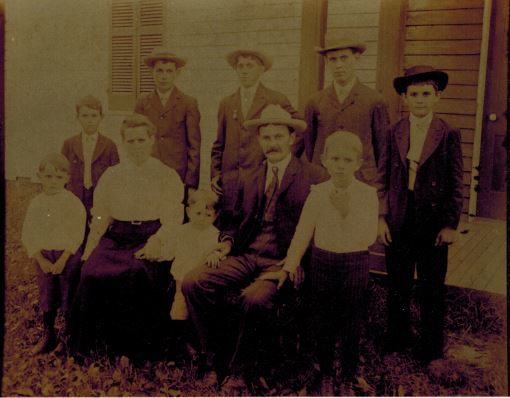 I am in the midst of proofreading The Descendants of Jacob and Margaret Gerber Breitenstein of Louisville. As a break, because proofreading is very hard work, I came across a photograph of the family of their seventh son, Michael Henry Breitenstein Sr. ca. 1905 or 1906. At that time, he and Elizabeth Steinmetz Breitenstein had eight sons, Ed, Mike, Theo, John, Lorenz, Herm, Carl and Emil.

Proofreading is Hard, Hard Work
Standing in the top row from left to right are:
Lawrence Jacob Breitenstein, Theodore Peter Breitenstein, Michael Henry Breitenstein Jr., Edward Lawrence Breitenstein and John Louis Breitenstein.
Standing and seated in the front row from left to right are:
Carl Ernest Breitenstein, Elizabeth Ann Steinmetz Breitenstein, Emil Raymond Breitenstein, Michael Henry Breitenstein Sr. and Herman Joseph Breitenstein.
On the back of the photograph are written the names of the boys, Elizabeth Steinmetz Breitenstein and Michael Henry Breitenstein Sr. are not specifically named. However each boy's name is written in script behind the spot that boy occupies on the front.
I know this because as a child, my grandpa made me memorize his brothers. What is curious about this photo is that Lawrence is listed as Lorenz and of course, Julius wasn't born yet which makes dating the photo easy.
I wish I had photos of the Michael Henry Breitenstein Sr.'s siblings and their families, specifically, Jacob Breitenstein Jr., William Phillip Breitenstein, Margaret Breitenstein Fischer and her husband Peter Fischer, George Breitenstein, Caroline Breitenstein Bodeman, Henry Michael Breitenstein, Anna Margaretha Breitenstein Meier and her husband Herman Frederick Meier, and Daniel Breitenstein.